Abstract
Introduction
Accurate identification of patients at risk of blood transfusion can reduce complications and improve institutional resource allocation. Probabilistic models are used to detect risk factors and formulate patient blood management strategies. Whether these predictors vary among institutions is unclear. We aimed to identify risk factors among our patients who underwent total hip (THA) or knee (TKA) arthroplasty, and combine these predictors to improve our model.
Materials and methods
We retrospectively assessed risk factors among 531 adults who underwent elective THA or TKA from January 2016 to November 2018. Using relevant surgical and patient characteristics gathered from electronic medical records, we conducted univariable and multivariable analyses. For our logistic regression model, we measured the impact of independent variables (age, gender, operation type (THA or TKA) and preoperative hemoglobin concentration) on the need for a transfusion.
Results
Of the 531 patients, 321 had THA (uncemented) and 210 had TKA. For the selected period, our transfusion rate of 8.1% (10.6% THA and 4.3% TKA) was low. Univariable analyses showed that lower BMI (p < 0.001) was associated with receiving a transfusion. Important factors identified through logistic regression analyses were age (estimated effect of an interquartile range increase in age: OR 3.89 [CI 95% 1.96–7.69]), TKA (OR − 0.77 [CI 95% − 1.57–0.02]), and preoperative hemoglobin levels (estimated effect of interquartile range increase in hemoglobin: OR 0.47 [CI 95% 0.31–0.71]). Contrary to findings from previous reports, gender was not associated with transfusion.
Conclusions
Previously published predictors such as advanced age, low preoperative hemoglobin, and procedure type (THA) were also identified in our analysis. However, gender was not a predictor, and BMI showed the potential to influence risk. We conclude that, when feasible, the determination of site-specific transfusion rates and combined risk factors can assist practitioners to customize care according to the needs of their patient population.
Level of evidence
Level 3, retrospective cohort study
Access options
Buy single article
Instant access to the full article PDF.
US$ 39.95
Tax calculation will be finalised during checkout.
Subscribe to journal
Immediate online access to all issues from 2019. Subscription will auto renew annually.
US$ 119
Tax calculation will be finalised during checkout.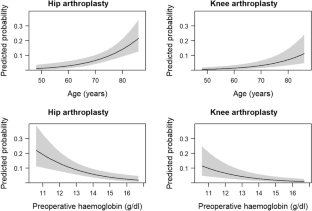 References
1.

Spahn DR (2017) Patient blood management: the new standard. Transfusion 57(6):1325–1327. https://doi.org/10.1111/trf.14095

2.

Spitalnik SL (2014) Stored red blood cell transfusions: iron, inflammation, immunity, and infection. Transfusion 54(10):2365–2371. https://doi.org/10.1111/trf.12848

3.

Spahn DR, Zacharowski K (2015) Non-treatment of preoperative anaemia is substandard clinical practice. Br J Anaesth 115(1):1–3. https://doi.org/10.1093/bja/aev099

4.

Spahn DR, Theusinger OM, Hofmann A (2012) Patient blood management is a win-win: a wake-up call. Br J Anaesth 108(6):889–892. https://doi.org/10.1093/bja/aes166

5.

Jans O, Jorgensen C, Kehlet H, Johansson PI, Lundbeck Foundation Centre for Fast-track H, Knee Replacement Collaborative G (2014) Role of preoperative anemia for risk of transfusion and postoperative morbidity in fast-track hip and knee arthroplasty. Transfusion 54(3):717–726. https://doi.org/10.1111/trf.12332

6.

Meybohm P, Richards T, Isbister J, Hofmann A, Shander A, Goodnough LT, Munoz M, Gombotz H, Weber CF, Choorapoikayil S, Spahn DR, Zacharowski K (2017) Patient blood management bundles to facilitate implementation. Transfus Med Rev 31(1):62–71. https://doi.org/10.1016/j.tmrv.2016.05.012

7.

To J, Sinha R, Kim SW, Robinson K, Kearney B, Howie D, To LB (2017) Predicting perioperative transfusion in elective hip and knee arthroplasty: a validated predictive model. Anesthesiology 127(2):317–325. https://doi.org/10.1097/ALN.0000000000001709

8.

Spahn DR, Shander A, Hofmann A (2013) The chiasm: transfusion practice versus patient blood management. Best Pract Res Clin Anaesthesiol 27(1):37–42. https://doi.org/10.1016/j.bpa.2013.02.003

9.

Light TR, Keggi KJ (1980) Anterior approach to hip arthroplasty. Clin Orthop Relat Res 152:255–260

10.

Meybohm P, Froessler B, Goodnough LT, Klein AA, Munoz M, Murphy MF, Richards T, Shander A, Spahn DR, Zacharowski K (2017) "Simplified International Recommendations for the Implementation of Patient Blood Management" (SIR4PBM). Perioper Med 6:5. https://doi.org/10.1186/s13741-017-0061-8

11.

Spahn DR (2010) Anemia and patient blood management in hip and knee surgery: a systematic review of the literature. Anesthesiology 113(2):482–495. https://doi.org/10.1097/ALN.0b013e3181e08e97

12.

Shander A, Van Aken H, Colomina MJ, Gombotz H, Hofmann A, Krauspe R, Lasocki S, Richards T, Slappendel R, Spahn DR (2012) Patient blood management in Europe. Br J Anaesth 109(1):55–68. https://doi.org/10.1093/bja/aes139

13.

Holt JB, Miller BJ, Callaghan JJ, Clark CR, Willenborg MD, Noiseux NO (2016) Minimizing blood transfusion in total hip and knee arthroplasty through a multimodal approach. J Arthroplast 31(2):378–382. https://doi.org/10.1016/j.arth.2015.08.025

14.

Ponnusamy KE, Kim TJ, Khanuja HS (2014) Perioperative blood transfusions in orthopaedic surgery. J Bone Jt Surg Am Vol 96(21):1836–1844. https://doi.org/10.2106/JBJS.N.00128

15.

So-Osman C, Nelissen R, Brand R, Faber F, Slaa RT, Stiggelbout A, Brand A (2013) The impact of a restrictive transfusion trigger on post-operative complication rate and well-being following elective orthopaedic surgery: a post-hoc analysis of a randomised study. Blood Transfus 11(2):289–295. https://doi.org/10.2450/2013.0172-12

16.

Barr PJ, Donnelly M, Cardwell C, Alam SS, Morris K, Parker M, Bailie KE (2011) Drivers of transfusion decision making and quality of the evidence in orthopedic surgery: a systematic review of the literature. Transfus Med Rev 25(4):304-316.e6. https://doi.org/10.1016/j.tmrv.2011.04.003

17.

Sherrod BA, Baker DK, Gilbert SR (2018) Blood transfusion incidence, risk factors, and associated complications in surgical treatment of hip dysplasia. J Pediatr Orthop 38(4):208–216. https://doi.org/10.1097/BPO.0000000000000804

18.

Slover J, Lavery JA, Schwarzkopf R, Iorio R, Bosco J, Gold HT (2017) Incidence and risk factors for blood transfusion in total joint arthroplasty: analysis of a statewide database. J Arthroplast 32(9):2684-2687.e1. https://doi.org/10.1016/j.arth.2017.04.048

19.

Zhang L, Su W, Zhao J (2015) [Risk factors of perioperative blood loss in elderly patients receiving proximal femur locking compression plate fixation for intertrochanteric fractures]. Nan fang yi ke da xue xue bao 35(12):1797–1801

20.

Boutsiadis A, Reynolds RJ, Saffarini M, Panisset JC (2017) Factors that influence blood loss and need for transfusion following total knee arthroplasty. Ann Transl Med 5(21):418. https://doi.org/10.21037/atm.2017.08.11

21.

Wang M, Chen M, Ao H, Chen S, Wang Z (2017) The effects of different bmi on blood loss and transfusions in Chinese patients undergoing coronary artery bypass grafting. Ann Thorac Cardiovasc Surg 23(2):83–90. https://doi.org/10.5761/atcs.oa.16-00219

22.

Frisch N, Wessell NM, Charters M, Peterson E, Cann B, Greenstein A, Silverton CD (2016) Effect of body mass index on blood transfusion in total hip and knee arthroplasty. Orthopedics 39(5):e844-849. https://doi.org/10.3928/01477447-20160509-04

23.

Bashaireh K, Aljararhih O, Alawneh K (2020) Impact of body mass index on hemoglobin level and blood transfusion in total knee arthroplasty: a retrospective case control study. Ann Med Surg (Lond) 55:180–184. https://doi.org/10.1016/j.amsu.2020.05.028

24.

Basora M, Tio M, Martin N, Lozano L, Salazar F, Sanchez-Etayo G, Raquel B, Pereira A (2014) Should all patients be optimized to the same preoperative hemoglobin level to avoid transfusion in primary knee arthroplasty? Vox Sang 107(2):148–152. https://doi.org/10.1111/vox.12147

25.

Lasocki S, Krauspe R, von Heymann C, Mezzacasa A, Chainey S, Spahn DR (2015) PREPARE: the prevalence of perioperative anaemia and need for patient blood management in elective orthopaedic surgery: a multicentre, observational study. Eur J Anaesthesiol 32(3):160–167. https://doi.org/10.1097/EJA.0000000000000202
Funding
The authors received no financial support for the research or authorship of this article.
Ethics declarations
Conflict of interest
The authors declare that they have no conflict of interest.
Ethical approval
This retrospective medical record review involving human participants was carried out in accordance with the standards of the cantonal ethics committee and with the 1964 Helsinki Declaration and its later amendments. Written consent of the patients whose data were used to conduct the analyses was waived based on the study design.
Additional information
Publisher's Note
Springer Nature remains neutral with regard to jurisdictional claims in published maps and institutional affiliations.
About this article
Cite this article
Erben, HC., Hess, F., Welter, J. et al. Perioperative blood transfusions in hip and knee arthroplasty: a retrospective assessment of combined risk factors. Arch Orthop Trauma Surg (2021). https://doi.org/10.1007/s00402-021-03763-w
Received:

Accepted:

Published:
Keywords
Hip arthroplasty

Knee arthroplasty

Blood transfusion

Patient blood management

Risk assessment