Abstract
Introduction
Amputation for a mangled extremity is an effective and reliable life-saving treatment method, which requires a relatively shorter duration for treatment than limb salvage. However, only a few studies have focused on treatment with amputation. Herein, we report good clinical outcomes achieved through staged surgery performed after amputation.
Materials and methods
This study included 47 patients (38 men, 9 women; average age, 52.4 years) diagnosed with mangled extremity, who underwent primary amputation between March 2014 and January 2019. The patients were divided into the initial closure (IC) groups (including 26 patients who underwent IC after amputation) and staged surgery (SS) (including 21 patients who underwent SS after amputation) groups. The presence of complications including necrosis and infection, consequent additional surgery, duration of hospitalization and expense for treatment, and functional scores of upper and lower extremities were assessed.
Results
No specific postoperative complication was found in the SS group. However, additional surgeries were performed in the IC group because of complications including three cases of infection and two cases of necrosis. The differences between the hospitalization period, treatment cost, and functional examination conducted 1 year after surgery of the two groups were not statistically significant. The patients in the IC group who underwent additional surgery were hospitalized for a longer period and presented with lower functional scores due to delayed rehabilitation.
Conclusion
Staged surgery is a definitive and safe treatment option that can effectively reduce complications including infection and necrosis in patients with mangled extremity.
Access options
Buy single article
Instant access to the full article PDF.
US$ 39.95
Tax calculation will be finalised during checkout.
Subscribe to journal
Immediate online access to all issues from 2019. Subscription will auto renew annually.
US$ 119
Tax calculation will be finalised during checkout.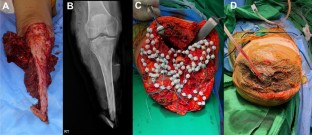 References
1.

Dirschl DR, Dahners LE (1996) The mangled extremity: when should it be amputated? J Am Acad Orthop Surg 4:182–190

2.

Oakes R, Urban A, Levy PD (2008) The mangled extremity. J Emerg Med 35:437–444

3.

Probe RA (2013) Orthopaedic trauma mythbusters: is limb salvage the preferred method of treatment for the mangled lower extremity? Instr Course Lect 62:35–40

4.

Poole GV, Agnew SG, Griswold JA, Rhodes RS (1994) The mangled lower extremity: can salvage be predicted? Am Surg 60:50–55

5.

Scalea TM, DuBose J, Moore EE et al (2012) Western Trauma Association critical decisions in trauma: management of the mangled extremity. J Trauma Acute Care Surg 72:86–93

6.

Cannada LK, Cooper C (2005) The mangled extremity: limb salvage versus amputation. Curr Surg 62:563–576

7.

McNamara MG, Heckman JD, Corley FG (1994) Severe open fractures of the lower extremity: a retrospective evaluation of the Mangled Extremity Severity Score (MESS). J Orthop Trauma 8:81–87

8.

Loja MN, Sammann A, DuBose J et al (2017) The mangled extremity score and amputation: time for a revision. J Trauma Acute Care Surg 82:518–523

9.

Korompilias AV, Beris AE, Lykissas MG et al (2009) The mangled extremity and attempt for limb salvage. J Orthop Surg Res 4:4

10.

Bumbasirevic M, Stevanovic M, Lesic A, Atkinson HD (2012) Current management of the mangled upper extremity. Int Orthop 36:2189–2195

11.

Francel TJ, Vander Kolk CA, Hoopes JE, Manson PN, Yaremchuk MJ (1992) Microvascular soft-tissue transplantation for reconstruction of acute open tibial fractures: timing of coverage and long-term functional results. Plast Reconstr Surg 89:478–487 (discussion 88-9)

12.

Kuz JE (2004) The ABJS presidential lecture, June 2004: our orthopaedic heritage: the American Civil War. Clin Orthop Relat Res 429:306–315

13.

Hebenton J, Scott H, Seenan C, Davie-Smith F (2019) Relationship between models of care and key rehabilitation milestones following unilateral transtibial amputation: a national cross-sectional study. Physiotherapy 105:476–482

14.

Savetsky IL, Aschen SZ, Salibian AA et al (2019) A novel Mangled Upper Extremity Injury Assessment Score. Plast Reconstr Surg Glob Open 7:e2449

15.

Gregory RT, Gould RJ, Peclet M et al (1985) The mangled extremity syndrome (M.E.S.): a severity grading system for multisystem injury of the extremity. J Trauma 25:1147–1150

16.

Prasarn ML, Helfet DL, Kloen P (2012) Management of the mangled extremity. Strategies Trauma Limb Reconstr 7:57–66

17.

Prichayudh S, Verananvattna A, Sriussadaporn S et al (2009) Management of upper extremity vascular injury: outcome related to the Mangled Extremity Severity Score. World J Surg 33:857–863

18.

Rush RM Jr, Beekley AC, Puttler EG, Kjorstad RJ (2009) The mangled extremity. Curr Probl Surg 2009(46):851–926

19.

Patzakis MJ, Wilkins J, Moore TM (1983) Considerations in reducing the infection rate in open tibial fractures. Clin Orthop Relat Res 36–41

20.

Penn-Barwell JG, Murray CK, Wenke JC (2014) Local antibiotic delivery by a bioabsorbable gel is superior to PMMA bead depot in reducing infection in an open fracture model. J Orthop Trauma 28:370–375

21.

Octile K, Franklin RJ, Skjeldal OH, Skrondal A, Magnus P (2011) Assessing physical function in adult acquired major upper-limb amputees by combining the Disabilities of the Arm, Shoulder and Hand (DASH) Outcome Questionnaire and clinical examination. Arch Phys Med Rehabil 92:1636–1645

22.

Treweek SP, Condie ME (1998) Three measures of functional outcome for lower limb amputees: a retrospective review. Prosthet Orthot Int 22:178–185

23.

Calmels P, Bethoux F, Le-Quang B, Chagnon PY, Rigal F (2001) Functional assessment scales and lower limb amputation. Ann Readapt Med Phys 44:499–507 (Article in French)

24.

Schiro GR, Sessa S, Piccioli A, Maccauro G (2015) Primary amputation vs limb salvage in mangled extremity: a systematic review of the current scoring system. BMC Musculoskelet Disord 16:372

25.

Olson SA, Schemitsch EH (2003) Open fractures of the tibial shaft: an update. Instr Course Lect 52:623–631

26.

Liu C, Yoon EJ, Kim D et al (2019) Antimicrobial resistance in South Korea: A report from the Korean global antimicrobial resistance surveillance system (Kor-GLASS) for 2017. J Infect Chemother 25:845–859

27.

Metsemakers WJ, Fragomen AT, Moriarty TF et al (2010) Evidence-based recommendations for local antimicrobial strategies and dead space management in fracture-related infection. J Orthop Trauma 34:18–29

28.

Perry J (2005) Below-the-knee compared with above-the-knee amputation. J Bone Joint Surg Am 87:1162–1163 (author reply 3)

29.

Lim SJ, Chung WJ, Cho WH (2011) Economic burden of injuries in South Korea. Inj Prev 17:291–296

30.

Jeon I, Leigh JH, Ro JS et al (2019) Trends in the incidence of work-related traumatic limb amputations in South Korea from 2004 to 2013. Prosthet Orthot Int 43:409–417

31.

Yang BM, Kim J (2003) Road traffic accidents and policy interventions in Korea. Inj Control Saf Promot 10:89–94
Funding
The study did not receive funding from any source.
Ethics declarations
Conflict of interest
The authors declare that they have no conflict of interest.
Ethical approval
The study design and data collection were approved by the institutional review board of the Human Experimental and Ethics Committee of our hospital.
Informed consent
Informed consent was obtained from all individual participants and/or their families.
Additional information
Publisher's Note
Springer Nature remains neutral with regard to jurisdictional claims in published maps and institutional affiliations.
About this article
Cite this article
Yoon, YC., Oh, CW., Jang, M.J. et al. Clinical outcome of staged surgery after primary amputation for mangled extremity. Arch Orthop Trauma Surg 141, 411–417 (2021). https://doi.org/10.1007/s00402-020-03497-1
Received:

Accepted:

Published:

Issue Date:
Keywords
Mangled extremity

Amputation

Complication

Staged surgery