Abstract
Introduction
Radiation-induced pathological fractures show high nonunion and infection rates. Successful treatment of postoperative infections of these fractures without limb amputation is extremely rare.
Methods
We report two cases of postoperative infection of pathological femoral fracture after radiation therapy for soft tissue tumors. Considering the poor condition of the irradiated site, a two-staged operation was selected to create the optimal situation for bone union. The treatment involved the Masquelet technique, latissimus dorsi (LD) flap, and a free vascularized fibula graft (FVFG). In the first stage, we drastically resected the necrotic bone and the surrounding infected tissue and placed antibiotic polymethylmethacrylate space on the bone gap according to the Masquelet technique. Next, we used an Ilizarov external fixator as a temporizing stabilizer and performed the LD flap. Six weeks later, in the second stage, we changed the external fixation to plate fixation; packed the artificial bone (β-TCP) and autograft bone to the induced membrane; and performed FVFG on the other side of the plate. As postoperative therapy, toe touch was allowed immediately, and partial weight bearing was started 2 months after second surgery.
Results
Both patients achieved bone union and were able to walk without postoperative complications. At the 2-year follow-up, there was no recurrence of infection.
Conclusion
Our treatment is effective for controlling postoperative infection of radiation-induced pathological fracture.
This is a preview of subscription content, log in to check access.
Access options
Buy single article
Instant access to the full article PDF.
US$ 39.95
Price includes VAT for USA
Subscribe to journal
Immediate online access to all issues from 2019. Subscription will auto renew annually.
US$ 199
This is the net price. Taxes to be calculated in checkout.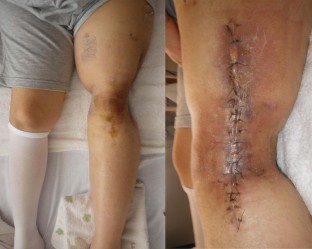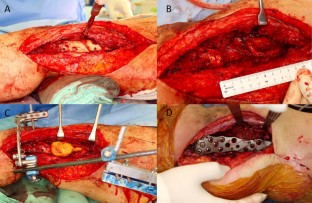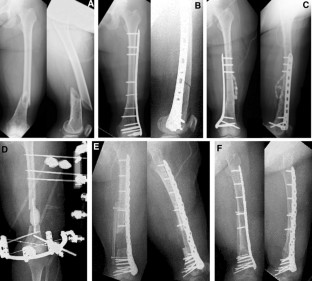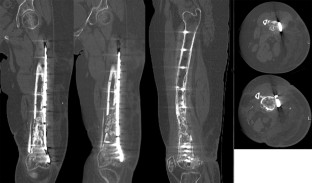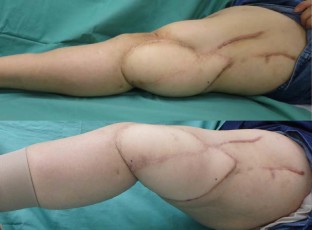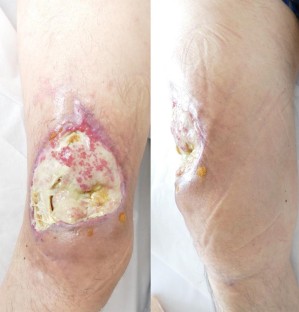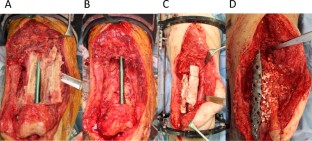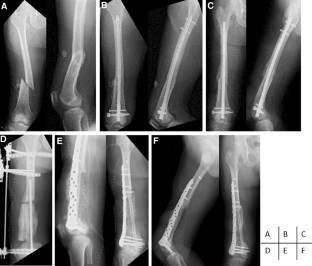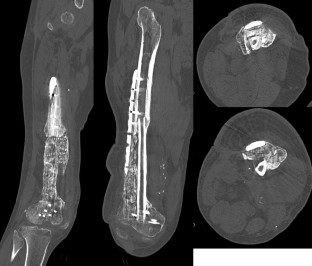 References
1.

Cannon CP, Lin PP, Lewis VO, Yasko AW (2008) Management of radiation-associated fractures. J Am Acad Orthop Surg 16(9):541–549

2.

Dormand EL, Banwell PE, Goodacre TE (2005) Radiotherapy and wound healing. Int Wound J 2(2):112–127. https://doi.org/10.1111/j.1742-4801.2005.00079.x

3.

Lin PP, Schupak KD, Boland PJ, Brennan MF, Healey JH (1998) Pathologic femoral fracture after periosteal excision and radiation for the treatment of soft tissue sarcoma. Cancer 82(12):2356–2365

4.

Sternheim A, Saidi K, Lochab J, O'Donnell PW, Eward WC, Griffin A, Wunder JS, Ferguson P (2013) Internal fixation of radiation-induced pathological fractures of the femur has a high rate of failure. Bone Joint J 95-B(8):1144–1148. https://doi.org/10.1302/0301-620X.95B8.31832

5.

Helmstedter CS, Goebel M, Zlotecki R, Scarborough MT (2001) Pathologic fractures after surgery and radiation for soft tissue tumors. Clin Orthop Relat Res 389:165–172

6.

Kim HJ, Healey JH, Morris CD, Boland PJ (2010) Site-dependent replacement or internal fixation for postradiation femur fractures after soft tissue sarcoma resection. Clin Orthop Relat Res 468(11):3035–3040. https://doi.org/10.1007/s11999-010-1405-6

7.

Stone HB, Coleman CN, Anscher MS, McBride WH (2003) Effects of radiation on normal tissue: consequences and mechanisms. Lancet Oncol 4(9):529–536. https://doi.org/10.1016/s1470-2045(03)01191-4

8.

Lasanianos NG, Kanakaris NK, Giannoudis PV (2010) Current management of long bone large segmental defects. Orthop Trauma 24(2):149–163

9.

Duffy GP, Wood MB, Rock MG, Sim FH (2000) Vascularized free fibular transfer combined with autografting for the management of fracture nonunions associated with radiation therapy. J Bone Joint Surg Am 82(4):544–554

10.

Giannoudis PV, Faour O, Goff T, Kanakaris N, Dimitriou R (2011) Masquelet technique for the treatment of bone defects: tips-tricks and future directions. Injury 42(6):591–598. https://doi.org/10.1016/j.injury.2011.03.036

11.

Masquelet AC (2003) Muscle reconstruction in reconstructive surgery: soft tissue repair and long bone reconstruction. Langenbecks Arch Surg 388(5):344–346. https://doi.org/10.1007/s00423-003-0379-1

12.

Masquelet AC, Begue T (2010) The concept of induced membrane for reconstruction of long bone defects. Orthop Clin North Am 41(1):27–37. https://doi.org/10.1016/j.ocl.2009.07.011(table of contents)

13.

Yang JC, Chang AE, Baker AR, Sindelar WF, Danforth DN, Topalian SL, DeLaney T, Glatstein E, Steinberg SM, Merino MJ (1998) Randomized prospective study of the benefit of adjuvant radiation therapy in the treatment of soft tissue sarcomas of the extremity. J Clin Oncol 16(1):197–203

14.

Beane JD, Yang JC, White D, Steinberg SM, Rosenberg SA, Rudloff U (2014) Efficacy of adjuvant radiation therapy in the treatment of soft tissue sarcoma of the extremity: 20-year follow-up of a randomized prospective trial. Ann Surg Oncol 21(8):2484–2489

15.

Shah C, Verma V, Takiar R, Vajapey R, Amarnath S, Murphy E, Mesko NW, Lietman S, Joyce M, Anderson P (2016) Radiation therapy in the management of soft tissue sarcoma. Am J Clin Oncol 39(6):630–635

16.

Mitchell MJ, Logan PM (1998) Radiation-induced changes in bone. Radiographics 18(5):1125–1136. https://doi.org/10.1148/radiographics.18.5.9747611(quiz 1242-1123)

17.

Cao X, Wu X, Frassica D, Yu B, Pang L, Xian L, Wan M, Lei W, Armour M, Tryggestad E, Wong J, Wen CY, Lu WW, Frassica FJ (2011) Irradiation induces bone injury by damaging bone marrow microenvironment for stem cells. Proc Natl Acad Sci USA 108(4):1609–1614. https://doi.org/10.1073/pnas.1015350108

18.

Keating JF, Simpson AH, Robinson CM (2005) The management of fractures with bone loss. J Bone Joint Surg Br 87(2):142–150

19.

Giotakis N, Narayan B, Nayagam S (2007) Distraction osteogenesis and nonunion of the docking site: is there an ideal treatment option? Injury 38(1):S100–S107

20.

Pelissier PH, Masquelet AC, Bareille R, Pelissier SM, Amedee J (2004) Induced membranes secrete growth factors including vascular and osteoinductive factors and could stimulate bone regeneration. J Orthop Res 22(1):73–79. https://doi.org/10.1016/s0736-0266(03)00165-7

21.

Jager T, Journeau P, Dautel G, Barbary S, Haumont T, Lascombes P (2010) Is combining massive bone allograft with free vascularized fibular flap the children's reconstruction answer to lower limb defects following bone tumour resection? Orthop Traumatol Surgery Res: OTSR 96(4):340–347. https://doi.org/10.1016/j.otsr.2010.02.003

22.

Giannoudis PV, Einhorn TA, Marsh D (2007) Fracture healing: the diamond concept. Injury 38(Suppl 4):S3–6

23.

Giannoudis PV, Gudipati S, Harwood P, Kanakaris NK (2015) Long bone non-unions treated with the diamond concept: a case series of 64 patients. Injury 46(Suppl 8):S48–54. https://doi.org/10.1016/S0020-1383(15)30055-3
Funding
There is no funding source.
Ethics declarations
Conflict of interest
The authors declare that they have no conflict of interest.
Ethical approval
Approval for this study was obtained from the Ethics of Human Experiments Committee at Okayama University Graduate school of Medicine, Okayama, Japan.
Informed consent
Written informed consent was obtained from all individual patients for publication of this case report.
Additional information
Publisher's Note
Springer Nature remains neutral with regard to jurisdictional claims in published maps and institutional affiliations.
About this article
Cite this article
Matsuhashi, M., Saito, T., Noda, T. et al. Treatment for postoperative infection of pathological femoral fracture after radiotherapy: two case reports and review of the literature. Arch Orthop Trauma Surg (2020). https://doi.org/10.1007/s00402-020-03493-5
Received:

Accepted:

Published:
Keywords
Radiation-induced pathological fracture

Masquelet technique

Induced membrane

Bone lengthening