Abstract
Purpose
Opioids are a mainstay for pain management after total joint arthroplasty (TJA). The prevalence and risk factors for prolonged opioid use after TJA are important to understand to help slow the opioid epidemic. We aim to summarize and evaluate the prevalence and time trend of prolonged opioid use after TJA and pool its risk factors.
Methods
Following the preferred reporting items for systematic reviews and meta-analysis statement, we systematically searched PubMed, the Cochrane Library, and EMBASE, etc. from inception up to October 1, 2019. Cohort studies reporting risk factors for prolonged opioids use (≥ 3 months) after TJA were included. Studies characteristics, risk ratios (RR), and prevalence of prolonged opioid use were extracted and synthesized.
Results
A total of 15 studies were published between 2015 and 2019, with 416,321 patients included. 12% [95%CI 10–14%] of patients had prolonged opioid use after TJA and its time trend was associated with median enrollment years (P = 0.0013). Previous opioid use (RR = 1.73; P < 0.001), post-traumatic stress disorder (RR = 1.34; P < 0.001), benzodiazepine use (RR = 1.38; P < 0.001), tobacco abuse (RR = 1.26; P < 0.001), fibromyalgia (RR = 1.51; P < 0.001), and back pain (RR = 1.34; P < 0.001) were the largest effective risk factors for prolonged use of opioids.
Conclusions
To our knowledge, this is the first meta-analysis determining the risk factors of prolonged opioid use and characterizing its rate and time trend in TJA. Understanding risk factors for patients with higher potential for prolonged opioids use can be used to implement appropriate management strategies, reduce unsafe opioid prescriptions, and decrease the risk of prolonged opioid use after TJA.
This is a preview of subscription content, log in to check access.
Access options
Buy single article
Instant access to the full article PDF.
US$ 39.95
Price includes VAT for USA
Subscribe to journal
Immediate online access to all issues from 2019. Subscription will auto renew annually.
US$ 199
This is the net price. Taxes to be calculated in checkout.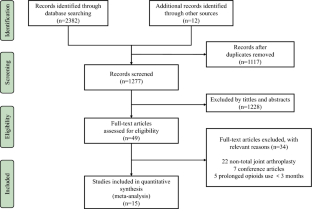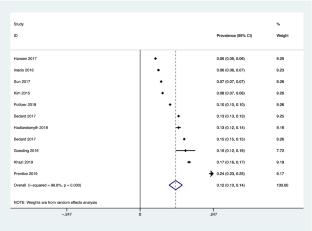 Funding
This study was supported through grants from the National Natural Science Foundation of China (81802210 and 81672219), National Clinical Research Center for Geriatrics, West China Hospital, Sichuan University (Z20191008), the Key Project of Sichuan Science and Technology Department (2018SZ0223 and 2018SZ0250), and the National Clinical Research Center for Geriatrics, West China Hospital, Sichuan University (Z2018B20).
Ethics declarations
Conflict of interest
The authors declare that they have no conflict of interest.
Ethics approval
This article does not contain any studies with human participants or animals performed by any of the authors.
Additional information
Publisher's Note
Springer Nature remains neutral with regard to jurisdictional claims in published maps and institutional affiliations.
Electronic supplementary material
Below is the link to the electronic supplementary material.
About this article
Cite this article
Wu, L., Li, M., Zeng, Y. et al. Prevalence and risk factors for prolonged opioid use after total joint arthroplasty: a systematic review, meta-analysis, and meta-regression. Arch Orthop Trauma Surg (2020). https://doi.org/10.1007/s00402-020-03486-4
Keywords
Opioid

Prolonged

Long-term

Total joint arthroplasty

Risk factors

Prevalence