Abstract
Objective
This study aimed to compare the efficacy and safety of the new method including 3D printing-based preoperative planning, surgical workshop, and contouring of the plate versus conventional method in the surgical treatment of complex acetabular fractures.
Methods
We retrospectively analyzed the data in a cohort of 88 patients of complex acetabular fracture with mean 29.95 ± 4.84 months (24–41 months) follow-up. Patients were divided into two groups. Group 1 consisting of 41 patients were performed previewed surgery with a 3D printing-based pre-contoured plate on a 3D printing model. Group 2, comprised of 47 patients, were treated by the traditional contoured plate technique. The quality of reduction was assessed using criteria described by Matta. Functional outcome was evaluated using Modified Postel Merle D'Aubigne score. A custom-made quiz was used to evaluate the chief assistant.
Results
The study showed no significant differences in measured preoperative variables except for the age between the Group 1 and Group 2 (p > 0.05). Compared with the Group 2, the intraoperative blood loss, operative time was significantly decreased in Group 1 (p < 0.05). There were no significant statistical differences in the quality of reduction and Modified Postel Merle D'Aubigne score (p > 0.05). The result of evaluation of assistant in Group 1 was significantly high than in Group 2 (p < 0.05).
Conclusion
3D printing-based pre-contoured plate is a more effective and reliable method than traditional contoured plate technique for treating the complex acetabular fractures. Meanwhile, the 3D printing is a useful orthopedic surgical education tool which can improve the understanding of the complex acetabular fracture for a young surgeon.
We're sorry, something doesn't seem to be working properly.
Please try refreshing the page. If that doesn't work, please contact support so we can address the problem.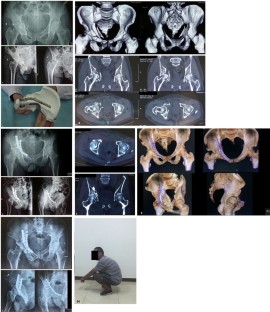 References
1.

Judet R, Judet J, Letournel E (1964) Fractures of the acetabulum: classification and surgical approaches for open reduction. preliminary report. J Bone Jt Surg Am 46:1615–1646

2.

Tile M, Helfet DL, Kellam JF, Vrahas M (2015) Fractures of the pelvis and acetabulum. Georg Thieme Verlag, New York, Principles and methods of management

3.

Yammine K, Violato C (2016) The effectiveness of physical models in teaching anatomy: a meta-analysis of comparative studies. Adv Health Sci Educ Theory Pract 21(4):883–895. https://doi.org/10.1007/s10459-015-9644-7

4.

Hurson C, Tansey A, O'Donnchadha B, Nicholson P, Rice J, McElwain J (2007) Rapid prototyping in the assessment, classification and preoperative planning of acetabular fractures. Injury 38(10):1158–1162. https://doi.org/10.1016/j.injury.2007.05.020

5.

Huang Z, Song W, Zhang Y, Zhang Q, Zhou D, Zhou X, He Y (2018) Three-dimensional printing model improves morphological understanding in acetabular fracture learning: a multicenter, randomized, controlled study. PLoS ONE 13(1):e0191328. https://doi.org/10.1371/journal.pone.0191328

6.

Pahuta MA, Schemitsch EH, Backstein D, Papp S, Gofton W (2012) Virtual fracture carving improves understanding of a complex fracture: a randomized controlled study. J Bone Jt Surg Am 94(24):e182. https://doi.org/10.2106/JBJS.K.00996

7.

Maini L, Sharma A, Jha S, Sharma A, Tiwari A (2018) Three-dimensional printing and patient-specific pre-contoured plate: future of acetabulum fracture fixation? Eur J Trauma Emerg Surg Off Publ Eur Trauma Soc 44(2):215–224. https://doi.org/10.1007/s00068-016-0738-6

8.

Zeng C, Xing W, Wu Z, Huang H, Huang W (2016) A combination of three-dimensional printing and computer-assisted virtual surgical procedure for preoperative planning of acetabular fracture reduction. Injury 47(10):2223–2227. https://doi.org/10.1016/j.injury.2016.03.015

9.

Chana-Rodriguez F, Mananes RP, Rojo-Manaute J, Gil P, Martinez-Gomiz JM, Vaquero-Martin J (2016) 3D surgical printing and pre contoured plates for acetabular fractures. Injury 47(11):2507–2511. https://doi.org/10.1016/j.injury.2016.08.027

10.

Matta JM (2006) Operative treatment of acetabular fractures through the ilioinguinal approach: a 10-year perspective. J Orthop Trauma 20(1 Suppl):S20–29

11.

Matta JM (1996) Fractures of the acetabulum: accuracy of reduction and clinical results in patients managed operatively within three weeks after the injury. J Bone Jt Surg Am 78(11):1632–1645

12.

Brooker AF, Bowerman JW, Robinson RA, Riley LH Jr (1973) Ectopic ossification following total hip replacement. Incidence and a method of classification. J Bone Jt Surg Am 55(8):1629–1632

13.

Kellgren JH, Lawrence JS (1957) Radiological assessment of osteo-arthrosis. Ann Rheum Dis 16(4):494–502

14.

Ficat RP (1985) Idiopathic bone necrosis of the femoral head. Early diagnosis and treatment. J Bone Jt Surg Br 67(1):3–9

15.

Laird A, Keating JF (2005) Acetabular fractures: a 16-year prospective epidemiological study. J Bone Jt Surg Br 87(7):969–973. https://doi.org/10.1302/0301-620X.87B7.16017

16.

Letournel E, Judet R (1993) Fractures of the acetabulum, 2nd ed. Elson RAT (ed), translator. Springer, Berlin

17.

Bagaria V, Chaudhary K (2017) A paradigm shift in surgical planning and simulation using 3Dgraphy: experience of first 50 surgeries done using 3D-printed biomodels. Injury 48(11):2501–2508. https://doi.org/10.1016/j.injury.2017.08.058

18.

Maini L, Verma T, Sharma A, Sharma A, Mishra A, Jha S (2018) Evaluation of accuracy of virtual surgical planning for patient-specific pre-contoured plate in acetabular fracture fixation. Arch Orthop Trauma Surg 138(4):495–504. https://doi.org/10.1007/s00402-018-2868-2

19.

Hung CC, Li YT, Chou YC, Chen JE, Wu CC, Shen HC, Yeh TT (2018) Conventional plate fixation method versus pre-operative virtual simulation and three-dimensional printing-assisted contoured plate fixation method in the treatment of anterior pelvic ring fracture. Int Orthop. https://doi.org/10.1007/s00264-018-3963-2

20.

Shen F, Chen B, Guo Q, Qi Y, Shen Y (2013) Augmented reality patient-specific reconstruction plate design for pelvic and acetabular fracture surgery. Int J Comput Assist Radiol Surg 8(2):169–179. https://doi.org/10.1007/s11548-012-0775-5

21.

Duncan JM, Nahas S, Akhtar K, Daurka J (2015) The Use of a 3D printer in pre-operative planning for a patient requiring acetabular reconstructive surgery. J Orthop Case Rep 5(1):23–25. https://doi.org/10.13107/jocr.2250-0685.247

22.

Wu X, Liu R, Yu J, Xu S, Yang C, Shao Z, Yang S, Ye Z (2018) Mixed reality technology-assisted orthopedics surgery navigation. Surg Innovation 25(3):304–305. https://doi.org/10.1177/1553350618771413
Acknowledgements
We thank Xing Wei, Ping Liu, Hu Wang, Yahui Fu, for collecting the data, and Yuxuan Cong for helping to finish the statistics. All authors read and approved the final manuscript.
Ethics declarations
Conflict of interest
The authors declare that they have no conflict of interest.
Ethical approval
This study was approved by the Institutional Review Committee of Honghui Hospital, Xi′an Jiaotong University Health Science Center (No. 2016–088). All procedures performed in studies involving human participants were in accordance with the ethical standards of the institutional and/or national research committee and with the 1964 Helsinki declaration and its later amendments or comparable ethical standards. All patients signed informed consent forms prior to the study.
Additional information
Publisher's Note
Springer Nature remains neutral with regard to jurisdictional claims in published maps and institutional affiliations.
About this article
Cite this article
Wang, P., Kandemir, U., Zhang, B. et al. The effect of new preoperative preparation method compared to conventional method in complex acetabular fractures: minimum 2-year follow-up. Arch Orthop Trauma Surg 141, 215–222 (2021). https://doi.org/10.1007/s00402-020-03472-w
Received:

Published:

Issue Date:
Keywords
Acetabulum

Fractures

3D printing

Internal fixation

Plate