Abstract
Objective
Hip fractures are common orthopaedic injuries in the elderly. Opioids can provide peri-operative pain relief in hip fracture patients, but may have side effects. Peripheral nerve blocks such as the fascia iliaca compartment block (FICB) have become an established part of the multimodal analgesic regime administered peri-operatively to hip fracture patients. We compare the efficacy of the continuous infusion FICB (CFICB) on peri-operative pain relief, opioid usage, its associated complications and the short as well as long term rehabilitation status in geriatric hip fractures patients.
Materials and methods
In this retrospective matched case control study, 40 geriatric patients with hip fractures who had received the CFICB from Nov 2014 to April 2016 were matched in a 1:3 ratio with similar patients whom had not received the CFICB from our institution's hip fracture database of 913 patients.
Results
A total of 157 patients in both the CFICB group (N = 40) and the control group (N = 117) were studied. The post-operative pain scores and the total opioid consumption during the first 3 days in the CFICB group were significantly less than the control group (p < 0.0001, respectively). The systemic complications in the CFICB group were comparable with the control group. The CFICB group had slower rehabilitation at up to 2 weeks but there was no significant difference at 1 year post surgery in terms of function and mobility between the two groups. In both groups, better pre-fracture function was associated with faster short term rehab outcomes in post-operative patients.
Conclusion
The CFICB provides safe and effective post-operative pain relief in geriatric hip fracture patients. Post-operative opioid usage is decreased in older hip fracture patients treated with CFICB. Rehabilitation milestones are slower in the short term, but have no significant difference at 1-year post surgery.
Access options
Buy single article
Instant access to the full article PDF.
US$ 39.95
Tax calculation will be finalised during checkout.
Subscribe to journal
Immediate online access to all issues from 2019. Subscription will auto renew annually.
US$ 119
Tax calculation will be finalised during checkout.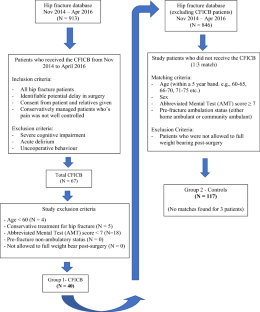 References
1.

Pisani P, Renna MD, Conversano F, Casciaro E, Di Paola M, Quarta E et al (2016) Major osteoporotic fragility fractures: risk factor updates and societal impact. World J Orthop 7(3):171

2.

Sanzone AG (2016) Current challenges in pain management in hip fracture patients. J Orthop Trauma 30:S1–S5

3.

Foss NB, Kristensen BB, Bundgaard M, Bak M, Heiring C, Virkelyst C et al (2007) Fascia iliaca compartment blockade for acute pain control in hip fracture patients. A randomized, placebo-controlled trial. Anesthesiol J Am Soc Anesthesiol 106(4):773–778

4.

Monzón DG, Vazquez J, Jauregui JR, Iserson KV (2010) Pain treatment in post-traumatic hip fracture in the elderly: regional block vs. systemic non-steroidal analgesics. Int J Emerg Med 3(4):321

5.

Chau DL, Walker V, Pai L, Cho LM (2008) Opiates and elderly: use and side effects. Clin Interv Aging 3(2):273

6.

Fujihara Y, Fukunishi S, Nishio S, Miura J, Koyanagi S, Yoshiya S (2013) Fascia iliaca compartment block: its efficacy in pain control for patients with proximal femoral fracture. J Orthop Sci 18(5):793–797

7.

Williams H, Paringe V, Shenoy S, Michaels P, Ramesh B (2016) Standard preoperative analgesia with or without fascia iliaca compartment block for femoral neck fractures. J Orthop Surg 24(1):31–35

8.

Groot L, Dijksman LM, Simons MP, Zwartsenburg MM, Rebel JR (2015) Single fascia iliaca compartment block is safe and effective for emergency pain relief in hip-fracture patients. West J Emerg Med 16(7):1188

9.

Nie H, Yang Y-X, Wang Y, Liu Y, Zhao B, Luan B (2015) Effects of continuous fascia iliaca compartment blocks for postoperative analgesia in patients with hip fracture. Pain Res Manag 20(4):210–212

10.

Dulaney-Cripe E, Hadaway S, Bauman R, Trame C, Smith C, Sillaman B et al (2012) A continuous infusion fascia iliaca compartment block in hip fracture patients: a pilot study. J Clin Med Res 4(1):45

11.

Mangram AJ, Oguntodu OF, Hollingworth AK, Prokuski L, Steinstra A, Collins M et al (2015) Geriatric trauma G-60 falls with hip fractures: a pilot study of acute pain management using femoral nerve fascia iliac blocks. J Trauma Acute Care Surg 79(6):1067–1072

12.

Chesters A, Atkinson P (2014) Fascia iliaca block for pain relief from proximal femoral fracture in the emergency department: a review of the literature. Emerg Med J 31(e1):e84–e87

13.

Ma Y, Wu J, Xue J, Lan F, Wang T (2018) Ultrasound-guided continuous fascia iliaca compartment block for pre-operative pain control in very elderly patients with hip fracture: a randomized controlled trial. Exp Ther Med 16(3):1944–1952

14.

Steenberg J, Møller AM (2018) Systematic review of the effects of fascia iliaca compartment block on hip fracture patients before operation. Br J Anaesth 120(6):1368–1380

15.

Metesky J-L, Chen J, Rosenblatt M (2019) Enhanced recovery after surgery pathway: the use of fascia iliaca blocks causes delayed ambulation after total hip arthroplasty. World J Anesthesiol 8(2):13–18

16.

Bober K, Kadado A, Charters M, Ayoola A, North T (2020) Pain control after total hip arthroplasty: a randomized controlled trial determining efficacy of fascia iliaca compartment blocks in the immediate postoperative period. J Arthroplasty. https://doi.org/10.1016/j.arth.2020.02.020

17.

Shah S, Vanclay F, Cooper B (1989) Improving the sensitivity of the Barthel Index for stroke rehabilitation. J Clin Epidemiol 42(8):703–709

18.

Cuignet O, Mbuyamba J, Pirson J (2005) The long-term analgesic efficacy of a single-shot fascia iliaca compartment block in burn patients undergoing skin-grafting procedures. J Burn Care Rehabil 26(5):409–415

19.

Leung JM, Sands LP, Lim E, Tsai TL, Kinjo S (2013) Does preoperative risk for delirium moderate the effects of postoperative pain and opiate use on postoperative delirium? Am J Geriatr Psychiatry 21(10):946–956

20.

Vaurio LE, Sands LP, Wang Y, Mullen EA, Leung JM (2006) Postoperative delirium: the importance of pain and pain management. Anesth Analg 102(4):1267–1273

21.

Dubljanin-Raspopović E, Marković-Denić L, Živković K, Nedeljković U, Tomanović S, Kadija M et al (2013) The impact of postoperative pain on early ambulation after hip fracture. Acta Chir Iugosl 60(1):61–64

22.

Morrison RS, Magaziner J, McLaughlin MA, Orosz G, Silberzweig SB, Koval KJ et al (2003) The impact of post-operative pain on outcomes following hip fracture. Pain 103(3):303–311

23.

Kristensen MT (2011) Factors affecting functional prognosis of patients with hip fracture. Eur J Phys Rehabil Med 47(2):257–264

24.

Tuncer S, Sert ÖA, Yosunkaya A, Mutlu M, Çelik J, Ökesli S (2003) Patient-controlled femoral nerve analgesia versus patient-controlled intravenous analgesia for postoperative analgesia after trochanteric fracture repair. Acute Pain 4(3–4):105–108

25.

Yamamoto N, Sakura S, Noda T, Nishiyama A, Dan'ura T, Matsui Y et al (2019) Comparison of the postoperative analgesic efficacies of intravenous acetaminophen and fascia iliaca compartment block in hip fracture surgery: a randomised controlled trial. Injury 50(10):1689–1693

26.

Jette AM, Harris BA, Cleary PD, Campion EW (1987) Functional recovery after hip fracture. Arch Phys Med Rehabil 68(10):735–740

27.

Koval KJ, Skovron ML, Aharonoff GB, Meadows SE, Zuckerman JD (1995) Ambulatory ability after hip fracture. A prospective study in geriatric patients. Clin Orthop Relat Res 310:150–159

28.

Dolan J, Williams A, Murney E, Smith M, Kenny GN (2008) Ultrasound guided fascia iliaca block: a comparison with the loss of resistance technique. Reg Anesth Pain Med 33(6):526–531

29.

Buecking B, Wack C, Oberkircher L, Ruchholtz S, Eschbach D (2012) Do concomitant fractures with hip fractures influence complication rate and functional outcome? Clin Orthop Relat Res 470(12):3596–3606
Funding
This study has not received any funding and the authors have not sought any writing assistance.
Ethics declarations
Conflict of interests
Each named author has substantially contributed to conducting the underlying research, drafting this manuscript and final approval of the version to be submitted. Additionally, to the best of our knowledge, the named authors have no conflict of interest, financial or otherwise.
Additional information
Publisher's Note
Springer Nature remains neutral with regard to jurisdictional claims in published maps and institutional affiliations.
About this article
Cite this article
Rasappan, K., Chua, I.T.H., Tey, J.B.L. et al. The continuous infusion fascia iliaca compartment block: a safe and effective analgesic modality in geriatric hip fracture patients. Arch Orthop Trauma Surg 141, 29–37 (2021). https://doi.org/10.1007/s00402-020-03450-2
Received:

Published:

Issue Date:
Keywords
Continuous infusion fascia iliaca compartment block

Geriatric hip fractures

Pain control

Opioid usage

Rehabilitation outcomes

Functional outcomes