Abstract
Background
Acetabular fractures are uncommon in children and adolescents, mainly because of predominant cartilaginous component and strong surrounding ligaments. Although acetabular fractures at this age can lead to significant disability, there is no consensus regarding management, which continues to be controversial. Particularly, long-term outcome after operative management has not been evaluated.
Case presentation
We report a case of a 13-year-old boy skeletally immature who presented with an isolated acetabular fracture involving the posterior wall secondary to a traumatic hip dislocation. A Kocher-Langenbeck approach with a surgical luxation of the hip was used for reduction and mini-plate internal fixation of the fracture. Long-term (17-year) follow-up showed a good clinical outcome and a good congruence of the. The patient has bilateral beginning osteoarthritis due to a cam configuration of both hips
Conclusion
We describe a case of successful operative management of an acetabulum fracture in a skelettaly immature child with a long-term follow-up. Aggressive management of this rare type of fractures may lead to durable positive outcome.
Access options
Buy single article
Instant access to the full article PDF.
US$ 39.95
Tax calculation will be finalised during checkout.
Subscribe to journal
Immediate online access to all issues from 2019. Subscription will auto renew annually.
US$ 119
Tax calculation will be finalised during checkout.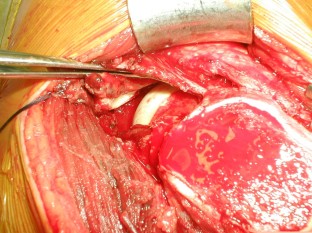 References
1.

Sen MK, Warner SJ, Sama N, Raglan M, Bircher C, Bircher M, Lorich DG, Helfet DL (2015) Treatment of acetabular fractures in adolescents. Am J Orthop 44(10):465–470

2.

Slongo TF (2013) Acetabulum injuries in infancy and childhood. Unfallchirurg 116(12):1076–1084

3.

Bucholz RW, Ezaki M, Ogden JA (1982) Injury to the acetabular triradiate physeal cartilage. J Bone Joint Surg Am 64(4):600–609

4.

Ganz R, Gill TJ, Gautier E, Ganz K, Krügel N, Berlemann U (2001) Surgical dislocation of the adult hip a technique with full access to the femoral head and acetabulum without the risk of avascular necrosis. J Bone Joint Surg Br 83(8):1119–1124

5.

Podeszwa DA, Rocha AD, Larson AN, Sucato DJ (2015) Surgical hip dislocation is safe following acute traumatic hip instability in the adolescent. J Pediatr Ortho 35:435–442

6.

Gänsslen A, Hildebrand F, Heidari N, Weinberg AM (2013) Acetabular fractures in children: a review of the literature. Acta Chir Orthop Traumatol Cech 80(1):10–14

7.

Letournel E (1980) Acetabulum fractures: classification and management. Clin Orthop Relat Res (151):81–106

8.

Matta JM (1996) Fractures of the acetabulum: accuracy of reduction and clinical results in patients managed operatively within three weeks after the injury. J Bone Joint Surg Am 78(11):1632–1645

9.

Laer L (1986) Frakturen und Luxationen im Wachstumsalter. Georg Thieme, pp 256–264

10.

Heeg M, de Ridder VA, Tornetta P 3rd, de Lange S, Klasen HJ (2000) Acetabular fractures in children and adolescents. Clin Orthop Relat Res. https://doi.org/10.1097/00003086-200007000-00012

11.

Davis AT, Moed BR (2013) Can experts in acetabular fracture care determine hip stability after posterior wall fractures using plain radiographs and computed tomography? J Orthop Trauma 27(10):587–591

12.

Karunakar MA, Goulet JA, Mueller KL, Bedi A, Le TT (2005) Operative treatment of unstable pediatric pelvis and acetabular fractures. J Pediatr Orthop 25(1):34–38

13.

Nierenberg G, Volpin G, Bialik V, Stein H (1993) Pelvic fractures in children: a follow-up in 20 children treated conservatively. J Pediatr Orthop 1:140–142

14.

Schwarz N, Posch E, Mayr J, Fischmeister FM, Schwarz AF, Ohner T (1998) Long-term results of unstable pelvic ring fractures in children. Injury 29(6):431–433

15.

Silber JS, Flynn JM, Katz MA, Ganley TJ, Koffler KM, Drummond DS (2001) Role of computed tomography in the classification and management of pediatric pelvic fractures. J Pediatr Orthop 21(2):148–151
Funding
There is no funding source.
Ethics declarations
Conflict of interest
The authors declare that they have no conflict of interest.
Ethical approval
This article does not contain any studies with human participants or animals performed by any of the authors.
Additional information
Publisher's Note
Springer Nature remains neutral with regard to jurisdictional claims in published maps and institutional affiliations.
About this article
Cite this article
Passaplan, C., Simonin, A. & Gautier, E. Posterior wall acetabular fracture in a 13-year-old boy treated by open reduction and mini-plate internal fixation: long-term follow-up of 17 years. Arch Orthop Trauma Surg 140, 1163–1167 (2020). https://doi.org/10.1007/s00402-019-03307-3
Received:

Published:

Issue Date:
Keywords
Acetabular fracture

Pediatric orthopaedic surgery

Posterior wall fracture

Mini-plate internal fixation