Abstract
Introduction
Anterior knee pain (AKP) is a frequent complication after total knee arthroplasty (TKA). Patelloplasty, defined as reshaping the patella for optimal tracking in the trochlea, has been proposed to reduce the rate of this complication in patellar retaining implants. Aim of this study was to analyze the available literature regarding the outcomes of patelloplasty and to assess its methodological quality.
Materials and methods
A comprehensive review of the English literature was performed using the keywords "total knee arthroplasty", "patelloplasty" and "patellaplasty" with no limit regarding the year of publication. All the selected articles were evaluated with the Coleman score.
Results
Seven full text articles were retrieved. The initial cohort included 461 knees in the study groups and 465 in the control groups. At an average FU of 70.6 months 447 knees were reviewed in the study group and 447 in the control groups. The global rate of AKP after patelloplasty was 11.3 % which compared to 7.9 % in the patella resurfacing control group. No signs of specific patellar complications due to patelloplasty were reported. Average Coleman score was 66.9.
Conclusion
Most of the literature has barely sufficient methodological quality. Patelloplasty aims at reducing patellar thickness and improve its tracking with TKA. This procedure is a safe and easy option with no reported adverse effects. In the included studies, outcome seemed to be superior in comparison with isolated osteophyte removal and denervation with a lower rate of AKP. The included studies, however, report a lower rate of AKP following TKA with patellar resurfacing. Patelloplasty may have the potential to improve the outcome of patellar retaining implants.
Level of evidence
4, systematic review.
Access options
Buy single article
Instant access to the full article PDF.
USD 39.95
Price excludes VAT (USA)
Tax calculation will be finalised during checkout.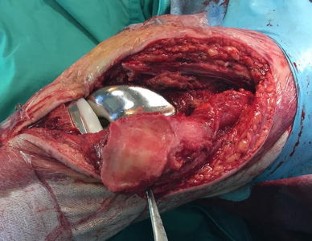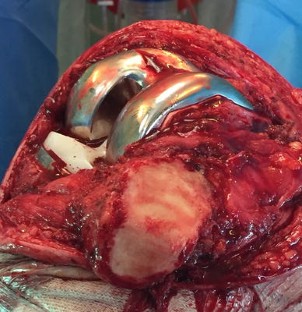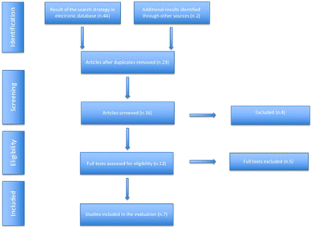 References
Popovic N, Lemaire R (2003) Anterior knee pain with a posterior-stabilized mobile-bearing knee prosthesis: the effect of femoral component design. J Arthroplast 18(4):396–400

Breugem SJ, Sierevelt IN, Schafroth MU, Blankevoort L, Schaap GR, van Dijk CN (2008) Less anterior knee pain with a mobile-bearing prosthesis compared with a fixed-bearing prosthesis. Clin Orthop Relat Res 466(8):1959–1965. doi:10.1007/s11999-008-0320-6

Waters TS, Bentley G (2003) Patellar resurfacing in total knee arthroplasty. A prospective, randomized study. J Bone Jt Surg Am 85(a(2)):212–217

Chen K, Li G, Fu D, Yuan C, Zhang Q, Cai Z (2013) Patellar resurfacing versus nonresurfacing in total knee arthroplasty: a meta-analysis of randomised controlled trials. Int Orthop 37(6):1075–1083. doi:10.1007/s00264-013-1866-9

Boyd AD Jr, Ewald FC, Thomas WH, Poss R, Sledge CB (1993) Long-term complications after total knee arthroplasty with or without resurfacing of the patella. J Bone Jt Surg Am 75(5):674–681

Shih HN, Shih LY, Wong YC, Hsu RW (2004) Long-term changes of the nonresurfaced patella after total knee arthroplasty. J Bone Jt Surg Am 86(a(5)):935–939

Muoneke HE, Khan AM, Giannikas KA, Hagglund E, Dunningham TH (2003) Secondary resurfacing of the patella for persistent anterior knee pain after primary knee arthroplasty. J Bone Jt Surg Br 85(5):675–678

Coleman BD, Khan KM, Maffulli N, Cook JL, Wark JD (2000) Studies of surgical outcome after patellar tendinopathy: clinical significance of methodological deficiencies and guidelines for future studies. Victorian Institute of Sport Tendon Study Group. Scand J Med Sci Sports 10(1):2–11

Lee GW, Lee SM, Jang SJ, Son JH (2013) The efficacy of patellar decompression for improving anterior knee pain following total knee arthroplasty without patellar resurfacing. Arch Orthop Trauma Surg 133(4):561–567. doi:10.1007/s00402-013-1702-0

Erturk C, Altay MA, Isikan UE (2011) Patelloplasty with patellar decompression to relieve anterior knee pain in total knee arthroplasty. Acta Orthopaedica et Traumatologica Turcica 45(6):425–430. doi:10.3944/aott.2011.2590

Zhang LZ, Zhang XL, Jiang Y, Wang Q, Chen YS, Shen H (2012) Lateral patellar facetectomy had improved clinical results in patients with patellar-retaining total knee arthroplasty. J Arthroplast 27(8):1442–1447. doi:10.1016/j.arth.2011.12.018

Zha G, Liu YJ, Yuan BT, Shen XZ, Qu F, Wang JT, Qi W, Zhu JL, Liu Y (2015) Arthroscopic patelloplasty and circumpatellar denervation for the treatment of patellofemoral osteoarthritis. Zhongguo gu shang = China J Orthop Traumatol 28(6):542–546

Khan A, Pradhan N (2012) Results of total knee replacement with/without resurfacing of the patella. Acta Ortopedica Brasileira 20(5):300–302. doi:10.1590/s1413-78522012000500011

Frost A, Zafar MS, Maffulli N (2009) Tenotomy versus tenodesis in the management of pathologic lesions of the tendon of the long head of the biceps brachii. Am J Sports Med 37(4):828–833. doi:10.1177/0363546508322179

Scholes C, Houghton ER, Lee M, Lustig S (2015) Meniscal translation during knee flexion: what do we really know? Knee Surg Sports Traumatol Arthrosc Off J ESSKA 23(1):32–40. doi:10.1007/s00167-013-2482-3

Li B, Bai L, Fu Y, Wang G, He M, Wang J (2012) Comparison of clinical outcomes between patellar resurfacing and nonresurfacing in total knee arthroplasty: retrospective study of 130 cases. J Int Med Res 40(5):1794–1803

Liu ZT, Fu PL, Wu HS, Zhu Y (2012) Patellar reshaping versus resurfacing in total knee arthroplasty—results of a randomized prospective trial at a minimum of 7 years' follow-up. Knee 19(3):198–202. doi:10.1016/j.knee.2011.03.004

Sun YQ, Yang B, Tong SL, Sun J, Zhu YC (2012) Patelloplasty versus traditional total knee arthroplasty for osteoarthritis. Orthopedics 35(3):e343–e348. doi:10.3928/01477447-20120222-14

Zupan A, Snoj Z, Antolic V, Pompe B (2014) Better results with patelloplasty compared to traditional total knee arthroplasty. Int Orthop 38(8):1621–1625. doi:10.1007/s00264-014-2366-2

Hwang BH, Yang IH, Han CD (2012) Comparison of patellar retention versus resurfacing in LCS mobile-bearing total knee arthroplasty. Knee Surg Sports Traumatol Arthrosc Off J ESSKA 20(3):524–531. doi:10.1007/s00167-011-1593-y

Feng B, Weng XS, Lin J, Qian WW, Wei W, Sheng L, Zhai JL, Bian YY, Qiu GX (2012) Outcome of total knee arthroplasty combined patelloplasty for end-stage type A hemophilic arthropathy. Knee 19(2):107–111. doi:10.1016/j.knee.2011.01.002

Cameron HU (1991) Comparison between patellar resurfacing with an inset plastic button and patelloplasty. Can J Surg (Journal canadien de chirurgie) 34(1):49–52

Jakobsen RB, Engebretsen L, Slauterbeck JR (2005) An analysis of the quality of cartilage repair studies. J Bone Jt Surg Am 87(10):2232–2239. doi:10.2106/jbjs.d.02904

White L, Holyoak R, Sant J, Hartnell N, Mullan J (2016) The effect of infrapatellar fat pad resection on outcomes post-total knee arthroplasty: a systematic review. Arch Orthop Trauma Surg 136(5):701–708. doi:10.1007/s00402-016-2440-x

Jawhar A, Sohoni S, Shah V, Scharf HP (2014) Alteration of the patellar height following total knee arthroplasty. Arch Orthop Trauma Surg 134(1):91–97. doi:10.1007/s00402-013-1896-1

Tompkins M, Arendt EA (2012) Complications in patellofemoral surgery. Sports Med Arthrosc Rev 20(3):187–193. doi:10.1097/JSA.0b013e31825c74cf

Leichtle UG, Wunschel M, Leichtle CI, Muller O, Kohler P, Wulker N, Lorenz A (2014) Increased patellofemoral pressure after TKA: an in vitro study. Knee Surg Sports Traumatol Arthrosc Off J ESSKA 22(3):500–508. doi:10.1007/s00167-013-2372-8

Schneider U, Breusch SJ, Thomsen M, Wenz W, Graf J, Niethard FU (2000) A new concept in the treatment of anterior knee pain: patellar hypertension syndrome. Orthopedics 23(6):581–586
Ethics declarations
Conflict of interest
None of the authors have any potential conflict of interest with the present manuscript.
About this article
Cite this article
Cerciello, S., Robin, J., Lustig, S. et al. The role of patelloplasty in total knee arthroplasty. Arch Orthop Trauma Surg 136, 1607–1613 (2016). https://doi.org/10.1007/s00402-016-2577-7
Received:

Published:

Issue Date:

DOI: https://doi.org/10.1007/s00402-016-2577-7
Keywords
Anterior knee pain

Total knee arthroplasty

Patellar retaining

Patelloplasty

Patellaplasty