Abstract
Pituitary adenoma (PA) is one of the most common intracranial tumors, and approximately 40% of all PAs are prolactinomas. Dopamine agonists (DAs), such as cabergoline (CAB), have been successfully used in the treatment of prolactinomas. The expression of dopamine type 2 receptor (DRD2) determines the therapeutic effect of DAs, but the molecular mechanisms of DRD2 regulation are not fully understood. In this study, we first demonstrated that DRD2 underwent proteasome-mediated degradation. We further employed the yeast two-hybrid system and identified kelch repeat and BTB (POZ) domain containing 7 (KBTBD7), a substrate adaptor for the CUL3-RING ubiquitin (Ub) ligase complex, as a DRD2-interacting protein. KBTBD6/7 directly interacted with, and ubiquitinated DRD2 at five ubiquitination sites (K221, K226, K241, K251, and K258). CAB, a high-affinity DRD2 agonist, induced DRD2 internalization, and cytoplasmic DRD2 was degraded via ubiquitination under the control of KBTBD6/7, the activity of which attenuated CAB-mediated inhibition of the AKT/mTOR pathway. KBTBD7 knockout (KO) mice were generated using the CRISPR-Cas9 technique, in which the static level of DRD2 protein was elevated in the pituitary gland, thalamus, and heart, compared to that of WT mice. Consistently, the expression of KBTBD6/7 was negatively correlated with that of DRD2 in human pituitary tumors. Moreover, KBTBD7 was highly expressed in dopamine-resistant prolactinomas, but at low levels in dopamine-sensitive prolactinomas. Knockdown of KBTBD6/7 sensitized MMQ cells and primary pituitary tumor cells to CAB treatment. Conversely, KBTBD7 overexpression increased CAB resistance of estrogen-induced in situ rat prolactinoma model. Together, our findings have uncovered the novel mechanism of DRD2 protein degradation and shown that the KBTBD6/7-DRD2 axis regulates PA sensitivity to DA treatment. KBTBD6/7 may thus become a promising therapeutic target for pituitary tumors.
This is a preview of subscription content, log in to check access.
Access options
Buy single article
Instant access to the full article PDF.
US$ 39.95
Price includes VAT for USA
Subscribe to journal
Immediate online access to all issues from 2019. Subscription will auto renew annually.
US$ 199
This is the net price. Taxes to be calculated in checkout.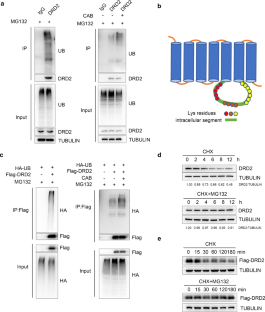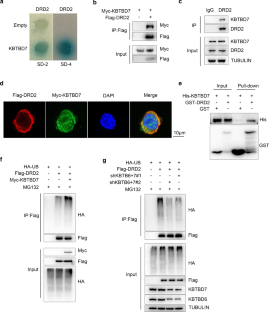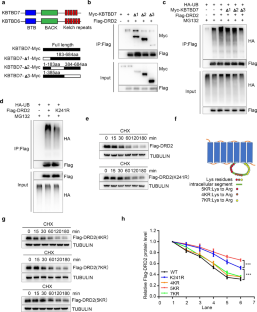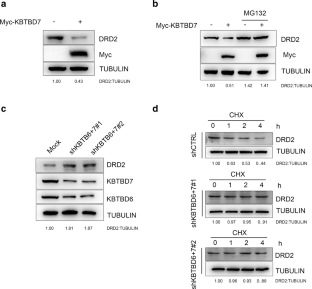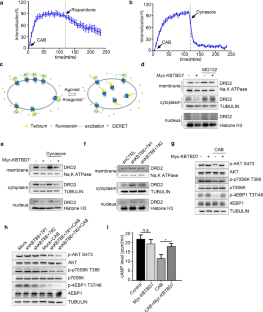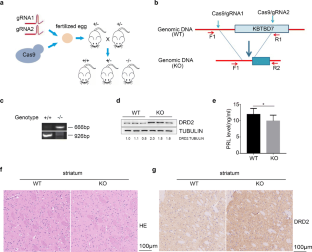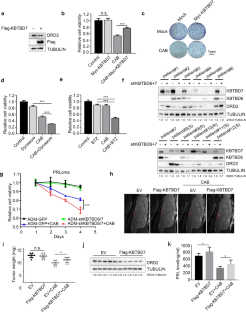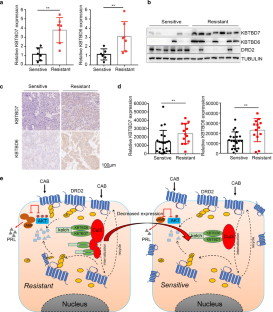 Acknowledgements
This work was supported by the National Natural Science Foundation of China under Grant Number 81972339 and 81671371 (ZBW), Shanghai Municipal Science and Technology Commission 18XD1403400 (ZBW), Program of Shanghai Academic Research Leader (ZBW), and Shanghai Training and Support Program for Outstanding Young Medical Talents (ZBW). This work was supported by funding to RH from the Strategic Priority Research Program of the Chinese Academy of Sciences (XDB19000000 and XDA12040323), the National Science Foundation of China (91853128, 31470770, and 81525019), the model animal project of Shanghai Science and Technology Commission (19140903500), the Ministry of Science and Technology of China (2019YFA082103 and 2018ZX10101004), Shanghai Municipal Science and Technology Major Project (2017SHZDZX01), and Shenzhen-Hong Kong Institute of Brain Science (NYKFKT2019006).
Ethics declarations
Conflict of interest
The authors have declared that no conflict of interest exists.
Additional information
Publisher's Note
Springer Nature remains neutral with regard to jurisdictional claims in published maps and institutional affiliations.
Electronic supplementary material
Below is the link to the electronic supplementary material.
About this article
Cite this article
Liu, Y.T., Liu, F., Cao, L. et al. The KBTBD6/7-DRD2 axis regulates pituitary adenoma sensitivity to dopamine agonist treatment. Acta Neuropathol (2020). https://doi.org/10.1007/s00401-020-02180-4
Received:

Revised:

Accepted:

Published:
Keywords
Pituitary tumor

DRD2

KBTBD7

KBTBD6

Ubiquitin degradation