Abstract
Chronic traumatic encephalopathy (CTE) is a progressive neurodegenerative disorder linked to repetitive traumatic brain injury (TBI) and characterized by deposition of hyperphosphorylated tau at the depths of sulci. We sought to determine the presence of CTE pathology in a brain bank for neurodegenerative disorders for individuals with and without a history of contact sports participation. Available medical records of 1721 men were reviewed for evidence of past history of injury or participation in contact sports. Subsequently, cerebral cortical samples were processed for tau immunohistochemistry in cases with a documented history of sports exposure as well as age- and disease-matched men and women without such exposure. For cases with available frozen tissue, genetic analysis was performed for variants in APOE, MAPT, and TMEM106B. Immunohistochemistry revealed 21 of 66 former athletes had cortical tau pathology consistent with CTE. CTE pathology was not detected in 198 individuals without exposure to contact sports, including 33 individuals with documented single-incident TBI sustained from falls, motor vehicle accidents, domestic violence, or assaults. Among those exposed to contact sports, those with CTE pathology did not differ from those without CTE pathology with respect to noted clinicopathologic features. There were no significant differences in genetic variants for those with CTE pathology, but we observed a slight increase in MAPT H1 haplotype, and there tended to be fewer homozygous carriers of the protective TMEM106B rs3173615 minor allele in those with sports exposure and CTE pathology compared to those without CTE pathology. In conclusion, this study has identified a small, yet significant, subset of individuals with neurodegenerative disorders and concomitant CTE pathology. CTE pathology was only detected in individuals with documented participation in contact sports. Exposure to contact sports was the greatest risk factor for CTE pathology. Future studies addressing clinical correlates of CTE pathology are needed.
Access options
Buy single article
Instant access to the full article PDF.
US$ 39.95
Tax calculation will be finalised during checkout.
Subscribe to journal
Immediate online access to all issues from 2019. Subscription will auto renew annually.
US$ 119
Tax calculation will be finalised during checkout.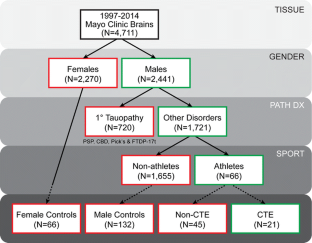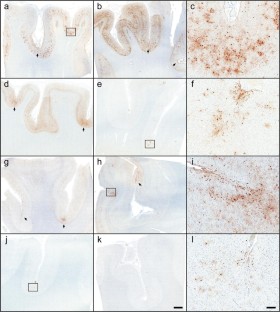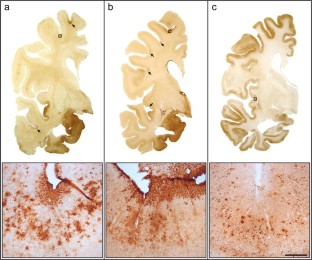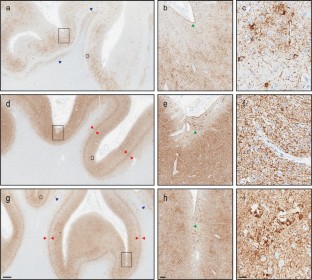 References
1.

Aoki N, Murray ME, Ogaki K et al (2015) Hippocampal sclerosis in Lewy body disease is a TDP-43 proteinopathy similar to FTLD-TDP Type A. Acta Neuropathol 129:53–64

2.

Braak H, Braak E (1991) Neuropathological stageing of Alzheimer-related changes. Acta Neuropathol 82:239–259

3.

Cantu RC, Mueller FO (2009) The prevention of catastrophic head and spine injuries in high school and college sports. Br J Sports Med 43:981–986

4.

Corsellis JA, Bruton CJ, Freeman-Browne D (1973) The aftermath of boxing. Psychol Med 3:270–303

5.

DeKosky ST, Blennow K, Ikonomovic MD, Gandy S (2013) Acute and chronic traumatic encephalopathies: pathogenesis and biomarkers. Nat Rev Neurol 9:192–200

6.

DeKosky ST, Ikonomovic MD, Gandy S (2010) Traumatic brain injury—football, warfare, and long-term effects. N Engl J Med 363:1293–1296

7.

Fournier CN, Gearing M, Upadhyayula SR, Klein M, Glass JD (2015) Head injury does not alter disease progression or neuropathologic outcomes in ALS. Neurology 84:1788–1795

8.

Gavett BE, Stern RA, Cantu RC, Nowinski CJ, McKee AC (2010) Mild traumatic brain injury: a risk factor for neurodegeneration. Alzheimers Res Ther 2:18

9.

Gavett BE, Stern RA, McKee AC (2011) Chronic traumatic encephalopathy: a potential late effect of sport-related concussive and subconcussive head trauma. Clin Sports Med 30(1):179–188

10.

Geddes JF, Vowles GH, Nicoll JA, Revesz T (1999) Neuronal cytoskeletal changes are an early consequence of repetitive head injury. Acta Neuropathol 98:171–178

11.

Goldstein LE, Fisher AM, Tagge CA et al (2012) Chronic traumatic encephalopathy in blast-exposed military veterans and a blast neurotrauma mouse model. Sci Transl Med 4:134ra160

12.

Houlden H, Baker M, Morris HR et al (2001) Corticobasal degeneration and progressive supranuclear palsy share a common tau haplotype. Neurology 56:1702–1706

13.

Jordan BD, Kanik AB, Horwich MS et al (1995) Apolipoprotein E epsilon 4 and fatal cerebral amyloid angiopathy associated with dementia pugilistica. Ann Neurol 38:698–699

14.

Josephs KA, Tsuboi Y, Cookson N, Watt H, Dickson DW (2004) Apolipoprotein E epsilon 4 is a determinant for Alzheimer-type pathologic features in tauopathies, synucleinopathies, and frontotemporal degeneration. Arch Neurol 61:1579–1584

15.

King A, Sweeney F, Bodi I et al (2010) Abnormal TDP-43 expression is identified in the neocortex in cases of dementia pugilistica, but is mainly confined to the limbic system when identified in high and moderate stages of Alzheimer's disease. Neuropathology 30:408–419

16.

Kokjohn TA, Maarouf CL, Daugs ID et al (2013) Neurochemical profile of dementia pugilistica. J Neurotrauma 30:981–997

17.

Koroshetz W (2015) Report from the First NIH consensus conference to define the neuropathological criteria for the diagnosis of chronic traumatic encephalopathy. http://www.ninds.nih.gov/research/tbi/ReportFirstNIHConsensusConference.htm

18.

Kovacs GG, Milenkovic I, Wohrer A et al (2013) Non-Alzheimer neurodegenerative pathologies and their combinations are more frequent than commonly believed in the elderly brain: a community-based autopsy series. Acta Neuropathol 126:365–384

19.

Maroon JC, Winkelman R, Bost J et al (2015) Chronic traumatic encephalopathy in contact sports: a systematic review of all reported pathological cases. PLoS One 10(2):e0117338

20.

McKee AC, Cantu RC, Nowinski CJ et al (2009) Chronic traumatic encephalopathy in athletes: progressive tauopathy after repetitive head injury. J Neuropathol Exp Neurol 68:709–735

21.

McKee AC, Daneshvar DH, Alvarez VE, Stein TD (2014) The neuropathology of sport. Acta Neuropathol 127:29–51

22.

McKee AC, Gavett BE, Stern RA et al (2010) TDP-43 proteinopathy and motor neuron disease in chronic traumatic encephalopathy. J Neuropathol Exp Neurol 69:918–929

23.

McKee AC, Stern RA, Nowinski CJ et al (2013) The spectrum of disease in chronic traumatic encephalopathy. Brain 136:43–64

24.

Murray ME, Cannon A, Graff-Radford NR et al (2014) Differential clinicopathologic and genetic features of late-onset amnestic dementias. Acta Neuropathol 128:411–421

25.

Omalu B, Bailes J, Hamilton RL et al (2011) Emerging histomorphologic phenotypes of chronic traumatic encephalopathy in American athletes. Neurosurgery 69:173–183

26.

Omalu BI, DeKosky ST, Hamilton RL et al (2006) Chronic traumatic encephalopathy in a national football league player: part II. Neurosurgery 59:1086–1092 (discussion 1092–1083)

27.

Omalu BI, DeKosky ST, Minster RL et al (2005) Chronic traumatic encephalopathy in a National Football League player. Neurosurgery 57:128–134 (discussion 128–134)

28.

Omalu BI, Fitzsimmons RP, Hammers J, Bailes J (2010) Chronic traumatic encephalopathy in a professional American wrestler. J Forensic Nurs 6:130–136

29.

Rademakers R, Melquist S, Cruts M et al (2005) High-density SNP haplotyping suggests altered regulation of tau gene expression in progressive supranuclear palsy. Hum Mol Genet 14:3281–3292

30.

Santa-Maria I, Haggiagi A, Liu XM et al (2012) The MAPT H1 haplotype is associated with tangle-predominant dementia. Acta Neuropathol 124:693–704

31.

Smith DH, Johnson VE, Stewart W (2013) Chronic neuropathologies of single and repetitive TBI: substrates of dementia? Nat Rev Neurol 9:211–221

32.

Stein TD, Montenigro PH, Alvarez VE et al (2015) Beta-amyloid deposition in chronic traumatic encephalopathy. Acta Neuropathol 130:21–34

33.

Stern RA, Daneshvar DH, Baugh CM et al (2013) Clinical presentation of chronic traumatic encephalopathy. Neurology 81:1122–1129

34.

Thal DR, Rub U, Orantes M, Braak H (2002) Phases of A beta-deposition in the human brain and its relevance for the development of AD. Neurology 58:1791–1800

35.

Turner RC, Lucke-Wold BP, Robson MJ et al (2012) Repetitive traumatic brain injury and development of chronic traumatic encephalopathy: a potential role for biomarkers in diagnosis, prognosis, and treatment? Front Neurol 3:186

36.

Uchihara T, Nakamura A, Yamazaki M et al (2001) Different conformation of neuronal tau deposits distinguished by double immunofluorescence with AT8 and thiazin red combined with Gallyas method. Acta Neuropathol 102:462–466

37.

Van Deerlin VM, Sleiman PMA, Martinez-Lage M et al (2010) Common variants at 7p21 are associated with frontotemporal lobar degeneration with TDP43 inclusions. Nat Genet 42:U234–U234

38.

Yu L, De Jager PL, Yang J et al (2015) The TMEM106B locus and TDP-43 pathology in older persons without FTLD. Neurology 84:927–934
Acknowledgments
We would like to thank the patients and their families. Without their generous donation, these studies would not be possible. We would also like to thank Monica Castanedes-Casey, Virginia Philips, and Linda Rousseau for their neurohistologic assistance, Michael DeTure for brain banking, and Deann Gibson for coordination of brain donations. This study was supported by the National Institute of Health (NIH) P50 NS072187 (OAR, ZKW, RR, DWD), R01 NS076471 (RR), R01 NS078086 (OAR), UO1 NS086659-01 (ACM), P30 AG13846 (ACM; supplement 0572063345-5). Other support included an unrestricted gift from Carl Edward Bolch Jr. and Susan Bass Bolch (ZKW), Department of Veterans Affairs (ACM), Veterans Affairs Biorepository CSP 501 (ACM), Sports Legacy Institute (ACM), National Operating Committee on Standards for Athletic Equipment (ACM), the National Football League (ACM), the Andlinger Foundation (ACM), and the WWE (ACM).
Electronic supplementary material
Below is the link to the electronic supplementary material.
About this article
Cite this article
Bieniek, K.F., Ross, O.A., Cormier, K.A. et al. Chronic traumatic encephalopathy pathology in a neurodegenerative disorders brain bank. Acta Neuropathol 130, 877–889 (2015). https://doi.org/10.1007/s00401-015-1502-4
Received:

Revised:

Accepted:

Published:

Issue Date:
Keywords
Chronic traumatic encephalopathy

Traumatic brain injury

Sports

Microtubule-associated protein tau

Brain bank