Abstract
Electrical storm (ES) is one of the most challenging clinical scenarios facing electrophysiologists, and in certain settings emergency ablation should be performed. The majority of ES occurs in patients with structural heart disease, predominantly coronary heart disease and nonischemic heart disease like right ventricular arrhythmogenic dysplasia and previous myocarditis as well as other cardiomyopathies. Implantable cardioverter-defibrillators (ICDs) are the first-line therapy in patients with ventricular tachycardia (VT) and structural heart disease. Recurrent VT episodes or ES are major problems in patients who receive an ICD after a spontaneous sustained VT. In addition, in patients with an ICD implanted for primary prevention of sudden cardiac death, 20 % will experience at least one VT episode within 3–5 years after ICD implantation. Catheter ablation has a high success rate in the acute setting in eliminating clinical VT. However, several factors make enodocardial catheter ablation of VT more difficult especially in advanced ischemic heart disease with heart failure and aneurysm. Frequently in nonischemic cardiomyopathies (NICM) there tends to be an epicardial and intramyocardial substrate where the critical VT zone can occasionally be epicardial or intramural in location. In some patients, an epicardial approach should be warranted first together with an endocardial approach or after failure of enodocardial ablation. Currently, the success rates of endocardial ablation in the acute setting are acceptable, but in the long term they are still not well defined. The purpose of this article is to highlight the importance of epicardial ablation as an alternative approach in controlling ES and to confirm the need for highly qualified centers to manage such challenging cases.
Zusammenfassung
Der elektrische Sturm (ES) stellt eine der größten klinischen Herausforderungen an die Elektrophysiologie dar und kann auch eine Notfallablation notwendig machen. Ein ES tritt überwiegend bei Patienten mit struktureller Herzkrankheit, insbesondere einer koronaren Herzkrankheit (ischämische Kardiomyopathie, ICM), auf. Aber auch bei nicht­ischämischen Kardiomyopathien, wie bei dilatativer Kardiomyopathie (DCM), rechtsvent­rikulärer Dysplasie (ARVCM) sowie stattgehabter Myokarditis, kann es zu einem ES kommen. Der implantierbare Kardioverter-Defibrillator (ICD) ist bei Patienten mit anhaltenden spontanen ventrikulären Tachykardien (VT) und struktureller Herzerkrankung als Erstlinientherapie anerkannt. Aber auch nach primär-prophylaktischer ICD-Implantation haben rund 20 % der Patienten innerhalb von 3 bis 5 Jahren mindestens eine VT-Episode. Die Katheterablation hat eine hohe akute Effektivität in der Elimination klinischer VTs. Insbesondere bei Patienten mit nichtischämischen Kardiomyopathien findet sich häufig ein epikardiales oder intramyokardiales Substrat mit kritischer Relevanz für den VT-Mechanismus, was die effektive endokardiale Ablation erschwert oder unmöglich macht. Eine epikardiale Ablationsstrategie sollte somit bei einzelnen Patienten im Rahmen der ersten Ablationsprozedur (primär endo- und epikardial), oder aber nach ineffektiver vorhergehender endokardialer Ablation erwogen werden. Die Akuterfolge der endokardialen Ablation bei ES sind akzeptabel, langfristige Erfolge wurden jedoch bisher wenig beschrieben. Eine ausgedehnte Ablation (aller Regionen mit pathologischen ventrikulären Elektrogrammen) beinhaltet auch eine Expansion der Ablation auf epikardiale Bereiche. Der vorliegende Artikel fokussiert auf die Notwendigkeit und Effektivität der epikardialen Ablation im Rahmen der interventionellen Therapie bei ES. Für diese komplexen Ablationsprozeduren sind hochqualifizierte spezialisierte Zentren erforderlich.
Access options
Buy single article
Instant access to the full article PDF.
US$ 39.95
Tax calculation will be finalised during checkout.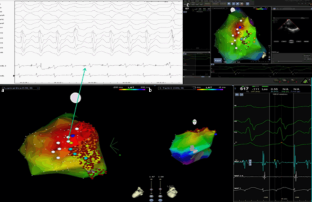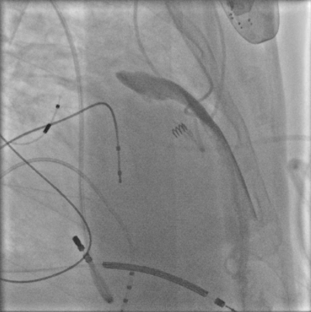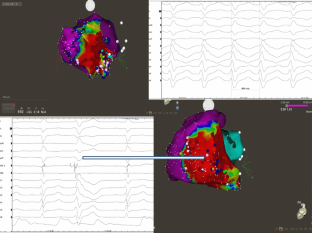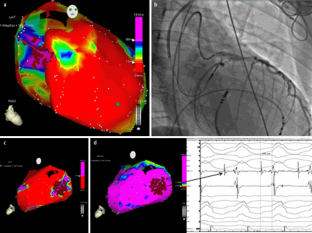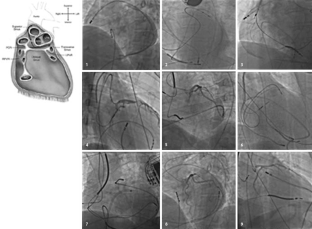 References
1.

Israel CW, Barold SS (2007) Electrical storm in patients with an implanted defibrillator: a matter of definition. Ann Noninvasive Electrocardiol 12(4):375–382

2.

Moss AJ, Greenberg H, Case RB, Zareba W, Hall WJ, Brown MW, Daubert JP, McNitt S, Andrews ML, Elkin AD (2004) Long-term clinical course of patients after termination of ventricular tachyarrhythmia by an implanted defibrillator. Circulation 110(25):3760–3765

3.

Runsiö M, Bergfeldt L, Brodin LA, Ribeiro A, Samuelsson S, Rosenqvist M (1997) Left ventricular function after repeated episodes of ventricular fibrillation and defibrillation assessed by transoesophageal echocardiography. Eur Heart J 18(1):124–131

4.

Jordan J, Titscher G, Peregrinova L, Kirsch H (2013) Manual for the psychotherapeutic treatment of acute and post-traumatic stress disorders following multiple shocks from implantable cardioverter defibrillator (ICD). Psychosoc Med 10:Doc09

5.

Schreieck J, Zrenner B, Deisenhofer I, Schmitt C (2005) Rescue ablation of electrical storm in patients with ischemic cardiomyopathy: a potential-guided ablation approach by modifying substrate of intractable, unmappable ventricular tachycardias. Heart Rhythm 2(1):10–14

6.

Dinov B, Fiedler L, Schönbauer R, Bollmann A, Rolf S, Piorkowski C, Hindricks G, Arya A (2014) Outcomes in catheter ablation of ventricular tachycardia in dilated nonischemic cardiomyopathy compared with ischemic cardiomyopathy: results from the Prospective Heart Centre of Leipzig VT (HELP—VT) Study. Circulation 129(7):728–736, published online before print November 8 2013

7.

Cao K, Gonska BD (1996) Catheter ablation of incessant ventricular tachycardia: acute and long-term results. Eur Heart J 17(5):756–763

8.

Soejima K, Stevenson WG, Sapp JL, Selwyn AP, Couper G, Epstein LM (2004) Endocardial and epicardial radiofrequency ablation of ventricular tachycardia associated with dilated cardiomyopathy: the importance of low-voltage scars. J Am Coll Cardiol 43(10):1834–1842

9.

Carbucicchio C, Santamaria M, Trevisi N, Maccabelli G, Giraldi F, Fassini G, Riva S, Moltrasio M, Cireddu M, Veglia F, Della Bella P (2008) Catheter ablation for the treatment of electrical storm in patients with implantable cardioverter-defibrillators: short- and long-term outcomes in a prospective single-center study. Circulation 117(4):462–469

10.

Exner DV, Pinski SL, Wyse DG, Renfroe EG, Follmann D, Gold M, Beckman KJ, Coromilas J, Lancaster S, Hallstrom AP (2001) Electrical storm presages nonsudden death†¯: the antiarrhythmics versus implantable defibrillators (AVID) trial. Circulation 103(16):2066–2071

11.

Gatzoulis KA, Andrikopoulos GK, Apostolopoulos T, Sotiropoulos E, Zervopoulos G, Antoniou J, Brili S, Stefanadis CI (2005) Electrical storm is an independent predictor of adverse long-term outcome in the era of implantable defibrillator therapy. Europace 7(2):184–192

12.

Bänsch D, Böcker D, Brunn J, Weber M, Breithardt G, Block M (2000) Clusters of ventricular tachycardias signify impaired survival in patients with idiopathic dilated cardiomyopathy and implantable cardioverter defibrillators. J Am Coll Cardiol 36(2):566–573

13.

Sesselberg HW, Moss AJ, McNitt S, Zareba W, Daubert JP, Andrews ML, Hall WJ, McClinitic B, Huang DT (2007) Ventricular arrhythmia storms in postinfarction patients with implantable defibrillators for primary prevention indications: a MADIT-II substudy. Heart Rhythm 4(11):1395–1402

14.

Stevenson WG, Wilber DJ, Natale A, Jackman WM, Marchlinski FE, Talbert T, Gonzalez MD, Worley SJ, Daoud EG, Hwang C, Schuger C, Bump TE, Jazayeri M, Tomassoni GF, Kopelman HA, Soejima K, Nakagawa H (2008) Irrigated radiofrequency catheter ablation guided by electroanatomic mapping for recurrent ventricular tachycardia after myocardial infarction: the multicenter thermocool ventricular tachycardia ablation trial. Circulation 118(25):2773–2782

15.

Aliot EM, Stevenson WG, Almendral-Garrote JM, Bogun F, Calkins CH, Delacretaz E, Della Bella P, Hindricks G, Jaïs P, Josephson ME, Kautzner J, Kay GN, Kuck K-H, Lerman BB, Marchlinski F, Reddy V, Schalij M-J, Schilling R, Soejima K, Wilber D (2009) EHRA/HRS Expert Consensus on Catheter Ablation of Ventricular Arrhythmias: developed in a partnership with the European Heart Rhythm Association (EHRA), a Registered Branch of the European Society of Cardiology (ESC), and the Heart Rhythm Society (HRS). Europace 11(6):771–817

16.

Sosa E, Scanavacca M (2000) Nonsurgical transthoracic epicardial catheter ablation to treat recurrent ventricular tachycardia occurring late after myocardial infarction. J Am Coll Cardiol 35(6):1442–1449

17.

Di Biase L, Santangeli P, Burkhardt DJ, Bai R, Mohanty P, Carbucicchio C, Dello Russo A, Casella M, Mohanty S, Pump A, Hongo R, Beheiry S, Pelargonio G, Santarelli P, Zucchetti M, Horton R, Sanchez JE, Elayi CS, Lakkireddy D, Tondo C, Natale A (2012) Endo-epicardial homogenization of the scar versus limited substrate ablation for the treatment of electrical storms in patients with ischemic cardiomyopathy. J Am Coll Cardiol 60(2):132–141

18.

Sosa E, Scanavacca M, D'Avila A, Piccioni J, Sanchez O, Velarde JL, Silva M, Reolão B (1998) Endocardial and epicardial ablation guided by nonsurgical transthoracic epicardial mapping to treat recurrent ventricular tachycardia. J Cardiovasc Electrophysiol 9(3):229–239

19.

Cano O, Hutchinson M, Lin D, Garcia F, Zado E, Bala R, Riley M, Cooper J, Dixit S, Gerstenfeld E, Callans D, Marchlinski FE (2009) Electroanatomic substrate and ablation outcome for suspected epicardial ventricular tachycardia in left ventricular nonischemic cardiomyopathy. J Am Coll Cardiol 54(9):799–808

20.

Hsia HH (2010) Epicardial ventricular tachycardia ablation an evolution of needs. J Am Coll Cardiol 55(21):2373–2375

21.

Sasaki T, Miller CF, Hansford R, Zipunnikov V, Zviman MM, Marine JE, Spragg D, Cheng A, Tandri H, Sinha S, Kolandaivelu A, Zimmerman SL, Bluemke DA, Tomaselli GF, Berger RD, Halperin HR, Calkins H, Nazarian S (2013) Impact of nonischemic scar features on local ventricular electrograms and scar-related ventricular tachycardia circuits in patients with nonischemic cardiomyopathy. Circ Arrhythm Electrophysiol 6(6):1139–1147

22.

Marchlinski FE, Zado E, Dixit S, Gerstenfeld E, Callans DJ, Hsia H, Lin D, Nayak H, Russo A, Pulliam W (2004) Electroanatomic substrate and outcome of catheter ablative therapy for ventricular tachycardia in setting of right ventricular cardiomyopathy. Circulation 110(16):2293–2298

23.

Verma A, Kilicaslan F, Schweikert RA, Tomassoni G, Rossillo A, Marrouche NF, Ozduran V, Wazni OM, Elayi SC, Saenz LC, Minor S, Cummings JE, Burkhardt JD, Hao S, Beheiry S, Tchou PJ, Natale A (2005) Short- and long-term success of substrate-based mapping and ablation of ventricular tachycardia in arrhythmogenic right ventricular dysplasia. Circulation 111(24):3209–3216

24.

Sosa E, Scanavacca M (2005) Epicardial mapping and ablation techniques to control ventricular tachycardia. J Cardiovasc Electrophysiol 16(4):449–452

25.

Credner SC, Klingenheben T, Mauss O, Sticherling C, Hohnloser SH (1998) Electrical storm in patients with transvenous implantable cardioverter-defibrillators: incidence, management and prognostic implications. J Am Coll Cardiol 32(7):1909–1915

26.

Gursoy S, Nellens P, Guiraudon G, Brugada J, Brugada P (1993) Epicardial and subselective transcoronary chemical ablation of incessant ventricular tachycardia. Cathet Cardiovasc Diagn 28(4):323–327

27.

Sacher F, Roberts-Thomson K, Maury P, Tedrow U, Nault I, Steven D, Hocini M, Koplan B, Leroux L, Derval N, Seiler J, Wright MJ, Epstein L, Haissaguerre M, Jais P, Stevenson WG (2010) Epicardial ventricular tachycardia ablation a multicenter safety study. J Am Coll Cardiol 55(21):2366–2372

28.

Nordbeck P, Seidl B, Fey B, Bauer WR, Ritter O (2010) Effect of cardiac resynchronization therapy on the incidence of electrical storm. Int J Cardiol 143(3):330–336

29.

Kozeluhova M, Peichl P, Cihak R, Wichterle D, Vancura V, Bytesnik J, Kautzner J (2011) Catheter ablation of electrical storm in patients with structural heart disease. Europace 13(1):109–113

30.

Deneke T, Shin D, Lawo T, Bösche L, Balta O, Anders H, Bünz K, Horlitz M, Grewe PH, Lemke B, Mügge A (2011) Catheter ablation of electrical storm in a collaborative hospital network. Am J Cardiol 108(2):233–239

31.

Sosa E, Scanavacca M, d'Avila A, Pilleggi F (1996) A new technique to perform epicardial mapping in the electrophysiology laboratory. J Cardiovasc Electrophysiol 7(6):531–536

32.

Deneke T, Mügge A (2013) Expanding the limits of epicardial mapping for ablation of ventricular tachycardia—the times they are a-changin'. Heart Rhythm 10(2):170–171

33.

Tschabrunn CM, Haqqani HM, Cooper JM, Dixit S, Garcia FC, Gerstenfeld EP, Callans DJ, Zado ES, Marchlinski FE (2013) Percutaneous epicardial ventricular tachycardia ablation after noncoronary cardiac surgery or pericarditis. Heart Rhythm 10(2):165–169

34.

van Huls van Taxis CF, Wijnmaalen AP, Piers SR, van der Geest RJ, Schalij MJ, Zeppenfeld K (2013) Real-time integration of MDCT-derived coronary anatomy and epicardial fat: impact on epicardial electroanatomic mapping and ablation for ventricular arrhythmias. JACC Cardiovasc Imaging 6(1):42–52

35.

Desjardins B, Morady F, Bogun F (2010) Effect of epicardial fat on electroanatomical mapping and epicardial catheter ablation. J Am Coll Cardiol 56(16):1320–1327

36.

Bänsch D, Oyang F, Antz M, Arentz T, Weber R, Val-Mejias JE, Ernst S, Kuck K-H (2003) Successful catheter ablation of electrical storm after myocardial infarction. Circulation 108(24):3011–3016
Compliance with ethical guidelines
Conflict of interest. G. Al Mohani, C. Israel, and M. Casella state that there are no conflicts of interest. C. Carbucicchio is a consultant for BIOTRONIK.
The manuscript does not include studies on humans or animals.
Electronic supplementary material
About this article
Cite this article
Al Mohani, G., Israel, C., Casella, M. et al. Epicardial ablation as a bailout in electrical storm?. Herzschr Elektrophys 25, 93–101 (2014). https://doi.org/10.1007/s00399-014-0308-8
Received:

Accepted:

Published:

Issue Date:
Keywords
Epicardial substrate

Epicardial ablation

Ischemic cardiomyopathy

Electrical storm

Ventricular arrhythmias
Schlüsselwörter
Epikardiales Substrat

Epikardiale Ablation

Ischämische Kardiomyopathie

Elektrischer Sturm

Ventrikuläre Arrhythmie