Functionalized graphene nanoplatelets/modified polybutadiene hybrid composite
Abstract
Functionalized graphene nanoplatelets (FGNPs) were synthesized through oxidative chlorophosphorylation (OxCh) reaction of graphite and subsequent hydrolysis of obtained chlorophosphonated graphite. Then FGNPs were used as a nanoscale filler to fabricate FGNPs/modified polybutadiene (MPB) hybrid composite (FGNPs/MPB). Fourier-transform infrared spectroscopy found that FGNPs have phosphonate functional groups and FGNPs/MPB has phosphonate and phosphate functional groups. X-ray diffraction showed that the thickness of FGNPs is 13.53 nm and the number of their layers is equal to 40, which are less than graphite's thickness (37.08) and layers (111). FGNPs show high conductivity and dielectric permittivity than graphite, while FGNPs/MPB has improved electric properties than MPB without filler. Thermal properties of FGNPs/MPB also improve due to the fact that FGNPs achieve a high degree of dispersion with less agglomeration. As observed in the scanning electron microscope images, FGNPs/MPB displays a two-phase morphology with an MPB continuous phase and a dispersed FGNPs phase.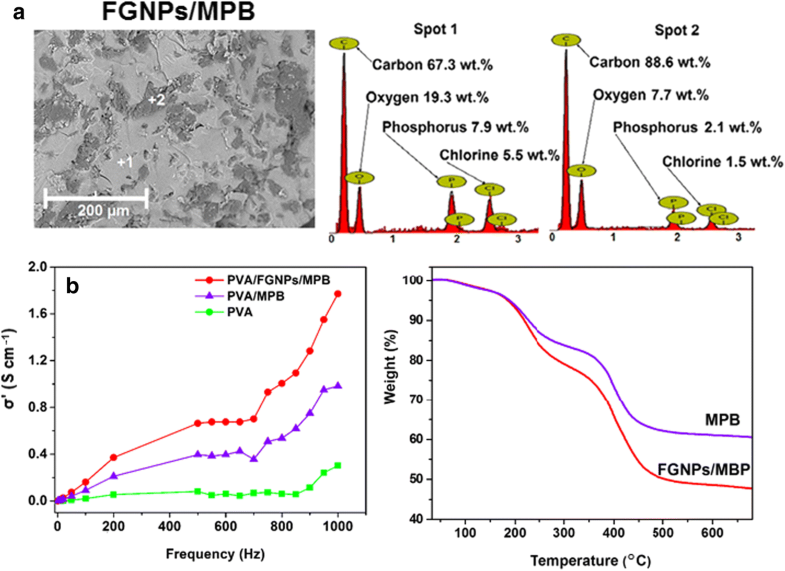 Keywords
Graphene nanoplatelets 
Polybutadiene 
Hybrid composite 
Thermal properties 
Electrical properties 
Morphology 
Notes
Acknowledgments
The authors thank Melytec LLC for providing help in SEM-EDS analysis of samples. The authors also thank Emin Aliyev, MA for providing language help.
Funding information
This work was supported by the Science Development Foundation under the President of the Republic of Azerbaijan – Grant № EİF/MQM/Elm-Tehsil-1-2016-1(26)-71/02/4.
Compliance with ethical standards
Conflict of interest
The authors declare that they have no conflicts of interest.
Copyright information
© Springer-Verlag GmbH Germany, part of Springer Nature 2019