Abstract
Purpose
The Western diet is poor in dietary fibre and previous efforts to increase fibre intake were not successful. The aim of this study was to develop sensorically appealing, fibre-enriched convenience foods. As a showcase, we prepared a fibre-enriched, fat-reduced Leberkas served in a roll and compared the reformulated product with the standard product.
Methods
The design was a randomized, single-blinded cross-over study. A Leberkas meal enriched with 19.2 g of wheat fibre and resistant dextrin as well as fat- and energy-reduced (30% less calories) was served to 20 middle-aged healthy volunteers (10 male, 10 female) and compared to the standard product in a random order. Blood was repeatedly taken over a 4 h period to measure metabolic parameters as well as satiety hormones, such as glucagon-like-peptide 1, cholecystokinin, peptide YY. Satiety and consumer acceptance of the fibre-enriched meal were assessed by visual analogue scales and a questionnaire.
Results
The fibre-enriched meal showed very small significant effects at only single time points in postprandial blood glucose (at 120 min, p = 0.050) and glucoseAUC fibre 22,079 ± 2819, standard 22,912 ± 3583 (p = 0.030). The profiles of satiety hormones were comparable between both meals. No differences in subjective satiation, taste and consumer acceptance were observed between the two products, despite a marked reduction in fat and energy content of the reformulated product.
Conclusion
It is possible to enrich a popular convenience product with dietary fibre and to markedly reduce energy content without loss of sensory qualities or satiety suggesting that development and promotion of healthier convenience foods may be a useful strategy to tackle obesity and other diet-related diseases.
Access options
Buy single article
Instant access to the full article PDF.
US$ 39.95
Tax calculation will be finalised during checkout.
Subscribe to journal
Immediate online access to all issues from 2019. Subscription will auto renew annually.
US$ 159
Tax calculation will be finalised during checkout.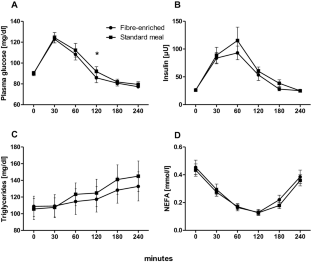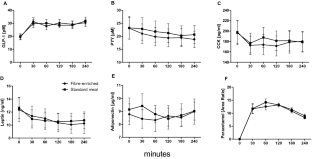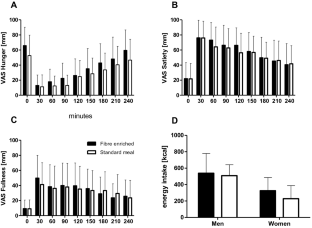 Acknowledgements
We thank Julia Ashton, Sandra Eckardt, Irmgard Sperrer and Margot Maier for assistance in taking care of the volunteers and data collection, and Manuela Hubersberger for technical assistance. We would also like to thank Jürgen Sieg and Anne Fischer from Rettenmaier & Sons for providing the Leberkas rolls.
Funding
This work was funded by a grant of the German Ministry for Education and Research (BMBF, 01EA1409C). The preparation of this paper was supported by the enable Cluster and is catalogued by the enable Steering Committee as enable 050 (http://enable-cluster.de).
Ethics declarations
Conflict of interest
The authors have no conflicts of interest to declare. The funders (BMBF) had no role in the design of the study; in the collection, analyses, or interpretation of data; in the writing of the manuscript, and in the decision to publish the results.
Supplementary Information
Below is the link to the electronic supplementary material.
About this article
Cite this article
Rennekamp, R., Brandl, B., Giesbertz, P. et al. Metabolic and satiating effects and consumer acceptance of a fibre-enriched Leberkas meal: a randomized cross-over trial. Eur J Nutr (2021). https://doi.org/10.1007/s00394-020-02472-1
Received:

Accepted:

Published:
Keywords
Fibre-enrichment

Convenience food

Reformulation

Satiety

Metabolic risk