Abstract
Purpose
Despite selenium's beneficial effects in counteracting oxidative stress, inflammation, and vascular endothelial dysfunction, controversial results exist regarding the long-term associations between selenium and atherosclerosis, arterial stiffness, and hypertension. We investigated in normal and selenium-deficient groups (and the total group), whether serum selenium relates to measures of large artery structure and function over 10 years.
Methods
This longitudinal study included black adults from rural and urban areas in South Africa. Serum selenium and blood pressure were measured at baseline (N = 987). At follow-up, carotid intima media thickness (IMT), cross-sectional wall area (CSWA), carotid-femoral pulse wave velocity (c-fPWV), and blood pressure were measured (N = 718). Selenium deficiency was classified as serum levels < 8 µg/100 ml.
Results
In multivariable-adjusted regression analyses performed in the normal selenium group, c-fPWV after 10 years was negatively associated with baseline selenium (β = − 0.09; p = 0.016). In the normal selenium group, baseline (but not 10 years) blood pressure also associated negatively with baseline selenium (β = − 0.09; p = 0.007). Both IMT (β = 0.12; p = 0.001) and CSWA (β = 0.10; p = 0.003) after 10 years associated positively with baseline selenium in the total, normal, and selenium-deficient groups.
Conclusion
We found a long-term vascular protective association of selenium on arterial stiffness and blood pressure in Africans with normal selenium levels, supporting the notion that selenium fulfills a vascular protective role. In contrast, we found a potential detrimental association between selenium and carotid wall thickness, particularly evident in individuals within the highest quartile of serum selenium.
This is a preview of subscription content, log in to check access.
Access options
Buy single article
Instant access to the full article PDF.
US$ 39.95
Price includes VAT for USA
Subscribe to journal
Immediate online access to all issues from 2019. Subscription will auto renew annually.
US$ 199
This is the net price. Taxes to be calculated in checkout.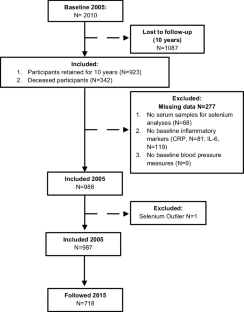 References
1.

Vorster HH (2002) The emergence of cardiovascular disease during urbanisation of Africans. Public Health Nutr 5:239–243. https://doi.org/10.1079/PHN2001299

2.

Vorster HH, Kruger A, Margetts BM (2011) The nutrition transition in Africa: can it be steered into a more positive direction? Nutrients 3:429–441. https://doi.org/10.3390/nu3040429

3.

Schutte AE, Botha S, Fourie CMT, Gafane-Matemane LF, Kruger R, Lammertyn L, Malan L, Mels CMC, Schutte R, Smith W, van Rooyen JM, Ware LJ, Huisman HW (2017) Recent advances in understanding hypertension development in sub-Saharan Africa. J Hum Hypertens 31:491–500. https://doi.org/10.1038/jhh.2017.18

4.

Rayman MP (2008) Food-chain selenium and human health: emphasis on intake. Br J Nutr 100:254–268. https://doi.org/10.1017/S0007114508939830

5.

Swart R, Schutte AE, van Rooyen JM, Mels CMC (2018) Serum selenium levels, the selenoprotein glutathione peroxidase and vascular protection: the SABPA study. Food Res Int 104:69–76. https://doi.org/10.1016/j.foodres.2017.06.054

6.

Labadarios D, Steyn NP, Maunder E, MacIntryre U, Gericke G, Swart R, Huskisson J, Dannhauser A, Vorster HH, Nesmvuni AE, Nel JH (2005) The national food consumption survey (NFCS): South Africa, 1999. Public Health Nutr 8:533–543. https://doi.org/10.1079/PHN2005816

7.

Heyland DK, Dhaliwal R, Suchner U, Berger MM (2005) Antioxidant nutrients: a systematic review of trace elements and vitamins in the critically ill patient. Intensive Care Med 31:327–337. https://doi.org/10.1007/s00134-004-2522-z

8.

Arthur JR, McKenzie RC, Beckett GJ (2003) Selenium in the immune system. J Nutr 133:1457S–1459S. https://doi.org/10.1093/jn/133.5.1457S

9.

Lewin MH, Arthur JR, Riemersma RA, Nicol F, Walker SW, Millar EM, Howie AF, Beckett GJ (2002) Selenium supplementation acting through the induction of thioredoxin reductase and glutathione peroxidase protects the human endothelial cell line EAhy926 from damage by lipid hydroperoxides. BBA Mol Cell Res 1593:85–92. https://doi.org/10.1016/S0167-4889(02)00333-6

10.

Labunskyy VM, Hatfield DL, Gladyshev VN (2014) Selenoproteins: molecular pathways and physiological roles. Physiol Rev 94:739–777. https://doi.org/10.1152/physrev.00039.2013

11.

Burk RF, Hill KE (2005) Selenoprotein P: an extracellular protein with unique physical characteristics and a role in selenium homeostasis. Annu Rev Nutr 25:215–235. https://doi.org/10.1146/annurev.nutr.24.012003.132120

12.

Liu H, Xu H, Huang K (2017) Selenium in the prevention of atherosclerosis and its underlying mechanisms. Metallomics 9:21–37. https://doi.org/10.1039/c6mt00195e

13.

Rayman MP, Bath SC, Westaway J, Williams P, Mao J, Vanderlelie JJ, Perkins AV, Redman CW (2015) Selenium status in U.K. pregnant women and its relationship with hypertensive conditions of pregnancy. Br J Nutr 113:249–258. https://doi.org/10.1017/S000711451400364X

14.

Alehagen U, Johansson P, Bjornstedt M, Rosen A, Dahlstrom U (2013) Cardiovascular mortality and N-terminal-proBNP reduced after combined selenium and coenzyme Q10 supplementation: a 5-year prospective randomized double-blind placebo-controlled trial among elderly Swedish citizens. Int J Cardiol 167:1860–1866. https://doi.org/10.1016/j.ijcard.2012.04.156

15.

Nawrot TS, Staessen JA, Roels HA, Den Hond E, Thijs L, Fagard RH, Dominiczak AF, Struijker-Boudier HA (2007) Blood pressure and blood selenium: a cross-sectional and longitudinal population study. Eur Heart J 28:628–633. https://doi.org/10.1093/eurheartj/ehl479

16.

Salonen JT, Salonen R, Seppanen K, Kantola M, Suntioinen S, Korpela H (1991) Interactions of serum copper, selenium, and low density lipoprotein cholesterol in atherogenesis. BMJ 302:756–760. https://doi.org/10.1136/bmj.302.6779.756

17.

Flores-Mateo G, Navas-Acien A, Pastor-Barriuso R, Guallar E (2006) Selenium and coronary heart disease: a meta-analysis. Am J Clin Nutr 84:762–773. https://doi.org/10.1093/ajcn/84.4.762

18.

Ju W, Li X, Li Z, Wu GR, Fu XF, Yang XM, Zhang XQ, Gao XB (2017) The effect of selenium supplementation on coronary heart disease: a systematic review and meta-analysis of randomized controlled trials. J Trace Elem Med Biol 44:8–16. https://doi.org/10.1016/j.jtemb.2017.04.009

19.

Teo K, Chow CK, Vaz M, Rangarajan S, Yusuf S, Group PI-W (2009) The prospective urban rural epidemiology (PURE) study: examining the impact of societal influences on chronic noncommunicable diseases in low-, middle-, and high-income countries. Am Heart J 158:1–7 e1. https://doi.org/10.1016/j.ahj.2009.04.019

20.

Schutte AE, Schutte R, Huisman HW, van Rooyen JM, Fourie CM, Malan NT, Malan L, Mels CM, Smith W, Moss SJ, Towers GW, Kruger HS, Wentzel-Viljoen E, Vorster HH, Kruger A (2012) Are behavioural risk factors to be blamed for the conversion from optimal blood pressure to hypertensive status in Black South Africans? A 5-year prospective study. Int J Epidemiol 41:1114–1123. https://doi.org/10.1093/ije/dys106

21.

Baecke JA, Burema J, Frijters JE (1982) A short questionnaire for the measurement of habitual physical activity in epidemiological studies. Am J Clin Nutr 36:936–942. https://doi.org/10.1093/ajcn/36.5.936

22.

Seedat Y, Rayner B (2012) South african hypertension guideline 2011. S Afr Med J 102:57–84

23.

Van Bortel LM, Laurent S, Boutouyrie P, Chowienczyk P, Cruickshank JK, De Backer T, Filipovsky J, Huybrechts S, Mattace-Raso FU, Protogerou AD, Schillaci G, Segers P, Vermeersch S, Weber T, Artery S, European Society of Hypertension Working Group on Vascular S, Function, European Network for Noninvasive Investigation of Large A (2012) Expert consensus document on the measurement of aortic stiffness in daily practice using carotid-femoral pulse wave velocity. J. Hypertens 30:445–448. https://doi.org/10.1097/HJH.0b013e32834fa8b0

24.

Touboul PJ, Hennerici MG, Meairs S, Adams H, Amarenco P, Bornstein N, Csiba L, Desvarieux M, Ebrahim S, Hernandez Hernandez R, Jaff M, Kownator S, Naqvi T, Prati P, Rundek T, Sitzer M, Schminke U, Tardif JC, Taylor A, Vicaut E, Woo KS (2012) Mannheim carotid intima-media thickness and plaque consensus (2004–2006–2011). An update on behalf of the advisory board of the 3rd, 4th and 5th watching the risk symposia, at the 13th, 15th and 20th European Stroke Conferences, Mannheim, Germany, 2004, Brussels, Belgium, 2006, and Hamburg, Germany, 2011. Cerebrovasc Dis 34:290–296. https://doi.org/10.1159/000343145

25.

Laurent S, Cockcroft J, Van Bortel L, Boutouyrie P, Giannattasio C, Hayoz D, Pannier B, Vlachopoulos C, Wilkinson I, Struijker-Boudier H, European Network for Non-invasive Investigation of Large A (2006) Expert consensus document on arterial stiffness: methodological issues and clinical applications. Eur Heart J 27:2588–2605. https://doi.org/10.1093/eurheartj/ehl254

26.

Rukgauer M, Klein J, Kruse-Jarres JD (1997) Reference values for the trace elements copper, manganese, selenium, and zinc in the serum/plasma of children, adolescents, and adults. J Trace Elem Med Biol 11:92–98. https://doi.org/10.1016/S0946-672X(97)80032-6

27.

Mancia G, Fagard R, Narkiewicz K, Redon J, Zanchetti A, Böhm M, Christiaens T, Cifkova R, De Backer G, Dominiczak A (2013) 2013 ESH/ESC guidelines for the management of arterial hypertension: the Task Force for the Management of Arterial Hypertension of the European Society of Hypertension (ESH) and of the European Society of Cardiology (ESC). Blood Press 22:193–278

28.

Seedat Y, Rayner B (2012) South African hypertension guideline 2011. S Afr Med J 102:60–83

29.

Arnaud J, Akbaraly TN, Hininger-Favier I, Berr C, Roussel AM (2009) Fibrates but not statins increase plasma selenium in dyslipidemic aged patients—the EVA study. J Trace Elem Med Biol 23:21–28. https://doi.org/10.1016/j.jtemb.2008.08.001

30.

Stranges S, Marshall JR, Natarajan R, Donahue RP, Trevisan M, Combs GF, Cappuccio FP, Ceriello A, Reid ME (2007) Effects of long-term selenium supplementation on the incidence of type 2 diabetes: a randomized trial. Ann Intern Med 147:217–223. https://doi.org/10.7326/0003-4819-147-4-200708210-00175

31.

Stranges S, Navas-Acien A, Rayman MP, Guallar E (2010) Selenium status and cardiometabolic health: state of the evidence. Nutr Metab Cardiovasc Dis 20:754–760. https://doi.org/10.1016/j.numecd.2010.10.001

32.

Moore JA, Noiva R, Wells IC (1984) Selenium concentrations in plasma of patients with arteriographically defined coronary atherosclerosis. Clin Chem 30:1171–1173

33.

Schwenke DC, Behr SR (1998) Vitamin E combined with selenium inhibits atherosclerosis in hypercholesterolemic rabbits independently of effects on plasma cholesterol concentrations. Circ Res 83:366–377. https://doi.org/10.1161/res.83.4.366

34.

Kok FJ, van Poppel G, Melse J, Verheul E, Schouten EG, Kruyssen DHCM, Hofman A (1991) Do antioxidants and polyunsaturated fatty acids have a combined association with coronary atherosclerosis? Atherosclerosis 86:85–90. https://doi.org/10.1016/0021-9150(91)90101-8

35.

Xun P, Liu K, Morris JS, Daviglus ML, He K (2010) Longitudinal association between toenail selenium levels and measures of subclinical atherosclerosis: the CARDIA trace element study. Atherosclerosis 210:662–667. https://doi.org/10.1016/j.atherosclerosis.2010.01.021

36.

Epstein FH, Ross R (1999) Atherosclerosis—an inflammatory disease. N Engl J Med 340:115–126. https://doi.org/10.1016/S0002-8703(99)70266-8

37.

Fernandez-Friera L, Fuster V, Lopez-Melgar B, Oliva B, Garcia-Ruiz JM, Mendiguren J, Bueno H, Pocock S, Ibanez B, Fernandez-Ortiz A, Sanz J (2017) Normal LDL-cholesterol levels are associated with subclinical atherosclerosis in the absence of risk factors. J Am Coll Cardiol 70:2979–2991. https://doi.org/10.1016/j.jacc.2017.10.024

38.

Latheef SAA, Radhika K, Subramanyam G (2014) Histopathological changes due to the effect of selenium in experimental cockerels. Indian J Med Res 139:927–932

39.

Zhang X, Liu C, Guo J, Song Y (2016) Selenium status and cardiovascular diseases: meta-analysis of prospective observational studies and randomized controlled trials. Eur J Clin Nutr 70:162–169. https://doi.org/10.1038/ejcn.2015.78

40.

Rayman MP (2012) Selenium and human health. Lancet 379:1256–1268. https://doi.org/10.1016/S0140-6736(11)61452-9

41.

Benstoem C, Goetzenich A, Kraemer S, Borosch S, Manzanares W, Hardy G, Stoppe C (2015) Selenium and its supplementation in cardiovascular disease—what do we know? Nutrients 7:3094–3118. https://doi.org/10.3390/nu7053094

42.

Meplan C (2015) Selenium and chronic diseases: a nutritional genomics perspective. Nutrients 7:3621–3651. https://doi.org/10.3390/nu7053621

43.

Hamanishi T, Furuta H, Kato H, Doi A, Tamai M, Shimomura H, Sakagashira S, Nishi M, Sasaki H, Sanke T, Nanjo K (2004) Functional variants in the glutathione peroxidase-1 (GPx-1) gene are associated with increased intima-media thickness of carotid arteries and risk of macrovascular diseases in japanese type 2 diabetic patients. Diabetes 53:2455–2460. https://doi.org/10.2337/diabetes.53.9.2455

44.

Nemoto M, Nishimura R, Sasaki T, Hiki Y, Miyashita Y, Nishioka M, Fujimoto K, Sakuma T, Ohashi T, Fukuda K, Eto Y, Tajima N (2007) Genetic association of glutathione peroxidase-1 with coronary artery calcification in type 2 diabetes: a case control study with multi-slice computed tomography. Cardiovasc Diabetol 6:23. https://doi.org/10.1186/1475-2840-6-23

45.

Joost HG, Gibney MJ, Cashman KD, Gorman U, Hesketh JE, Mueller M, van Ommen B, Williams CM, Mathers JC (2007) Personalised nutrition: status and perspectives. Br J Nutr 98:26–31. https://doi.org/10.1017/S0007114507685195

46.

Chan YH, Siu CW, Yiu KH, Chan HT, Li SW, Tam S, Cheung BM, Lau CP, Lam TH, Tse HF (2012) Adverse systemic arterial function in patients with selenium deficiency. J Nutr Health Aging 16:85–88. https://doi.org/10.1007/s12603-011-0086-5

47.

Asmar R, Benetos A, London G, Hugue C, Weiss Y, Topouchian J, Laloux B, Safar M (1995) Aortic distensibility in normotensive, untreated and treated hypertensive patients. Blood Press 4:48–54. https://doi.org/10.3109/08037059509077567

48.

Saijo Y, Utsugi M, Yoshioka E, Horikawa N, Sato T, Gong Y, Kishi R (2008) The relationship of gamma-glutamyltransferase to C-reactive protein and arterial stiffness. Nutr Metab Cardiovasc Dis 18:211–219. https://doi.org/10.1016/j.numecd.2006.10.002

49.

Shin JY, Lee HR, Lee DC (2011) Increased arterial stiffness in healthy subjects with high-normal glucose levels and in subjects with pre-diabetes. Cardiovasc Diabetol 10:30. https://doi.org/10.1186/1475-2840-10-30

50.

Ruseva B, Atanasova M, Georgieva M, Shumkov N, Laleva P (2012) Effects of selenium on the vessel walls and anti-elastin antibodies in spontaneously hypertensive rats. Exp Biol Med (Maywood) 237:160–166. https://doi.org/10.1258/ebm.2011.011212

51.

Moghadaszadeh B, Beggs AH (2006) Selenoproteins and their impact on human health through diverse physiological pathways. Physiology 21:307–315. https://doi.org/10.1152/physiol.00021.2006

52.

Zureik M, Galan P, Bertrais S, Mennen L, Czernichow S, Blacher J, Ducimetiere P, Hercberg S (2004) Effects of long-term daily low-dose supplementation with antioxidant vitamins and minerals on structure and function of large arteries. Arterioscler Thromb Vasc Biol 24:1485–1491. https://doi.org/10.1161/01.ATV.0000136648.62973.c8

53.

Virtamo J, Valkeila E, Alfthan G, Punsar S, Huttunen JK, Karvonen MJ (1985) Serum selenium and the risk of coronary heart disease and stroke. Am J Epidemiol 122:276–282. https://doi.org/10.1093/oxfordjournals.aje.a114099
Acknowledgements
We would like to thank all the participants, students, and supporting staff of the PURE study and particularly: (1) PURE-SA research team, field workers, and office staff at the North-West University, South Africa. (2) PURE-International: The PURE project office staff at the Population Health Research Institute (PHRI), Hamilton Health Sciences, and McMaster University, ON, Canada.
Funding
This project was funded by the South African Netherlands Research Programme on Alternatives in Development, North-West University, Population Health Research Institute, Roche Diagnostics (South Africa) and South African Medical Research Council, South African National Research Foundation (NRF), and South African Sugar Association (SASA) for the analyses (Grant number: Project 249). Opinions expressed and conclusions are those of the authors and are not necessarily to be attributed to the NRF.
Ethics declarations
Conflict of interest
The authors declare that they have no conflict of interests.
Electronic supplementary material
Below is the link to the electronic supplementary material.
About this article
Cite this article
Swart, R., Schutte, A.E., van Rooyen, J.M. et al. Selenium and large artery structure and function: a 10-year prospective study. Eur J Nutr 58, 3313–3323 (2019). https://doi.org/10.1007/s00394-018-1875-y
Received:

Accepted:

Published:

Issue Date:
Keywords
Carotid intima media thickness

Atherosclerosis

Pulse wave velocity

Arterial stiffness

Blood pressure

Micronutrient