Abstract
Purpose
We compared the effects of a eucaloric moderate-fat diet (18 % protein, 36 % fat, and 46 % carbohydrate), a eucaloric low-fat high-carbohydrate diet (18 % protein, 18 % fat, and 64 % carbohydrate), and a low-calorie (33 % reduced) low-fat high-carbohydrate diet on biomarkers of systemic inflammation.
Methods
We randomly assigned 102 participants (age 21–76 years and BMI 19.2–35.5 kg/m2) to the three different diets for 6 weeks in a parallel design intervention trial. All foods were provided. Ninety-three participants completed all study procedures; 92 were included in the analyses. Endpoints included plasma C-reactive protein (CRP), interleukin-6 (IL-6), soluble tumor necrosis factor receptors I and II (sTNFRI and II), and adiponectin.
Results
In the unadjusted primary analyses, none of the endpoints were differentially affected by the dietary interventions despite the significantly greater reductions in body weight and fat mass in participants consuming the low-calorie low-fat diet compared to the eucaloric diets (p < 0.001). When including weight change in the model in secondary analysis, adiponectin tended to be increased with weight loss (time × weight change interaction, p = 0.051). Adjusted for weight change, adiponectin was reduced in the groups consuming the low-fat diets relative to the moderate-fat diet (p = 0.008). No effect of the intervention diets or weight loss on CRP, IL-6, or sTNFRI and II was seen in these secondary analyses.
Conclusions
In relatively healthy adults, moderate weight loss had minimal effects on systemic inflammation, and raised plasma adiponectin only modestly. A lower dietary fat and higher carbohydrate content had little impact on measures of systemic inflammation, but reduced adiponectin concentrations compared to a moderate-fat diet. The latter may be of concern given the consistent and strong inverse association of plasma adiponectin with many chronic diseases.
Access options
Buy single article
Instant access to the full article PDF.
USD 39.95
Price excludes VAT (USA)
Tax calculation will be finalised during checkout.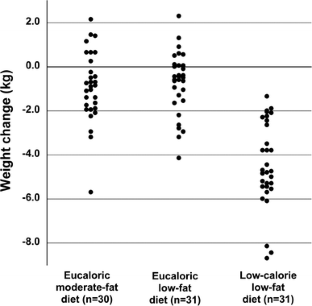 References
Aleksandrova K, Jenab M, Boeing H, Jansen E, Bueno-de-Mesquita HB, Rinaldi S, Riboli E, Overvad K, Dahm CC, Olsen A, Tjonneland A, Boutron-Ruault MC, Clavel-Chapelon F, Morois S, Palli D, Krogh V, Tumino R, Vineis P, Panico S, Kaaks R, Rohrmann S, Trichopoulou A, Lagiou P, Trichopoulos D, van Duijnhoven FJ, Leufkens AM, Peeters PH, Rodriguez L, Bonet C, Sanchez MJ, Dorronsoro M, Navarro C, Barricarte A, Palmqvist R, Hallmans G, Khaw KT, Wareham N, Allen NE, Spencer E, Romaguera D, Norat T, Pischon T (2010) Circulating C-reactive protein concentrations and risks of colon and rectal cancer: a nested case-control study within the European Prospective Investigation into Cancer and Nutrition. Am J Epidemiol 172:407–418. doi:10.1093/aje/kwq135

Heikkila K, Ebrahim S, Lawlor DA (2008) Systematic review of the association between circulating interleukin-6 (IL-6) and cancer. Eur J Cancer 44:937–945. doi:10.1016/j.ejca.2008.02.047

Trichopoulos D, Psaltopoulou T, Orfanos P, Trichopoulou A, Boffetta P (2006) Plasma C-reactive protein and risk of cancer: a prospective study from Greece. Cancer Epidemiol Biomarkers Prev 15:381–384. doi:10.1158/1055-9965.EPI-05-0626

Ridker PM (2009) C-reactive protein: eighty years from discovery to emergence as a major risk marker for cardiovascular disease. Clin Chem 55:209–215. doi:10.1373/clinchem.2008.119214

Dossus L, Becker S, Rinaldi S, Lukanova A, Tjonneland A, Olsen A, Overvad K, Chabbert-Buffet N, Boutron-Ruault MC, Clavel-Chapelon F, Teucher B, Chang-Claude J, Pischon T, Boeing H, Trichopoulou A, Benetou V, Valanou E, Palli D, Sieri S, Tumino R, Sacerdote C, Galasso R, Redondo ML, Bonet CB, Molina-Montes E, Altzibar JM, Chirlaque MD, Ardanaz E, Bueno-de-Mesquita HB, van Duijnhoven FJ, Peeters PH, Onland-Moret NC, Lundin E, Idahl A, Khaw KT, Wareham N, Allen N, Romieu I, Fedirko V, Hainaut P, Romaguera D, Norat T, Riboli E, Kaaks R (2011) Tumor necrosis factor (TNF)-alpha, soluble TNF receptors and endometrial cancer risk: the EPIC study. Int J Cancer 129:2032–2037. doi:10.1002/ijc.25840

Shai I, Schulze MB, Manson JE, Rexrode KM, Stampfer MJ, Mantzoros C, Hu FB (2005) A prospective study of soluble tumor necrosis factor-alpha receptor II (sTNF-RII) and risk of coronary heart disease among women with type 2 diabetes. Diabetes Care 28:1376–1382. doi:10.2337/diacare.28.6.1376

Lihn AS, Pedersen SB, Richelsen B (2005) Adiponectin: action, regulation and association to insulin sensitivity. Obes Rev 6:13–21. doi:10.1111/j.1467-789X.2005.00159.x

Sheng T, Yang K (2008) Adiponectin and its association with insulin resistance and type 2 diabetes. J Genet Genomics 35:321–326. doi:10.1016/S1673-8527(08)60047-8

Swarbrick MM, Havel PJ (2008) Physiological, pharmacological, and nutritional regulation of circulating adiponectin concentrations in humans. Metab Syndr Relat Disord 6:87–102. doi:10.1089/met.2007.0029

Maury E, Brichard SM (2010) Adipokine dysregulation, adipose tissue inflammation and metabolic syndrome. Mol Cell Endocrinol 314:1–16. doi:10.1016/j.mce.2009.07.031

Ohashi K, Ouchi N, Matsuzawa Y (2012) Anti-inflammatory and anti-atherogenic properties of adiponectin. Biochimie 94:2137–2142. doi:10.1016/j.biochi.2012.06.008

Mather KJ, Funahashi T, Matsuzawa Y, Edelstein S, Bray GA, Kahn SE, Crandall J, Marcovina S, Goldstein B, Goldberg R, Diabetes Prevention Program (2008) Adiponectin, change in adiponectin, and progression to diabetes in the Diabetes Prevention Program. Diabetes 57:980–986. doi:10.2337/db07-1419

Dalamaga M, Diakopoulos KN, Mantzoros CS (2012) The role of adiponectin in cancer: a review of current evidence. Endocr Rev 33:547–594. doi:10.1210/er.2011-1015

Kim JY, van de Wall E, Laplante M, Azzara A, Trujillo ME, Hofmann SM, Schraw T, Durand JL, Li H, Li G, Jelicks LA, Mehler MF, Hui DY, Deshaies Y, Shulman GI, Schwartz GJ, Scherer PE (2007) Obesity-associated improvements in metabolic profile through expansion of adipose tissue. J Clin Invest 117:2621–2637. doi:10.1172/JCI31021

Berg AH, Scherer PE (2005) Adipose tissue, inflammation, and cardiovascular disease. Circ Res 96:939–949. doi:10.1161/01.RES.0000163635.62927.34

Uysal KT, Wiesbrock SM, Marino MW, Hotamisligil GS (1997) Protection from obesity-induced insulin resistance in mice lacking TNF-alpha function. Nature 389:610–614. doi:10.1038/39335

Weisberg SP, McCann D, Desai M, Rosenbaum M, Leibel RL, Ferrante AW Jr (2003) Obesity is associated with macrophage accumulation in adipose tissue. J Clin Invest 112:1796–1808. doi:10.1172/JCI19246

Xu H, Barnes GT, Yang Q, Tan G, Yang D, Chou CJ, Sole J, Nichols A, Ross JS, Tartaglia LA, Chen H (2003) Chronic inflammation in fat plays a crucial role in the development of obesity-related insulin resistance. J Clin Invest 112:1821–1830. doi:10.1172/JCI19451

Nguyen MT, Favelyukis S, Nguyen AK, Reichart D, Scott PA, Jenn A, Liu-Bryan R, Glass CK, Neels JG, Olefsky JM (2007) A subpopulation of macrophages infiltrates hypertrophic adipose tissue and is activated by free fatty acids via Toll-like receptors 2 and 4 and JNK-dependent pathways. J Biol Chem 282:35279–35292. doi:10.1074/jbc.M706762200

Belza A, Toubro S, Stender S, Astrup A (2009) Effect of diet-induced energy deficit and body fat reduction on high-sensitive CRP and other inflammatory markers in obese subjects. Int J Obes (Lond) 33:456–464. doi:10.1038/ijo.2009.27

Kasim-Karakas SE, Tsodikov A, Singh U, Jialal I (2006) Responses of inflammatory markers to a low-fat, high-carbohydrate diet: effects of energy intake. Am J Clin Nutr 83:774–779

Nicklas JM, Sacks FM, Smith SR, LeBoff MS, Rood JC, Bray GA, Ridker PM (2013) Effect of dietary composition of weight loss diets on high-sensitivity c-reactive protein: the Randomized POUNDS LOST trial. Obesity (Silver Spring) 21:681–689. doi:10.1002/oby.20072

Schauer PR, Kashyap SR, Wolski K, Brethauer SA, Kirwan JP, Pothier CE, Thomas S, Abood B, Nissen SE, Bhatt DL (2012) Bariatric surgery versus intensive medical therapy in obese patients with diabetes. N Engl J Med 366:1567–1576. doi:10.1056/NEJMoa1200225

Silva FM, de Almeida JC, Feoli AM (2011) Effect of diet on adiponectin levels in blood. Nutr Rev 69:599–612. doi:10.1111/j.1753-4887.2011.00414.x

Herder C, Peltonen M, Svensson PA, Carstensen M, Jacobson P, Roden M, Sjostrom L, Carlsson L (2014) Adiponectin and bariatric surgery: associations with diabetes and cardiovascular disease in the Swedish obese subjects study. Diabetes Care. doi:10.2337/dc13-1362

King IB, Lemaitre RN, Kestin M (2006) Effect of a low-fat diet on fatty acid composition in red cells, plasma phospholipids, and cholesterol esters: investigation of a biomarker of total fat intake. Am J Clin Nutr 83:227–236

Ruth MR, Port AM, Shah M, Bourland AC, Istfan NW, Nelson KP, Gokce N, Apovian CM (2013) Consuming a hypocaloric high fat low carbohydrate diet for 12 weeks lowers C-reactive protein, and raises serum adiponectin and high density lipoprotein–cholesterol in obese subjects. Metabolism 62:1779–1787. doi:10.1016/j.metabol.2013.07.006

Camhi SM, Stefanick ML, Ridker PM, Young DR (2010) Changes in C-reactive protein from low-fat diet and/or physical activity in men and women with and without metabolic syndrome. Metabolism 59:54–61. doi:10.1016/j.metabol.2009.07.008

AlSaleh A, O'Dell SD, Frost GS, Griffin BA, Lovegrove JA, Jebb SA, Sanders TA, RISCK Study Group (2011) Single nucleotide polymorphisms at the ADIPOQ gene locus interact with age and dietary intake of fat to determine serum adiponectin in subjects at risk of the metabolic syndrome. Am J Clin Nutr 94:262–269. doi:10.3945/ajcn.111.014209

Yeung EH, Appel LJ, Miller ER 3rd, Kao WH (2010) The effects of macronutrient intake on total and high-molecular weight adiponectin: results from the OMNI-Heart trial. Obesity (Silver Spring) 18:1632–1637. doi:10.1038/oby.2009.402

Kelesidis I, Kelesidis T, Mantzoros CS (2006) Adiponectin and cancer: a systematic review. Br J Cancer 94:1221–1225. doi:10.1038/sj.bjc.6603051

Asterholm IW, Scherer PE (2010) Enhanced metabolic flexibility associated with elevated adiponectin levels. Am J Pathol 176:1364–1376. doi:10.2353/ajpath.2010.090647

Kloting N, Fasshauer M, Dietrich A, Kovacs P, Schon MR, Kern M, Stumvoll M, Bluher M (2010) Insulin-sensitive obesity. Am J Physiol Endocrinol Metab 299:E506–E515. doi:10.1152/ajpendo.00586.2009

Karelis AD (2008) Metabolically healthy but obese individuals. Lancet 372:1281–1283. doi:10.1016/S0140-6736(08)61531-7

Neuhouser ML, Schwarz Y, Wang C, Breymeyer K, Coronado G, Wang CY, Noar K, Song X, Lampe JW (2012) A low-glycemic load diet reduces serum C-reactive protein and modestly increases adiponectin in overweight and obese adults. J Nutr 142:369–374. doi:10.3945/jn.111.149807

King DE, Egan BM, Woolson RF, Mainous AG 3rd, Al-Solaiman Y, Jesri A (2007) Effect of a high-fiber diet vs a fiber-supplemented diet on C-reactive protein level. Arch Intern Med 167:502–506. doi:10.1001/archinte.167.5.502

Vlassara H, Cai W, Crandall J, Goldberg T, Oberstein R, Dardaine V, Peppa M, Rayfield EJ (2002) Inflammatory mediators are induced by dietary glycotoxins, a major risk factor for diabetic angiopathy. Proc Natl Acad Sci USA 99:15596–15601. doi:10.1073/pnas.242407999

Peppa M, Uribarri J, Cai W, Lu M, Vlassara H (2004) Glycoxidation and inflammation in renal failure patients. Am J Kidney Dis 43:690–695. doi:10.1053/j.ajkd.2003.11.022

Zhao G, Etherton TD, Martin KR, West SG, Gillies PJ, Kris-Etherton PM (2004) Dietary alpha-linolenic acid reduces inflammatory and lipid cardiovascular risk factors in hypercholesterolemic men and women. J Nutr 134:2991–2997

Sofi F, Whittaker A, Gori AM, Cesari F, Surrenti E, Abbate R, Gensini GF, Benedettelli S, Casini A (2014) Effect of Triticum turgidum subsp. turanicum wheat on irritable bowel syndrome: a double-blinded randomised dietary intervention trial. Br J Nutr. doi:10.1017/S000711451400018X

Kralova Lesna I, Suchanek P, Brabcova E, Kovar J, Malinska H, Poledne R (2013) Effect of different types of dietary fatty acids on subclinical inflammation in humans. Physiol Res 62:145–152

Tovar J, Nilsson A, Johansson M, Ekesbo R, Aberg AM, Johansson U, Bjorck I (2012) A diet based on multiple functional concepts improves cardiometabolic risk parameters in healthy subjects. Nutr Metab (Lond) 9:29. doi:10.1186/1743-7075-9-29

Franzini L, Ardigo D, Valtuena S, Pellegrini N, Del Rio D, Bianchi MA, Scazzina F, Piatti PM, Brighenti F, Zavaroni I (2012) Food selection based on high total antioxidant capacity improves endothelial function in a low cardiovascular risk population. Nutr Metab Cardiovasc Dis 22:50–57. doi:10.1016/j.numecd.2010.04.001

Navarro SL, Schwarz Y, Song X, Wang CY, Chen C, Trudo SP, Kristal AR, Kratz M, Eaton DL, Lampe JW (2014) Cruciferous vegetables have variable effects on biomarkers of systemic inflammation in a randomized controlled trial in healthy young adults. J Nutr 144:1850–1857. doi:10.3945/jn.114.197434

Aso Y, Yamamoto R, Wakabayashi S, Uchida T, Takayanagi K, Takebayashi K, Okuno T, Inoue T, Node K, Tobe T, Inukai T, Nakano Y (2006) Comparison of serum high-molecular weight (HMW) adiponectin with total adiponectin concentrations in type 2 diabetic patients with coronary artery disease using a novel enzyme-linked immunosorbent assay to detect HMW adiponectin. Diabetes 55:1954–1960. doi:10.2337/db05-1525

Almeda-Valdes P, Cuevas-Ramos D, Mehta R, Gomez-Perez FJ, Cruz-Bautista I, Arellano-Campos O, Navarrete-Lopez M, Aguilar-Salinas CA (2010) Total and high molecular weight adiponectin have similar utility for the identification of insulin resistance. Cardiovasc Diabetol 9:26. doi:10.1186/1475-2840-9-26
Acknowledgments
Research related to this paper was funded by US National Institutes of Health/National Cancer Institute grant CA61712 and by Fred Hutchinson Cancer Research Center.
Conflict of interest
The authors declare that they have no conflict of interest.
Electronic supplementary material
Below is the link to the electronic supplementary material.
About this article
Cite this article
Song, X., Kestin, M., Schwarz, Y. et al. A low-fat high-carbohydrate diet reduces plasma total adiponectin concentrations compared to a moderate-fat diet with no impact on biomarkers of systemic inflammation in a randomized controlled feeding study. Eur J Nutr 55, 237–246 (2016). https://doi.org/10.1007/s00394-015-0841-1
Received:

Accepted:

Published:

Issue Date:

DOI: https://doi.org/10.1007/s00394-015-0841-1
Keywords