Abstract
Objective
The aim of this study is to assess the quality and reliability of online videos on ankylosing spondylitis (AS) exercises from the five most popular video websites in China.
Design
Cross-sectional and descriptive study.
Methods
We searched the video websites of Youku, Tencent, Tudou, IQiYi, and bilibili on February 15, 2020, using the keywords "Ankylosing spondylitis exercise" "Ankylosing spondylitis rehabilitation" and "Ankylosing spondylitis therapy" A total of 114 videos were included in the study and evaluated according to the Global Quality Scale (GQS) and modified DISCERN tool.
Results
According to the GQS, the videos were classified as high quality (12.3%, n = 14), intermediate quality (63.2%, n = 72), and low quality (24.6%, n = 28). Using the modified DISCERN tool, the videos were divided into useless (53.5%, n = 61), useful (35.1%, n = 40), and misleading (11.4%, n = 13).
Conclusion
The analysis shows that the quality and reliability of online videos related to exercise therapy for Ankylosing spondylitis (AS) should be improved and supervised in China. Hospitals, universities, and medical doctors should make more useful and high-quality videos to provide effective exercise guidance for AS patients.
Zusammenfassung
Ziel
Ziel der hier vorliegenden Studie war es, die Qualität und Reliabilität von Online-Videos zu Bewegungsübungen bei ankylosierender Spondylitis (AS) von den 5 in China am meisten verbreiteten Video-Websites zu beurteilen.
Studiendesign
Es handelt sich um eine deskriptive Studie im Querschnittdesign.
Methoden
Die Autoren durchsuchten die Video-Websites von Youku, Tencent, Tudou und IQiYi sowie Bilibili am 15. Februar 2020 unter Verwendung der Schlüsselwörter "ankylosing spondylitis exercise", "ankylosing spondylitis rehabilitation" und "ankylosing spondylitis therapy". Es wurden 114 Videos in die Studie einbezogen und anhand der Global Quality Scale (GQS) sowie mit dem modifizierten DISCERN-Fragebogen beurteilt.
Ergebnisse
Gemäß GQS wurden die Videos als von hoher Qualität (12,3%; n = 14), mittlerer Qualität (63,2%; n = 72) und geringer Qualität (24,6%; n = 28) eingestuft. Anhand des DISCERN-Fragebogens wurden die Videos in nutzlos (53,5%; n = 61), nützlich (35,1%; n = 40) und irreführend (11,4%; n = 13) eingeteilt.
Schlussfolgerung
Die Auswertung zeigt, dass in China die Qualität und Reliabilität von Online-Videos zur Bewegungstherapie bei AS verbessert und überprüft werden sollten. Krankenhäuser, Universitäten und Ärzte sollten Videos mit größerem Nutzen und von hoher Qualität entwickeln, um so eine effektive Übungsanleitung für AS-Patienten zur Verfügung zu stellen.
Access options
Buy single article
Instant access to the full article PDF.
US$ 39.95
Tax calculation will be finalised during checkout.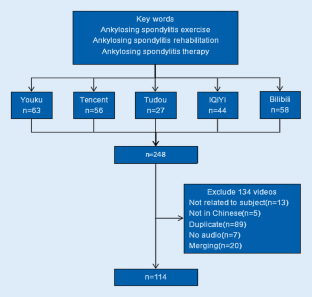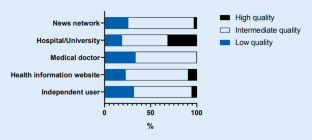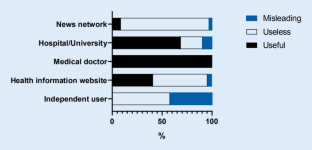 References
1.

Zhu W, He X, Cheng K et al (2019) Ankylosing spondylitis: etiology, pathogenesis, and treatments. Bone Res 7:22

2.

Bidad K, Gracey E, Hemington KS et al (2017) Pain in ankylosing spondylitis: a neuro-immune collaboration. Nat Rev Rheumatol 13(7):410–420

3.

Zhao J, Huang C, Huang H et al (2020) Prevalence of ankylosing spondylitis in a Chinese population: a systematic review and meta-analysis. Rheumatol Int 40(6):859–872

4.

Zochling J, van der Heijde D, Burgos-Vargas R et al (2006) ASAS/EULAR recommendations for the management of ankylosing spondylitis. Ann Rheum Dis 65(4):442–452

5.

Rausch Osthoff AK, Juhl CB, Knittle K et al (2018) Effects of exercise and physical activity promotion: meta-analysis informing the 2018 EULAR recommendations for physical activity in people with rheumatoid arthritis, spondyloarthritis and hip/knee osteoarthritis. RMD Open 4(2):e713

6.

Rausch Osthoff AK, Niedermann K, Braun J et al (2018) 2018 EULAR recommendations for physical activity in people with inflammatory arthritis and osteoarthritis. Ann Rheum Dis 77(9):1251–1260

7.

McDonald MT, Siebert S, Coulter EH et al (2019) Level of adherence to prescribed exercise in spondyloarthritis and factors affecting this adherence: a systematic review. Rheumatol Int 39(2):187–201

8.

Regnaux JP, Davergne T, Palazzo C et al (2019) Exercise programmes for ankylosing spondylitis. Cochrane Database Syst Rev. https://doi.org/10.1002/14651858.CD011321.pub2

9.

Sang Y, Dong C, Fu T et al (2020) Associated factors with adherence to standard exercise therapy and health-related quality of life in Chinese patients with ankylosing spondylitis. Mod Rheumatol 30(1):149–154

10.

Huo J, Desai R, Hong YR et al (2019) Use of social media in health communication: findings from the health information national trends survey 2013, 2014, and 2017. Cancer Control 26(1):1073274819841442

11.

Moorhead SA, Hazlett DE, Harrison L et al (2013) A new dimension of health care: systematic review of the uses, benefits, and limitations of social media for health communication. J Med Internet Res 15(4):e85

12.

Shen C, Wang MP, Wan A et al (2018) Health information exposure from information and communication technologies and its associations with health behaviors: population-based survey. Prev Med 113:140–146

13.

Hausmann JS, Touloumtzis C, White MT et al (2017) Adolescent and young adult use of social media for health and its implications. J Adolesc Health 60(6):714–719

14.

Kocyigit BF, Nacitarhan V, Koca TT et al (2019) YouTube as a source of patient information for ankylosing spondylitis exercises. Clin Rheumatol 38(6):1747–1751

15.

Erdem H, Sisik A (2017) The reliability of bariatric surgery videos in youtube platform. Obes Surg 28(3):712–716

16.

Rittberg R, Dissanayake T, Katz SJ (2015) A qualitative analysis of methotrexate self-injection education videos on YouTube. Clin Rheumatol 35(5):1329–1333

17.

Landis JR, Koch GG (1977) The measurement of observer agreement for categorical data. Biometrics 33(1):159–174

18.

Bernard A, Langille M, Hughes S et al (2007) A systematic review of patient inflammatory bowel disease information resources on the World Wide Web. Am J Gastroenterol 102(9):2070–2077

19.

Charnock D, Shepperd S, Needham G et al (1999) DISCERN: an instrument for judging the quality of written consumer health information on treatment choices. J Epidemiol Community Health 53(2):105–111

20.

Uhrin Z, Kuzis S, Ward MM (2000) Exercise and changes in health status in patients with ankylosing spondylitis. Arch Intern Med 160(19):2969–2975

21.

Garg N, Venkatraman A, Pandey A et al (2015) YouTube as a source of information on dialysis: a content analysis. Nephrology 20(5):315–320

22.

Tolu S, Yurdakul OV, Basaran B et al (2018) English-language videos on YouTube as a source of information on self-administer subcutaneous anti-tumour necrosis factor agent injections. Rheumatol Int 38(7):1285–1292

23.

Liang H, Zhang H, Ji H et al (2015) Effects of home-based exercise intervention on health-related quality of life for patients with ankylosing spondylitis: a meta-analysis. Clin Rheumatol 34(10):1737–1744

24.

Wald HS, Dube CE, Anthony DC (2007) Untangling the Web—the impact of Internet use on health care and the physician—patient relationship. Patient Educ Couns 68(3):218–224
Funding
This study was funded by the Science and Technology Project of Nantong City (Grant No. MSZ19191) and the Angel Project of the Affiliated Hospital of Nantong University (2020).
Ethics declarations
Conflict of interest
Y. Sang, J. Chen, H. Dai, T. Chen, B. Chen, X. Li, X. Shen, and H. Jiang declare that they have no competing interests.
For this article no studies with human participants or animals were performed by any of the authors. All studies performed were in accordance with the ethical standards indicated in each case.
Additional information
Y. Sang, J. Chen, and H. Dai contributed equally to this work and share first authorship.
Redaktion
U. Müller-Ladner, Bad Nauheim
U. Lange, Bad Nauheim
About this article
Cite this article
Sang, Y., Chen, J., Dai, H. et al. Quality of internet videos related to exercise therapy of ankylosing spondylitis from mainland China. Z Rheumatol (2020). https://doi.org/10.1007/s00393-020-00934-9
Keywords
Ankylosing spondylitis

Exercise therapy

Social media

Video quality

Chinese video
Schlüsselwörter
Spondylitis ankylosans

Bewegungstherapie

Soziale Netzwerke

Videoqualität

Chinesisches Video