Abstract
Background
In patients with high risk for sudden cardiac death the implantation of a defibrillator is an established treatment. However the benefits and risks for patients in accordance to the number of the leads are not clear. Even in the current guidelines a recommendation to this question is missing. We analyzed advantage and disadvantages of single-chamber implantable cardioverter defibrillators (VVI-ICD) versus dual-chamber implantable cardioverter defibrillators (DDD-ICD) in the prospective German Device Registry.
Methods
The data of 2240 patients who underwent ICD implantation in 45 German Centers between January 2007 and March 2011 were included in a prospective device registry (VVI: n = 1629, male = 1358, EF = 34% ± 13%; DDD: n = 611, male = 491, EF = 35% ± 14%).
Results
The in-hospital complications were significantly higher in the DDD-ICD group with higher revision/device complication rates (3.0% vs. 1.2%; p = 0.003) but also higher mortality rate (1.0% vs. 0.1%; p < 0.001). Regarding the adjusted data at 1-year follow-up DDD-ICD caused more device revisions, but no difference in rehospitalization and mortality.
Conclusion
It is still unclear whether DDD-ICD may be beneficial for patients with preserved sinus and atrioventricular nodal function. Our data show that the decision of the operator to choose a DDD-ICD in these patients must be taken very carefully. By choosing a DDD-ICD the patient is exposed to a significantly higher periprocedural complication rate and higher in-hospital mortality. In absence of relevant bradycardias implantation of a DDD-ICD is not justified.
Graphic abstract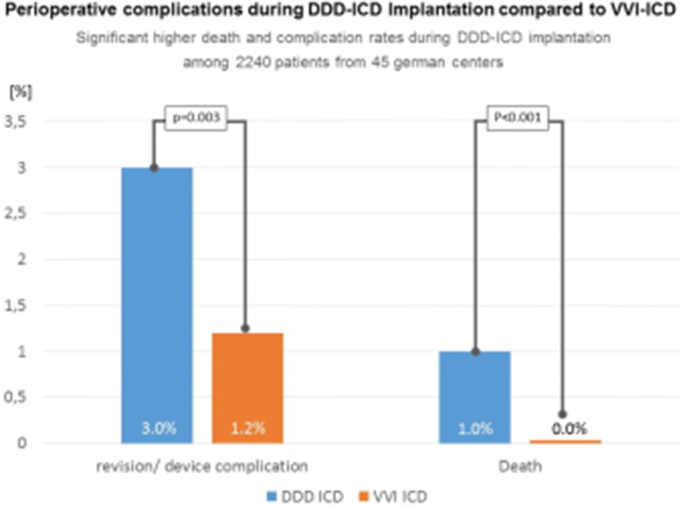 This is a preview of subscription content, log in to check access.
Access options
Buy single article
Instant access to the full article PDF.
US$ 39.95
Price includes VAT for USA
Subscribe to journal
Immediate online access to all issues from 2019. Subscription will auto renew annually.
US$ 199
This is the net price. Taxes to be calculated in checkout.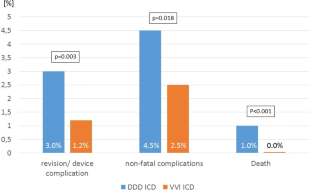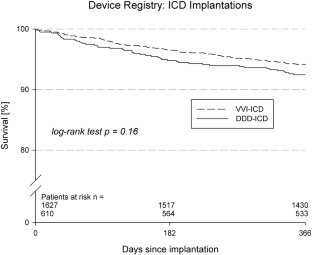 References
1.

Priori SG, Blomstrom-Lundqvist C, Mazzanti A, Blom N, Borggrefe M, Camm J, Elliott PM, Fitzsimons D, Hatala R, Hindricks G, Kirchhof P, Kjeldsen K, Kuck KH, Hernandez-Madrid A, Nikolaou N, Norekval TM, Spaulding C, Van Veldhuisen DJ, Task Force for the Management of Patients with Ventricular A, and the Prevention of Sudden Cardiac Death of the European Society of C (2015) 2015 ESC Guidelines for the management of patients with ventricular arrhythmias and the prevention of sudden cardiac death: the Task Force for the Management of Patients with Ventricular Arrhythmias and the Prevention of Sudden Cardiac Death of the European Society of Cardiology (ESC) Endorsed by: Association for European Paediatric and Congenital Cardiology (AEPC). Europace 17:1601–1687

2.

Kolb C, Sturmer M, Sick P, Reif S, Davy JM, Molon G, Schwab JO, Mantovani G, Dan D, Lennerz C, Borri-Brunetto A, Babuty D (2014) Reduced risk for inappropriate implantable cardioverter-defibrillator shocks with dual-chamber therapy compared with single-chamber therapy: results of the randomized OPTION study. JACC Heart Fail 2:611–619

3.

Dewland TA, Pellegrini CN, Wang Y, Marcus GM, Keung E, Varosy PD (2011) Dual-chamber implantable cardioverter-defibrillator selection is associated with increased complication rates and mortality among patients enrolled in the NCDR implantable cardioverter-defibrillator registry. J Am Coll Cardiol 58:1007–1013

4.

Antiarrhythmics versus Implantable Defibrillators I (1997) A comparison of antiarrhythmic-drug therapy with implantable defibrillators in patients resuscitated from near-fatal ventricular arrhythmias. N Engl J Med 337:1576–1583

5.

Bardy GH, Lee KL, Mark DB, Poole JE, Packer DL, Boineau R, Domanski M, Troutman C, Anderson J, Johnson G, McNulty SE, Clapp-Channing N, Davidson-Ray LD, Fraulo ES, Fishbein DP, Luceri RM, Ip JH, Sudden Cardiac Death in Heart Failure Trial I (2005) Amiodarone or an implantable cardioverter-defibrillator for congestive heart failure. N Engl J Med 352:225–237

6.

Moss AJ, Zareba W, Hall WJ, Klein H, Wilber DJ, Cannom DS, Daubert JP, Higgins SL, Brown MW, Andrews ML, Multicenter Automatic Defibrillator Implantation Trial III (2002) Prophylactic implantation of a defibrillator in patients with myocardial infarction and reduced ejection fraction. N Engl J Med 346:877–883

7.

Hammill SC, Stevenson LW, Kadish AH, Kremers MS, Heidenreich P, Lindsay BD, Mirro MJ, Radford MJ, Wang Y, Lang CM, Harder JC, Brindis RG (2007) Review of the registry's first year, data collected, and future plans. Heart Rhythm 4:1260–1263

8.

Moss AJ, Schuger C, Beck CA, Brown MW, Cannom DS, Daubert JP, Estes NA 3rd, Greenberg H, Hall WJ, Huang DT, Kautzner J, Klein H, McNitt S, Olshansky B, Shoda M, Wilber D, Zareba W, Investigators M-RT (2012) Reduction in inappropriate therapy and mortality through ICD programming. N Engl J Med 367:2275–2283

9.

Kloppe A, Proclemer A, Arenal A, Lunati M, Martinez Ferrer JB, Hersi A, Gulaj M, Wijffels MC, Santi E, Manotta L, Mangoni L, Gasparini M (2014) Efficacy of long detection interval implantable cardioverter-defibrillator settings in secondary prevention population: data from the Avoid Delivering Therapies for Nonsustained Arrhythmias in ICD Patients III (ADVANCE III) trial. Circulation 130:308–314

10.

Brignole M, Auricchio A, Baron-Esquivias G, Bordachar P, Boriani G, Breithardt OA, Cleland J, Deharo JC, Delgado V, Elliott PM, Gorenek B, Israel CW, Leclercq C, Linde C, Mont L, Padeletti L, Sutton R, Vardas PE, European Society of C, European Heart Rhythm A (2013) ESC guidelines on cardiac pacing and cardiac resynchronization therapy: the task force on cardiac pacing and resynchronization therapy of the European Society of Cardiology (ESC). Developed in collaboration with the European Heart Rhythm Association (EHRA). Europace 15:1070–1118

11.

Frommeyer G, Reinke F, Andresen D, Kleemann T, Spitzer SG, Jehle J, Brachmann J, Stellbrink C, Hochadel M, Senges J, Eckardt L (2019) Implantable cardioverter defibrillators in patients with electrical heart disease and hypertrophic cardiomyopathy: data from the German device registry. Clin Res Cardiol. https://doi.org/10.1007/s00392-019-01532-9

12.

Kleemann T, Strauss M, Kouraki K, Werner N, Zahn R (2019) Prognostic relevance of new onset arrhythmia and ICD shocks in primary prophylactic ICD patients. Clin Res Cardiol. https://doi.org/10.1007/s00392-019-01491-1

13.

Rorth R, Dewan P, Kristensen SL, Jhund PS, Petrie MC, Kober L, McMurray JJV (2019) Efficacy of an implantable cardioverter-defibrillator in patients with diabetes and heart failure and reduced ejection fraction. Clin Res Cardiol 108:868–877

14.

Schupp T, Akin I, Reiser L, Bollow A, Taton G, Reichelt T, Ellguth D, Engelke N, Ansari U, Mashayekhi K, Weiss C, Nienaber C, Akin M, Borggrefe M, Behnes M (2019) Prognostic impact of recurrences of ventricular tachyarrhythmias and appropriate ICD therapies in a high-risk ICD population. Clin Res Cardiol 108:878–891

15.

Al-Khatib SM, Stevenson WG, Ackerman MJ, Bryant WJ, Callans DJ, Curtis AB, Deal BJ, Dickfeld T, Field ME, Fonarow GC, Gillis AM, Granger CB, Hammill SC, Hlatky MA, Joglar JA, Kay GN, Matlock DD, Myerburg RJ, Page RL (2018) 2017 AHA/ACC/HRS guideline for management of patients with ventricular arrhythmias and the prevention of sudden cardiac death: a report of the American College of Cardiology/American Heart Association Task Force on Clinical Practice Guidelines and the Heart Rhythm Society. Heart Rhythm 15:e73–e189

16.

Markewitz A (2017) Jahresbericht 2014 des Deutschen Herzschrittmacher- und Defibrillatorregisters, Teil 2—Implantierbare Kardioverter-Defibrillatoren (ICD). Herzschrittmachertherapie Elektrophysiol 28:107–140

17.

Israel CW (2017) ICD in elderly patients. Herzschrittmachertherapie Elektrophysiol 28:20–28

18.

Dorian P, Philippon F, Thibault B, Kimber S, Sterns L, Greene M, Newman D, Gelaznikas R, Barr A, Investigators A (2004) Randomized controlled study of detection enhancements versus rate-only detection to prevent inappropriate therapy in a dual-chamber implantable cardioverter-defibrillator. Heart Rhythm 1:540–547

19.

Almendral J, Arribas F, Wolpert C, Ricci R, Adragao P, Cobo E, Navarro X, Quesada A, Committee DS Committee DW, and Investigators D (2008) Dual-chamber defibrillators reduce clinically significant adverse events compared with single-chamber devices: results from the DATAS (Dual chamber and Atrial Tachyarrhythmias Adverse events Study) trial. Europace 10:528–535

20.

Lee DS, Krahn AD, Healey JS, Birnie D, Crystal E, Dorian P, Simpson CS, Khaykin Y, Cameron D, Janmohamed A, Yee R, Austin PC, Chen Z, Hardy J, Tu JV, Investigators of the Ontario ICDD (2010) Evaluation of early complications related to De Novo cardioverter defibrillator implantation insights from the Ontario ICD database. J Am Coll Cardiol 55:774–882
Ethics declarations
Conflict of interest
The authors declare that they have no conflict of interest.
About this article
Cite this article
Bogossian, H., Frommeyer, G., Hochadel, M. et al. Single chamber implantable cardioverter defibrillator compared to dual chamber implantable cardioverter defibrillator: less is more! Data from the German Device Registry. Clin Res Cardiol 109, 911–917 (2020). https://doi.org/10.1007/s00392-019-01584-x
Received:

Accepted:

Published:

Issue Date:
Keywords
Single-chamber implantable cardioverter defibrillators

VVI-ICD

Dual-chamber implantable cardioverter defibrillators

DDD-ICD

German Device Registry