Abstract
Background
The Rhythmia mapping system was recently launched and allows for rapid ultra-high-resolution electroanatomical mapping. We evaluated the feasibility, acute efficacy and safety of this novel system for ablation of atrial fibrillation (AF) and left atrial (LA) tachycardia (AT).
Methods and results
A total of 35 consecutive patients (age 64.3 ± 8.6 years, LA diameter 44.4 ± 5.8 mm) underwent catheter ablation for AF and/or AT. All procedures were performed using Rhythmia in conjunction with the Orion mini-basket catheter. Pulmonary vein isolation (PVI) and linear lesions were performed applying radiofrequency (RF) energy. PVI was confirmed by presence of entrance and exit block using the mini-basket catheter. In addition, pacing maneuvers assessed bidirectional conduction block across linear lesions. Procedure duration was 110.3 ± 33 min, fast acquisition mapping (FAM) time was 19 ± 9 min. A mean number of 10165 ± 5904 mapping points were acquired during the initial map and 6379 ± 3191 for a remap. A total number of 31 ± 15 RF applications were delivered within 45 ± 22 min. Total fluoroscopy time was 21 ± 5, 5 ± 2 min were used for FAM. We observed a significant learning curve for mapping duration (p = 0.01). Complications included pericardial tamponade (n = 1), transient air embolism in the right coronary artery (n = 1), and mild groin hematoma (n = 2).
Conclusions
The present study is the largest to describe experience of LA ablation procedures using Rhythmia. PVI was achieved in all patients. Applying this ultra high-resolution electroanatomical mapping system under routine conditions leads to a high level of confidence. More data will be mandatory before final conclusions can be drawn.
Access options
Buy single article
Instant access to the full article PDF.
US$ 39.95
Tax calculation will be finalised during checkout.
Subscribe to journal
Immediate online access to all issues from 2019. Subscription will auto renew annually.
US$ 107.76
Tax calculation will be finalised during checkout.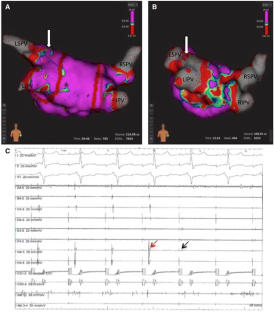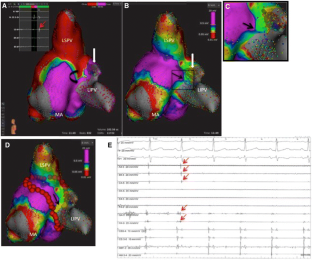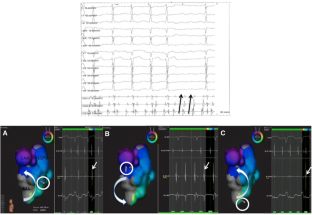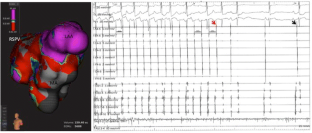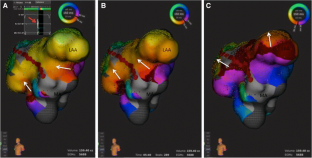 References
1.

Camm AJ, Kirchhof P, Lip GY, Schotten U, Savelieva I, Ernst S, Van Gelder IC, Al-Attar N, Hindricks G, Prendergast B, Heidbuchel H, Alfieri O, Angelini A, Atar D, Colonna P, De Caterina R, De Sutter J, Goette A, Gorenek B, Heldal M, Hohloser SH, Kolh P, Le Heuzey JY, Ponikowski P, Rutten FH (2010) Guidelines for the management of atrial fibrillation: the task force for the management of atrial fibrillation of the european society of cardiology (esc). Eur Heart J 31:2369–2429

2.

Verma A, Kilicaslan F, Pisano E, Marrouche NF, Fanelli R, Brachmann J, Geunther J, Potenza D, Martin DO, Cummings J, Burkhardt JD, Saliba W, Schweikert RA, Natale A (2005) Response of atrial fibrillation to pulmonary vein antrum isolation is directly related to resumption and delay of pulmonary vein conduction. Circulation 112:627–635

3.

Ouyang F, Antz M, Ernst S, Hachiya H, Mavrakis H, Deger FT, Schaumann A, Chun J, Falk P, Hennig D, Liu X, Bänsch D, Kuck KH (2005) Recovered pulmonary vein conduction as a dominant factor for recurrent atrial tachyarrhythmias after complete circular isolation of the pulmonary veins: lessons from double Lasso technique. Circulation 111:127–135

4.

Oakes RS, Badger TJ, Kholmovski EG, Akoum N, Burgon NS, Fish EN, Blauer JJ, Rao SN, DiBella EV, Segerson NM, Daccarett M, Windfelder J, McGann CJ, Parker D, MacLeod RS, Marrouche NF (2009) Detection and quantification of left atrial structural remodeling with delayed-enhancement magnetic resonance imaging in patients with atrial fibrillation. Circulation 119:1758–1767

5.

Weerasooriya R, Jaïs P, Wright M, Matsuo S, Knecht S, Nault I, Sacher F, Deplagne A, Bordachar P, Hocini M, Haïssaguerre M (2009) Catheter ablation of atrial tachycardia following atrial fibrillation ablation. J Cardiovasc Electrophysiol 20:833–838

6.

Jones DG, McCready JW, Kaba R, Ahsan SY, Lyne JC, Wang J, Segal OR, Markides V, Lambiase PD, Wong T, Chow AW (2011) A multi-purpose spiral high-density mapping catheter: initial clinical experience in complex atrial arrhythmias. J Interv Card Electrophysiol 31:225–235

7.

Nakagawa H, Ikeda A, Sharma T, Lazzara R, Jackman WM (2012) Rapid high resolution electroanatomical mapping: evaluation of a new system in a canine atrial linear lesion model. Circ Arrhythm Electrophysiol 5:417–424

8.

Ptaszek LM, Chalhoub F, Perna F, Beinart R, Barrett CD, Danik SB, Heist EK, Ruskin JN, Mansour M (2013) Rapid acquisition of high-resolution electroanatomical maps using a novel multielectrode mapping system. J Interv Card Electrophysiol 36:233–242

9.

Anter E, Tschabrunn CM, Contreras-Valdes FM, Josephson ME (2015) Pulmonary vein isolation using the Rhythmia mapping system: verification of intracardiac signals using the Orion mini-basket catheter. Heart Rhythm 12:1927–1934

10.

Mantziari L, Butcher C, Kontogeorgis A, Panikker S, Roy K, Markides V, Wong T (2015) The utility of a novel rapid high-resolution mapping system in the catheter ablation of arrhythmias—an initial human experience of mapping the atria and the left ventricle. JACC Clin Electrophysiol. doi:10.1016/j.jacep.2015.06.002

11.

Ouyang F, Tilz R, Chun J, Schmidt B, Wissner E, Zerm T, Neven K, Köktürk B, Konstantinidou M, Metzner A, Fuernkranz A, Kuck KH (2010) Long-term results of catheter ablation in paroxysmal atrial fibrillation: lessons from a 5-year follow-up. Circulation 7(122):2368–2377

12.

Klemm HU, Steven D, Johnsen C, Ventura R, Rostock T, Lutomsky B, Risius T, Meinertz T, Willems S (2007) Catheter motion during atrial ablation due to the beating heart and respiration: impact on accuracy and spatial referencing in three-dimensional mapping. Heart Rhythm 4:587–592

13.

Tai CT, Liu TY, Lee PC, Lin YJ, Chang MS, Chen SA (2004) Non-contact mapping to guide radiofrequency ablation of atypical right atrial flutter. J Am Coll Cardiol 1(44):1080–1086

14.

Arentz T, von Rosenthal J, Blum T, Stockinger J, Bürkle G, Weber R, Jander N, Neumann FJ, Kalusche D (2003) Feasibility and safety of pulmonary vein isolation using a new mapping and navigation system in patients with refractory atrial fibrillation. Circulation 18(108):2484–2490

15.

Rajappan K, Baker V, Richmond L, Kistler PM, Thomas G, Redpath C, Sporton SC, Earley MJ, Harris S, Schilling RJ (2009) A randomized trial to compare atrial fibrillation ablation using a steerable vs. a non-steerable sheath. Europace 11:571–575

16.

Thajudeen A, Jackman WM, Stewart B, Cokic I, Nakagawa H, Shehata M, Amorn AM, Kali A, Liu E, Harlev D, Bennett N, Dharmakumar R, Chugh SS, Wang X (2015) Correlation of scar in cardiac MRI and high-resolution contact mapping of left ventricle in a chronic infarct model. Pacing Clin Electrophysiol 38:663–674

17.

Jadidi AS, Duncan E, Miyazaki S, Lellouche N, Shah AJ, Forclaz A, Nault I, Wright M, Rivard L, Liu X, Scherr D, Wilton SB, Sacher F, Derval N, Knecht S, Kim SJ, Hocini M, Narayan S, Haïssaguerre M, Jaïs P (2012) Functional nature of electrogram fractionation demonstrated by left atrial high-density mapping. Circ Arrhythm Electrophysiol 5:32–42

18.

Martirosyan M, Kiss A, Nagy-Baló E, Sándorfi G, Tint D, Edes I, Csanádi Z (2014) Learning curve in circular multipolar phased radiofrequency ablation of atrial fibrillation. Cardiol J 22:260–266

19.

Miller JM, Kowal RC, Swarup V, Daubert JP, Daoud EG, Day JD, Ellenbogen KA, Hummel JD, Baykaner T, Krummen DE, Narayan SM, Reddy VY, Shivkumar K, Steinberg JS, Wheelan KR (2014) Initial independent outcomes from focal impulse and rotor modulation ablation for atrial fibrillation: multicenter FIRM registry. J Cardiovasc Electrophysiol 25:921–929

20.

Rillig A, Lin T, Schmidt B, Feige B, Heeger C, Wegner J, Wissner E, Metzner A, Arya A, Mathew S, Wohlmuth P, Ouyang F, Kuck KH, Tilz RR (2016) Experience matters: long-term results of pulmonary vein isolation using a robotic navigation system for the treatment of paroxysmal atrial fibrillation. Clin Res Cardiol 105:106–116
Ethics declarations
Conflict of interest
There are no conflicts of interest.
Additional information
C. Sohns and A. M. Saguner contributed equally to this work.
About this article
Cite this article
Sohns, C., Saguner, A.M., Lemes, C. et al. First clinical experience using a novel high-resolution electroanatomical mapping system for left atrial ablation procedures. Clin Res Cardiol 105, 992–1002 (2016). https://doi.org/10.1007/s00392-016-1008-7
Received:

Accepted:

Published:

Issue Date:
Keywords
Atrial fibrillation

Electroanatomical mapping

Pulmonary vein isolation