Abstract
Background
Heart failure (HF) is common in older people. The diagnosis of HF, however, is difficult in older subjects, especially in settings without direct access to further diagnostics. The type of blood pressure response during the performance of a Valsalva maneuver has been suggested as an easily applicable bedside test to detect HF; however, the reliability of this maneuver and the association with HF is unknown in geriatric patients.
Methods
This study included 89 patients admitted for geriatric rehabilitation. Systolic blood pressure was taken while the patient performed a Valsalva maneuver. The systolic blood pressure response was classified as sinusoidal (type A), absent overshoot (type B) or square pattern (type C). To test interrater reliability systolic blood pressure response was evaluated independently by two investigators. The procedure was repeated after 1h to estimate test-retest reliability. Both investigators were blinded to the results of the other. Interrater reliability and test-retest reliability were calculated using Cohen's kappa. Blood samples for N‑terminal pro brain natriuretic peptide (NT-pBNP) were obtained on the morning the Valsalva maneuver was performed.
Results
Blood pressure response was sinusoidal in 37 (42%), showed an absent overshoot in 17 (19%) and had a square wave pattern in 34 (38%) patients. Cohen's kappa was 0.911 (95% CI 0.837–0.985) for interrater reliability and 0.929 (95% CI 0. 0.862–0.996) for test-retest reliability. The interrater and test-retest agreement were 94% and 96%, respectively. The mean NT-pBNP plasma levels and the interquartile ranges (IQR) in subjects with types A, B and C blood pressure response pattern were 213 (153–324) pg/ml, 805 (622–1332) pg/ml and 3964 (2595–5906) pg/ml, respectively (p < 0.001).
Conclusion
The blood pressure response during a Valsalva maneuver shows an excellent reliability in older subjects. The type of response is associated with the NT-pBNP plasma level.
Zusammenfassung
Hintergrund
Die Herzinsuffizienz (HI) ist häufig bei älteren Menschen. Die Diagnose einer HI ist bei älteren Probanden schwierig, da die Symptome unspezifisch sind und oft der Zugang zur weiteren Diagnostik fehlt. Die Art des Blutdruckverhaltens während der Durchführung eines Valsalva-Manövers ist ein einfacher Test zum Nachweis einer HI. Die Zuverlässigkeit dieses Manövers und die Assoziation mit einer HI sind jedoch bei geriatrischen Patienten unbekannt.
Methodik
Insgesamt 89 Patienten einer Akutgeriatrie wurden untersucht. Der systolische Blutdruck wurde gemessen, während der Patient ein Valsalva-Manöver durchführte. Die systolische Blutdruckreaktion wurde als sinusförmig (Typ A), ohne Überschwingen (Typ B) oder als quadratisches Muster (Typ C) klassifiziert. Um die Interraterreliabilität zu testen, wurde die systolische Blutdruckreaktion von zwei Untersuchern unabhängig voneinander bewertet. Das Verfahren wurde nach einer Stunde wiederholt, um die Test-Retest-Reliabilität abzuschätzen. Die Interraterreliabilität und die Test-Retest-Reliabilität wurden mittels Cohen's Kappa berechnet. Am Morgen des Valsalva-Manövers wurden Blutproben zur Bestimmung des N‑terminalen Pro-Brain-Peptids (NT-pBNP) genommen.
Ergebnisse
Die Blutdruckreaktion war bei 37 (42 %) Patienten sinusförmig, zeigte bei 17 (19 %) Patienten kein Überschwingen und wies bei 34 (38 %) Patienten ein Rechteckwellenmuster auf. Cohen's Kappa ergab einen Wert von 0,911 (95 % Konfidenzintervall [KI] 0,837–0,985; p < 0,001) für die Interraterreliabilität und 0,929 (95 % KI 0,862–0,996) für die Test-Retest-Reliabilität. Die Übereinstimmungsraten betrugen für die Interrater- und Test-Retest-Untersuchungen 94 % bzw. 96 %. Der mittleren NT-pBNP-Plasmaspiegel und die Interquartilbereiche (IQRs) bei Probanden mit Blutdruckreaktionsmustern vom Typ A, B und C betrugen 213 (153–324) pg/ml, 805 (622–1332) pg/ml und 3964 (2595–5906) pg/ml (p < 0,001).
Schlussfolgerung
Die Blutdruckreaktion während eines Valsalva-Manövers zeigt bei älteren Probanden eine hervorragende Zuverlässigkeit. Die Art der Reaktion hängt signifikant mit dem NT-pBNP-Plasmaspiegel zusammen.
Access options
Buy single article
Instant access to the full article PDF.
US$ 39.95
Tax calculation will be finalised during checkout.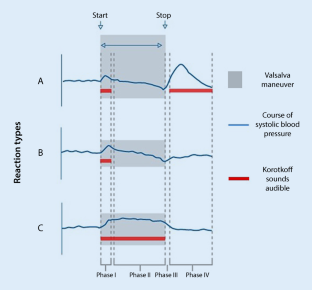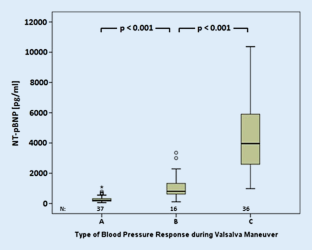 References
1.

Azevedo A, Bettencourt P, Pimenta J et al (2007) Clinical syndrome suggestive of heart failure is frequently attributable to non-cardiac disorders – population-based study. Eur J Heart Fail 9:391–396. https://doi.org/10.1016/j.ejheart.2006.10.017

2.

Christ M, Stork S, Dorr M et al (2016) Heart failure epidemiology 2000–2013: insights from the German Federal Health Monitoring System. Eur J Heart Fail 18:1009–1018. https://doi.org/10.1002/ejhf.567

3.

Daamen MAMJ, Hamers JPH, Gorgels APM et al (2015) Heart failure in nursing home residents; a cross-sectional study to determine the prevalence and clinical characteristics. BMC Geriatr 15:167. https://doi.org/10.1186/s12877-015-0166-1

4.

Goldwater DS, Pinney SP (2015) Frailty in advanced heart failure: a consequence of aging or a separate entity? Clin Med Insights Cardiol 9:39–46. https://doi.org/10.4137/CMC.S19698

5.

Gyalai-Korpos I, Ancusa O, Dragomir T et al (2015) Factors associated with prolonged hospitalization, readmission, and death in elderly heart failure patients in western Romania. Clin Interv Aging 10:561–568. https://doi.org/10.2147/CIA.S79569

6.

Hancock HC, Close H, Mason JM et al (2013) High prevalence of undetected heart failure in long-term care residents: findings from the Heart Failure in Care Homes (HFinCH) study. Eur J Heart Fail. https://doi.org/10.1093/eurjhf/hfs165

7.

Hartmann F, Packer M, Coats AJS et al (2004) Prognostic impact of plasma N‑terminal pro-brain natriuretic peptide in severe chronic congestive heart failure: a substudy of the Carvedilol Prospective Randomized Cumulative Survival (COPERNICUS) trial. Circulation 110:1780–1786. https://doi.org/10.1161/01.CIR.0000143059.68996.A7

8.

Jackson CE, Castagno D, Maggioni AP et al (2015) Differing prognostic value of pulse pressure in patients with heart failure with reduced or preserved ejection fraction: results from the MAGGIC individual patient meta-analysis. Eur Heart J 36:1106–1114. https://doi.org/10.1093/eurheartj/ehu490

9.

Judson W, Hatcher J, Wilkins R (1955) Blood pressure responses to the Valsalva maneuver in cardiac patients with and without congestive failure. Circulation 11:889–899

10.

Landis JR, Koch GG (1977) The measurement of observer agreement for categorical data. Biometrics 33:159–174

11.

Landray MJ, Lehman R, Arnold I (2000) Measuring brain natriuretic peptide in suspected left ventricular systolic dysfunction in general practice: cross-sectional study. BMJ 320:985–986

12.

Lewis EF, Hellkamp AS, Pfeffer MA et al (2006) The association of the heart failure score with mortality and heart failure hospitalizations in elderly patients: insights from the Mode Selection Trial (MOST). Am Heart J 151:699–705. https://doi.org/10.1016/j.ahj.2005.05.018

13.

Maisel A, Mueller C, Adams K Jr et al (2008) State of the art: using natriuretic peptide levels in clinical practice. Eur J Heart Fail 10:824–839. https://doi.org/10.1016/j.ejheart.2008.07.014

14.

Mosterd A, Hoes AW (2007) Clinical epidemiology of heart failure. Heart 93:1137–1146. https://doi.org/10.1136/hrt.2003.025270

15.

Remes J, Miettinen H, Reunanen A et al (1991) Validity of clinical diagnosis of heart failure in primary health care. Eur Heart J 12:315–321

16.

Rich MW (2005) Office management of heart failure in the elderly. Am J Med 118:342–348. https://doi.org/10.1016/j.amjmed.2004.12.019

17.

Roberts E, Ludman AJ, Dworzynski K et al (2015) The diagnostic accuracy of the natriuretic peptides in heart failure: systematic review and diagnostic meta-analysis in the acute care setting. BMJ 350:h910. https://doi.org/10.1136/bmj.h910

18.

Selan S, Siennicki-Lantz A, Berglund J et al (2016) Self-awareness of heart failure in the oldest old-an observational study of participants, ≥ 80 years old, with an objectively verified heart failure. BMC Geriatr 16:23. https://doi.org/10.1186/s12877-016-0195-4

19.

Shamsham F, Mitchell J (2000) Essentials of the diagnosis of heart failure. Am Fam Physician 61:1319–1328

20.

Swedberg K, Cleland J, Dargie H et al (2005) Guidelines for the diagnosis and treatment of chronic heart failure: executive summary (update 2005): the task force for the diagnosis and treatment of chronic heart failure of the European Society of Cardiology. Eur Heart J 26:1115–1140. https://doi.org/10.1093/eurheartj/ehi204

21.

Uchmanowicz I, Gobbens RJJ (2015) The relationship between frailty, anxiety and depression, and health-related quality of life in elderly patients with heart failure. Clin Interv Aging 10:1595–1600. https://doi.org/10.2147/CIA.S90077

22.

Uchmanowicz I, Wleklik M, Gobbens RJJ (2015) Frailty syndrome and self-care ability in elderly patients with heart failure. Clin Interv Aging 10:871–877. https://doi.org/10.2147/CIA.S83414

23.

van Mourik Y, Bertens LCM, Cramer MJM et al (2014) Unrecognized heart failure and chronic obstructive pulmonary disease (COPD) in frail elderly detected through a near-home targeted screening strategy. J Am Board Fam Med 27:811–821. https://doi.org/10.3122/jabfm.2014.06.140045

24.

van Riet EES, Hoes AW, Wagenaar KP et al (2016) Epidemiology of heart failure: the prevalence of heart failure and ventricular dysfunction in older adults over time. A systematic review. Eur J Heart Fail 18:242–252. https://doi.org/10.1002/ejhf.483

25.

Zema MJ, Restivo B, Sos T et al (1980) Left ventricular dysfunction – bedside Valsalva manoeuvre. Br Heart J 44:560–569
Ethics declarations
Conflict of interest
J. Schlitzer, H. J. Heppner and H. Frohnhofen declare that they have no competing interests.
Ethical standards
All procedures performed in studies involving human participants or on human tissue were in accordance with the ethical standards of the institutional and/or national research committee and with the 1975 Helsinki declaration and its later amendments or comparable ethical standards. The protocol documents were approved by the chamber of physicians (North Rhine, Germany) and the trial was registered in the German Clinical Trials Register (DRKS-ID: DRKS00004898). Informed consent was obtained from all individual participants included in the study.
About this article
Cite this article
Schlitzer, J., Heppner, H.J. & Frohnhofen, H. Reliability of the blood pressure response during performance of bedside Valsalva maneuver and association with NT-pBNP levels. Z Gerontol Geriat (2021). https://doi.org/10.1007/s00391-021-01849-z
Received:

Accepted:

Published:
Keywords
Heart failure

Natriuretic peptide

Interrater reliability

Test-retest reliability

Biomarker
Schlüsselwörter
Herzinsuffizienz

Natriuretisches Peptid

Interraterreliabilität

Test-Retest-Reliabilität

Biomarker