Zusammenfassung
Höheres Lebensalter ist ein unabhängiger Risikofaktor für Hyponatriämie. Schwindel, Müdigkeit/verminderte Vigilanz, eingeschränkte kognitive Fähigkeit, Bewegungsstörung, Übelkeit, Erbrechen, Kopfschmerz, Sturz, Osteoporose und Fraktur, Koma und zerebraler Krampfanfall treten bei Älteren häufiger auf und sind schwerer ausgeprägt als bei Patienten im mittleren Lebensalter. Eine Hyponatriämie wird am häufigsten durch das Syndrom der inadäquaten Sekretion von antidiuretischem Hormon (SIADH) – und darunter durch Medikamente verursacht. Sie ist bei einem erheblichen Anteil älterer Patienten multifaktoriell bedingt und benötigt das schrittweise diagnostische Vorgehen, um die zugrunde liegende(n) Ursache(n) zu identifizieren. Ziel dieses CME-Beitrags ist, im Teil I die besondere Herausforderung der Diagnostik bei älteren Patienten ins Augenmerk zu nehmen. Die schwierige Diagnose soll einfach dargestellt werden. Dazu wird ein spezieller Algorithmus vorgestellt. Teil II zur Therapie folgt.
Abstract
Old age is a strong independent risk factor for hyponatremia. Dizziness, fatigue, reduced vigilance, cognitive impairment, gait deficits, nausea, vomiting, headache, falls, osteoporosis and fractures, coma and seizures are more frequent and severe than in middle-aged patients. Hyponatremia is mainly caused by the syndrome of inappropriate antidiuretic hormone (SIADH) secretion and also including drugs. Hyponatremia is multifactorial in a significant proportion of older patients. Hyponatremia requires a staged diagnostic approach to identify the underlying cause. The aim of this continuing medical education (CME) report (part I) is to emphasize the special challenges in the diagnostics of hyponatremia, which occur in older patients. Diagnostics should be kept simple. A special algorithm is presented. Part II concerning treatment will follow.
This is a preview of subscription content, log in to check access.
Access options
Buy single article
Instant access to the full article PDF.
US$ 39.95
Price includes VAT for USA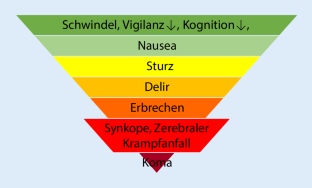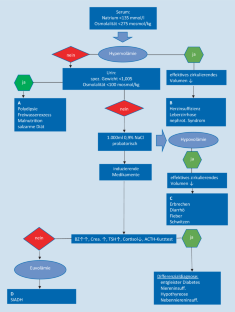 Literatur
1.

Chawla A, Sterns RH, Nigwekar SU, Cappuccio JD (2011) Mortality and serum sodium: do patients die from or with hyponatriemia? Clin J Am Soc Nephrol 6:960–965

2.

Verbalis JG, Goldsmith SR, Greenberg A, Korzelius C, Schrier RW, Sterns RH, Thompson CJ (2013) Diagnosis, evaluation, and treatment of hyponatraemia: Expert panel recommendations. Am J Med 126(Suppl 1):S1–S42

3.

Spasovski G, Vanholder R, Allolio B, Annane D, Ball S, Bichet D, Decaux G, Hoorn EJ, Ichai C, Joannidis M, Soupart A, Zietse R, Haller M, van der Veer S, Van Biesen W, Nagler E (2014) Hyponatraemia Guideline Development Group. Clinical practice guideline on diagnosis and treatment of hyponatraemia. Eur J Endocrinol 170:G1–G47

4.

Tormey WP, Carney M, Cuesta M, Sreenan S (2015) Reference change values for sodium are ignored by the American and European treatment guidelines for Hyponatremia. Clin Chem 61:1430–1432

5.

Filippatos TD, Makri A, Elisaf MS, Liamis G (2017) Hyponatremia in the elderly: challenges and solutions. CIA 12:1957–1965

6.

Haas CS (2014) Hyponatriämie. Differenzialdiagnose und Therapie. Internist 55:1427–1442

7.

Hoorn EJ, Rivadeneira F, van Meurs JBJ et al (2011) Mild Hyponatremia as a risk factor for fractures: the rotterdam study. J Bone Miner Res 26:1822–1828

8.

Rondon-Berrios H, Berl T (2015) Mild chronic Hyponatremia in the ambulatory setting: significance and management. Clin J Am Soc Nephrol 10:2268–2278

9.

Cumming K, Hoyle GE, Hutchison JD, Soiza RL (2014) Prevalence, incidence and etiology of Hyponatremia in elderly patients with fragility fractures. Plos One 9:e88272

10.

Al Mawed S, Pankratz VS, Chong K, Sandoval M, Roumelioti ME, Unruh M (2018) Low serum sodium levels at hospital admission: Outcomes among 2.3 million hospitalized patientes. PLoS ONE 13:e194379

11.

Krummel T, Prinz E, Metten MA et al (2016) Prognosis of patients with severe hyponatraemia but also to comorbidities and to medical management: results of an observational retrpspective study. BMC Nephrol 17:159–171

12.

Verghese SC, Mahajan A, Uppal B (2019) Chronic versus new-onset Hyponatremia in Gertric patients undergoing orthopedic surgery. Int J Appl Basic Med Res 9:37–43

13.

Lombardi G, Ferraro PM, Calvaruso L, Naticchia A, D'Alonzo S, Gambaro G (2019) Sodium fluctuations and mortality in a general hospitalized population. Kidney Blood Press Res 44:604–614

14.

Greenberg A, Verbalis JG, Amin AN et al (2015) Current treatment practice and outcomes. Report oft he hyponatremia registry. Kidney Int 88:167–177

15.

Renneboog B, Musch W, Vandermergel X, Manto MU, Decaux G (2006) Mild chronic Hyponatremia is associated with falls, unsteadiness, and attention deficits. Am J Med 119:71.e1–71.e8

16.

Gosch M, Joosten-Gstrein B, Heppner HJ, Lechleitner M (2012) Hyponatremia in geriatric Inhospital patients: effects on results of a comprehensive geriatric assessment. Gerontology 58:430–440

17.

Albatin M, Brenner MJ, Nicklas JM et al (2016) Hyponatremia, cognitive function, and Mobiluty in an outpatient heart failure population. Med Sci Monit 22:4978–4985

18.

Ayus JC, Negri AL, Kalantar-Zadeh K, Moritz ML (2012) Is chronic hypnatremia a novel risk factor for hip fracture in the elderly? Nephrol Dial Transplant 27:3725–3731

19.

Usala RL, Fernandez SJ, Mete M, Shara NM, Barsony J, Verbalis JG (2015) Hyponatremia is associated with increased osteoporosis and Bone fractures in a large US health system population. J Clin Endocrinol Metab 100:3021–3031

20.

Kuo SCH, Kuo PJ, Rau CS, Wu SC, Hsu SY, Hsieh CH (2017) Hyponatremia is associated with worse outcomes from fall injuries in the elderly. Int J Environ Res Public Health 14:460–471

21.

Gosch M, Kammerländer C, Neuerburg C (2019) Osteoporose – Epidemiologie und Versorgungsqualität. Z Gerontol Geriatr 52:408–413

22.

Zieschang T, Wolf M, Vellappallil T, Uhlmann L, Poster P, Kopf D (2016) Assoziation von Hyponatriämie, Delirrisiko und Mortalität. Dtsch Arztebl 113:855–861

23.

Chung MC, Yu TM, Shu KH, Wu MJ, Chang CHM, Chung CJ (2017) Hyponatremia and increased risk of dementia: a population-based retrospective cohort study. PLoS ONE 12:e178977

24.

Hofmann W, Wille E, Kaminsky S (2019) Leitliniengerechte exakte Diagnose und Codierung der Demenz. Z Gerontol Geriat 52:179–194

25.

Deutsche Gesellschaft für Ernährung (2019) 14. DGE-Ernährungsbericht. 2. Kapitel. Vorveröffentlichung. Eigenverlag, Bonn

26.

Ganguli A, Mascarenhas RC, Jamshed N, Tefera E, Veis JH (2015) Hyponatremia: incidence, risk factors, and consequences in the elderly in a home-based primary care program. CN 84:75–85

27.

Brignole M, Moya A, de Lange FJ et al (2018) ESC Guidelines for the diagnosis and management of syncope. Eur Heart J 39:1883–1948

28.

von Scheidt W, Bosch R, Klingenheben T, Schuchert A, Stellbrink C, Stockburger M (2019) Manual zur Diagnostik und Therapie von Synkopen. Kardiologe 13:198–215

29.

Mar PL, Raj SR (2018) Orthostatic hypotension for the cardiologist. Curr Opin Cardiol 33:66–72

30.

Kengne FG, Decaux G (2018) Hyponatremia and the brain. Kidney Int Reports 3:24–35

31.

Zickler D, Schmidt-Ott KM (2019) Hyponatriämie in Notfall- und Intensivmedizin. Nephrologe 14:422–430

32.

Hofmann W (2012) Tücke "Exsikkose" und Hyponatriämie. Z Gerontol Geriat 45:155–165

33.

Mönig H, Arlt A (2017) Hyponatriämie: Differenzialdiagnose und Therapie. Dtsch Med Wochenschr 142:1231–1247

34.

Fenske W, Störk S, Blechschmidt A, Allolio B (2009) Copeptin in the differential diagnosis of hyponatremia. J Clin Endocrinol Metab 94:123–129

35.

Baldrighi M, Castello LM, Bartoli E (2018) Copeptin in hyponatremia: is there a role for this biomarker in the diagnostic workup? Endocrine 60:384–385

36.

Harbeck B, Lehnert H (2018) Diagnostik und Therapie der Nebenniereninsuffizienz. Dtsch Med Wochenschr 143:1242–1249

37.

Dowideit J, Langlo U, Brede S, Schulz K (2020) Apathie, Immobilität und Kachexie – Ein Fallbericht über einen Patienten mit sekundärer Nebennierenrindeninsuffizienz bei partieller hypophysärer Insuffizienz. Z Gerontol Geriat 53:79–82

38.

Komatsu T, Ohara N, Hirota N et al (2019) Isolated Adrenocorticotropic hormone deficiency presenting with severe Hyponatremia and Rhabdomyolysis: a case report ans literature review. Am J Case Rep 20:1857–1863
Ethics declarations
Interessenkonflikt
Gemäß den Richtlinien des Springer Medizin Verlags werden Autoren und Wissenschaftliche Leitung im Rahmen der Manuskripterstellung und Manuskriptfreigabe aufgefordert, eine vollständige Erklärung zu ihren finanziellen und nichtfinanziellen Interessen abzugeben.
Autoren
W. Hofmann: A. Finanzielle Interessen: Curriculum Geriatrische Grundversorgung der ÄK Schleswig-Holstein als Referent und wiss. Leiter seit 2012 | Vorträge für Fa. Heel, biologische Heilmittel, Baden-Baden. – Wiss. Mitarbeiter am Institut für Allgemeinmedizin, Universitätsklinikum Schleswig-Holstein (UKSH), Campus Lübeck. – B. Nichtfinanzielle Interessen: Präsident der Deutschen Gesellschaft für Geriatrie 2011–2012, Past-Präsident 2012–2014 | Chefarzt des Geriatrischen Zentrums Neumünster & Bad Bramstedt bis 2017. K. Flägel: A. Finanzielle Interessen: K. Flägel gibt an, dass kein finanzieller Interessenkonflikt besteht. – B. Nichtfinanzielle Interessen: Ärztin und wissenschaftliche Mitarbeiterin am Institut für Allgemeinmedizin, Universitätsklinikum Schleswig-Holstein, Campus Lübeck | Mitgliedschaft: Deutsche Gesellschaft für Allgemeinmedizin und Familienmedizin. M. Gosch: A. Finanzielle Interessen: Theo und Friedl Schöller Stiftung, Staedtler Stiftung. – Letzte 5 Jahre: Amgen, Bayer, BMS, Böhringer, Daiichi-Sankyo, Hexal, Novartis, Lilly, Pfizer, MSD, Otsuka, AO-Foundation, Bayerische Ärztekammer, Österreichische Akademie der Ärzte, Akademie der Unfallchirurgie | Letzte 2 Jahre: Amgen, Bayer, Daiichi-Sankyo, Novartis, Pfizer, Otsuka, AO-Foundation, Österreichische Akademie der Ärzte, Akademie der Unfallchirurgie, Otsuka, Daiichi-Sankyo, BMS. – B. Nichtfinanzielle Interessen: Chefarzt der Medizinischen Klinik 2, Klinikum Nürnberg | Universitätsprofessor für Geriatrie der Paracelsus Medizinischen Privatuniversität | Mitgliedschaften: Deutsche Gesellschaft für Geriatrie, Österreichische Gesellschaft für Geriatrie und Gerontologie, Deutsche Gesellschaft für Innere Medizin.
Wissenschaftliche Leitung
Die vollständige Erklärung zum Interessenkonflikt der Wissenschaftlichen Leitung finden Sie am Kurs der zertifizierten Fortbildung auf www.springermedizin.de/cme.
Der Verlag
erklärt, dass für die Publikation dieser CME-Fortbildung keine Sponsorengelder an den Verlag fließen.
Für diesen Beitrag wurden von den Autoren keine Studien an Menschen oder Tieren durchgeführt. Für die aufgeführten Studien gelten die jeweils dort angegebenen ethischen Richtlinien.
Additional information
Wissenschaftliche Leitung
M. Gosch, Nürnberg
H.J. Heppner, Schwelm
W. Hofmann, Lübeck
CME-Fragebogen
CME-Fragebogen
Die Prävalenz einer milden Hyponatriämie bei >75-Jährigen in der Allgemeinbevölkerung beträgt laut der Rotterdam-Studie …
0,06 %.
0,16 %.
1,16 %.
11,6 %.
21,6 %.
Ab welcher Natriumkonzentration im Serum ist die Sturzhäufigkeit im Alter signifikant erhöht?
<140 mmol/l
<135 mmol/l
<130 mmol/l
<125 mmol/l
<120 mmol/l
Was ist eine "Pseudohyponatriämie"?
Eine Fehldiagnose einer Hyponatriämie.
Sie weist eine verminderte Tonizität auf.
Sie weist eine erhöhte Tonizität auf.
Sie zeigt den "wahren" Serumnatriumgehalt an.
Sie entzieht sich dem Nachweis im Vollblut (z. B. in einer Blutgasanalyse).
Der "Cut-off"-Wert zur Unterscheidung von akuter und chronischer Hyponatriämie ist definiert bei …
12 h.
24 h.
48 h.
72 h.
5 Tagen.
Eine Heimbewohnerin wird regelmäßig zum Trinken aufgefordert, isst kochsalzarme Diät wegen arterieller Hypertonie und nimmt ein Thiazid. Dass Essen schmeckt ihr überhaupt nicht; der Teller bleibt meist halb voll. Was droht in dieser Konstellation?
Blutdruckentgleisung
Kardiale Dekompensation
Überschießende Diurese
Niereninsuffizienz bei Malnutrition
Hyponatriämie bei Freiwasserexzess
Ein verringertes effektives zirkulierendes Volumen …
weist Natrium im Spontanurin >30 mmol/l (ohne Diuretikum) auf.
hat einen ausgeglichenen Natriumgehalt im Serum.
ist mit Euvolämie verbunden.
kommt vorwiegend bei Volumenverlust (Hypovolämie), aber seltener bei Hypervolämie vor.
prädisponiert zu orthostatischer Hypotonie (OH) mit Synkopen.
Wodurch ist eine Hyponatriämie bei Hypervolämie ist am ehesten verursacht?
Herzinsuffizienz
Medikamente
Überbilanzierung von isotoner Flüssigkeit
Sequestration von Flüssigkeit z. B. bei Ileus
Infusion hyperosmolarer Lösungen
Sie stellen eine Hyponatriämie im Serum fest; klinisch wirkt Ihr Patient euvolämisch. Folgende Befunde liegen vor: spezifisches Gewicht im Urin >1,030 (Osmolalität >100 mosmol/kg), Natriumkonzentration im Spontanurin >30 mmol/l, Serumosmolalität <275 mosmol/kg. Wie lautet Ihre erste Differenzialdiagnose?
Volumenverlust
Freiwasserexzess/Polydipsie
Syndrom der inadäquaten Sekretion von antidiuretischem Hormon (SIADH)
Zerebrales Salzverlustsyndrom
Sportliche Überbeanspruchung
Wodurch kann ein Syndrom der inadäquaten Sekretion von antidiuretischem Hormon (SIADH) verursacht werden?
Hypothyreose
Nebenniereninsuffizienz
Entgleister Diabetes
Niereninsuffizienz
Perioperativer Stress und Schmerz
Sie werden zu einem Patienten im Heim gerufen. Er ist im Delir, wirkt klinisch euvolämisch, eine Demenz ist vorbekannt. Sie haben einen Anhalt für eine Infektion unklarer Lokalisation. Sie nehmen Proben fürs Labor ab und führen sofort eine Teststreifenuntersuchung im Spontanurin durch. Der Befund des spezifischen Gewichts >1,030 (>100 mosmol/kg) liegt Ihnen umgehend vor. Ihre erste Vermutung, die sich später bestätigt, ist: Das Delir ist mitverursacht durch …
Polydipsie.
Auseinandersetzung mit Angehörigen.
zu geringe Flüssigkeitsaufnahme.
Pseudohyponatriämie bei Hyperglykämie.
Hyponatriämie bei Syndrom der inadäquaten Sekretion von antidiuretischem Hormon (SIADH).
About this article
Cite this article
Hofmann, W., Flägel, K. & Gosch, M. Hyponatriämie im Alter (Teil I) – Diagnose leicht gemacht. Z Gerontol Geriat 53, 347–356 (2020). https://doi.org/10.1007/s00391-020-01736-z
Received:

Accepted:

Published:

Issue Date:
Schlüsselwörter
Kognitive Dysfunktion

Sturz

Krampfanfall

Syndrom der inadäquaten ADH-Sekretion

Algorithmus
Keywords
Cognitive dysfunction

Falls

Seizure

Syndrome of inappropriate ADH secretion

Algorithm