Zusammenfassung
Hintergrund
Akutkrankenanstalten sind nicht für die Behandlung von Menschen mit Demenz ausgerichtet. Verhaltensauffälligkeiten stellen meist die größte Herausforderung dar. Ob akut erkrankte Demenzpat. von einer stationären Memory-Klinik (IG-MA) profitieren, wurde in dieser prospektiven kontrollierten Studie geprüft.
Methodik
Vom 01. bis zum 09.2018 wurden höhergradig betroffene Demenzpat. von Akutkrankenanstalten auf IG-MA zur Remobilisation aufgenommen. Die spezielle Qualifikation des Personals und das angepasste Raumkonzept zeichnen diese Station aus. Kontrollgruppen waren eine herkömmliche Remobilisationsstation (KG1-AGR) und 4 Pflegewohnheime (KG2-PWH).
Ergebnisse
Patienten von IG-MA (n = 22) waren bei Aufnahme, gemessen an "Barthel-Index" [BI], "timed 'up and go' test" [TUG] und "Esslinger Transferskala" [ETS], stärker eingeschränkt als Pat. der KG1-AGR (n = 59). Die erzielten Verbesserungen waren in diesen Gruppen signifikant, ohne Überlegenheit einer Gruppe: IG-MA (BI 35 auf 57,8 Pkt.; TUG 30,8 auf 23 s; ETS 2,1 auf 1,1 Pkt.) vs. KG1-AGR (BI 44,7 auf 62,4 Pkt.; TUG 28,6 auf 20,2 s; ETS 1,7 auf 0,9 Pkt.). Unterschiede gab es hinsichtlich der kognitiven Fähigkeiten bei Aufnahme (MMSE: IG-MA 13,6 vs. KG1-AGR 20 Pkt.). Die Aufenthaltsdauer an IG-MA war um durchschnittlich 5 Tage länger. Frühzeitige Entlassungen waren an IG-MA häufig durch Komplikationen und Transfer ins Akutkrankenhaus bedingt (22,7 %), in der KG1-AGR meist wegen schlechter Führbarkeit (27,1 %). In der KG2-PWH zeigte sich in den ersten 4 Wochen keine signifikante funktionelle Verbesserung gemessen am BI.
Schlussfolgerung
Höhergradig betroffene Demenzpat. mit Verhaltensaufälligkeiten profitieren nach einem Akutereignis von einer Remobilisationsbehandlung in einem speziell dafür ausgerichteten Setting.
Abstract
Background
Acute hospitals are generally not designed for people with dementia. Behavioral issues pose the greatest challenge. This article reports on the results of a prospective controlled study designed to assess whether dementia patients benefit from a remobilization strategy in a memory clinic (IG-MA) following hospital discharge.
Methods
Between January and September 2018 patients with moderate to severe dementia discharged from hospital following acute episodes were admitted to an IG-MA for remobilization. The IG-MA unit provides specially qualified personnel and an adapted environment. Control groups were formed from the standard remobilization unit (KG1-AGR) and four care homes (KG2-PWH).
Results
Patients in the IG-MA (n = 22) had a worse functional status at admission according to the Barthel index (BI), the timed "up and go" test (TUG) and the Esslinger transfer scale (ETS) than patients in the KG1-AGR (n = 59). Outcomes significantly improved in both groups (IG-MA and KG1-AGR) without a clear difference between groups: IG-MA (BI from 35 to 57.8 points, TUG from 30.8 s to 23 s, ETS from 2.1 to 1.1 points) vs. KG1-AGR (BI from 44.7 to 62.4 points, TUG from 28.6 s to 20.2 s, ETS from 1.7 to 0.9 points). There were differences in cognitive ability at admission (mini mental state examination, MMSE: IG-MA 13.6 points vs. KG1-AGR 20 points). The length of stay in the IG-MA was on average 5 days longer. Early discharge was mostly the result of complications and transfer to acute hospitals in the IG-MA group (22.7%) and in the KG1-AGR group this was mostly due to care issues (27.1%). The KG2-PWH group did not show any significant functional improvements in the first 4 weeks as measured by the BI.
Conclusion
Moderate to severely affected dementia patients with behavioral problems benefited from treatment in a specially designed remobilization unit following hospital discharge after an acute event.
Access options
Buy single article
Instant access to the full article PDF.
US$ 39.95
Tax calculation will be finalised during checkout.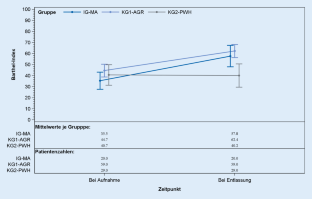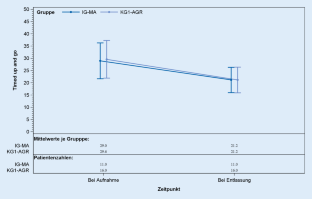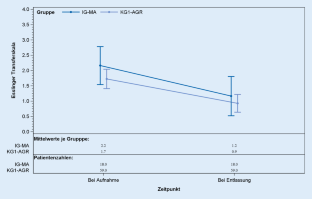 Literatur
1.

Gesundheit Österreich GmbH (2015) Demenzstrategie – Gut leben mit Demenz. www.goeg.at (S. 28); Zugegriffen: 16. Juli 2019

2.

Givens JL et al (2012) Hospital transfers of nursing home residents with advanced dementia. J Am Geriatr Soc 60:905–909

3.

Glover A et al (2014) Diagnoses, problems and healthcare interventions amongst older people with an unscheduled hospital admission who have concurrent mental health problems: a prevalence study. BMC Geriatr 14:43

4.

Clevenger CK et al (2012) Clinical care of persons with dementia in the emergency department: a review of the literature and agenda for research. J Am Geriatr Soc 60:1742–1748

5.

Schippinger W et al (2012) Mobiler geriatrischer Konsiliardienst für Pflegeheime. Z Gerontol Geriat 45:735–741

6.

Rösler A et al (2009) Dementia as a cofactor for geriatric rehabilitation-outcome in patients with oseosynthesis of the proximal femur: a retrospective, matched-pair analysis of 250 patients. Arch Gerontol Geriatr 49:36–39

7.

Gros AL et al (2012) Delirium and long-term cognitive trajectory among persons with dementia. Arch Intern Med 172:1324

8.

Hu C et al (2012) Postoperative adverse outcomes in surgical patients with dementia: a retrospective cohort sudy. World J Surg 36:2051–2058

9.

Motzek T et al (2017) Einfluss der Demenz auf Verweildauer und Erlöse im Akutkrankenhaus. Z Gerontol Geriat 50:59–66

10.

Guljarro R et al (2010) Impact of dementia on hospitalization. Neuroepidemiology 35:101–108

11.

Rösler A et al (2010) Spezialisierte Stationen zur Behandlung von akut erkrankten geriatrischen Pat. mit zusätzlichen kognitiven Beeinträchtigungen in Deutschland. Z Gerontol Geriatr 43:249–253

12.

https://www.sozialministerium.at/site/Gesundheit/Gesundheitssystem/Gesundheitssystem_Qualitaetssicherung/Planung_und_spezielle_Versorgungsbereiche/Akutgeriatrie_Remobilisation_AG_R_nbsp_und_Remobilisation_Nachsorge_RNS_in_Oesterreich. Zugegriffen: 16. Juli 2019

13.

http://www.dgn.org/images/red_leitlinien/LL_2016/PDFs_Download/038013_LL_Demenzen_2016.pdf. Zugegriffen: 10. Febr. 2017

14.

Korczak D et al (2012) Effektivität der ambulanten u. stationären geriatrischen Rehabilitation bei Patienten mit der Nebendiagnose Demenz. Deutsches Institut für Medizinische Dokumentation u. Information. Health Technology Assessment Bd. 122. DIMDI, Köln

15.

http://www.kaz.bmg.gv.at/fileadmin/user_upload/Publikationen/oesg_2010_-_gesamt__stand_26.11.2010.pdf. Zugegriffen: 17. Juli 2019

16.

Dietch JT, Hewett LJ, Jones S (1989) Adverse effects of reality orientation. J Am Geriatr Soc 37(10):974–976 (Oct)

17.

Böhm E (2018) Psychobiographisches Pflegemodell nach Böhm. Ausgabe 5, Band 1, Maudrich, Wien. ISBN 978-3-99002-085-2

18.

http://www.healthgate.at/export/sites/healthgate/de/produkte/bars/indikationen/geriatrie/index.html. Zugegriffen: 3. Okt. 2019
Ethics declarations
Interessenkonflikt
G. Pichler, N. Fink, L. Weidinger, L. Schmidt, T. Augustin und W. Schippinger geben an, dass kein Interessenkonflikt besteht.
Beim beschriebenen Assessment handelt es sich um routinemäßig erhobene Daten. Alle Patienten bzw. ihre rechtlichen Vertreter unterfertigten bei Aufnahme eine Einwilligung für die Datenverarbeitung und Weitergabe dieser routinemäßig erhobenen AG/R-Benchmark-Daten.
About this article
Cite this article
Pichler, G., Fink, N., Weidinger, L. et al. "Memory Akut" – Versorgungskonzept zur stationären Remobilisation von akut erkrankten Demenzpatienten. Z Gerontol Geriat 53, 310–317 (2020). https://doi.org/10.1007/s00391-019-01642-z
Received:

Accepted:

Published:

Issue Date:
Schlüsselwörter
Demenz

Verhaltensauffälligkeiten

Rehabilitation

Geriatrisches Assessment
Keywords
Dementia

Behavioral symptoms

Rehabilitation

Geriatric assessment