Zusammenfassung
Hintergrund
Eine sturzbedingte Femurfraktur ist einer der häufigsten Einweisungsgründe bei Patienten mit Demenz. Das Ziel der Studie war es, demenzspezifische Kennzeichen von Patienten mit einer sturzbedingten Fraktur des Femurs und einer zusätzlichen nicht näher bezeichneten Demenz zu identifizieren, um weitere Erkenntnisse über die Patientengruppe zu erlangen.
Methodik
Es wurde eine deskriptive, explorative Case Study mit einem Single-Case Embedded Design unter Hinzuziehung von Krankenhausroutinedaten einer Universitätsklinik durchgeführt. Insgesamt wurden 34 Patientendokumentationen aus dem Jahr 2015 ausgewertet. In der Embedded Unit of Analysis I wurden die Daten ausgewählter Items des ergebnisorientierten PflegeAssessment Acute Care© 2.0 (ePA-AC©) für den Aufnahme- und Entlassungszeitpunkt deskriptiv dargestellt. In der Embedded Unit of Analysis II wurde eine zusammenfassende induktive Inhaltsanalyse durchgeführt.
Ergebnisse
Die Ergebnisse der Embedded Unit of Analysis I zeigen, dass die Patientengruppe durch einen hohen Pflegebedarf und Einschränkungen in der Kognition sowie Veränderungen im Verhalten charakterisiert ist. Der Status von Kognition, des Verhaltens und der Reziprozität sowie der Selbstpflegeindex stagnierten oder verschlechterten sich bei vielen Patienten von Aufnahme zur Entlassung. Aus der Embedded Unit of Analysis II konnten beobachtbares (Sozial‑)Verhalten, (Non)Compliance und Orientierung als zentrale demenzspezifische Kennzeichen identifiziert werden.
Diskussion
Die Ergebnisse spiegeln die Komplexität der Versorgungssituation von Patienten mit einer nicht näher bezeichneten Demenz wider. Sie verdeutlichen die Notwendigkeit, diese Patientengruppe stärker als bisher in den Blick der Versorgung zu nehmen, verbunden mit dem Ziel, bessere Versorgungsoutcomes zu erreichen.
Abstract
Background
A fall-related femur fracture is one of the most frequent reasons for hospital admission of patients with dementia. The aim of the study was to identify dementia-specific characteristics of patients with fall-related femur fractures and additionally an unspecified dementia in order to gain further knowledge about this particular patient group.
Methods
A descriptive explorative case study with a single case-embedded design based on routine hospital data from a university hospital was performed. A total number of 34 patient records from 2015 were analyzed. In the embedded unit of analysis I the data of selected items of the nursing assessment AcuteCare (ePA-AC©) were descriptively analyzed for the time of admission and discharge. In the embedded unit of analysis II a summarizing inductive content analysis was conducted.
Results
The results of the embedded unit of analysis I showed that this patient group is characterized by a high need for care, changes of cognition and behavioral symptoms. The status of cognition, behavior and reciprocity as well as the self-care index stagnated or deteriorated in many patients from admission to discharge. The embedded unit of analysis II identified observable (social)behavior, (non)compliance and orientation as central dementia-specific characteristics.
Conclusion
The results reflect the complexity of the care situation of patients with unspecified dementia in acute care hospitals. The results showed that a higher awareness for this particular patient group is needed to improve outcomes.
Access options
Buy single article
Instant access to the full article PDF.
US$ 39.95
Tax calculation will be finalised during checkout.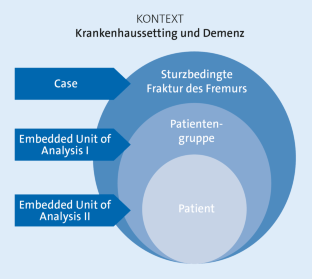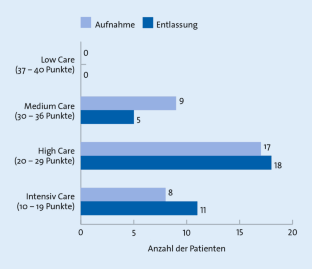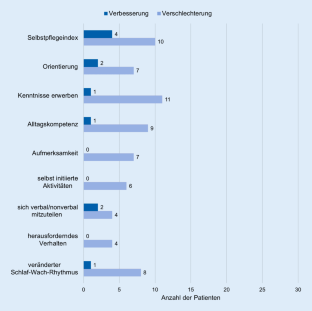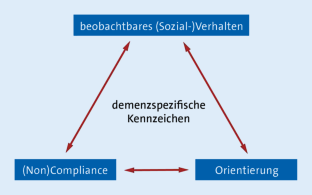 Literatur
1.

Allan LM, Ballard CG, Rowan EN et al (2009) Incidence and prediction of falls in dementia: a prospective study in older people. Plos One 4:e5521

2.

Arbeitsgruppe Erhebung und Nutzung von Sekundärdaten (AGENS) Der Deutschen Gesellschaft für Sozialmedizin und Prävention (DGSMP) und der Deutschen Gesellschaft für Epidemiologie (DGEPI) (2014) Gute Praxis Sekundärdatenanalyse (GPS). Leitlinie und Empfehlungen. http://dgepi.de/assets/Leitlinien-und-Empfehlungen/1a6f57cb65/GPS_revision2-final_august2014.pdf. Zugegriffen: 18.10.2018.

3.

Carpintero P, Caeiro JR, Carpintero R et al (2014) Complications of hip fractures: a review. WJO 5:402–411

4.

Chang CC, Lin PH, Chang YT et al (2015) The impact of admission diagnosis on recurrent or frequent hospitalizations in 3 dementia subtypes: a hospital-based cohort in Taiwan with 4 years longitudinal follow-ups. Medicine 94:e2091

5.

Dellasega C, Cutezo E (1994) Strategies used by home health nurses to assess the mental status of homebound elders. J Community Health Nurs 11:129–138

6.

Deutsche Alzheimer Gesellschaft e. V. (2018) Informationsblatt 1. Die Häufigkeit von Demenzerkrankungen. https://www.deutsche-alzheimer.de/fileadmin/alz/pdf/factsheets/infoblatt1_haeufigkeit_demenzerkrankungen_dalzg.pdf. Zugegriffen: 13.11.2018.

7.

Deutsche Institut für Medizinische Dokumentation und Information (2016) ICD-10 Version 2016. Kapitel V. Psychische und Verhaltensstörungen (F00-F99). https://www.dimdi.de/static/de/klassi/icd-10-who/kodesuche/onlinefassungen/htmlamtl2016/block-f00-f09.htm. Zugegriffen: 30.10.2018.

8.

Deutsches Netzwerk für Qualitätsentwicklung in der Pflege (Hrsg) (2013) Expertenstandard Sturzprophylaxe in der Pflege. Deutsches Netzwerk für Qualitätsentwicklung in der Pflege, Osnabrück

9.

Dewing J, Dijk S (2016) What is the current state of care for older people with dementia in general hospitals? A literature review. Dementia 15:106–124

10.

Digby R, Lee S, Williams A (2017) The experience of people with dementia and nurses in hospital: an integrative review. J Clin Nurs 26:1152–1171

11.

Eichler T, Thyrian JR, Hertel J et al (2015) Rates of formal diagnosis of dementia in primary care: the effect of screening. Alzheimers Dement 1:87–93

12.

Givens JL, Sanft TB, Marcantonio ER (2008) Functional recovery after hip fracture: the combined effects of depressive symptoms, cognitive impairment, and delirium. J Am Geriatr Soc 56:1075–1079

13.

Gruber-Baldini AL, Zimmerman S, Morrison RS et al (2003) Cognitive impairment in hip fracture patients: timing of detection and longitudinal follow-up. J Am Geriatr Soc 51:1227–1236

14.

Harvey L, Mitchell R, Brodaty H et al (2016) The influence of dementia on injury-related hospitalisations and outcomes in older adults. Injury 47:226–234

15.

Hessler JB, Schaufele M, Hendlmeier I et al (2018) Behavioural and psychological symptoms in general hospital patients with dementia, distress for nursing staff and complications in care: results of the General Hospital Study. Epidemiol Psychiatr Sci 27:278–287

16.

Hofmann W, Rosler A, Vogel W et al (2014) Spezialstation für akut erkrankte, kognitiv eingeschränkte Patienten in Deutschland. Positionspapier. Z Gerontol Geriat 47:136–140

17.

Hunstein D (2009) Das ergebnisorientierte PflegeAssessment AcuteCare (ePA-AC). In: Bartholomeyczik S, Halek M (Hrsg) Assessmentinistrumente in der Pflege Möglichkeiten und Grenzen. Schlütersche Verlagsgesellschaft mbH & Co KG, Hannover, S 60–78

18.

Jackson TA, Gladman JR, Harwood RH et al (2017) Challenges and opportunities in understanding dementia and delirium in the acute hospital. PLoS Med 14:e1002247

19.

Kirchen-Peters S (2012) Analyse von hemmenden und förderlichen Faktoren für die Verbreitung demenzsensibler Konzepte in Akutkrankenhäusern. Endbericht mit Handlungsempfehlungen. Institut für Sozialforschung und Sozialwirtschaft e. V., Saarbrücken

20.

Mayring P (2010) Qualitative Inhaltsanalyse. Grundlagen und Techniken. Beltz, Weinheim, Basel

21.

Mitchell R, Harvey L, Brodaty H et al (2016) Hip fracture and the influence of dementia on health outcomes and access to hospital-based rehabilitation for older individuals. Disabil Rehabil 38:2286–2295

22.

Norton R, Campbell AJ, Lee-Joe T et al (1997) Circumstances of falls resulting in hip fractures among older people. J Am Geriatr Soc 45:1108–1112

23.

O'Connell B, Orr J, Ostaszkiewicz J et al (2011) Nursing care needs of patients with and without dementia admitted to hospital with fractured neck of femur. Int J Orthop Trauma Nurs 15:136–144

24.

O'Keeffe E, Mukhtar O, O'Keeffe ST (2011) Orientation to time as a guide to the presence and severity of cognitive impairment in older hospital patients. J Neurol Neurosurg Psychiatr 82:500–504

25.

Pinkert C, Holle B (2012) Menschen mit Demenz im Akutkrankenhaus. Literaturübersicht zu Prävalenz und Einweisungsgründen. Z Gerontol Geriat 45:728–734

26.

Sampson EL, White N, Leurent B et al (2014) Behavioural and psychiatric symptoms in people with dementia admitted to the acute hospital: prospective cohort study. Br J Psychiatry 205:189–196

27.

Schäufele M, Hendlmeier I, Heßler J et al (2017) Demenz im Allgemeinkrankenhaus: Prävalenz und Versorgungssituation (General Hospital Study – GHoSt). 27. Alzheimer Europe Conference, Berlin 4. Okt. 2017

28.

Seitz DP, Adunuri N, Gill SS et al (2011) Prevalence of dementia and cognitive impairment among older adults with hip fractures. J Am Med Dir Assoc 12:556–564

29.

Smith TO, Cooper A, Peryer G et al (2017) Factors predicting incidence of post-operative delirium in older people following hip fracture surgery: a systematic review and meta-analysis. Int J Geriatr Psychiatry 32:386–396

30.

Tarawneh R, Holtzman DM (2012) The clinical problem of symptomatic Alzheimer disease and mild cognitive impairment. Cold Spring Harbor Perspectives in Medicine 2:a6148

31.

Trachsel M, Hermann H, Biller-Andorno N (2015) Cognitive fluctuations as a challenge for the assessment of decision-making capacity in patients with dementia. Am J Alzheimer's Dis Other Dementias 30:360–363

32.

Vogt B, Mai T, Feuchtinger J et al (2018) Prävalenzen von Demenz in Universitätskliniken. Analyse von ICD-10-Kodierungen in fünf Universitätskliniken in Deutschland über zwei Geschäftsjahre. Zeitschrift für Gerontologie und Geriatrie 6

33.

Yin R (2014) Case study research. Design and methods. SAGE, Los Angeles, London, New Delhi, Singapore, Washington, DC [u. a.]

34.

Yoshii I, Satake Y, Kitaoka K et al (2016) Relationship between dementia degree and gait ability after surgery of proximal femoral fracture: review from clinical pathway with regional alliance data of rural region in Japan. J Orthop Sci 21:481–486
Ethics declarations
Interessenkonflikt
C. Manietta, B. Vogt und M. Roes geben an, dass kein Interessenkonflikt besteht.
Für diesen Beitrag wurden von den Autoren keine Studien an Menschen oder Tieren durchgeführt. Für die aufgeführten Studien gelten die jeweils dort angegebenen ethischen Richtlinien.
The supplement containing this article is not sponsored by industry.
Caption Electronic Supplementary Material
About this article
Cite this article
Manietta, C., Vogt, B. & Roes, M. Demenzspezifische Kennzeichen bei Patienten mit sturzbedingter Fraktur des Femurs. Z Gerontol Geriat 53, 437–445 (2020). https://doi.org/10.1007/s00391-019-01641-0
Received:

Accepted:

Published:

Issue Date:
Schlüsselwörter
Demenz

Fraktur des Femurs

Sturz

Krankenhaus

Case Study
Keywords
Dementia

Fracture of femur

Fall

Hospital

Case study