Abstract
Purpose
We aim to compare the efficiency and toxicity of three different 5-fluorouracil (5-FU) administration types in 5-FU, leucovorin, and oxaliplatin (FOLFOX) combination treatment for adjuvant therapy in colorectal cancer (CRC).
Methods
Five hundred and seventy patients with stage III colorectal carcinoma who received different FOLFOX regimens after curative resection were included. Patients were divided into three groups as FOLFOX-4, modified FOLFOX-6 (mFOLFOX-6), and mFOLFOX-4 for comparison of toxicity and disease-free survival (DFS) and overall survival (OS) times.
Results
Three-year DFS rates for FOLFOX-4, mFOLFOX-6, and mFOLFOX-4 groups were 65%, 72%, and 72%, respectively. Five-year OS rates for FOLFOX-4, mFOLFOX-6, and mFOLFOX-4 groups were 69%, 75%, and 67%, respectively. There was no statistically significant difference between the three treatment groups in terms of DFS and OS (p = 0.079, and p = 0.147, respectively). Among grade 1–2 adverse events (AE), thrombocytopenia, neuropathy, and stomatitis were more common in the mFOLFOX-6-treated group. The frequency of grade 1–2 nausea and vomiting were similar in mFOLFOX-6 (36.3% and 24%, respectively) and mFOLFOX-4 (32.4% and 24.7%, respectively) groups but were higher than that in the FOLFOX-4 (19.5% and 11.3%, respectively) group. Among the most common grade 3–4 AE, neutropenia (53.4%, 9%, and 13.5%, respectively) and diarrhea (10.5%, 2.2%, and 2.4, respectively) were more common in FOLFOX-4. The rate of anemia and febrile neutropenia was similar in treatment groups (p = 0.063, and p = 0.210, respectively).
Conclusion
In the adjuvant treatment of stage III CRC patients, three different 5-FU administration types in FOLFOX combination treatment can be used with similar efficiency and manageable toxicity.
Access options
Buy single article
Instant access to the full article PDF.
US$ 39.95
Tax calculation will be finalised during checkout.
Subscribe to journal
Immediate online access to all issues from 2019. Subscription will auto renew annually.
US$ 119
Tax calculation will be finalised during checkout.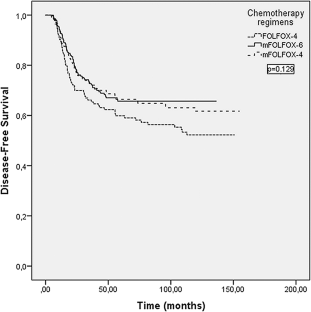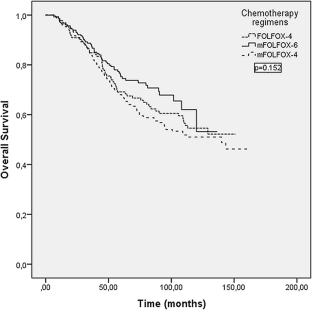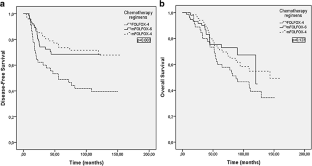 References
1.

Siegel RL, Miller KD, Jemal A (2020) Cancer statistics 2020. CA Cancer J for Clin 7:7–30

2.

Fortea-Sanchis C, Forcadell-Comes E, Martinez-Ramos D et al (2019) Modelling the probability of erroneous negative lymph node staging in patients with colon cancer. Cancer Commun 39:31

3.

O'Connell JB, Maggard MA, Ko CY (2004) Colon cancer survival rates with the new American Joint Committee on Cancer sixth edition staging. J Natl Cancer Inst 96:1420–1425

4.

Moertel CG, Fleming TR, Macdonald JS, Haller DG, Laurie JA, Goodman PJ, Ungerleider JS, Emerson WA, Tormey DC, Glick JH, Veeder MH, Mailliard JA (1990) Levamisole and fluorouracil for adjuvant therapy of resected colon carcinoma. N Engl J Med 322:352–358

5.

O'Connell MJ, Laurie JA, Kahn M et al (1998) Prospectively randomized trial of postoperative adjuvant chemotherapy in patients with high-risk colon cancer. J Clin Oncol 16:295–300

6.

Andre T, Boni C, Mounedji-Boudiaf L et al (2004) Oxaliplatin, fluorouracil, and leucovorin as adjuvant treatment for colon cancer. N Engl J Med 350:2343–2351

7.

Andre T, Boni C, Navarro M et al (2009) Improved overall survival with oxaliplatin, fluorouracil, and leucovorin as adjuvant treatment in stage II or III colon cancer in the MOSAIC trial. J Clin Oncol 27:3109–3116

8.

Sadahiro S, Suzuki T, Ishikawa K, Nakamura T, Tanaka Y, Masuda T, Mukoyama S, Yasuda S, Tajima T, Makuuchi H, Murayama C (2003) Recurrence patterns after curative resection of colorectal cancer in patients followed for a minimum of ten years. Hepatogastroenterology 50:1362–1366

9.

Sargent DJ, Wieand HS, Haller DG, Gray R, Benedetti JK, Buyse M, Labianca R, Seitz JF, O'Callaghan CJ, Francini G, Grothey A, O'Connell M, Catalano PJ, Blanke CD, Kerr D, Green E, Wolmark N, Andre T, Goldberg RM, de Gramont A (2005) Disease-free survival versus overall survival as a primary end point for adjuvant colon cancer studies: individual patient data from 20,898 patients on 18 randomized trials. J Clin Oncol 23:8664–8670

10.

Yothers G, O'Connell MJ, Allegra CJ et al (2011) Oxaliplatin as adjuvant therapy for colon cancer: updated results of NSABP C-07 trial, including survival and subset analyses. J Clin Oncol 29:3768–3774

11.

Allegra CJ, Yothers G, O'Connell MJ et al (2011) Phase III trial assessing bevacizumab in stages II and III carcinoma of the colon: Results of NSABP protocol C-08. J Clin Oncol 29:11–16

12.

Alberts SR, Sargent DJ, Nair S, Mahoney MR, Mooney M, Thibodeau SN, Smyrk TC, Sinicrope FA, Chan E, Gill S, Kahlenberg MS, Shields AF, Quesenberry JT, Webb TA, Farr GH Jr, Pockaj BA, Grothey A, Goldberg RM (2012) Effect of Oxaliplatin, Fluorouracil, and LeucovorinWith or Without Cetuximab on Survival Among Patients With Resected Stage III Colon Cancer. JAMA 307:1383–1393

13.

Allegra CJ, Yothers G, O'Connell MJ et al (2013) Bevacizumab in Stage II-III Colon Cancer: 5-Year Update of the National Surgical Adjuvant Breast and Bowel Project C-08 Trial. J Clin Oncol 31:359–364

14.

Uncu D, Aksoy S, Çetin B, Yetişyiğit T, Özdemir N, Berk V, Dane F, Inal A, Harputluoğlu H, Budakoğlu B, Koca D, Sevinç A, Cihan S, Durnalı AG, Özkan M, Öztürk MA, Işıkdoğan A, Büyükberber S, Benekli M, Köş T, Alkış N, Karaca H, Turhal NS, Zengin N, Anatolian Society of Medical Oncology (2013) Results of Adjuvant FOLFOX Regimens in Stage III Colorectal Cancer Patients: Retrospective Analysis of 667 Patients. Oncology 84:240–245

15.

Allegra CJ, Yothers G, O'Connell MJ et al (2009) Initial safety report of NSABP C-08: A randomized phase III study of modified FOLFOX6 with or without bevacizumab for the adjuvant treatment of patients with stage II or III colon cancer. J Clin Oncol 27:3385–3390

16.

Pectasides D, Karavasilis V, Papaxoinis G et al (2015) Randomized phase III clinical trial comparing the combination of capecitabine and oxaliplatin (CAPOX) with the combination of 5-fluorouracil, leucovorin and oxaliplatin (modified FOLFOX6) as adjuvant therapy in patients with operated high-risk stage II or stage III colorectal cancer. BMC Cancer 15:384–395

17.

Cihan Ş, Uncu D, Babacan NA, Özdemir N, Odabaş H, Aksoy S, Öksüzoğlu B, Zengin N (2011) Adjuvant modified FOLFOX-4 in patients with stage III rectum adenocarcinoma. Asian Pac J Cancer Prev 12:967–970

18.

Aspinall SL, Good CB, ZhaoX et al (2015) Adjuvant chemotherapy for stage III colon cancer: relative dose intensity and survival among veterans. BMC Cancer 15:62

19.

Cespedes Feliciano EM, Lee VS, Prado CM, Meyerhardt JA, Alexeeff S, Kroenke CH, Xiao J, Castillo AL, Caan BJ (2017) Muscle mass at the time of diagnosis of nonmetastatic colon cancer and early discontinuation of chemotherapy, delays, and dose reductions on adjuvant FOLFOX: The C-SCANS study. Cancer 123:4868–4877

20.

Park D, Baek SJ, Kwak JM, Kim J, Kim SH (2018) Analysis of reduced-dose administration of oxaliplatin as adjuvant FOLFOX chemotherapy for colorectal cancer. Ann Surg Treat Res 94:196–202
Ethics declarations
Ethical approval
The study was approved by the local Ethics Committee of Dicle University (Approval no: 147/2019) and conducted in accordance with the Helsinki Declaration and ethical principles.
Consent for publication
All authors have approved the manuscript and consent for publication.
Conflict of interest
The authors declared no potential conflicts of interest with respect to the research, authorship, and/or publication of this article.
Additional information
Publisher's note
Springer Nature remains neutral with regard to jurisdictional claims in published maps and institutional affiliations.
About this article
Cite this article
Akdeniz, N., Kaplan, M.A., Uncu, D. et al. The comparison of FOLFOX regimens with different doses of 5-FU for the adjuvant treatment of colorectal cancer: a multicenter study. Int J Colorectal Dis (2021). https://doi.org/10.1007/s00384-021-03888-9
Keywords
Adjuvant chemotherapy

Colorectal cancer; FOLFOX regimens

Stage III