Abstract
Purpose
To examine long-term recurrence and anal continence of patients with anal fistula treated by fistulectomy and endorectal advancement flap repair.
Method
Retrospective analysis of a prospective cohort of 115 patients (77.4% males, mean age 48.9 years) requiring 130 procedures, with a minimum follow-up of 10 years. Recurrence included reappearance of fistula after wound healing or presence of an abscess or chronic suppuration in the operated area at follow-up. Fecal incontinence was evaluated by the Cleveland Clinic Florida (CCF-FI) fecal incontinence scoring system.
Results
The mean and SD duration of the follow-up period was 155.5 (21.7) months. Recurrence developed in 31 (23.8%) cases, 28 (90.3%) of which within the first year, with a mean time to recurrence of 4.9 (2.9) months. The success rate was 76.2%. Anal continence was normal in 80% of patients before surgery, 63.8% at 1-year follow-up, and 71.5% at the end of follow-up (p < 0.001). Overall, continence worsened in 16.9% of cases. The mean (95% CI) CCF-FI score was 0.78 (0.35–1.21) preoperatively, 1.04 (0.64–1.43) at 1 year after surgery, 0.90 (0.52–1.29) at 5 years, and 1.16 (0.66–1.67) at the end of the study (p < 0.05). Neither recurrence nor continence was significantly associated with previous anal or fistula surgical procedures or complexity of the fistula.
Conclusion
In this study, fistulectomy and endorectal advancement flap repair was associated with a long-term high rate of success. Most recurrences occurred within the first year and continence showed a mild deterioration over time.
Clinical trial registration: Not applicable.
We're sorry, something doesn't seem to be working properly.
Please try refreshing the page. If that doesn't work, please contact support so we can address the problem.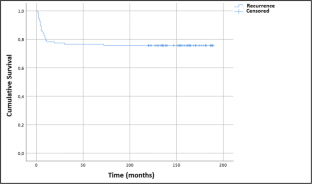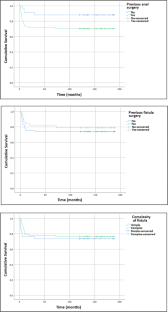 Acknowledgements
The authors thank Dr Marta Pulido for editing the manuscript and editorial assistance.
Ethics declarations
Conflict of interest
The authors declare that they have no conflict of interest.
Ethics approval statement
The study was approved by the Institutional Review Board of Complejo Hospitalario de Navarra, Spain.
Patient consent statement
Written informed consent was obtained from all participants.
Permission to reproduce material from other sources
Not applicable.
Additional information
Publisher's note
Springer Nature remains neutral with regard to jurisdictional claims in published maps and institutional affiliations.
About this article
Cite this article
Chaveli Diaz, C., Esquiroz Lizaur, I., Marzo Virto, J. et al. Fistulectomy and endorectal advancement flap repair for cryptoglandular anal fistula: recurrence and functional outcome over 10 years of follow-up. Int J Colorectal Dis (2021). https://doi.org/10.1007/s00384-021-03867-0
Keywords
Cryptoglandular fistula

Transsphincteric fistula

Transanal advancement flap repair

Long-term follow-up

Anorectal continence