Abstract
Aims
To evaluate comparative outcomes of the closure of temporary stoma site with or without prophylactic mesh reinforcement
Methods
A systematic online search was conducted using the following databases: PubMed, Scopus, Cochrane database, The Virtual Health Library, Clinical trials.gov and Science Direct. Studies comparing the reversal of stoma with and without prophylactic mesh reinforcement were included. Stoma site incisional hernia (SSIH), surgical site infection (SSI), operative time, seroma formation, haematoma formation, bowel obstruction, anastomosis leak, length of hospital stay (LOS) and secondary operation to repair the SSIH were the evaluated outcome parameters.
Results
Six comparative studies reporting a total of 1683 patients who underwent closure of stoma with (n = 669) or without (n = 1014) prophylactic mesh reinforcement were included. Use of mesh was associated with a significantly lower risk of SSIH (OR 0.22, P = 0.003) and need for surgical intervention to repair SSIH (OR 0.32, P = 0.04) compared with no use of mesh. However, it was associated with significantly longer operative time (MD 47.78, P = 0.02). There was no significant difference in SSI (OR 1.09, P = 0.59), bowel obstruction (OR 1.11, P = 0.74), seroma formation (OR 2.86, P = 0.19), anastomosis leak (OR 1.60, P = 0.15), haematoma formation (OR 1.25, P = 0.75) or LOS (MD − 0.45, P = 0.31) between two groups.
Conclusion
Prophylactic mesh reinforcement during the closure of temporary stoma may significantly reduce the risk of SSIH and surgical intervention to repair the hernia without increasing the risk of SSI or other morbidities. However, it may increase the procedure time. Future higher-quality randomised evidence is required.
This is a preview of subscription content, log in to check access.
Access options
Buy single article
Instant access to the full article PDF.
US$ 39.95
Price includes VAT for USA
Subscribe to journal
Immediate online access to all issues from 2019. Subscription will auto renew annually.
US$ 199
This is the net price. Taxes to be calculated in checkout.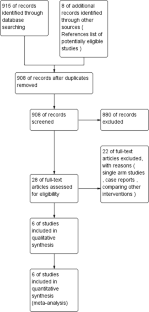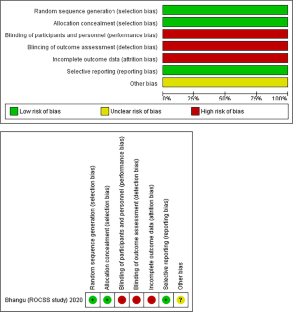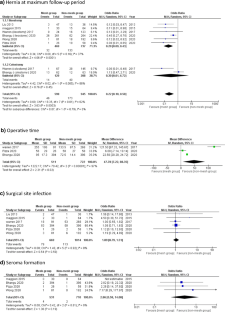 References
1.

Chow A, Tilney HS, Paraskeva P, Jeyarajah S, Zacharakis E, Purkayastha S (2009) The morbidity surrounding reversal of defunctioning ileostomies: a systematic review of 48 studies including 6107 cases. Int J Colorectal Dis 24:711–723

2.

Cingi A, Cakir T, Sever A, Aktan AO (2006) Enterostomy site hernias: a clinical and computerised tomographic evaluation. Dis Colon Rectum. 49(10):1559–1563

3.

Cingi A, Solmaz A, Attaallah W, Aslan A, Aktan AO (2008) Enterostomy closure site hernias: a clinical and ultrasonographic evaluation. Hernia. 12(4):401–405

4.

Guzmán-Valdivia G (2008) Incisional hernia at the site of a stoma. Hernia. 12(5):471–474

5.

Bhangu A, Nepogodiev D, Futaba K, Collaborative WMR (2012) Systematic review and meta-analysis of the incidence of incisional hernia at the site of stoma closure. World J Surg. 36(5):973–983

6.

Hamel MB, Henderson WG, Khuri SF, Daley J (2005) Surgical outcomes for patients aged 80 and older: morbidity and mortality from major noncardiac surgery. J Am Geriatr Soc 53:424–429

7.

Herbert GS, Tausch TJ, Carter PL (2009) Prophylactic mesh to prevent incisional hernia: a note of caution. Am J Surg. 197(5):595–598 discussion 598

8.

Kuhry E, Schwenk WF, Gaupset R, Romild U, Bonjer HJ (2008) Long-term results of laparoscopic colorectal cancer resection. Cochrane Database Syst Rev 2:CD003432

9.

Kingsnorth A, LeBlanc K (2003) Hernias : Inguinal and incisional. Lancet 362:1561–1571

10.

Arumugam PJ, Bevan L, Macdonald L, Watkins AJ, Morgan AR, Beynon J, Carr ND (2003) A prospective audit of stomas-analysis of risk factors and complications and their management. Colorectal Dis. 5(1):49–52

11.

van den Hil LCL, van Steensel S, Schreinemacher MHF, Bouvy ND (2019) Prophylactic mesh placement to avoid incisional hernias after stoma reversal: a systematic review and meta-analysis. Hernia. 23(4):733–741

12.

Higgins JPT, Green S (eds) (2011) Cochrane Handbook for Systematic Reviews of Interventions, version 5.1.0 [updated March 2011]. http://www.cochrane.org/handbook [accessed 22 June 2015].

13.

Moher D, Liberati A, Tetzlaff J, Altman DG; PRISMA Group (2010) Preferred reporting items for systematic reviews and meta-analyses: the PRISMA statement. Int J Surg 8:336–341

14.

Higgins JP, Altman DG, Gotzsche PC, Juni P, Moher D, Oxman AD, Cochrane Bias Methods Group; Cochrane Statistical Methods Group et al (2011) The Cochrane Collaboration's tool for assessing risk of bias in randomised trials. BMJ 343:d5928

15.

Wells GA, Shea B, O'Connell D, Peterson J, Welch V, Losos M, Tugwell P. The Newcastle-Ottawa Scale (NOS) for assessing the quality of nonrandomised studies in meta-analyses. Available at: http://www.ohri.ca/programs/clinical_epidemiology/oxford.asp. Accessed Feb 2020.

16.

Hozo SP, Djulbegovic B, Hozo I (2005) Estimating the mean and variance from the median, range, and the size of a sample. BMCMed Res Methodol 5:13

17.

Reinforcement of Closure of Stoma Site (ROCSS) Collaborative and West Midlands Research Collaborative (2020) Prophylactic biological mesh reinforcement versus standard closure of stoma site (ROCSS): a multicentre, randomised controlled trial. Lancet 395(10222):417–426

18.

Liu DS, Banham E, Yellapu S (2013) Prophylactic mesh reinforcement reduces stomal site incisional hernia after ileostomy closure. World J Surg. 37(9):2039–2045

19.

Maggiori L, Moszkowicz D, Zappa M, Mongin C, Panis Y (2015) Bioprosthetic mesh reinforcement during temporary stoma closure decreases the rate of incisional hernia: a blinded, case-matched study in 94 patients with rectal cancer. Surgery. 158(6):1651–1657

20.

Warren JA, Beffa LR, Carbonell AM, Cull J, Sinopoli B, Ewing JA, McFadden C, Crockett J, Cobb WS (2018) Prophylactic placement of permanent synthetic mesh at the time of ostomy closure prevents formation of incisional hernias. Surgery. 163(4):839–846

21.

Pizza F, D'Antonio D, Arcopinto M, Dell'Isola C, Marvaso A (2020) Safety and efficacy of prophylactic resorbable biosynthetic mesh in loop-ileostomy reversal: a case-control study. Updates Surg. 72(1):103–108

22.

Wong J, Jones J, Ananthapadmanabhan S, Meagher AP (2020) Abdominal wall closure with prophylactic mesh in colorectal operations. ANZ J Surg. 90(4):564–568

23.

Lorenz A, Kogler P, Kafka-Ritsch R, Öfner D, Perathoner A (2019) Incisional hernia at the site of stoma reversal-incidence and risk factors in a retrospective observational analysis. Int J Colorectal Dis. 34(7):1179–1187

24.

Amelung FJ, de Guerre LEVM, Consten ECJ, Kist JW, Verheijen PM, Broeders IAMJ, Draaismacorresponding WA (2018) Incidence of and risk factors for stoma-site incisional herniation after reversal. BJS Open. 2(3):128–134

25.

De Robles MS, Bakhtiar A, Young CJ (2019) Obesity is a significant risk factor for ileostomy site incisional hernia following reversal. ANZ J Surg. 89(4):399–402

26.

De Keersmaecker G, Beckers R, Heindryckx E, Kyle-Leinhase I, Pletinckx P, Claeys D, Vanderstraeten E, Monsaert E, Muysoms F (2016) Retrospective observational study on the incidence of incisional hernias after reversal of a temporary diverting ileostomy following rectal carcinoma resection with follow-up CT scans. Hernia. 20(2):271–277

27.

Diener MK, Voss S, Jensen K, Büchler MW, Seiler CM (2010) Elective midline laparotomy closure: the INLINE systematic review and meta-analysis. Ann. Surg. 251:843–856

28.

Harries RL, Torkington J (2018) Stomal closure: strategies to prevent incisional hernia. Front Surg 5:28

29.

Pianka F, Probst P, Keller AV, Saure D, Grummich K, Büchler MW, Diener MK (2017) Prophylactic mesh placement for the PREvention of paraSTOmal hernias: the PRESTO systematic review and meta-analysis. PLoS One 12(2):e0171548

30.

Fang Z, Ren F, Zhou J, Tian J (2015) Biologic mesh versus synthetic mesh in open inguinal hernia repair: system review and meta-analysis. ANZ J Surg. 85(12):910–916

31.

LoesKnaapen OB, van Goor H, Slater NJ (2017) Synthetic vs biologic mesh for the repair and prevention of parastomal hernia. World J Meta-Anal. 5(6):150–166

32.

Atema JJ, de Vries FE, Boermeester MA (2016) Systematic review and meta-analysis of the repair of potentially contaminated and contaminated abdominal wall defects. Am J Surg 212(5):982–995.e1

33.

Sbitany H, Kwon E, Chern H, Finlayson E, Varma MG, Hansen SL (2015) Outcomes analysis of biologic mesh use for abdominal wall reconstruction in clean-contaminated and contaminated ventral hernia repair. Ann Plast Surg. 75(2):201–204

34.

Perez-Köhler B, Bayon Y, Bellón JM (2016) Mesh infection and hernia repair: a review. Surg Infect 17:124–137

35.

Juvany M, Hoyuela C, Trias M, Carvajal F, Ardid J, Martrat A (2018) Impact of surgical site infections on elective incisional hernia surgery: a prospective study. Surg Infect (Larchmt). 19(3):339–344. https://doi.org/10.1089/sur.2017.233

36.

Bell C, Asolati M, Hamilton E, Fleming J, Nwariaku F, Sarosi G, Anthony T (2005) A comparison of complications associated with colostomy reversal versus ileostomy reversal. Am J Surg. 190(05):717–720

37.

Liang MK, Li LT, Avellaneda A, Moffett JM, Hicks SC, Awad SS (2013) Outcomes and predictors of incisional surgical site infection in stoma reversal. JAMA Surg. 148(02):183–189

38.

Macaskill P, Walter SD, Irwig L (2001) A comparison of methods to detect publication bias in meta-analysis. Stat Med 20:641–654
Ethics declarations
Conflict of interest
The authors declare that they have no conflict of interest.
Additional information
Publisher's note
Springer Nature remains neutral with regard to jurisdictional claims in published maps and institutional affiliations.
Appendix
Appendix
About this article
Cite this article
Mohamedahmed, A.Y.Y., Stonelake, S., Zaman, S. et al. Closure of stoma site with or without prophylactic mesh reinforcement: a systematic review and meta-analysis. Int J Colorectal Dis (2020). https://doi.org/10.1007/s00384-020-03681-0
Keywords
Closure of stoma

Stoma reversal

Prophylactic mesh