Abstract
Purpose
The sessile serrated adenoma/polyp detection rate (SSA/PDR) among different colonoscopy indications from daily practice has not been fully understood. This study aimed to evaluate the detection and clinical characteristics of serrated polyps and conventional adenomas between outpatient department (OPD) and physical checkup unit (PCU) patients receiving colonoscopy.
Methods
The data for this retrospective study were collected between 2016 and 2017 at Kaohsiung Veterans General Hospital in Taiwan. A total of 7047 individuals were included, and information on polyp and adenoma detection was extracted from the colonoscopy reports.
Results
The adenoma detection rate, the SSA/PDR, and the detection rate of traditional serrated adenoma (TSA) were 32.2%, 0.60%, and 0.50%, respectively. Risk analysis revealed no significant difference (p = 0.095) in SSA/PDR between individuals < 50 years and ≥ 50 years, and no trend of increased SSA/PDR as age increased was observed (p = 0.320). SSA/P and TSA had higher risks for synchronous advanced neoplasia than conventional adenoma, but with proximal hyperplastic polyps lower (p < 0.001, respectively). No significant difference of SSA/PDR between OPD and PCU patients was observed (p = 1.000); however, the age of SSA/P was significantly older in OPD than in PCU patients (p = 0.048).
Conclusion
The detection rates of CA and TSA were associated with age groups; however, SSA/PDR was insignificantly higher among individuals aged < 50 years than those with other age groups. In addition, SSA/PDR between OPD and PCU patients was not significantly found in daily practice of colonoscopies.
This is a preview of subscription content, log in to check access.
Access options
Buy single article
Instant access to the full article PDF.
US$ 39.95
Price includes VAT for USA
Subscribe to journal
Immediate online access to all issues from 2019. Subscription will auto renew annually.
US$ 199
This is the net price. Taxes to be calculated in checkout.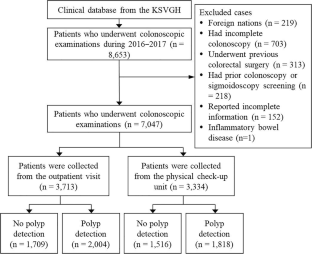 References
1.

Health Promotion Administration, Ministry of Health and Welfare, Taiwan (2016) Cancer registry annual report. https://www.hpa.gov.tw/Pages/Detail.aspx?nodeid=269&pid=10227. Accessed 13 Mar 2020

2.

Rosty C, Hewett DG, Brown IS, Leggett BA, Whitehall VLJ (2013) Serrated polyps of the large intestine: current understanding of diagnosis, pathogenesis, and clinical management. J Gastroenterol 48:287–302

3.

Singh R, Zorrón Cheng Tao Pu L, Koay D, Burt A (2016) Sessile serrated adenoma/polyps: where are we at in 2016? World J Gastroenterol 22:7754–7759

4.

Bosman FT, Carneiro F, Hruban RH et al (2010) WHO classification of tumors of the digestive system, 4th edn. International Agency for Research on Cancer (IARC), Lyon

5.

Rex DK, Ahnen DJ, Baron JA, Batts KP, Burke CA, Burt RW, Goldblum JR, Guillem JG, Kahi CJ, Kalady MF, O′Brien MJ, Odze RD, Ogino S, Parry S, Snover DC, Torlakovic EE, Wise PE, Young J, Church J (2012) Serrated lesions of the colorectum: review and recommendations from an expert panel. Am J Gastroenterol 107:1315–1329

6.

Bleijenberg A, Klotz D, Løberg M, Dekker E, Adami HO, Kuipers EJ, Holme Ø, Kalager M, Emilsson L, Kleist B, Løvdal L, Regula J, Løberg EM, IJspeert J, Bretthauer M (2019) Implications of different guidelines for surveillance after serrated polyp resection in United States of America and Europe. Endoscopy 51:750–758

7.

Obuch JC, Pigott CM, Ahnen DJ (2015) Sessile serrated polyps: detection, eradication, and prevention of the evil twin. Curr Treat Options Gastroenterol 13:156–170

8.

Crockett SD, Snover DC, Ahnen DJ et al (2015) Sessile serrated adenomas: an evidence- based guide to management. Clin Gastroenterol Hepatol 13:11–26.e1

9.

Rex DK, Schoenfeld PS, Cohen J, Pike IM, Adler DG, Fennerty MB, Lieb JG II, Park WG, Rizk MK, Sawhney MS, Shaheen NJ, Wani S, Weinberg DS (2015) Quality indicators for colonoscopy. Gastrointest Endosc 81:31–53

10.

O'Connell BM, Crockett SD (2017) The clinical impact of serrated colorectal polyps. Clin Epidemiol 9:113–125

11.

Crockett SD, Nagtegaal ID (2019) Terminology, molecular features, epidemiology, and management of serrated colorectal neoplasia. Gastroenterology 157:949–966.e4

12.

Pohl H, Srivastava A, Bensen SP et al (2013) Incomplete polyp resection during colonoscopy-results of the complete adenoma resection (CARE) study. Gastroenterology 144:74–80.e1

13.

IJspeert JE, de Wit K, van der Vlugt M, Bastiaansen BA, Fockens P, Dekker E (2016) Prevalence, distribution and risk of sessile serrated adenoma/polyps at a center with high adenoma detection rate and experienced pathologists. Endoscopy 48:740–746

14.

Haque TR, Bradshaw PT, Crockett SD (2014) Risk factors for serrated polyps of the colorectum. Dig Dis Sci 59:2874–2889

15.

Bailie L, Loughrey MB, Coleman HG (2017) Lifestyle risk factors for serrated colorectal polyps: a systematic review and meta-analysis. Gastroenterology 152:92–104

16.

Ohki D, Tsuji Y, Shinozaki T, Sakaguchi Y, Minatsuki C, Kinoshita H, Niimi K, Ono S, Hayakawa Y, Yoshida S, Yamada A, Kodashima S, Yamamichi N, Hirata Y, Ushiku T, Fujishiro M, Fukayama M, Koike K (2018) Sessile serrated adenoma detection rate is correlated with adenoma detection rate. World J Gastrointest Oncol 10:82–90

17.

Li D, Woolfrey J, Jiang SF et al (2018) Diagnosis and predictors of sessile serrated adenoma after educational training in a large, community-based, integrated healthcare setting. Gastrointest Endosc 87:755–765.e1

18.

Chen Z, Hu J, Zheng Z, Wang C, Lin D, Huang Y, Lan P, He X (2019) Location of colorectal adenomas and serrated polyps in patients under age 50. Int J Color Dis 34:2201–2204

19.

Leung WK, Tang V, Lui PC (2012) Detection rates of proximal or large serrated polyps in Chinese patients undergoing screening colonoscopy. J Dig Dis 13:466–471

20.

Chang LC, Shun CT, Hsu WF et al (2017) Fecal immunochemical test detects sessile serrated adenoma and polyps with a low level of sensitivity. Clin Gastroenterol Hepatol 15:872–879.e1

21.

Pyo JH, Ha SY, Hong SN, Chang DK, Son HJ, Kim KM, Kim H, Kim K, Kim JE, Choi YH, Kim YH (2018) Identification of risk factors for sessile and traditional serrated adenomas of the colon by using big data analysis. J Gastroenterol Hepatol 33:1039–1046

22.

Kim HY, Kim SM, Seo JH, Park EH, Kim N, Lee DH (2014) Age-specific prevalence of serrated lesions and their subtypes by screening colonoscopy: a retrospective study. BMC Gastroenterol 14:82

23.

Kim J, Lee JY, Hwang SW et al (2019) Risk factors of traditional serrated adenoma and clinicopathologic characteristics of synchronous conventional adenoma. Gastrointest Endosc 90:636–646.e9

24.

Buda A, De Bona M, Dotti I et al (2012) Prevalence of different subtypes of serrated polyps and risk of synchronous advanced colorectal neoplasia in average-risk population undergoing first-time colonoscopy. Clin Transl Gastroenterol 3:e6

25.

Bettington M, Walker N, Rahman T, Vandeleur A, Whitehall V, Leggett B, Croese J (2017) High prevalence of sessile serrated adenomas in contemporary outpatient colonoscopy practice. Intern Med J 47:318–323

26.

Abdeljawad K, Vemulapalli KC, Kahi CJ, Cummings OW, Snover DC, Rex DK (2015) Sessile serrated polyp prevalence determined by a colonoscopist with a high lesion detection rate and an experienced pathologist. Gastrointest Endosc 81:517–524

27.

IJspeert JEG, Bevan R, Senore C, Kaminski MF, Kuipers EJ, Mroz A, Bessa X, Cassoni P, Hassan C, Repici A, Balaguer F, Rees CJ, Dekker E (2017) Detection rate of serrated polyps and serrated polyposis syndrome in colorectal cancer screening cohorts: a European overview. Gut 66:1225–1232

28.

Hazewinkel Y, de Wijkerslooth TR, Stoop EM et al (2014) Prevalence of serrated polyps and association with synchronous advanced neoplasia in screening colonoscopy. Endoscopy 46:219–224

29.

Bouwens MW, van Herwaarden YJ, Winkens B, Rondagh EJ, de Ridder R, Riedl RG, Driessen A, Dekker E, Masclee AA, Sanduleanu S (2014) Endoscopic characterization of sessile serrated adenomas/polyps with and without dysplasia. Endoscopy 46:225–235

30.

Kumbhari V, Behary J, Hui JM (2013) Prevalence of adenomas and sessile serrated adenomas in Chinese compared with Caucasians. J Gastroenterol Hepatol 28:608–612

31.

Wong S, Lidums I, Rosty C, Ruszkiewicz A, Parry S, Win AK, Tomita Y, Vatandoust S, Townsend A, Patel D, Hardingham JE, Roder D, Smith E, Drew P, Marker J, Uylaki W, Hewett P, Worthley DL, Symonds E, Young GP, Price TJ, Young JP (2017) Findings in the young adults at colonoscopy from a hospital service database audit. BMC Gastroenterol 17:56

32.

Corley DA, Jensen CD, Marks AR, Zhao WK, de Boer J, Levin TR, Doubeni C, Fireman BH, Quesenberry CP (2013) Variation of adenoma prevalence by age, sex, race, and colon location in a large population: implications for screening and quality programs. Clin Gastroenterol Hepatol 11:172–180

33.

Chetty R, Hafezi-Bakhtiari S, Serra S, Colling R, Wang LM (2015) Traditional adenoma (TSAs) admixed with other serrated (so called precursor) polyps and conventional adenomas: a frequent occurrence. J Clin Patho 68:270–273

34.

Gao Q, Tsoi KK, Hirai HW et al (2015) Serrated polyps and the risk of synchronous colorectal advanced neoplasia: a systematic review and meta-analysis. Am J Gastroenterol 110:501–509

35.

Anderson JC, Butterly LF, Goodrich M, Robinson CM, Weiss JE (2013) Differences in detection rates of adenomas and serrated polyps in screening versus surveillance colonoscopies, based on the New Hampshire colonoscopy registry. Clin Gastroenterol Hepatol 11:1308–1312

36.

Wolf AMD, Fontham ETH, Church TR, Flowers CR, Guerra CE, LaMonte S, Etzioni R, McKenna M, Oeffinger KC, Shih YT, Walter LC, Andrews KS, Brawley OW, Brooks D, Fedewa SA, Manassaram-Baptiste D, Siegel RL, Wender RC, Smith RA (2018) Colorectal cancer screening for average-risk adults: 2018 guideline update from the American Cancer Society. CA Cancer J Clin 68:250–281
Funding
This study was funded by the Kaohsiung Veterans General Hospital (VGHKS106–104).
Ethics declarations
This study was exempted by our Institutional Review Board as no patient-identifiable data were used for retrospective analysis.
Conflict of interest
The authors declare that they have no conflict of interest.
Additional information
Publisher's note
Springer Nature remains neutral with regard to jurisdictional claims in published maps and institutional affiliations.
Electronic supplementary material
About this article
Cite this article
Chang, M., Ma, C., Yu, H. et al. Detection and clinical characteristics of serrated polyps and conventional adenomas between patients in the outpatient and physical checkup unit receiving colonoscopy. Int J Colorectal Dis (2020). https://doi.org/10.1007/s00384-020-03665-0
Keywords
Serrated polyps

Sessile serrated adenoma/polyp

Traditional serrated adenoma

Hyperplastic polyps