Abstract
Background
We aimed to evaluate comparative outcomes of robotic and laparoscopic total mesorectal excision (TME) in patients with rectal cancer.
Methods
We systematically searched electronic data sources with application of combination of free text and controlled vocabulary search adapted to thesaurus headings, search operators, and limits. Perioperative clinical and short-term oncological outcomes were evaluated. Trial Sequential Analysis of the outcomes was conducted.
Results
Nine randomised-controlled trials reporting 1463 patients evaluating outcomes of robotic TME (n = 728) and laparoscopic TME (n = 735) were included. Although the robotic approach was associated with significantly longer operative time (MD 31.64, P = 0.002), it was associated with significantly longer DRM (MD 0.8, P = 0.004) and shorter time to soft diet (MD − 0.50, P = 0.03) compared to the laparoscopic approach. Moreover, there was no significant difference in intraoperative (RR 1.07, P = 0.76)) and postoperative (RR 0.97, P = 0.81) complications, anastomotic leak (RR 0.93, P = 0.69), conversion to open rate (RR 0.46, P = 0.05), blood loss (MD 19.65, P = 0.74), time to first flatus (MD − 0.30, P = 0.37), LARS (RR 0.83, P = 0.41), ileus (RR 0.72, P = 0.39), positive CRM (RR 0.82, P = 0.49), PRM (MD − 0.5, P = 0.55), number of harvested lymph nodes (MD 0.33, P = 0.58), or length of stay (MD − 0.60, P = 0.12) between two groups. The Trial Sequential Analysis demonstrated that the risk of type 1 and type 2 errors was minimal in most outcomes.
Conclusions
Moderate-quality evidence suggested that robotic and laparoscopic TME may be comparable in terms of clinical and short-term oncological profile but the robotic approach may be associated with longer procedure time. Future high-quality randomised studies are encouraged to compare the functional, long-term oncological, and cost-effectiveness outcomes of both approaches.
This is a preview of subscription content, log in to check access.
Access options
Buy single article
Instant access to the full article PDF.
US$ 39.95
Price includes VAT for USA
Subscribe to journal
Immediate online access to all issues from 2019. Subscription will auto renew annually.
US$ 199
This is the net price. Taxes to be calculated in checkout.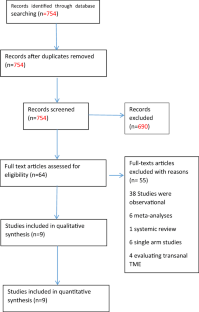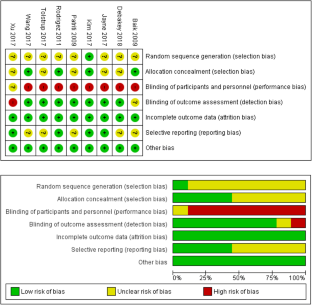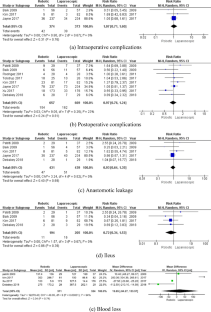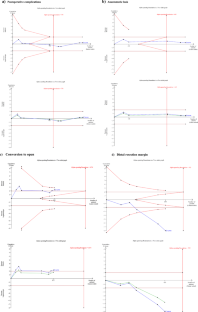 Availability of data and material
We declare that this manuscript of meta-analysis and trial sequential analysis is original, has not been published before, and is not currently being considered for publication elsewhere. We confirm that the paper is not based on previous communication to a society or meeting.
References
1.

Meyer JE, Narang T, Schnoll-Sussman FH, Pochapin MB, Christos PJ, Sherr DL (2010) Increasing incidence of rectal cancer in patients aged younger than 40 years: an analysis of the surveillance, epidemiology, and end results database. Cancer 116:4354–4359

2.

Heald RJ, Moran BJ, Ryall RD, Sexton R, MacFarlane JK (1998) Rectal cancer: the Basingstoke experience of total mesorectal excision, 1978–1997. Arch Surg 133:894–899

3.

Quirke P, Steele R, Monson J, Grieve R, Khanna S, Couture J, O'Callaghan C, Myint AS, Bessell E, Thompson LC, Parmar M, Stephens RJ, Sebag-Montefiore D, MRC CR07/NCIC-CTG CO16 Trial Investigators, NCRI Colorectal Cancer Study Group (2009) Effect of the plane of surgery achieved on local recurrence in patients with operable rectal cancer: a prospective study using data from the MRC CR07 and NCIC-CTG CO16 randomised clinical trial. Lancet 373:821–828

4.

Martling A, Singnomklao T, Holm T, Rutqvist LE, Cedermark B (2004) Prognostic significance of both surgical and pathological assessment of curative resection for rectal cancer. Br J Surg 91:1040–1045

5.

Bonjer HJ, Deijen CL, Abis GA, Cuesta MA, van der Pas M, de Lange-de Klerk ES, Lacy AM, Bemelman WA, Andersson J, Angenete E, Rosenberg J, Fuerst A, Haglind E, COLOR II Study Group (2015) COLOR II Study Group. A randomized trial of laparoscopic versus open surgery for rectal cancer. N Engl J Med 372(14):1324–1332

6.

Jeong SY, Park JW, Nam BH, Kim S, Kang SB, Lim SB, Choi HS, Kim DW, Chang HJ, Kim DY, Jung KH, Kim TY, Kang GH, Chie EK, Kim SY, Sohn DK, Kim DH, Kim JS, Lee HS, Kim JH, Oh JH (2014) Open versus laparoscopic surgery for mid-rectal or low-rectal cancer after neoadjuvant chemoradiotherapy (COREAN trial): survival outcomes of an open-label, non-inferiority, randomised controlled trial. Lancet Oncol 15(7):767–774

7.

Stevenson AR, Solomon MJ, Lumley JW, Hewett P, Clouston AD, Gebski VJ, Davies L, Wilson K, Hague W, Simes J, ALaCaRT Investigators (2015) ALaCaRT Investigators. Effect of laparoscopic assisted resection vs open resection on pathological outcomes in rectal cancer: the ALaCaRT randomized clinical trial. JAMA 314(13):1356–1363

8.

Fleshman J, Branda M, Sargent DJ, Boller AM, George V, Abbas M, Peters WR Jr, Maun D, Chang G, Herline A, Fichera A, Mutch M, Wexner S, Whiteford M, Marks J, Birnbaum E, Margolin D, Larson D, Marcello P, Posner M, Read T, Monson J, Wren SM, Pisters PWT, Nelson H (2015) Effect of laparoscopic-assisted resection versus open resection of stage II or III rectal cancer on pathologic outcomes: the ACOSOG Z6051 randomized clinical trial. JAMA 314(13):1346–1355

9.

Xiong B, Ma L, Huang W, Zhao Q, Cheng Y, Liu J (2015) Robotic versus laparoscopic total mesorectal excision for rectal cancer: a meta-analysis of eight studies. J Gastrointest Surg 19(3):516–526. https://doi.org/10.1007/s11605-014-2697-8

10.

Prete FP, Pezzolla A, Prete F, Testini M, Marzaioli R, Patriti A, Jimenez-Rodriguez RM, Gurrado A, Strippoli GFM (2018) Robotic versus laparoscopic minimally invasive surgery for rectal cancer: a systematic review and meta-analysis of randomized controlled trials. Ann Surg 267(6):1034–1046

11.

Kowalewski KF, Seifert L, Ali S, Schmidt MW, Seide S, Haney C, Tapking C, Shamiyeh A, Kulu Y, Hackert T, Müller-Stich BP, Nickel F (2020) Functional outcomes after laparoscopic versus robotic-assisted rectal resection: a systematic review and meta-analysis. Surg Endosc. https://doi.org/10.1007/s00464-019-07361-1

12.

Liberati A, Altman DG, Tetzlaff J, Mulrow C, Gotzsche PC, Ioannidis JPA, Clarke M, Devereaux PJ, Kleijnen J, Moher D (2009) The PRISMA statement for reporting systematic reviews and meta-analyses of studies that evaluate healthcare interventions: explanation and elaboration. BMJ 339:b2700

13.

Higgins JP, Altman DG, Editors Chapter 8 (2018) Assessing risk of bias in included studies. In: Higgins JP, Green S, editors. Cochrane handbook for systemic reviews of interventions. Version 5.0.1 [updated September 2008]. Available at: http://hiv.cochrane.org/sites/hiv.cochrane.org/files/uploads/Ch08 Bias.pdf. Accessed November 28

14.

Patriti A, Ceccarelli G, Bartoli A, Spaziani A, Biancafarina A, Casciola L (2009) Short- and medium-term outcome of robot-assisted and traditional laparoscopic rectal resection. JSLS 13:176–183

15.

Baik SH, Kwon HY, Kim JS, Hur H, Sohn SK, Cho CH, Kim H (2009) Robotic versus laparoscopic low anterior resection of rectal cancer: short-term outcome of a prospective comparative study. Ann Surg Oncol 16:1480–1487

16.

Rodrıguez J, José M et al (2011) Prospective randomised study: robotic-assisted versus conventional laparoscopic surgery in colorectal cancer resection. Cir Esp 89(7):432–438

17.

Jayne D, Pigazzi A, Marshall H, Croft J, Corrigan N, Copeland J, Quirke P, West N, Rautio T, Thomassen N, Tilney H, Gudgeon M, Bianchi PP, Edlin R, Hulme C, Brown J (2017) Effect of robotic-assisted vs conventional laparoscopic surgery on risk of conversion to open laparotomy among patients undergoing resection for rectal cancer The ROLARR Randomized Clinical Trial. JAMA 318(16):1569–1580

18.

Kim MJ, Park SC, Park JW et al (2018) Robot-assisted versus laparoscopic surgery for rectal cancer A, Phase II open label prospective randomized controlled trial. Ann Surg 267(2):243–251. https://doi.org/10.1097/SLA.000000000000232

19.

Tolstrup R, Funder JA, Lundbech L et al (2018) Perioperative pain after robot-assisted versus laparoscopic rectal resection. Int J Colorectal Dis 33:285–920

20.

Xu J, Wei Y, Ren L et al (2017) Robot-assisted vs laparoscopic vs open abdominoperineal resections for low rectal cancer: short-term outcomes of a single-center prospective randomized controlled trial. Ann Oncol 28(5):158–208

21.

Wang G, Wang Z, Jiang Z, Liu J, Zhao J, Li J (2017) Male urinary and sexual function after robotic pelvic autonomic nerve-preserving surgery for rectal cancer. Int J Med Robotics Comput Assist Surg 13:e1725

22.

Debakey Y, Zaghloul A, Farag A et al (2018) Robotic-assisted versus conventional laparoscopic approach for rectal cancer surgery, First Egyptian Academic Center Experience, RCT. Minim Invasive Surg 2018:1-11 . https://doi.org/10.1155/2018/5836562

23.

Hozo S, Djulbegovic B, Hozo I (2005) Estimating the mean and variance from the median, range, and the size of a sample. BMC Med Res Methodol 5:13
Ethics declarations
Competing interests
The authors declare that there are no conflicts of interest.
Code availability
Not applicable.
Additional information
Publisher's note
Springer Nature remains neutral with regard to jurisdictional claims in published maps and institutional affiliations.
Electronic supplementary material
Appendix
Appendix
About this article
Cite this article
Eltair, M., Hajibandeh, S., Hajibandeh, S. et al. Meta-analysis and trial sequential analysis of robotic versus laparoscopic total mesorectal excision in management of rectal cancer. Int J Colorectal Dis 35, 1423–1438 (2020). https://doi.org/10.1007/s00384-020-03655-2
Accepted:

Published:

Issue Date:
Keywords
Robotic

Laparoscopic

Total mesorectal excision

Rectal cancer