Abstract
Purpose
Despite the recent growing interest of the scientific community, there is still no consensus on the actual applicability and effectiveness of sentinel lymph node (SL) procedure in colon cancers. This study aims to quantify feasibility, detection rate, negative predictive value, and accuracy of the SL identified with fluorescent dye in early colon cancers (ECC).
Methods
This study conducted a consecutive sampling of 95 patients with non-metastatic colorectal cancer who have been treated with laparoscopic colon resection and complete mesocolic excision after a 25-mg indocyanine green peritumoral laparoscopic injection and SL identification with a near-infrared camera. The SL was later isolated and sent to ultra-staging.
Results
Ninety-five patients with an average age of 71 (range 37–90) and a mean BMI of 25 (range 18–39) have been recruited. On the patient sample (92 Pts), an average of 1.49 SL (range 1–5) and a mean time of 4 min were identified. The detection rate was 96.8% and the negative predictive value and accuracy rates were 96.2% and 93.4%, respectively.
Conclusions
Mapping the SL with fluorescent dye can play an important role in the treatment of colon cancers, particularly those at early stages, and can lead to ultra-conservative surgery.
This is a preview of subscription content, log in to check access.
Access options
Buy single article
Instant access to the full article PDF.
US$ 39.95
Price includes VAT for USA
Subscribe to journal
Immediate online access to all issues from 2019. Subscription will auto renew annually.
US$ 199
This is the net price. Taxes to be calculated in checkout.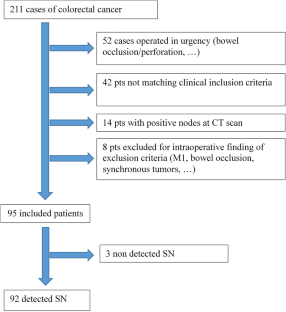 References
1.

O'Connell JB, Maggard MA, Ko CY (2004) Colon cancer survival rates with the new American Joint Committee on cancer sixth edition staging. J Natl Cancer Inst 96(19):1420–1425

2.

Marshall JL, Haller DG, de Gramont A, Hochster HS, Lenz HJ, Ajani JA, Goldberg RM (2007) Adjuvant therapy for stage ii and iii colon cancer: consensus report of the International Society of Gastrointestinal Oncology. J Gastrointest Cancer Res 1(4):146–154

3.

Wolpin BM, Mayer RJ (2008) Systemic treatment of colorectal cancer. Gastroenterology 134(5):1296–1310. https://doi.org/10.1053/j.gastro.2008.02.098

4.

Lahaye MJ, Engelen SM, Nelemans PJ, Beets GL, van de Velde CJ, van Engelshoven JM, Beets-Tan RG (2005) Imaging for predicting the risk factors--the circumferential resection margin and nodal disease--of local recurrence in rectal cancer: a meta-analysis. Semin Ultrasound CT MR 26:259–268

5.

Hao F, Xue-wei Z, Zhuo Z, Ding-pei H, Zhi-hai M, Ai-Guo L, Thasler WE (2016) Laparoscopic complete mesocolic excision for stage ii/iii left-sided colon cancers: a prospective study and comparison with D3 lymph node dissection. J Laparoendosc Adv Surg Tech A. 26(8):606–613. https://doi.org/10.1089/lap.2016.0120

6.

Böckelman C, Engelmann BE, Kaprio T, Hansen TF, Glimelius B (2015) Risk of recurrence in patients with colon cancer stage II and III: a systematic review and meta-analysis of recent literature. Acta Oncol 54(1):5–16. https://doi.org/10.3109/0284186X.2014.975839

7.

van der Pas MH, Meijer S, Hoekstra OS, Riphagen II, de Vet HC, Knol DL, van Grieken NC, Meijerink WJ (2011) Sentinel-lymph-node procedure in colon and rectal cancer: a systematic review and meta-analysis. Lancet Oncol 12(6):540–550. https://doi.org/10.1016/S1470-2045(11)70075-4

8.

Kanamoto T, Matsuki M, Okuda J, Inada Y, Tatsugami F, Tanikake M, Yoshikawa S, Narabayashi I, Kawasaki H, Tanaka K, Yamamoto T, Tanigawa N, Egashira Y, Shibayama Y (2007) Preoperative evaluation of local invasion and metastatic lymph nodes of colorectal cancer and mesenteric vascular variations using multidetector-row computed tomography before laparoscopic surgery. J Comput Assist Tomogr 31(6):831–839. https://doi.org/10.1097/RCT.0b013e3180517af3

9.

de Vries FEE, da Costa DW, van der Mooren K, van Dorp TA, Vrouenraets BC (2014) The value of pre-operative computed tomography scanning for the assessment of lymph node status in patients with colon cancer. Eur J Surg Onc 12(40):1777–1781. https://doi.org/10.1016/j.ejso.2014.08.483

10.

Rollvén E, Nordling A, Holm T, Blomqvist L (2017) Assessment and diagnostic accuracy of lymph node status to predict stage III colon cancer using computed tomography. Cancer Imaging. 19.17(1):3. https://doi.org/10.1186/s40644-016-0104-2

11.

Kanehara-Shuppan (2009) Japanese Classification of Colorectal Carcinoma. Japanese Society for the Cancer of the Colon and Rectum, 2nd English ed. 815-824

12.

Kanemitsu Y, Komori K, Kimura K, Kato T (2013) D3 Lymph node dissection in right hemicolectomy with a no-touch isolation technique in patients with colon cancer. Dis Colon Rectum 56(7):815–824. https://doi.org/10.1097/DCR.0b013e3182919093

13.

Resch A, Langner C (2013) Lymph node staging in colorectal cancer: old controversies and recent advances. World J Gastroenterol 19(46):8515–8526. https://doi.org/10.3748/wjg.v19.i46.8515

14.

Bertagnolli M, Miedema B, Redston M, Dowell J, Niedzwiecki D, Fleshman J, Bem J, Mayer R, Zinner M, Compton C (2004) Sentinel node staging of resectable colon cancer results of a multicenter study. Ann Surgery 240(4):624–628

15.

Paramo JC, Summerall J, Poppiti R, Mesko TW (2002) Validation of sentinel node mapping in patients with colon cancer. Ann Surg Oncol. 9(6):550–554

16.

Bendavid Y, Latulippe JF, Younan RJ, Leclerc YE, Dube S, Heyen F, Morin M, Girard R, Bastien E, Ferreira J, Cerino M, Dubé P (2002) Phase I study on sentinel lymph node mapping in colon cancer: a preliminary report. J Surg Oncol 79(2):81–84

17.

Braat AE, Oosterhuis JW, Moll FC, de Vries JE, Wiggers T (2005) Sentinel node detection after preoperative short-course radiotherapy in rectal carcinoma is not reliable. Br J Surg. 92(12):1533–1538. https://doi.org/10.1002/bjs.5169

18.

Hladík P, Vizd'a J, Hadzi Nikolov D, Dvorák J, Voboril Z (2005) Radio-guided sentinel node detection during the surgical treatment of rectal cancer. Nucl Med Commun. 26(11):977–982

19.

Ivanov K, Kolev N, Ignatov V, Madjov R (2009) Intraoperative sentinel lymph node mapping in patients with colorectal cancer. Hepatogastroenterology. 56(89):99–105

20.

Saha S, Sehgal R, Patel M, Doan K, Dan A, Bilchik A, Beutler T, Wiese D, Bassily N, Yee C (2006) A multicenter trial of sentinel lymph node mapping in colorectal cancer: prognostic implications for nodal staging and recurrence. Am J Surg. 191(3):305–310

21.

Terwisscha Van Scheltinga S, Den Boer FC, Pijpers R, Meyer GA, Engel AF, Silvis R, Meijer S, van der Sijp JR (2006) Sentinel node staging in colon carcinoma: value of sentinel lymph node biopsy with radiocolloid and blue staining. Scand J Gastroenterol Suppl (243):153–157. https://doi.org/10.1080/00365520600664524

22.

van der Zaag ES, Buskens CJ, Kooij N, Akol H, Peters HM, Bouma WH, Bemelman WA (2009) Improving staging accuracy in colon and rectal cancer by sentinel lymph node mapping: a comparative study. Eur J Surg Oncol. 35(10):1065–1070. https://doi.org/10.1016/j.ejso.2009.02.001

23.

Emile SH, Elfeki H, Shalaby M, Sakr A, Sileri P, Laurberg S, Wexner S (2017) Sensitivity and specificity of indocyanine green near-infrared fluorescence imaging in detection of metastatic lymph nodes in colorectal cancer: systematic review and meta-analysis. J Surg Oncol. 116(6):730–740. https://doi.org/10.1002/jso.24701

24.

Des Guetz G, Uzzan B, Nicolas P, Cucherat M, de Mestier P, Morere JF, Breau JL, Perret G (2007) Is sentinel lymph node mapping in colorectal cancer a future prognostic factor? A meta-analysis. World J Surg. 31(6):1304–1312. https://doi.org/10.1007/s00268-007-9012-8

25.

Leufkens A, van den Bosch M, van Leeuwen M, Siersema P (2011) Diagnostic accuracy of computed tomography for colon cancer staging: a systematic review. Scand J Gastroenterol 46(7-8):887–894. https://doi.org/10.3109/00365521.2011.574732

26.

Dighe S, Purkayastha S, Swift I, Tekkis PP, Darzi A, A'Hern R, Brown G (2010) Diagnostic precision of CT in local staging of colon cancers: a meta-analysis. Clin Radiol. 65(9):708–719. https://doi.org/10.1016/j.crad.2010.01.024

27.

Cahill RA (2007) What's wrong with sentinel node mapping in colon cancer? World J Gastroenterol 13(47):6291–6294

28.

Cahill RA, Leroy J, Marescaux J (2008) Could lymphatic mapping and sentinel node biopsy provide oncological providence for local resectional techniques for colon cancer? A review of the literature. BMC Surg 8:17. https://doi.org/10.1186/1471-2482-8-17

29.

Bembenek AE, Rosenberg R, Wagler E, Gretschel S, Sendler A, Siewert JR, Nährig J, Witzigmann H, Hauss J, Knorr C, Dimmler A, Gröne J, Buhr HJ, Haier J, Herbst H, Tepel J, Siphos B, Kleespies A, Koenigsrainer A, Stoecklein NH, Horstmann O, Grützmann R, Imdahl A, Svoboda D, Wittekind C, Schneider W, Wernecke KD, Schlag PM (2007) Sentinel lymph node biopsy in colon cancer: a prospective multicenter trial. Ann Surg. 245(6):858–863. https://doi.org/10.1097/01.sla.0000250428.46656.7e

30.

Thomas KA, Lechner J, Shen P, Waters GS, Geisinger KR, Levine EA (2006) Use of sentinel node mapping for cancer of the colon: 'to map or not to map'. Am Surg. 72(7):606–611

31.

Tiffet O, Kaczmarek D, Chambonnière ML, Guillan T, Baccot S, Prévot N, Bageacu S, Bourgeois E, Cassagnau E, Lehur PA, Dubois F (2007) Combining radioisotopic and blue-dye technique does not improve the false-negative rate in sentinel lymph node mapping for colorectal cancer. Dis Colon Rectum. 50(7):962–970. https://doi.org/10.1007/s10350-007-0236-3

32.

Ballardini B, Santoro L, Sangalli C, Gentilini O, Renne G, Lissidini G, Pagani GM, Toesca A, Blundo C, del Castillo A, Peradze N, Caldarella P, Veronesi P (2013) The indocyanine green method is equivalent to the 99mTc-labeled radiotracer method for identifying the sentinel node in breast cancer: a concordance and validation study. Eur J Surg Oncol. 39(12):1332–1336. https://doi.org/10.1016/j.ejso.2013.10.004

33.

Nordgård O, Oltedal S, Kørner H, Aasprong OG, Tjensvoll K, Gilje B, Heikkilä R (2009) Quantitative RT-PCR detection of tumor cells in sentinel lymph nodes isolated from colon cancer patients with an ex vivo approach. Ann Surg. 249(4):602–607. https://doi.org/10.1097/SLA.0b013e31819ec923
Acknowledgments
We would like to thank all patients who participated in this study.
Ethics declarations
Conflict of interest
The authors declare that they have no conflict of interest.
Ethical approval
All procedures performed in studies involving human participants were performed in accordance with the ethical standards of the institutional and/or national research committee and the 1964 Declaration of Helsinki and its later amendments or comparable ethical standards.
The study protocol has been approved by the Ethical Committee of the Provincial Health Service of the Province of Trento (Record n. 5/2012 ID 31615721).
This article does not contain any studies using animals.
Informed consent
Informed consent was obtained from the participant included in the study.
Additional information
Publisher's note
Springer Nature remains neutral with regard to jurisdictional claims in published maps and institutional affiliations.
About this article
Cite this article
Carrara, A., Motter, M., Amabile, D. et al. Predictive value of the sentinel lymph node procedure in the staging of non-metastatic colorectal cancer. Int J Colorectal Dis (2020). https://doi.org/10.1007/s00384-020-03654-3
Keywords
Colorectal cancer

Sentinel lymph node

Adjuvant chemotherapy

Micrometastases

Upstaging

Indocyanine green