Abstract
Purpose
Prognosis after peritoneal metastases in colorectal cancer is worse than that after lung or liver metastases. Previously, we demonstrated the safety of intraperitoneal (ip) administration of paclitaxel (PTX) combined with mFOLFOX6/CapeOX plus bevacizumab for colorectal cancer with peritoneal metastasis in a phase-I trial. Here, we evaluated the efficacy of this chemotherapy.
Methods
We enrolled six patients with histologically confirmed peritoneal metastases secondary to colorectal cancer. PTX was administered through a peritoneal access port, in combination with oxaliplatin-based systematic chemotherapy. Response rate, progression-free survival, 1-year survival rate, frequency of improvement in peritoneal cancer index (PCI), and cytology in peritoneal lavage were evaluated. This study was registered in the University Hospital Medical Information Network Clinical Trial Registry on July 1, 2016 (UNIN000022924).
Results
Three patients received the mFOLFOX6–bevacizumab regimen, whereas the other three received the CapeOX–bevacizumab regimen. The response rate was 25%. PCI score improved in 50% of the cases. Peritoneal lavage cytology that was positive in five patients before initiating the chemotherapy turned negative during chemotherapy in all patients. One-year survival rate was 100%, progression-free survival was 8.8 months (range, 6.8–12 months), and median survival time was 29.3 months.
Conclusion
The ip administration of PTX with systemic chemotherapy can potentially control peritoneal metastases in colorectal cancer.
Access options
Buy single article
Instant access to the full article PDF.
US$ 39.95
Tax calculation will be finalised during checkout.
Subscribe to journal
Immediate online access to all issues from 2019. Subscription will auto renew annually.
US$ 119
Tax calculation will be finalised during checkout.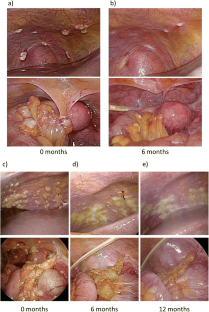 Funding
This study is supported by Grants-in-Aid for Scientific Research (C: grant number 18K07194, C: grant number 19K09114, C: grant number 19K09115) from the Japan Society for the Promotion of Science.
Ethics declarations
Conflict of interest
K. Muro is on the advisory board meeting for Bristol-Myers Squibb and Nippon Kayaku Co, Ltd.
Ethical approval
This study was approved by the ethics committee of the University of Tokyo (P2015038-11X).
Statement of informed consent
Written informed consent was obtained from all patients.
Additional information
Publisher's note
Springer Nature remains neutral with regard to jurisdictional claims in published maps and institutional affiliations.
Electronic supplementary material
About this article
Cite this article
Murono, K., Nozawa, H., Nagata, H. et al. Efficacy of intraperitoneally administered paclitaxel for colorectal cancer with peritoneal metastases. Int J Colorectal Dis 35, 1945–1949 (2020). https://doi.org/10.1007/s00384-020-03649-0
Accepted:

Published:

Issue Date:
Keywords
Phase 1 trial

Intraperitoneal administration of paclitaxel

Colorectal cancer

Peritoneal metastases