Abstract
Background
Hypervirulent strains of Clostridioides difficile have altered the landscape of hospital and community outbreaks. We aim to examine and compare spatiotemporal trends, incidence, hospital teaching status, mortality, and cost associated with hospital-acquired Clostridioides difficile infection (HCDI) and community-acquired Clostridioides difficile infection (CCDI).
Methods
Retrospective cohorts were studied using data from the Healthcare Cost and Utilization Project (HCUP) Nationwide Inpatient Sample (NIS) from 2006 to 2015.
Results
A total of 76,124 cases of HCDI and 190,641 cases of CCDI were identified within the study period. The incidence of HCDI decreased from 8555 in 2006 to 7191 in 2015. Mortality also decreased during the same period (5.9% in 2006 to 1.4% 2015, p < 0.0001). Conversely, CCDI cases increased from 13,823 in 2006 to 20,637 in 2015. CCDI mortality decreased during the same period (4.3% in 2006 to 1.9% 2015, p < 0.0001). Rural hospital centers experienced the sharpest decline in HCDI mortality compared to urban and urban teaching centers (3.8%, p < 0.0001 vs 2.8%, p < 0.0001 vs 2.1%, p < 0.0001). Multivariate logistic regression indicated that increasing age (p = 0.0001), increasing hospital length of stay (p = 0.0001), and Medicare insurance (p = 0.002) were significant predictors of mortality for CDI mortality. Geospatial mapping of CCDI and HCDI revealed that the Eastern and Southern US experienced the largest incidence of CDI over 10 years.
Conclusion
The incidence of HCDI has decreased in the past decade while the incidence of CCDI hospitalization is sharply on the rise. While hospital length of stay and mortality has decreased over time, the cost of treating CDI remains high.
Access options
Buy single article
Instant access to the full article PDF.
US$ 39.95
Tax calculation will be finalised during checkout.
Subscribe to journal
Immediate online access to all issues from 2019. Subscription will auto renew annually.
US$ 119
Tax calculation will be finalised during checkout.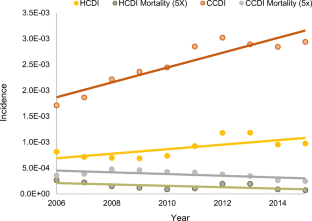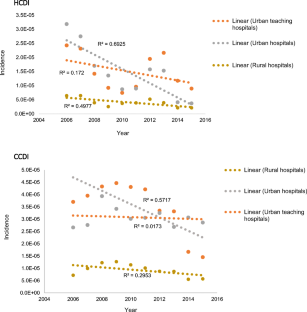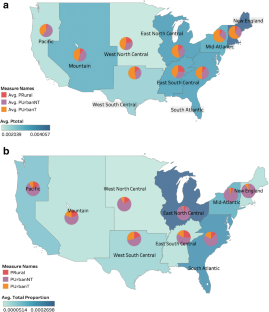 References
1.

Ricciardi R, Rothenberger DA, Madoff RD, Baxter NN (2007) Increasing prevalence and severity of clostridium difficile colitis in hospitalized patients in the United States. Arch Surg 142(7):624–631

2.

Zhang S, Palazuelos-Munoz S, Balsells EM, Nair H, Chit A, Kyaw MH (2016) Cost of hospital management of Clostridium difficile infection in United States-a meta-analysis and modelling study. BMC Infect Dis 16(1):447. https://doi.org/10.1186/s12879-016-1786-6

3.

Huang H, Weintraub A, Fang H, Nord CE (2009) Antimicrobial resistance in Clostridium difficile. Int J Antimicrob Agents 34(6):516–522

4.

Gupta A, Khanna S (2014) Community-acquired Clostridium difficile infection: an increasing public health threat. Infect Drug Resist 7:63–72

5.

Johnson S (2009) Recurrent Clostridium difficile infection: a review of risk factors, treatments, and outcomes. J Infect 58(6):403–410. https://doi.org/10.1016/j.jinf.2009.03.010

6.

Zimlichman E, Henderson D, Tamir O et al (2013) Health care–associated infections: a meta-analysis of costs and financial impact on the US health care system. J Am Med Assoc Intern Med 173(22):2039–2046

7.

Centers for Disease Control and Prevention (2012) Annual report for the emerging infections program for Clostridium difficile infection. https://www.cdc.gov/hai/eip/pdf/cdiff/2012-annual-report. Accessed August 2019

8.

Centers for Disease Control and Prevention (2016) Annual report for the emerging infections program for Clostridium difficile infection. http://wwwcdcgov/hai/eip/Annual-CDI-Report-2016html Updated January 2019. Accessed August 2019

9.

Wenzler E, Mulugeta SG, Danziger LH (2015) The antimicrobial stewardship approach to combating clostridium Difficile. Antibiotics. 4(2):198–215

10.

Carling P, Fung T, Killion A, Terrin, Barza M (2003) Favorable impact of a multidisciplinary antibiotic management program conducted during 7 years. Infect Control Hosp Epidemiol 24(9):699–706

11.

McDonald CL, Gerding DN, Johnson S et al (2018) Clinical practice guidelines for Clostridium difficile infection in adults and children: 2017 update by the Infectious Diseases Society of America (IDSA) and Society for Healthcare Epidemiology of America (SHEA). Clin Infect Dis 66(7):e1–e48

12.

Eze P, Balsells E, Kyaw MH, Nair H (2017) Risk factors for Clostridium difficile infections – an overview of the evidence base and challenges in data synthesis. J Glob Health 7(1). https://doi.org/10.7189/jogh.07.010417

13.

Singh H, Nugent Z, Yu BN, Lix LM, Targownik LE, Bernstein CN (2017) Higher incidence of Clostridium difficile infection among individuals with inflammatory bowel disease. Gastroenterology 153(2):430–438

14.

Deshpande A, Pasupuleti V, Thota P, Pant C, Rolston DDK, Hernandez AV, Donskey CJ, Fraser TG (2015) Risk factors for recurrent Clostridium difficile infection: a systematic review and meta-analysis. Infect Control Hosp Epidemiol 36(4):452–460

15.

Kutty PK, Woods CW, Sena AC, Benoit SR, Naggie S, Frederick J, Evans S, Engel J, McDonald LC (2010) Risk factors for and estimated incidence of community-associated Clostridium difficile infection, North Carolina, USA. Emerg Infect Dis 16(2):197–204

16.

Anderson DJ, Rojas LF, Watson S et al (2017) Identification of novel risk factors for community-acquired Clostridium difficile infection using spatial statistics and geographic information system analyses. PloS One 12(5)

17.

Longtin Y, Paquet-Bolduc B, Gilca R, Garenc C, Fortin E, Longtin J, Trottier S, Gervais P, Roussy JF, Lévesque S, Ben-David D, Cloutier I, Loo VG (2016) Effect of detecting and isolating Clostridium difficile carriers at hospital admission on the incidence of C difficile infections: a quasi-experimental controlled study. JAMA Intern Med 176(6):796–804

18.

Dubberke ER, Olsen MA, Stwalley D et al (2016) Identification of Medicare recipients at highest risk for Clostridium difficile infection in the US by population attributable risk analysis. PLOS ONE 11(2)

19.

Medicare payment advisory commission. A data book : healthcare spending and the Medicare program. http://www.medpac.gov. updated June 2019. Accessed September, 2019

20.

Weiss AJ, Elixhauser A. Overview of hospital stays in the United States, HCUP statistical brief#180.http://www.hcup-us.ahrq.gov/reports/statbriefs/sb180-Hospitalizations-United-States-2012.pdf. Updated September 2014. Accessed September 2019

21.

Ayanian JZ, Weissman JS (2002) Teaching hospitals and quality of care: a review of the literature. Milbank Q 80(3):569–593

22.

Pollack LA, Van Santen KL, Weiner LM, Dudeck MA, Edwards JR, Srivinasan A (2016) Antibiotic stewardship programs in U.S. acute care hospitals: findings from the 2014 national healthcare safety network annual hospital survey. Clin Infect Dis 63(4):443–449

23.

Tickler IA, Goering RV, Whitmore JD, Lynn AN, Persing DH, Tenover FC (2014) Strain types and antimicrobial resistance patterns of Clostridium difficile isolates from the United States, 2011 to 2013. Antimicrob Agents Chemother 58(7):4214–4218

24.

Waslawski S, Lo ES, Ewing SA, Young VB, Aronoff DM, Sharp SE, Novak-Weekley SM, Crist AE, Dunne WM, Hoppe-Bauer J, Johnson M, Brecher SM, Newton DW, Walk ST (2013) Clostridium difficile ribotype diversity at six health care institutions in the United States. J Clin Microbiol 51(6):1938–1941

25.

Thornton CS, Rubin JE, Greninger AL, Peirano G, Chiu CY, Pillai DR (2018) Epidemiological and genomic characterization of community-acquired Clostridium difficile infections. BMC Infect Dis 18(1):1–9
Ethics declarations
Conflict of interest
The authors declare that they have no conflict of interest.
Additional information
Publisher's note
Springer Nature remains neutral with regard to jurisdictional claims in published maps and institutional affiliations.
About this article
Cite this article
Ramai, D., Dang-Ho, K.P., Lewis, C. et al. Clostridioides difficile infection in US hospitals: a national inpatient sample study. Int J Colorectal Dis 35, 1929–1935 (2020). https://doi.org/10.1007/s00384-020-03646-3
Accepted:

Published:

Issue Date:
Keywords
Community acquired clostridioides difficile infection (CCDI)

Clostridioides difficile

Health care cost and utilization project (HCUP)

Hospital-aquired clostridioides difficile infection (HCDI)

National inpatient sample (NIS)