Abstract
Introduction
Anal squamous cell carcinoma (ASCC) is a rare malignancy with rising incidence rates. Risk factors include human immunodeficiency virus (HIV) infection, high-risk sexual activity and HPV-related genitourinary dysplasia/neoplasia. There is an overlap between high-risk patients and those attending HIV Medicine/Sexual Health (HMSH) services. We hypothesised that HMSH involvement may facilitate earlier referral to colorectal surgeons, with better outcomes.
Methods
Retrospective review of all ASCC and anal intraepithelial neoplasia (AIN) treated at a tertiary-referral hospital with a dedicated HMSH clinic between 2000 and 2018. Comparative analysis was performed of demographics, management and outcomes between HMSH and non-HMSH patients.
Results
One hundred and nine patients had anal pathology, eighty-five with ASCC (78%) and twenty-four with AIN (22%). Seventy (64%) were male. Median (range) age at ASCC diagnosis was 51 years (26–88). Thirty-six percent of all patients attended HMSH services, 28% were HIV positive, and 41% of males were men-who-have-sex-with-men (MSM).
Eighty-one ASCC patients (97.5%) were treated with curative intent. Sixty-seven (80%) had primary chemoradiation therapy. Fifteen (17.5%) had primary surgical excision. Twelve (14%) developed recurrent disease. Ultimately, seven required salvage APR. Overall 3-year survival (3YS) was 76%.
HMSH patients were significantly younger at ASCC diagnosis (p < 0.001), with a higher prevalence of HIV, HPV and MSM. HMSH attenders also tended to be diagnosed at earlier stages, were less likely to develop recurrence and achieved better overall outcomes, with a superior overall 3YS than non-HMSH patients (92% vs 72%, p = 0.037).
Conclusion
ASCC incidence is increasing worldwide. The HMSH cohort has emerged as a distinct subpopulation of younger, high-risk, male patients. Collaboration between HMSH and colorectal surgeons offers an opportunity for risk reduction strategies and earlier intervention.
This is a preview of subscription content, log in to check access.
Access options
Buy single article
Instant access to the full article PDF.
US$ 39.95
Price includes VAT for USA
Subscribe to journal
Immediate online access to all issues from 2019. Subscription will auto renew annually.
US$ 199
This is the net price. Taxes to be calculated in checkout.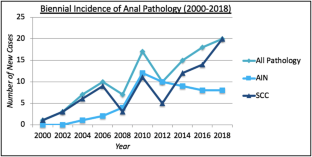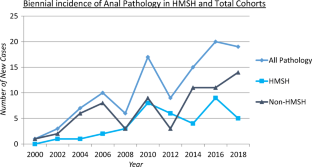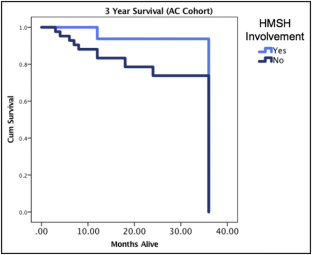 References
1.

Morton M, Melnitchouk N, Bleday R (2018) Squamous cell carcinoma of the anal canal. Curr Probl Cancer. 42(5):486–492. https://doi.org/10.1016/j.currproblcancer.2018.11.001 Epub 2018 Nov 23

2.

Shiels MS, Kreimer AR, Coghill AE, Darragh TM, Devesa SS (2015) Anal cancer incidence in the United States, 1977–2011: distinct patterns by histology and behavior. Cancer Epidemiol Biomark Prev Publ Am Assoc Cancer Res Cosponsored Am Soc Prev Oncol 24:1548–1556. https://doi.org/10.1158/1055-9965.EPI-15-0044

3.

Nelson RA, Levine AM, Bernstein L, Smith DD, Lai LL (2013) Changing patterns of anal canal carcinoma in the United States. J Clin Oncol 31:1569–1575

4.

Surveillance, Epidemiology, and End Results (SEER) Program (www.seer.cancer.gov) Research Data (1973-2015), Na- tional Cancer Institute, DCCPS, Surveillance Research Program, released April 2018, based on the November 2017 sub- mission. Anal Cancer, (1973-2009).

5.

National Cancer Registry of Ireland (2017). Cancer Trends No. 33. HPV-associated cancers. NCR, Cork, Ireland

6.

Welton ML, Sharkey FE, Kahlenberg MS (2004) The etiology and epidemiology of anal cancer. Surg Oncol Clin N Am 13:263–275

7.

Daling JR, Madeleine MM, Johnson LG, Schwartz SM, Shera KA, Wurscher MA, Carter JJ, Porter PL, Galloway DA, McDougall JK (2004) Human papillomavirus, smoking, and sexual practices in the etiology of anal cancer. Cancer. 101(2):270–280

8.

Sunesen KG, Nørgaard M, Thorlacius-Ussing O, Laurberg S (2010) 2010, Nørgaard M, Thorlacius-Ussing O, Laurberg S. Immunosuppressive disorders and risk of anal squamous cell carcinoma: a nationwide cohort study in Denmark, 1978–2005. Int J Cancer 127:675–684. https://doi.org/10.1002/ijc.25080

9.

Silverberg MJ, Lau B, Justice AC, Engels E, Gill MJ, Goedert JJ, Kirk GD, D'Souza G, Bosch RJ, Brooks JT, Napravnik S, Hessol NA, Jacobson LP, Kitahata MM, Klein MB, Moore RD, Rodriguez B, Rourke SB, Saag MS, Sterling TR, Gebo KA, Press N, Martin JN, Dubrow R, the North American AIDS Cohort Collaboration on Research and Design (NA-ACCORD) of IeDEA (2012) Risk of anal cancer in HIV-Infected and HIV-uninfected Individuals in North America. Clin Infect Dis Off Publ Infect Dis Soc Am 54:1026–1034. https://doi.org/10.1093/cid/cir1012

10.

WWY Tong, RJ Hillman, AD Kelleher, AE Grulichand A Carr. Anal intraepithelial neoplasia and squamous cell carcinoma in HIV-infected adults;

11.

Frisch M, Fenger C, van den Brule AJ, Sørensen P, Meijer CJ, Walboomers JM, Adami HO, Melbye M, Glimelius B (1999) Variants of squamous cell car- cinoma of the anal canal and perianal skin and their relation to human pap- illomaviruses. Cancer Res 59:753–757

12.

Yhim H-Y, Lee N-R, Song E-K, Kwak J-Y, Lee ST, Kim JH, Kim JS, Park HS, Chung IJ, Shim HJ, Hwang JE, Kim HR, Nam TK, Park MR, Shim H, Park HS, Kim HS, Yim CY (2011) The prognostic significance of tumor human papillomavirus status for patients with anal squamous cell carcinoma treated with combined chemoradiotherapy. Int J Cancer 129:1752–1760. https://doi.org/10.1002/ijc.25825

13.

Ouhoummane N, Steben M, Coutlée F, Vuong T, Forest P, Rodier C, Louchini R, Duarte E, Brassard P (2013) Squamous anal cancer: patient characteristics and HPV type distribution. Cancer Epidemiol 37:807–812. https://doi.org/10.1016/j.canep.2013.09.015

14.

Shah KV (1997) Human papillomaviruses and anogenital cancers. N Engl J Med 337:1386–1388. https://doi.org/10.1056/NEJM199711063371911

15.

Abramowitz L, Jacquard AC, Jaroud F, Haesebaert J, Siproudhis L, Pradat P, Aynaud O, Leocmach Y, Soubeyrand B, Dachez R, Riethmuller D, Mougin C, Pretet JL, Denis F (2011) Human papillomavirus genotype distribution in anal cancer in France: the EDiTH V study. Int J Cancer 129:433–439. https://doi.org/10.1002/ijc.25671

16.

Parkin DM, Bray F (2006) Chapter 2: The burden of HPV-related cancers. Vaccine 24(Suppl 3):S3/11–S3/25

17.

van Leeuwen MT, Vajdic CM, Middleton MG et al (2009) Continuing declines in some but not all HIV-associated cancers in Australia after widespread use of antiretroviral therapy. AIDS 23:2183–2190

18.

Shiels MS, Pfeiffer RM, Chaturvedi AK, Kreimer AR, Engels EA (2012) Impact of the HIV epidemic on the incidence rates of anal cancer in the United States. J Natl Cancer Inst 104(20):1591–1598 [PubMed: 23042932])

19.

Crum-Cianflone NF, Hullsiek KH, Marconi VC, Ganesan A, Weintrob A, Barthel RV, Agan BK, Infectious Disease Clinical Research Program HIV Working Group (2010) Anal cancers among HIV-infected persons: HAART is not slowing rising incidence. AIDS. 24(4):535–543. https://doi.org/10.1097/QAD.0b013e328331f6e2

20.

D'Souza G, Wiley DJ, Li X et al (2008) Incidence and epidemiology of anal cancer in the multicenter AIDS cohort study. J Acquir Immune Defic Syndr 48:491–499

21.

Hleyhel M, Bouvier AM, Belot A et al (2014) Risk of non-AIDS-defining cancers among HIV-1-infected individuals in France between 1997 and 2009: results from a French cohort. AIDS. 28:2109–2118. https://doi.org/10.1097/QAD.0000000000000382

22.

Tuite H, Horgan M, Mallon PWG, McConkey SJ, Mooka B, Mulcahy F et al (2015) Patients accessing ambulatory care for HIV-Infection: epidemiology and prevalence assessment. Irish Medical Journal July/August 108(7):199–201

23.

O'Connell S, Lillis D, Cotter A et al (2016) Opt-Out panel testing for HIV, hepatitis B and hepatitis C in an urban emergency department: A Pilot Study. PLoS One 11(3):e0150546. Published 2016 Mar 11. https://doi.org/10.1371/journal.pone.0150546

24.

Kerr C, Heskin J, Shaw G, Craig J, Bergin C A description of demographic data of HIV positive MSM patients attending St. James's Hospital in 2018 and an audit of HPV vaccination rates among this cohort from 2014-2018. In: Poster Presentation at the Irish Infectious Disease Society of Ireland, May 2019

25.

Howlader N, Noone AM, Krapcho M, Miller D, Brest A, Yu M, Ruhl J, Tatalovich Z, Mariotto A, Lewis DR, Chen HS, Feuer EJ, Cronin KA (eds). SEER Cancer Statistics Review, 1975-2016, National Cancer Institute. Bethesda, MD, https://seer.cancer.gov/csr/1975_2016/, based on November 2018 SEER data submission, posted to the SEER web site, April 2019.

26.

Siegenbeek van Heukelom ML, Marra E, de Vries HJC, Schim van der Loeff MF, Prins JM (2017) Risk factors for anal high-grade squamous intraepithelial lesions in HIV-positive MSM: is targeted screening possible? AIDS. 31(16):2295–2301. https://doi.org/10.1097/QAD.0000000000001639

27.

Schofield AM, Sadler L, Nelson L, Gittins M, Desai M, Sargent A, McMahon RF, Hill J, Crosbie EJ, Patnick J, Kitchener HC (2016) A prospective study of anal cancer screening in HIV-positive and negative MSM. AIDS 30:1375–1383. https://doi.org/10.1097/QAD.0000000000001045

28.

D'Souza G, Wentz A, Wiley D et al (2016) Anal cancer screening in men who have sex with men in the multicenter AIDS cohort study. J Acquir Immune Defic Syndr. 71:570–576

29.

Bertoli HK, Thomsen LT, Iftner T, Dehlendorff C, Kjær SK (2020 Jan) Risk of vulvar, vaginal and anal high-grade intraepithelial neoplasia and cancer according to cervical human papillomavirus (HPV) status: a population-based prospective cohort study. Gynecol Oncol. 30

30.

Nigro ND, Vaitkevicius VK, Considine B (1974) Combined therapy for cancer of the anal canal: a preliminary report. Dis Colon Rectum 17:354–356

31.

Epidermoid anal cancer (1996) Results from the UKCCCR randomised trial of radiotherapy alone versus radiotherapy, 5-fluorouracil, and mitomycin. UKCCCR Anal Cancer Trial Working Party. UK Co-ordinating Committee on Cancer Research. Lancet 348(9034):1049e54

32.

Glynne-Jones R, Nilsson PJ, Aschelle C et al (2014) Anal cancer: ESMO-ESSO-ESTRO clinical practice guidelines for diagnosis, treatment and follow-up. Eur J Surg Oncol 40:1165–1176

33.

Flam M, John M, Pajak TF, Petrelli N, Myerson R, Doggett S et al (1996) Role of mitomycin in combination with fluorouracil and radiotherapy, and of salvage chemoradiation in the definitive nonsurgical treatment of epidermoid carcinoma of the anal canal: results of a phase III randomized intergroup study. J Clin Oncol 14(9):2527e39

34.

Northover J, Glynne-Jones R, Sebag-Montefiore D, James R, Meadows H, Wan S, Jitlal M, Ledermann J (2010) Chemoradiation for the treatment of epidermoid anal cancer: 13-year follow-up of the first randomised UKCCCR Anal Cancer Trial (ACT I). Br J Cancer 102:1123–1128. https://doi.org/10.1038/sj.bjc.6605605

35.

Bartelink H, Roelofsen F, Eschwege F, Rougier P, Bosset JF, Gonzalez DG, Peiffert D, van Glabbeke M, Pierart M (1997) Concomitant radiotherapy and chemotherapy is superior to radiotherapy alone in the treatment of locally advanced anal cancer: results of a phase III randomized trial of the European Organization for Research and Treatment of Cancer Radiotherapy and Gastrointestinal Cooperative Groups. J Clin Oncol 15:2040–2049

36.

Downing A, Morris EJ, Aravani A et al (2010 Mar 30) The effect of the UK Coordinating Centre for Cancer Research Anal Cancer Trial (ACT1) on population-based treatment and survival for squamous cell cancer of the anus. Br J Cancer. 102(7):1123–1128

37.

Ajani JA, Winter KA, Gunderson LL et al (2008) Fluorouracil, mitomycin, and radiotherapy vs fluorouracil, cisplatin, and radiotherapy for carcinoma of the anal canal: a randomized controlled trial. JAMA 299:1914–1921

38.

Gunderson LL, Winter KA, Ajani JA, Pedersen JE, Moughan J, Benson AB III, Thomas CR Jr, Mayer RJ, Haddock MG, Rich TA, Willett CG (2012) Long-term update of US GI intergroup RTOG 98-11 phase III trial for anal carcinoma: survival, relapse, and colostomy failure with concurrent chemoradiation involving fluorouracil/mitomycin versus fluorouracil/cisplatin. J Clin Oncol. 30(35):4344–4351

39.

James RD, Glynne-Jones R, Meadows HM, Cunningham D, Myint AS, Saunders MP, Maughan T, McDonald A, Essapen S, Leslie M, Falk S, Wilson C, Gollins S, Begum R, Ledermann J, Kadalayil L, Sebag-Montefiore D (2013) Mitomycin or cisplatin chemoradiation with or without maintenance chemotherapy for treatment of squamous-cell carcinoma of the anus (ACT II): a randomised, phase 3, open-label, 2 x 2 factorial trial. Lancet Oncol 14:516–524

40.

Peiffert D, Tournier-Rangeard L, Gérard JP, Lemanski C, François E, Giovannini M, Cvitkovic F, Mirabel X, Bouché O, Luporsi E, Conroy T, Montoto-Grillot C, Mornex F, Lusinchi A, Hannoun-Lévi JM, Seitz JF, Adenis A, Hennequin C, Denis B, Ducreux M (2012) Induction chemotherapy and dose intensification of the radiation boost in locally advanced anal canal carcinoma: final analysis of the randomized UNICANCER ACCORD 03 trial. J Clin Oncol 30:1941–1948

41.

Shridhar R, Shibata D, Chan E, Thomas CR (2015) Anal cancer: current standards in care and recent changes in practice. CA Cancer J Clin 65(2):139e62

42.

Osborne MC, Maykel J, Johnson EK, Steele SR (2014) Anal squamous cell carcinoma: an evolution in disease and management. World J Gastroenterol. 20(36):13052–13059. https://doi.org/10.3748/wjg.v20.i36.13052

43.

Weis S (2013) Current treatment options for management of anal intraepithelial neoplasia. OncoTargets and Therapy. 6:651–665

44.

Willems N, Libois A, Nkuize M, Feoli F, Delforge M, DeWit S (2017) Treatment of anal dysplasia in HIV-positive men who have sex with men in a large AIDS reference centre. Acta Clinica Belgica 72(1):29–35

45.

Anal intraepithelial neoplasia: a review of diagnosis and management. Joseph R Roberts, Lacey L Siekas, Andrew M Kaz. World J Gastrointest Oncol 2017 February 15; 9(2): 50-61

46.

Robison K, Cronin B, Bregar A, Luis C, DiSilvestro P, Schechter S, Pisharodi L, Raker C, Clark M (2015) Anal cytology and human papillomavirus genotyping in women with a history of lower genital tract neoplasia compared with low-risk women. Obstet Gynecol 126:1294–1300. https://doi.org/10.1097/AOG.0000000000001135

47.

Goldie SJ, Kuntz KM, Weinstein MC, Freedberg KA, Welton ML, Palefsky JM (1999) The clinical effectiveness and cost-effectiveness of screening for anal squamous intraepithelial lesions in homosexual and bisexual HIV-positive men. JAMA 281:1822–1829

48.

Swedish KA, Factor SH, Goldstone SE (2012) Prevention of recurrent high-grade anal neoplasia with quadrivalent human papillomavirus vaccination of men who have sex with men: a nonconcurrent cohort study. Clin Infect Dis 54:891–898. https://doi.org/10.1093/cid/cir1036]45

49.

Deshmukh AA, Chiao EY, Das P, Cantor SB (2014) Clinical effectiveness and cost-effectiveness of quadrivalent human papillomavirus vaccination in HIV-negative men who have sex with men to prevent recurrent high-grade anal intraepithelial neoplasia. Vaccine 32:6941–6947. https://doi.org/10.1016/j.vaccine.2014.10.052
Acknowledgements
We would like to acknowledge Ms Chris Gleeson, the data manager of the colorectal oncology service at our institution. We also acknowledge the work done by Ms Lara Gander and Ms Caoimhe Ryan, two medical students from Trinity College Dublin.
Availability of data and material
Not applicable.
Code availability
SPSS version 24.0 was used for statistical analysis, no customised codes were generated.
Ethics declarations
Ethical approval
Approval was granted by the institution's ethics committee prior to receiving access to the local cancer database.
Conflict of interest
The authors declare that they have no conflict of interest.
Additional information
Publisher's note
Springer Nature remains neutral with regard to jurisdictional claims in published maps and institutional affiliations.
What does this paper add to the literature?
The high incidence of premalignant and malignant anal pathology among HIV-Medicine/Sexual Health service users is well documented in the literature; however, to date, there are no studies looking at oncological outcomes in this unique cohort from a colorectal surgery perspective.
About this article
Cite this article
Power Foley, M., Kelly, M.E., Kerr, C. et al. Management of anal intraepithelial neoplasia and anal squamous cell carcinoma at a tertiary referral centre with a dedicated infectious diseases unit: an 18-year review. Int J Colorectal Dis (2020). https://doi.org/10.1007/s00384-020-03640-9
Keywords
Anal Pathology Squamous Cell Carcinoma

Anal Intraepithelial Neoplasia

HIV Medicine/Sexual Health