Abstract
Objective
To explore whether the distance of rectal neuroendocrine neoplasms from the anal margin has an impact on the prognosis of patients and evaluate lymphatic metastases risk score for colorectal neuroendocrine neoplasms (NENs).
Methods
Clinical pathological and follow-up data of 71 patients identified as colorectal neuroendocrine neoplasms by pathology from July 2011 to July 2019 were carefully collected.
Results
Among 71 patients with colorectal NENs, most of the tumors were rectal NENs (62 cases). A total of 26 patients were in the presence of lymph node metastasis, and 44 patients had negative lymph nodes. Patients with lesions from the anal margin > 5 cm in rectum have a better prognosis (P = 0.022). Tumor stage (P = 0.034) and grade (P = 0.001) were independent risk predictors of lymphatic metastases. We developed a lymphatic metastasis risk score for rectal NENs, and patients with the score ≥ 7.5 were more likely to develop lymph node metastases (area 0.958, 95% CI 0.903–1.000, P = 0.000) with a sensitivity of 72.2% and a specificity of 97.3%.
Conclusion
Patients with lesions from the anal margin > 5 cm and lymphatic metastasis risk score ≥ 7.5 should be treated actively.
This is a preview of subscription content, log in to check access.
Access options
Buy single article
Instant access to the full article PDF.
US$ 39.95
Price includes VAT for USA
Subscribe to journal
Immediate online access to all issues from 2019. Subscription will auto renew annually.
US$ 199
This is the net price. Taxes to be calculated in checkout.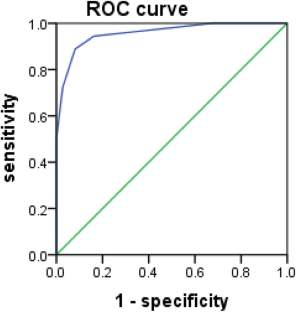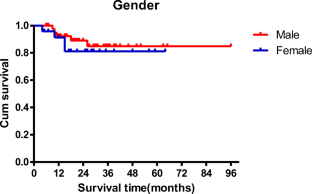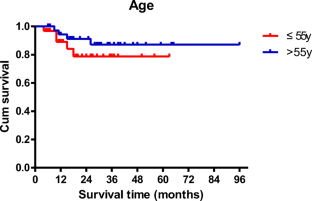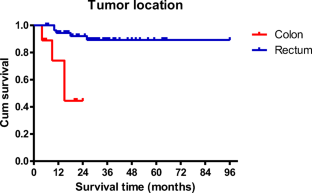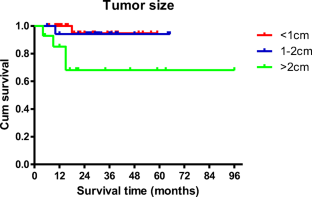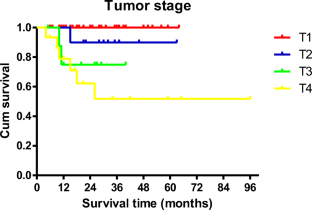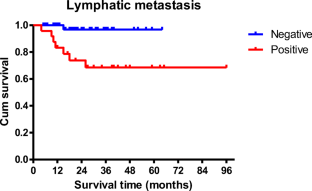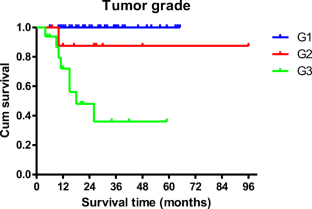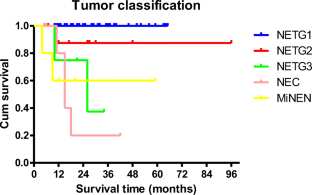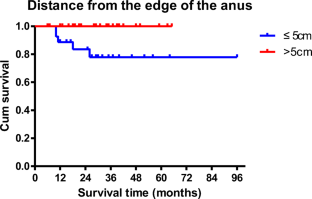 References
1.

(2016) Expert consensus on gastrointestinal and pancreatic neuroendocrine tumors in China. J Clin Oncol 21(10):927–946

2.

Kang H, O'Connell JB, Leonardi MJ, O'Connell JB, Leonardi MJ, Maggard MA, McGory M, Ko CY (2007) Rare tumors of the colon and rectum: a national review. Int J Color Dis 22:183–189

3.

Tsikitis VL, Wertheim BC, Guerrero MA et al (2012) Trends of incidence and survival of gastrointestinal neuroendocrine tumors in the United States: a seer analysis. J Cancer 3:292–302

4.

Dasari A, Shen C, Halperin D, Zhao B, Zhou S, Xu Y, Shih T, Yao JC (2017) Trends in the incidence, prevalence, and survival outcomes in patients with neuroendocrine tumors in the United States. JAMA Oncol 3(10):1335–1342

5.

Tsai HJ, Wu CC, Tsai CR, Lin SF, Chen LT, Chang JS (2013) The epidemiology of neuroendocrine tumors in Taiwan: a nation-wide cancer registry-based study. PLoS One 8(4):e62487

6.

Hauso O, Gustafsson BI, Kidd M, Waldum HL, Drozdov I, Chan AK, Modlin IM (2008) Neuroendocrine tumor epidemiology: contrasting Norway and North America. Cancer. 113(10):2655–2664

7.

Fang C, Wang W, Zhang YU et al (2017) Clinicopathologic characteristics and prognosis of gastroenteropancreatic neuroendocrine neoplasms: a multicenter study in South China. Chin J Cancer 36(1):51

8.

Wang YH, Lin Y, Xue L, Wang JH, Chen MH, Chen J (2012) Relationship between clinical characteristics and survival of gastroenteropancreatic neuroendocrine neoplasms: a single-institution analysis (1995–2012) in South China. BMC Endocr Disord 12:30

9.

Fan JH, Zhang YQ, Shi SS, Chen YJ, Yuan XH, Jiang LM, Wang SM, Ma L, He YT, Feng CY, Sun XB, Liu Q, Deloso K, Chi Y, Qiao YL (2017) A nation-wide retrospective epidemiological study of gastroenteropancreatic neuroendocrine neoplasms in China. Oncotarget. 8(42):71699–71708

10.

Yao JC, Hassan M, Phan A, Dagohoy C, Leary C, Mares JE, Abdalla EK, Fleming JB, Vauthey JN, Rashid A, Evans DB (2008) One hundred years after "carcinoid": epidemiology of and prognostic factors for neuroendocrine tumors in 35, 825 cases in the United States. J Clin Oncol 26(18):3063–3072

11.

Maryański J, Cyran-Chlebicka A, Szczepankiewicz B, Wroński M (2018) Surgical treatment of extra-appendiceal colorectal neuroendocrine tumors. Pol Przegl Chir 90(3):7–12

12.

Fields AC, Lu P, Vierra BM, Melnitchouk N (2019) Survival in patients with high-grade colorectal neuroendocrine carcinomas: the role of surgery and chemotherapy. Ann Surg Oncol 26(4):1127–1133

13.

Modlin IM, Lye KD, Kidd M (2003) A 5-decade analysis of 13, 715 carcinoid tumors. Cancer 97(4):934–959

14.

McConnell YJ (2016) Surgical management of rectal carcinoids: trends and outcomes from the surveillance, epidemiology, and end results database (1988 to 2012). Am J Surg 211:877–885

15.

Xiao Y, Wu B, Qiu H, Xiong G, Lin G, Zhong G, Hu K, Pan W (2014) Effects of tumor distance from anal verge and types of operations on survival outcomes for low rectal cancer after neoadjuvant chemoradiotherapy. Zhonghua Yi Xue Za Zhi 94(22):1705–1709

16.

MAS K, Ang CW, Hakeem AR, Scott N, Saunders RN, Botterill I (2017) The impact of tumour distance from the anal verge on clinical management and outcomes in patients having a curative resection for rectal cancer. J Gastrointest Surg 21(12):2056–2065

17.

WHO classification of Tumours Editorial Board (2019) Digestive system tumour. WHO Classification of tumour [M], vol 16, 5th edn. WHO, Geneva

18.

2019 National Comprehensive Cancer Network. NCCN Clinical Practice Guidelines in Oncology (NCCN Guidelines®): neuroendocrine and adrenal tumors. Version 1.2019 - March 5, 2019

19.

Restivo A et al (2013) Elevated CEA levels and low distance of the tumor from the anal verge are predictors of incomplete response to chemoradiation in patients with rectal cancer. Ann Surg Oncol 20(3):864–871

20.

Garland ML, Vather R, Bunkley N, Pearse M, Bissett IP (2014) Clinical tumour size and nodal status predict pathologic complete response following neoadjuvant chemoradiotherapy for rectal cancer. Int J Color Dis 29(3):301–307

21.

Bitterman DS, Resende Salgado L, Moore HG, Sanfilippo NJ, Gu P, Hatzaras I, Du KL (2015) Front Oncol 5:286

22.

Aytac E, Ozdemir Y, Ozuner G (2014) Long term outcomes of neuroendocrine carcinomas (high-grade neuroendocrine tumors) of the colon, rectum, and anal canal. J Visc Surg 151(1):3–7

23.

Smith JD, Reidy DL, Goodman KA, Shia J, Nash GM (2014) A retrospective review of 126 high-grade neuroendocrine carcinomas of the colon and rectum. Ann Surg Oncol 21(9):2956–2962

24.

Murray SE, Lloyd RV, Sippel RS, Chen H (2013) Clinicopathologic characteristics of colonic carcinoid tumors. J Surg Res 184:183–188

25.

Shafqat H, Ali S, Salhab M, Olszewski AJ (2015) Survival of patients with neuroendocrine carcinoma of the colon and rectum: a population-based analysis. Dis Colon Rectum 58:294–303

26.

Basuroy R, Haji A, Ramage JK, Quaglia A, Srirajaskanthan R (2016) Review article: the investigation and management of rectal neuroendocrine tumours. Aliment Pharmacol Ther 44:332–345

27.

Mandair D, Caplin ME (2012) Colonic and rectal NET's. Best Pract Res Clin Gastroenterol 26:775–789

28.

Yassar M, Kathryn M, David C et al (2014) Regional lymphadenectomy is indicated in the surgical treatment of pancreatic neuroendocrine tumors (PNETs). Ann Surg 259(2):197–203

29.

Konishi T, Watanabe T, Kishimoto J, Kotake K, Muto T, Nagawa H, Japanese Society for Cancer of the Colon and Rectum (2007) Prognosis and risk factors of metastasis in colorectal carcinoids: results of a nationwide registry over 15 years. Gut. 56:863–868

30.

Concors SJ, Sinnamon AJ, Folkert IW, Roses RE (2018) Predictors of metastases in rectal neuroendocrine tumors: results of a national cohort study. Dis Colon Rectum 61(12):1372–1379

31.

Strosberg J, Nasir A, Coppola D, Wick M, Kvols L (2009) Correlation between grade and prognosis in metastatic gastroenteropancreatic neuroendocrine tumors. Hum Pathol 40:1262–1268

32.

Anthony LB, Strosberg JR, Klimstra DS, Maples WJ, O'Dorisio TM, Warner RR, Wiseman GA, Benson AB 3rd, Pommier RF, North American Neuroendocrine Tumor Society (NANETS) (2010) The NANETS consensus guidelines for the diagnosis and management of gastrointestinal neuroendocrine tumors (nets): well differentiated nets of the distal colon and rectum. Pancreas. 39(6):767–774

33.

Fields AC, McCarty JC, Ma-Pak L, Melnitchouk N (2019) New lymph node staging for rectal neuroendocrine tumors. J Surg Oncol 119(1):156–162
Additional information
Publisher's note
Springer Nature remains neutral with regard to jurisdictional claims in published maps and institutional affiliations.
About this article
Cite this article
Duan, X., Zhao, M., Zhang, S. et al. Effects of tumor distance from anal verge on survival outcomes for rectal NENs and lymphatic metastasis risk score for colorectal NENs. Int J Colorectal Dis 35, 1255–1264 (2020). https://doi.org/10.1007/s00384-020-03596-w
Accepted:

Published:

Issue Date:
Keywords
Colorectal neuroendocrine neoplasms

Clinicopathologic features

Distance from anal verge

Lymphatic metastasis

Prognosis