Abstract
Aim of the study
Midgut volvulus is a potentially life-threatening condition which is based on intestinal ischemia and reperfusion (I/R) injury. Remote ischemia conditioning (RIC) applied to a limb can protect distant organs such as heart and kidney. The aims of this study were to investigate the effect of RIC on a model of midgut volvulus and to explore its underlying mechanism of action.
Methods
Six-weeks old C57BL/6 mice were studied: (a) sham (n = 4): laparotomy alone. (b) Intestinal I/R injury (n = 5): occlusion of the superior mesenteric artery (SMA) for 45 min followed by reperfusion. (c) Intestinal I/R (as in group above) with RIC immediately after reperfusion (n = 5). RIC consisted of 4 cycles of 5 min hind limb ischemia followed by 5 min reperfusion. 24-h after laparotomy, animals were euthanized, and the small intestine (same distance from cecum) was harvested. The intestine was examined for inflammatory cytokines (TNF-α and IL-6), epithelial proliferation marker Ki67 and stem cell marker Lgr5 expression.
Main results
Compared to sham, the small intestine of IR mice had more intestinal damage, increased expression of inflammatory cytokines, decreased intestinal proliferation and stem cell activity. RIC significantly counteracted all these changes.
Conclusions
Remote ischemia conditioning avoids intestinal damage due to I/R injury. This beneficial effect is associated with decreased intestinal inflammation and enhanced intestinal regeneration. This study implicates that RIC is a novel non-invasive intervention to reduce the intestinal damage occurring in midgut volvulus.
Access options
Buy single article
Instant access to the full article PDF.
US$ 39.95
Tax calculation will be finalised during checkout.
Subscribe to journal
Immediate online access to all issues from 2019. Subscription will auto renew annually.
US$ 119
Tax calculation will be finalised during checkout.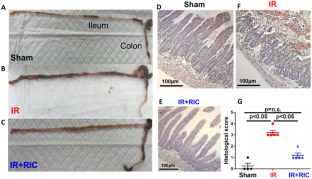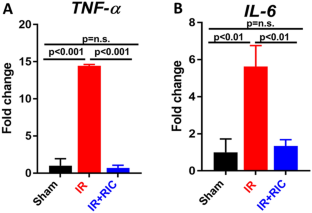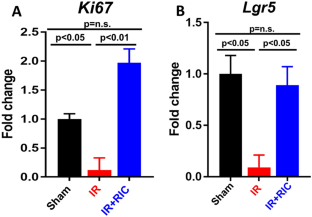 References
1.

Schoenberg MH, Beger HG (1993) Reperfusion injury after intestinal ischemia. Crit Care Med 21(9):1376–1386

2.

Murry CE, Jennings RB, Reimer KA (1986) Preconditioning with ischemia: a delay of lethal cell injury in ischemic myocardium. Circulation 74(5):1124–1136

3.

Lim SY, Hausenloy DJ (2012) Remote ischemic conditioning: from bench to bedside. Front Physiol 3:27

4.

Miyake H, Koike Y, Seo S, Lee C, Li B, Ganji N et al (2020) The effect of pre- and post-remote ischemic conditioning reduces the injury associated with intestinal ischemia/reperfusion. Pediatr Surg Int 36(12):1437–1442

5.

Koike Y, Li B, Ganji N, Zhu H, Miyake H, Chen Y et al (2020) Remote ischemic conditioning counteracts the intestinal damage of necrotizing enterocolitis by improving intestinal microcirculation. Nat Commun 11(1):4950

6.

Gehart H, Clevers H (2019) Tales from the crypt: new insights into intestinal stem cells. Nat Rev Gastroenterol Hepatol 16(1):19–34

7.

Chen CL, Yang J, James IO, Zhang HY, Besner GE (2014) Heparin-binding epidermal growth factor-like growth factor restores Wnt/β-catenin signaling in intestinal stem cells exposed to ischemia/reperfusion injury. Surgery 155(6):1069–1080

8.

Chai S, Liu K, Feng W, Liu T, Wang Q, Zhou R et al (2019) Activation of G protein-coupled estrogen receptor protects intestine from ischemia/reperfusion injury in mice by protecting the crypt cell proliferation. Clin Sci (Lond) 133(3):449–464

9.

Langer JC (2017) Intestinal rotation abnormalities and midgut volvulus. Surg Clin N Am 97(1):147–159

10.

Wang Y, Meng R, Song H, Liu G, Hua Y, Cui D et al (2017) Remote ischemic conditioning may improve outcomes of patients with cerebral small-vessel disease. Stroke 48(11):3064–3072

11.

Pryds K, Terkelsen CJ, Sloth AD, Munk K, Nielsen SS, Schmidt MR et al (2016) Remote ischaemic conditioning and healthcare system delay in patients with ST-segment elevation myocardial infarction. Heart 102(13):1023–1028

12.

Souza Filho MV, Loiola RT, Rocha EL, Simão AF, Gomes AS, Souza MH et al (2009) Hind limb ischemic preconditioning induces an anti-inflammatory response by remote organs in rats. Braz J Med Biol Res 42(10):921–929
Acknowledgements
Dr. Agostino Pierro was supported by the Canadian Institutes of Health Research (CHIR) Foundation Grant (353857).
Ethics declarations
Conflict of interest
The authors declare that they have no conflict of interest.
Additional information
Publisher's Note
Springer Nature remains neutral with regard to jurisdictional claims in published maps and institutional affiliations.
About this article
Cite this article
Zhu, H., Li, B., Bindi, E. et al. Remote ischemic conditioning avoids the development of intestinal damage after ischemia reperfusion by reducing intestinal inflammation and increasing intestinal regeneration. Pediatr Surg Int 37, 333–337 (2021). https://doi.org/10.1007/s00383-020-04831-9
Accepted:

Published:

Issue Date:
Keywords
Remote ischemic conditioning

Midgut volvulus

Intestinal damage

Ischemia and reperfusion

Neonate