Abstract
In this study, we demonstrate a new mechanism, on how the warm phase of El Niño and Southern Oscillation (ENSO) delays the Indian Summer Monsoon onset through coupled ocean-atmospheric processes. Strong basin-wide warming is prominent over North Indian Ocean (NIO) during the El Niño years. The warming is intense over the South West Indian Ocean (SWIO) due to the westward propagation of the equatorial Rossby waves from the Pacific Ocean. It increases the convective activities over the southern tropical Indian Ocean (0–10° S), adjacent to the SWIO region. The warming over the SWIO and the NIO strengthens the divergent wind from the Indian Ocean to the sub-tropics via a wind-evaporation-SST feedback mechanism, which causes more upper-level convergence within 30° N latitudes. Besides, a warmer Indian Ocean enhances the upper-level diabatic heating over the southern Arabian Peninsula and Eastern Indian landmass. These factors strengthen but shift the local Hadley circulation over the Indian Ocean more southward, with an ascending branch centered over the SWIO region. The shifting of the local Hadley circulation during the El Niño years causes the Sub Tropical Jet (STJ) to migrate more southward and centered more over the Indian subcontinent. This southward movement of the STJ over the Indian subcontinent in response to the El Niño condition inhibits the establishment and propagation of the tropical easterly jet during the monsoon season, which subsequently hinders the monsoon circulation, thus delays its onset.
Access options
Buy single article
Instant access to the full article PDF.
US$ 39.95
Tax calculation will be finalised during checkout.
Subscribe to journal
Immediate online access to all issues from 2019. Subscription will auto renew annually.
US$ 119
Tax calculation will be finalised during checkout.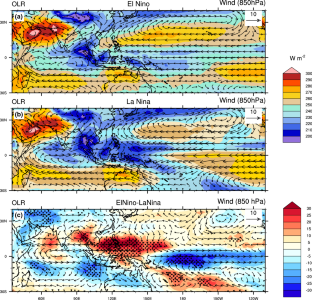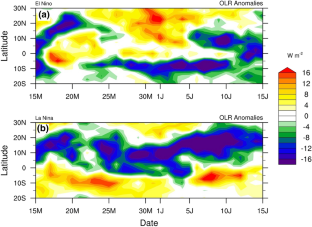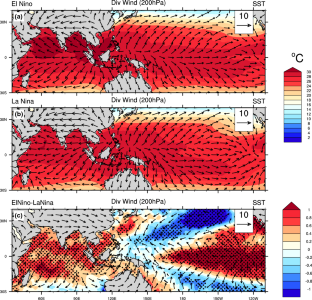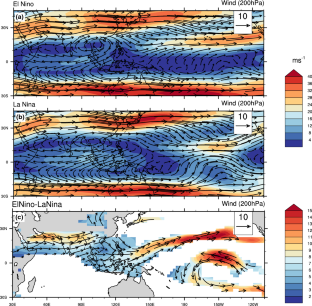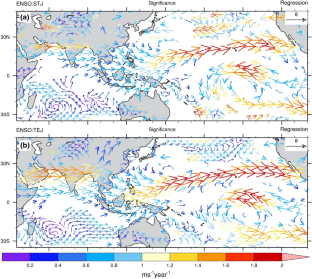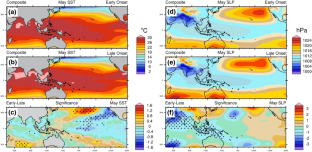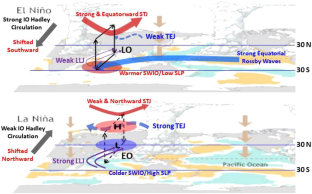 References
Ananthakrishnan R, Srinivasan V, Ramakrishnan A and Jambunathan R (1968) Synoptic features associated with onset of southwest monsoon over Kerala. India Meteorological Department Forecasting Manual IV-18.2, 17 pp.

Aneesh S, Sijikumar S (2020) Existence of 'mini-break' like condition during early Indian monsoon onset years. Clim Dyn 54:2403–2418. https://doi.org/10.1007/s00382-020-05121-9

Annamalai H, Liu P, Xie S-P (2005) Southwest Indian ocean SST variability: its local effect and remote influence on Asian monsoons. J Clim 18:4150

Archer CL, Caldeira K (2008) Historical trends in the jet streams. Geophys Res Lett 35:L08803. https://doi.org/10.1029/2008GL033614

Bluestein HB (1993) Synoptic-dynamic meteorology in midlatitudes: observations and theory of weather systems. Oxford University Press, New York, p 594

Chakraborty A, Agrawal S (2017) Role of west Asian surface pressure in summer monsoon onset over central India. Environ Res Lett 12:074002. https://doi.org/10.1088/1748-9326/aa76ca

Danard MB (1964) On the influence of released latent heat on cyclone development. J Appl Meteorol 3:27–37. https://doi.org/10.1175/1520-0450(1964)003%3c0027:OTIORL%3e2.0.CO;2

Deng L, Li T (2016) Relative roles of background moisture and vertical shear in regulating interannual variability of boreal summer intraseasonal oscillations. J Clim 29(19):7009–7025

Deng L, Li T, Liu J, Peng M (2016) Factors controlling the interannual variations of MJO intensity. J Met Res 30(3):328–340. https://doi.org/10.1007/s13351-016-5113-3

Ferrel W (1889) A popular treatise on the winds: comprising the general motions of the atmosphere, monsoons, cyclones, tornadoes, waterspouts, hailstorms, etc. John Wiley, New York

Gill AE (1980) Some simple solutions for heat-induced tropical circulation. Q J R Met Soc 106:447–462

Hendon HH, Wheeler MC, Zhang C (2007) Seasonal dependence of the MJO–ENSO relationship. J Clim 20(3):531–543

Hoerling MP, Kumar A (2002) Atmospheric response patterns associated with tropical forcing. J Clim 15:2184–2203. https://doi.org/10.1175/1520-0442(2002)015%3c2184:ARPAWT%3e2.0.CO;2

Huang B, Kinter JL (2002) Interannual variability in the tropical Indian Ocean. J Geo Res. https://doi.org/10.1029/2001JC001278

Hulme M, Tosdevin N (1989) The Tropical easterly Jet and Sudan rainfall: a review. Theor Appl Climatol 39:179–187. https://doi.org/10.1007/BF00867945

Joseph PV, Eischeid JK, Pyle RJ (1994) Interannual variability of the onset of the Indian summer monsoon and its association with atmospheric features, El Niño, and sea surface temperature anomalies. J Clim 7(1):81–105

Joseph PV, Sooraj KP, Rajan CK (2006) The summer monsoon onset process over south Asia and an objective method for the date of monsoon onset over Kerala. Int J Climatol 26:1871–1893

Kalnay E, Coauthors, (1996) The NCEP/NCAR 40-year reanalysis project. Bull Amer Meteor Soc 77:437–471. https://doi.org/10.1175/1520-0477(1996)077%3c0437:TNYRP%3e2.0.CO;2

Kessler WS (2001) EOF representations of the Madden–Julian Oscillation and its connection with ENSO. J Clim 14(13):3055–3061

Klein SA, Soden BJ, Lau N-C (1999) Remote sea surface temperature variations during ENSO: evidence for a tropical atmospheric bridge. J Clim 12:917–932

Kobayashi N (1974) Interannual variations of tropical easterly jet stream and rainfall in south Asia. Geophys Mag 37:123–134

Koteswaram P (1958) The easterly jet stream in the tropics. Tellus 10:43–57

Krishnamurti TN (1961) The subtropical jetstream of winter. J Meteor 18:172–191

Krishnamurti TN (1981) Cooling of the Arabian Sea and the onset-vortex during 1979. Recent progress in the equatorial oceanography. SCOR working group final rep 1–12. [Available from Nova University, Ocean Science Center, Dania, FL 33004.].

Lau NC, Nath MJ (2000) Impact of ENSO on the variability of the Asian-Australian monsoons as simulated in GCM experiments. J Clim 13:4287–4309

Levine RC, Turner AG (2012) Dependence of Indian monsoon rainfall on moisture fluxes across the Arabian Sea and the impact of coupled model sea surface temperature biases. Clim Dyn 38:2167–2190

Levine RC, Turner AG, Marathayil D, Martin GM (2013) The role of northern Arabian Sea surface temperature biases in CMIP5 model simulations and future projections of Indian summer monsoon rainfall. Clim Dyn 41:155–172

Liebmann B, Smith CA (1996) Description of a complete (interpolated) outgoing longwave radiation dataset. Bull Am Meteor Soc 77:1275–1277

Liu B, Wu G, Ren R (2015) Influences of ENSO on the vertical coupling of atmospheric circulation during the onset of South Asian summer monsoon. Clim Dyn 45(7–8):1859–1875

Liu F, Li T, Wang H, Deng L, Zhang Y (2016) Modulation of boreal summer intraseasonal oscillations over the western North Pacific by ENSO. J Clim 29(20):7189–7201

Mao J, Wu G (2007) Interannual variability in the onset of the summer monsoon over the eastern Bay of Bengal. Theor App Clim 89(3–4):155–170

Noska R, Misra V (2016) Characterizing the onset and demise of the Indian summer monsoon. Geophys Res Lett 43:4547–4554. https://doi.org/10.1002/2016GL068409

Pai DS, Nair RM (2009) Summer monsoon onset over Kerala: New definition and prediction. J Earth Syst Sci 118(2):123–135

Parker DJ, Willetts P, Birch C, Turner AG, Marsham JH, Taylor CM, Kolusu S, Martin GM (2016) The interaction of moist convection and mid-level dry air in the advance of the onset of the Indian monsoon. Q J Roy Meteorol Soc 142:2256–2272

Pattanaik D, Satyan V (2000) Fluctuations of Tropical Easterly Jet during contrasting monsoons over India: A GCM study. Meteorol Atmos Phys 75:51–60. https://doi.org/10.1007/s007030070015

Peixoto JP, Oort AH (1992) Physics of climate. American Institute of Physics, New York, p 520

Pfahl S, Schwierz C, Croci Maspoli M, Grams C, Wernli H (2015) Importance of latent heat release in ascending air streams for atmospheric blocking. Nat Geosci 8(8):610–614. https://doi.org/10.1038/ngeo2487

Raghavan K (1973) Tibetan anticyclone and tropical easterly jet. Pageoph 110:1230–1242

Rayner NA, Parker DE, Horton EB, Folland CK, Alexander LV, Rowell DP, Kent EC, Kaplan A (2003) Global analyses of sea surface temperature, sea ice and night marine air temperature since the late nineteenth century. J Geophys Res 108(D14):4407. https://doi.org/10.1029/2002JD002670

Reed RJ, Stoelinga MT, Kuo YH (1992) A model aided study of the origin and evolution of the anomalously high potential vorticity in the inner region of a rapidly deepening marine cyclone. Mon Weather Rev 120(6):893–913

Vinayachandran PN, Shankar D, Kuria J, Durand F, Shenoi S (2007) Arabian Sea mini warm pool and monsoon onset vortex. Curr Sci 93:203–214

Wang B et al (2013) Northern Hemisphere summer monsoon intensified by mega-El Niño/southern oscillation and Atlantic multidecadal oscillation. Proc Natl Acad Sci USA 110:5347–5352

Wang L, Li T, Chen L, Behera SK, Nasuno T (2017) Modulation of the MJO intensity over the equatorial western Pacific by two types of El Niño. Clim Dyn. https://doi.org/10.1007/s00382-017-3949-6

Webster PJ (2004) The elementary Hadley circulation. In: Diaz H, Bradley R (eds) The Hadley circulation: past, present and future. Cambridge University Press, Cambridge, pp 9–60

Webster PJ, Yang S (1992) Monsoon and ENSO: selectively interactive systems. Q J R Meteorol Soc 118:877–926

Xavier PK, Marzin C, Goswami BN (2007) An objective definition of the Indian summer monsoon season and a new perspective on the ENSO–monsoon relationship. Q J R Meteorol Soc 133:749–764. https://doi.org/10.1002/qj.45

Xiang B, Wang B (2013) Mechanisms for the advanced Asian summer monsoon onset since the mid-to-late 1990s. J Clim. https://doi.org/10.1175/JCLI-D-12-00445.1

Xie S-P, Annamalai H, Schott FA, McCreary JP (2002) Structure and mechanisms of south Indian Ocean climate variability. J Clim 15:867–878

Xie S, Hu K, Hafner J, Tokinaga H, Du Y, Huang G, Sampe T (2009) Indian ocean capacitor effect on indo-Western Pacific climate during the summer following El Niño. J Climate 22:730–747. https://doi.org/10.1175/2008JCLI2544.1

Yeh S-W, Kug J-S, Dewitte B, Kwon M-H, Kirtman BP, Jin F-F (2009) El Niño in a changing climate. Nature 461:511–514. https://doi.org/10.1038/nature08316

Yun KS, Seo KH, Ha KJ (2008) Relationship between ENSO and northward propagating intraseasonal oscillation in the east Asian summer monsoon system. J Geophy Res 113:D14120. https://doi.org/10.1029/2008JD009901

Zhang C, Gottschalck J (2002) SST anomalies of ENSO and the Madden–Julian oscillation in the equatorial Pacific. J Clim 15(17):2429–2445
Acknowledgements
The authors highly acknowledge the scientific discussions and exchanges with scientists and teachers at the Centre for Monsoon System Research, Institute of Atmospheric Physics. The authors also would like to thank the anonymous reviewers for their valuable suggestions. This work is supported jointly by the Ministry of Science and Technology of China (2016YFA0600604), Key Research Program of Frontier Sciences, CAS (QYZDY-SSW-DQC024), National Natural Science Foundation of China (Grant No. 41750110484, 41675061).
Additional information
Publisher's Note
Springer Nature remains neutral with regard to jurisdictional claims in published maps and institutional affiliations.
About this article
Cite this article
Choudhury, D., Nath, D. & Chen, W. The modulation of Indian summer monsoon onset processes during ENSO through equatorward migration of the subtropical jet stream. Clim Dyn (2021). https://doi.org/10.1007/s00382-021-05700-4
Received:

Accepted:

Published:
Keywords
ENSO

Subtropical westerly jet

Tropical easterly jet

Indian summer monsoon onset

Hadley circulation