Abstract
This study investigates the robustness of hydroclimate impacts in Asia due to major drivers of climate variability in the Pacific Ocean, namely the El Niño-Southern Oscillation (ENSO) and Pacific Decadal Oscillation (PDO). Composite analyses are carried out on a tree ring-based Palmer Drought Severity Index as well as on a long coupled global climate model control experiment. El Niño (La Niña) has a robust impact on wet (dry) conditions in West Asia and dry (wet) conditions in South Asia. For the PDO, impacts are found throughout the Asia domain. However, identifying the robust signals due to PDO from these analyses is more challenging due to the limited lengths of the data. Results indicate that West Asia (South and Southeast Asia) experiences wet (dry) conditions during periods of positive PDO. For East Asia, there is indication that positive (negative) PDO is associated with wet (dry) conditions around and southward of 30°N and dry (wet) conditions north of this latitude. This result is consistent with the current understanding of the role of PDO in the "southern-flood northern-drought" phenomenon in China. We suggest that specific extreme events or periods have regional impacts with strong intensities that cannot be fully explained through the composite analysis of ENSO, PDO, or any combination thereof. Two such examples are shown to illustrate this: the Strange Parallel Drought (1756–1768 CE) and the Great Drought (1876–1878 CE). Additionally, during these climate events, ENSO and PDO can be in phases which are not consistent with the required phases of these drivers that explain the concurrent drought and pluvial conditions in Asia. Therefore, not all historical drought and pluvial events in Northeast Asia and northern China can be related back to ENSO or PDO. Finally, we also examine the dynamical characteristics of the reported hydroclimatic impacts in the global climate model experiment. There is moisture transport into (out of) regions that exhibit wet (dry) conditions in a manner consistent with the various ENSO and PDO composites, thereby providing physical explanation of the index-based results.
Access options
Buy single article
Instant access to the full article PDF.
USD 39.95
Price includes VAT (USA)
Tax calculation will be finalised during checkout.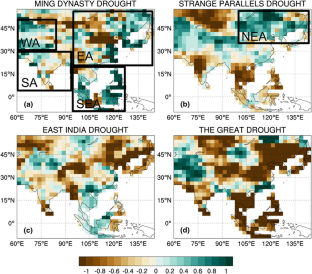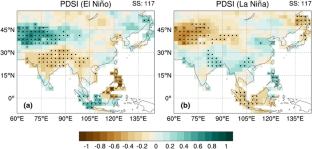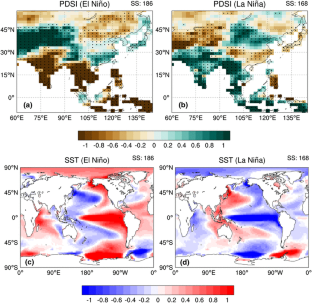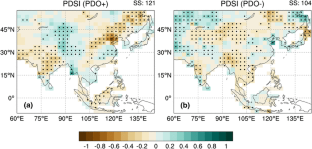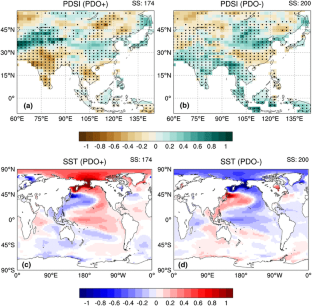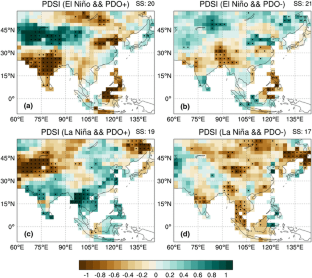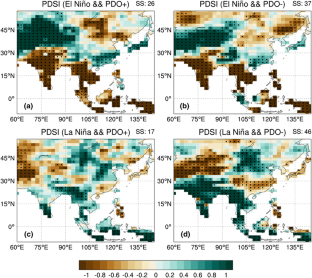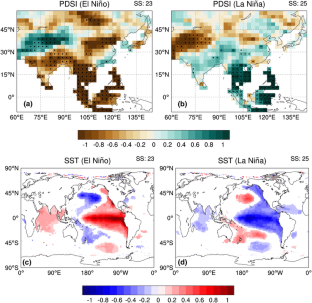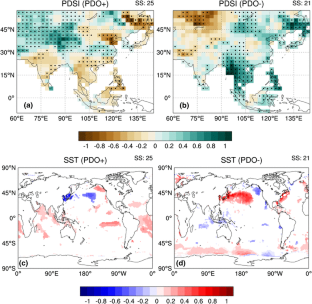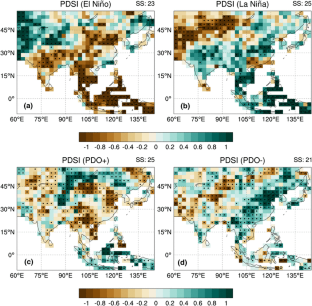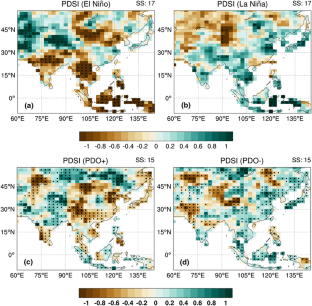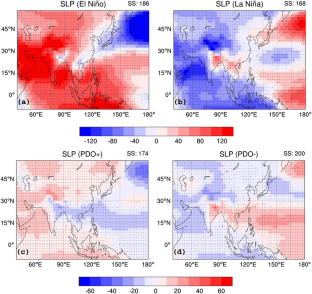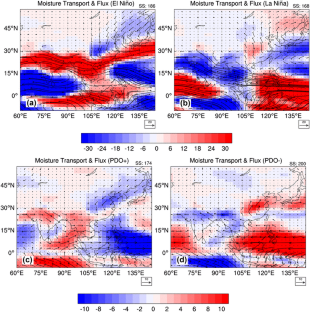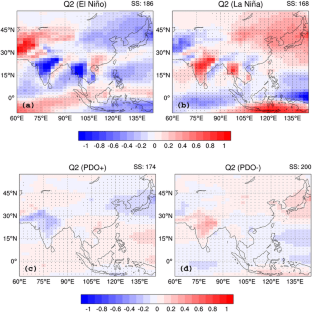 References
Alley WM (1984) Palmer Drought Severity Index: limitations and assumptions. J Clim Appl Meteorol 23:1100–1109

Buckley BM, Anchukaitis KJ, Penny D et al (2010) Climate as a contributing factor in the demise of Angkor, Cambodia. Proc Nat Acad Sci 107(15):6748–6752. doi:10.1073/pnas.0910827107

Cook ER, Anchukaitis KJ, Buckley BM, D'Arrigo RD, Jacoby GC, Wright WE (2010) Asian monsoon failure and megadrought during the last millennium. Science 328:486–489. doi:10.1126/science.1185188

Dai AG, Trenberth KE, Qian TT (2004) A global dataset of Palmer drought severity index for 1870–2002: relationship with soil moisture and effects of surface warming. J Hydrometeorol 5:1117–1130. doi:10.1175/JHM-386.1

Dilley M, Heyman BN (1995) ENSO and disaster: droughts, floods and El Niño/Southern Oscillation warm events. Disasters 19(3):181–193. doi:10.1111/j.1467-7717.1995.tb00338.x

Dong X (2016) Influences of the Pacific Decadal Oscillation on the East Asian summer monsoon in non-ENSO years. Atmos Sci Lett 17:115–120. doi:10.1002/asl.634

Easterling DR, Meehl GA, Parmesan C, Changnon SA, Karl TR, Mearns LO (2000) Climate extremes: observations, modeling, and impacts. Science 289(5487):2068–2074. doi:10.1126/science.289.5487.2068

Haines A, Kovats RS, Campbell-Lendrum D, Corvalán C (2006) Climate change and human health: impacts, vulnerability and public health. Public Health 120(7):586–596. doi:10.1016/j.puhe.2006.01.002

Hamon WR (1961) Estimating potential evapotranspiration. Proc Am Soc Civ Eng 87:107–120

Hernandez M, Ummenhofer CC, Anchukaitis KJ (2015) Multi-scale drought and ocean-atmosphere variability in monsoon Asia. Environ Res Lett 10:074010. doi:10.1088/1748-9326/10/7/074010

Jacobi J, Perrone D, Duncan LL, Hornberger G (2013) A tool for calculating the Palmer drought indices. Water Resour Res 49:6086–6089. doi:10.1002/wrcr.20342

Karl TR (1986) Sensitivity of the Palmer Drought Severity Index and Palmer's Z-index to their calibration coefficients including potential evapotranspiration. J Clim Appl Meteorol 25:77–86

Kucharski F, Bracco A, Yoo JH, Molteni F (2007) Low-frequency variability of the Indian Monsoon-ENSO relationship and the tropical Atlantic: the "weakening" of the 1980s and 1990s. J Clim 20:4255–4266. doi:10.1175/JCLI4254.1

Lau NC, Nath MJ (2006) ENSO modulation of the interannual and intraseasonal variability of the East Asian Monsoon—a model study. J Clim 19:4508–4530. doi:10.1175/JCLI3878.1

Li H, Dai A, Zhou T, Lu J (2010) Responses of East Asian summer monsoon to historical SST and atmospheric forcing during 1950–2000. Clim Dyn 34:501–514. doi:10.1007/s00382-008-0482-7

Li J, Xie SP, Cook ER, Huang G, D'Arrigo R, Liu F, Ma J, Zheng XT (2011) Interdecadal modulation of El Niño amplitude during the past millennium. Nat Clim Change 1(2):118–114. doi:10.1038/nclimate1086

Mann ME, Gille EP, Bradley RS, Hughes MK, Overpeck JT, Keimig FT, Gross WS (2000) Global temperature patterns in past centuries: an interactive presentation. IGBP Pages/World Data Center for Paleoclimatology Data Contribution Series #2000-075. NOAA/NCDC Paleoclimatology Program, Boulder

Mann ME et al (2009) Global signatures and dynamical origins of the little ice age and medieval climate anomaly. Science 326:1256–1260. doi:10.1126/science.1177303

Mantua NJ, Hare SR, Zhang Y, Wallace JM, Francis RC (1997) A Pacific interdecadal climate oscillation with impacts on salmon production. Bull Am Meteorol Soc 78:1069–1079

Mitchell TD, Jones PD (2005) An improved method of constructing a database of monthly climate observations and associated high-resolution grids. Int J Climatol 25:693–712. doi:10.1002/joc.1181

Otto-Bliesner B, Brady E, Fasullo J, Jahn A, Landrum L, Stevenson S, Rosenbloom N, Mai A, Strand G (2016) Climate variability and change since 850 CE: an ensemble approach with the Community Earth System Model (CESM). Bull Am Meteorol Soc. doi:10.1175/BAMS-D-14-00233.1

Palmer WC (1965) Meteorological drought. Research Paper 45 US Department of Commerce p 58

Piao S, Ciais P, Huang Y et al (2010) The impacts of climate change on water resources and agriculture in China. Nature 467(7311):43–51. doi:10.1038/nature09364

Qian C, Zhou TJ (2014) Multidecadal variability of North China aridity and its relationship to PDO during 1900–2100. J Clim 27:1210–1222. doi:10.1175/JCLI-D-13-00235.1

Rayner NA, Parker DE, Horton EB, Folland CK, Alexander LV, Rowell DP, Kent EC, Kaplan A (2003) Global analyses of sea surface temperature, sea ice, and night marine air temperature since the late nineteenth century. J Geophys Res 108:4407. doi:10.1029/2002JD002670

Rockstrom J, Lannerstad M, Falkenmark M (2007) Assessing the water challenge of a new green revolution in developing countries. Proc Natl Acad Sci 104:6253–6260. doi:10.1017/S1355770X05002329

Shah T (2008) Taming the anarchy: groundwater governance in South Asia. RFF Press, Washington DC

Shi F, Zhao S, Guo Z, Goosse H (2017) Multi-proxy reconstructions of precipitation field in China over the past 500 years. Clim Past Discuss. doi:10.5194/cp-2017-2 (in review)

Sivakumar MVK, Das HP, Brunini O (2005) Impacts of present and future climate variability and change on agriculture and forestry in the arid and semi-arid tropics. Clim Change 70:31–72. doi:10.1007/1-4020-4166-7_4

Song F, Zhou T, Qian Y (2014) Responses of East Asian summer monsoon to natural and anthropogenic forcings in the 17 latest CMIP5 models. Geophys Res Lett. doi:10.1002/2013GL058705

Syed FS, Giorgi F, Pal JS, King MP (2006) Effect of remote forcings on the winter precipitation of central southwest Asia part 1: observations. Theor Appl Climatol 86:147–160. doi:10.1007/s00704-005-0217-1

The NCAR Command Language (2014) Boulder, Colorado: UCAR/NCAR/CISL/TDD. doi:10.5065/D6WD3XH5

Thornthwaite CW (1948) An approach toward a rational classification of climate. Geogr Rev 38(1):55–94. doi:10.2307/210739

Tong J, Qiang Z, Deming Z, Yijin W (2006) Yangtze floods and droughts (China) and teleconnections with ENSO activities (1470–2003). Quat Int 144(1):29–37

Vorosmarty JC, Green P, Salisbury J, Lammers R (2000) Global water resources: vulnerability from climate change and population growth. Science 289(5477):284–288. doi:10.1126/science.289.5477.284

Wang B, Wu R, Fu X (2000) Pacific-East Asian teleconnection: how does ENSO affect East Asian climate? J Clim 13:1517–1536

Wang T, Otterå OH, Gao Y, Wang HJ (2012) The response of the North Pacific Decadal Variability to strong tropical volcanic eruptions. Clim Dyn 39:2917. doi:10.1007/s00382-012-1373-5

Wang T, Wang HJ, Otterå OH, Gao YQ, Suo LL, Furevik T, Yu L (2013) Anthropogenic agent implicated as a prime driver of shift in precipitation in eastern China in late 1970s. Atmos Chem Phys 13(24):12433–12450. doi:10.5194/acp-13-12433-2013

Wang S, Huang J, He Y, Guan Y (2014) Combined effects of the Pacific Decadal Oscillation and El Niño-Southern Oscillation on global land dry–wet Changes. Sci Rep 4:6651. doi:10.1038/srep06651

Wu R, Hu Z, Kirtman B (2003) Evolution of ENSO-related rainfall anomalies in East Asia. J Clim 16(22):3742–3758

Yang F, Shi F, Kang S, Wang S, Xiao Z, Nakatsuka T, Shi J (2013) Comparison of the dryness/wetness index in China with the Monsoon Asia Drought Atlas. Theor Appl Climatol 114:553. doi:10.1007/s00704-013-0858-4

Yu L, Furevik T, Otterå OH, Gao YQ (2015) Modulation of the Pacific Decadal Oscillation on the summer precipitation over East China: a comparison of observations to 600-years control run of Bergen Climate Model. Clim Dyn 44(1):475–494. doi:10.1007/s00382-014-2141-5

Zhang Y, Wallace JM, Battisti DS (1997) ENSO-like interdecadal variability: 1900–93. J Clim 10:1004–1020

Zhang W, Li H, Stuecker MF, Jin F-F, Turner AG (2016) A new understanding of El Nino's impact over East Asia: dominance of the ENSO Combination Mode. J Clim 29:4347–4359. doi:10.1175/JCLI-D-15-0104.1

Zhu YL, Wang HJ, Ma JH, Wang T, Sun JQ (2015) Contribution of the phase transition of Pacific decadal oscillation to the late 1990s' shift in East China summer rainfall. J Geophys Res 120(17):8817–8827. doi:10.1002/2015JD023545

Zou X, Zhai P, Zhang Q (2005) Variations in droughts over China 1951–2003. Geophys Res Lett 32(L04707). doi:10.1029/2004GL021853
Acknowledgements
This study is supported by the National Key Research and Development Program of China (2016YFA0600701). EY acknowledges the support of Uni Research Climate for a research visit to Bergen in 2015. MPK thanks the Bjerknes Centre FTI internal grant. We also thank our institutes for encouraging this collaborative study. Comments from the reviewers have led to improvements in this paper.
Electronic supplementary material
Below is the link to the electronic supplementary material.
About this article
Cite this article
Yu, E., King, M.P., Sobolowski, S. et al. Asian droughts in the last millennium: a search for robust impacts of Pacific Ocean surface temperature variabilities. Clim Dyn 50, 4671–4689 (2018). https://doi.org/10.1007/s00382-017-3897-1
Received:

Accepted:

Published:

Issue Date:
Keywords
Asian droughts and pluvials

El Niño-Southern Oscillation impact

Pacific Decadal Oscillation impact