Abstract
A hybrid dynamical–statistical model is pursued for prediction of Atlantic seasonal hurricane activity driven by output of the North American Multimodel Ensemble (NMME). This is an updated version of a proven multiple linear regression method conditioned on forecast vertical wind shear from the Climate Forecast System and observed sea surface temperatures (SSTs). The method pursued for prediction utilizes August–October (ASO) Main Development Region (MDR; 10–20°N, 20–80°W) vertical wind shear and observed North Atlantic (NATL; 55–65°N, 30–60°W) SST averaged over the 3 months preceding the forecast in conjunction with the full hurricane climatology. NMME forecasts improve upon representations relative to individual members. The NMME multi-model mean better reproduces vertical wind shear distributions over the MDR and captures the observed relationships between SST and vertical wind shear with hurricane trend and interannual variability despite occasionally poor reproductions by individual members. Cross-validation reveals the multi-model average of the hybrid model outputs from the individual NMME members yields forecast errors 10–30% less than the individual members, while correlations with observed hurricane-related activity typically improve. The NMME methodology is shown to be competitive with official outlooks from Colorado State University and the National Oceanic and Atmospheric Administration over recent years.
Access options
Buy single article
Instant access to the full article PDF.
USD 39.95
Price includes VAT (USA)
Tax calculation will be finalised during checkout.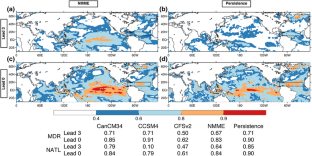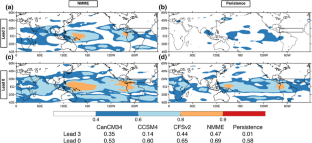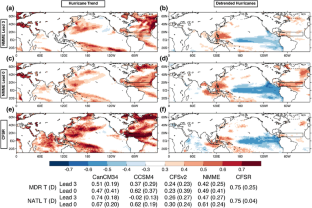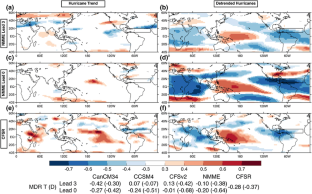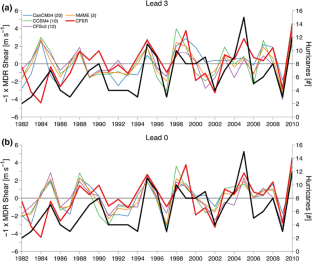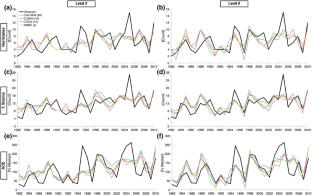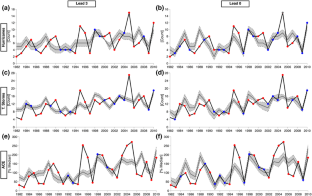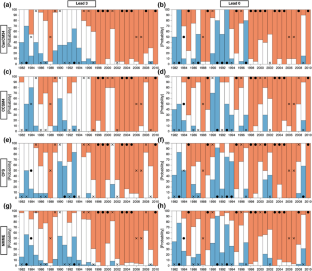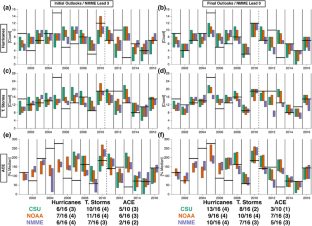 Notes
1.

2.

3.

Hindcast MDR shear values at lead 0 between CanCM3 and CanCM4 were correlated at 0.95, otherwise stated ≥90% of the variance of the individual CGCMs could be retained by averaging the two together while limiting their combined influence on the NMME mean.

4.

5.

The 1999 shift in bias characterstics from CFSR initialized models (CFSv2 and CCSM4) noted by Barnston and Tippett (2013) for Central Pacific SST was similarly evaluated for MDR vertical wind shear relative to the NCEP/NCAR reanalysis (Kalnay et al. 1996), and no distinctive shifts in bias characteristics were observed over 1982–2010 (not shown), particularly relative to CanCM3 and CanCM4, that are initialized with ERA-Interim (Dee et al. 2011).

6.

7.

8.
References
Barnston AG, Tippett MK (2013) Predictions of Nino 3.4 SST in CFSv1 and CFSv2: a diagnostic comparison. Clim Dyn 41:1615–1633. doi:10.1007/s00382-013-1845-2

Barnston AG, Tippett MK, L'Heureux ML, Li S, Dewitt DG (2012) Skill of real-time seasonal ENSO model predictions during 2002-11: Is our capability increasing? Bull Amer Meteor Soc 93:631–651. doi:10.1175/BAMS-D-11-00111.1

Becker EJ, van den Dool H, Zhang Q (2014) Predictability and forecast skill in NMME. J Clim 27:5891–5906. doi:10.1175/JCLI-D-13-00597.1

Bell GD, Chelliah M (2006) Leading tropical modes associated with interannual and multidecadal fluctuations in North Atlantic hurricane activity. J Clim 19:590–612. doi:10.1175/JCLI3659.1

Choi W, Ho C-H, Kim J, Kim H-S, Feng S, Kang K (2015) A track-pattern based seasonal prediction of tropical cyclone activities over the North Atlantic. J Clim 29:481–494. doi:10.1175/JCLI-D-15-0407.1

Davis K, Zheng X, Ritchie EA (2015) A new statistical model for predicting seasonal North Atlantic hurricane activity. Weather Forecasting 30:730–741. doi:10.1175/WAF-D-14-00156.1

Dee D et al (2011) The ERA-Interim reanalysis: configuration and performance of the data assimilation system. Q J Roy Meteor Soc 137:553–597. doi:10.1002/qj.828

DeWitt DG (2005) Retrospective forecasts of interannual sea surface temperature anomalies from 1982 to present using a directly coupled atmosphere-ocean general circulation model. Mon Weather Rev 133:2972–2995. doi:10.1175/MWR3016.1

Enfield DB, Mestas-Nuñez AM, Trimble PJ (2001) The Atlantic multidecadal oscillation and its relation to rainfall and river flows in the continental US. Geophys Res Lett 28:2077–2080. doi:10.1029/2000GL012745

Goldenberg SB, Shapiro LJ (1996) Physical mechanisms for the association of El Niño and West African rainfall with Atlantic major hurricane activity. J Clim 9:1169–1187. doi:10.1175/1520-0442(1996)009<1169:PMFTAO>2.0.CO;2

Goldenberg SB, Landsea CW, Mestas-Nuñez AM, Gray WM (2001) The recent increase in Atlantic hurricane activity: cause and implications. Science 293:474–479. doi:10.1126/science.1060040

Gray WM (1984a) Atlantic seasonal hurricane frequency. Part I: El Niño and 30-mb quasi-biennial oscillation influences. Mon Weather Rev 112:1649–1668. doi:10.1175/1520-0492(1984)112<1649:ASHFPI>2.0.CO;2

Gray WM (1984b) Atlantic seasonal hurricane frequency. Part II: forecasting its variability. Mon Weather Rev 112:1649–1668. doi:10.1175/1520-0493(1984)112<1669:ASHFPI>2.0.CO;2

Kalnay E et al (1996) The NCEP/NCAR 40-year reanalysis project. Bull Am Meteor Soc 77:437–471. doi:10.1175/1520-0477(1996)077<0437:TNYRP>2.0.CO;2

Kim HM, Webster PJ (2010) Extended-range seasonal hurricane forecasts for the North Atlantic with a hybrid dynamical-statistical model. Geophys Res Lett 37:L21705. doi:10.1029/2010GL044792

Kim O, Kim HM, Lee MI (2017) Dynamical-statistical seasonal prediction for western North Pacific typhoons based on APCC multi-models. Clim Dynamics 48:71–88

Kirtman BP (2003) The COLA anomaly coupled model: Ensemble ENSO prediction. Mon Weather Rev 131:2324–2341. doi:10.1175/1520-0493(2003)131<2324:TCACME>2.0.CO;2

Kirtman BP et al (2014) The North American multimodel ensemble: phase-1 seasonal-to-interannual prediction; phase-2 toward developing intraseasonal prediction. Bull Am Meteor Soc 95:585–601. doi:10.1175/BAMS-D-12-00050.1

Klotzbach PJ (2014) The Madden–Julian oscillation's impacts on worldwide tropical cyclone activity. J Clim 27:2317–2330. doi:10.1175/JCLI-D-13-00483.1

Klotzbach PJ, Oliver E. C. J. (2015) Modulation of Atlantic basin tropical cyclone activity by the Madden–Julian Oscillation (MJO) from 1905 to 2011. J Clim 28:204–217. doi:10.1175/JCLI-D-14-00509.1

Knutson TR, Sirutis JJ, Garner ST, Held IM, Tuleya RE (2007) Simulation of the recent multidecadal increase of Atlantic hurricane activity using an 18-km-grid regional model. Bull Am Meteor Soc 88:1549–1565. doi:10.1175/BAMS-88-10-1549

Knutson TR, McBride JL, Chan J, Emanuel K, Holland G, Landsea C, Held I, Kossin JP, Srivastava AK, Sugi M (2010) Tropical cyclones and climate change. Nat Geosci 3:157–163. doi:10.1038/ngeo779

Koltermann KP, Sokov AV, Terschnekov VP, Dobroliubov SA, Lorbacher K, Sy A (1999) Decadal changes in the thermohaline circulation of the North Atlantic. Deep Sea Res Part II 46:109–138. doi:10.1016/S0967-0645(98)00115-5

Kossin JP, Vimont DJ (2007) A more general framework for understanding Atlantic hurricane variability and trends. Bull Am Meteor Soc 88:1767–1781. doi:10.1175/BAMS-88-11-1767

Krishnamurti TN, Kishtawal CM, LaRow TE, Bachiochi DR, Zhang Z, Williford CE, Gadgil S, Surendran S (1999) Improved weather and seasonal climate forecasts from multimodel superensemble. Science 285:1548–1550. doi:10.1126/science.285.5433.1548

Landsea CW, Pielke RA Jr, Maestas-Nunez AM, Knaff JA (1999) Atlantic basin hurricanes. Clim Change 42:89–129

Landsea CW et al (2004) The Atlantic hurricane database re-analysis project: documentation for the 1851–1910 alterations and additions to the HURDAT database. In: Murnane RJ, Liu K-B (eds) Hurricanes and typhoons: past, present and future. Columbia University Press, New York, pp 177–221

Li X, Yang S, Wang H, Jia X, Kumar A (2013) A dynamical-statistical forecast model for the annual frequency of western Pacific tropical cyclones based on the NCEP Climate Forecast System version 2. J Geophys Res Atmos 118:12061–12074. doi:10.1002/2013JD020708

Mendelsohn R, Emanuel K, Chonabayashi S, Bakkensen L (2012) The impact of climate change on global tropical cyclone damage. Nat Clim Change 2:205–209. doi:10.1038/nclimate1357

Merryfield WJ et al (2013) The Canadian seasonal to interannual prediction system. Part I: models and initialization. Mon Weather Rev 141:2910–2945. doi:10.1175/MWR-D-12-00216.1

Min Y-M, Kryjov VN, Park C-K (2009) A probabilistic multimodel ensemble approach to seasonal prediction. Weather Forecasting 24:812–828. doi:10.1175/2008WAF2222140.1

Palmer TN, Brankovic C, Richardson DS (2000) A probability and decision-model analysis of PROVOST seasonal multimodel ensemble integrations. Q J Roy Meteor Soc 126:2013–2034. doi:10.1002/qj.49712656703

Patricola CM, Saravanan R, Chang P (2014) The impact of the El Niño-Southern Oscillation and Atlantic meridional mode on seasonal Atlantic tropical cyclone activity. J Clim 27:5311–5328. doi:10.1175/JCLI-D-13-00687.1

Peduzzi P, Chatenoux B, Dao H, De Bono A, Herold C, Kossin J, Mouton F, Nordbeck O (2012) Global trends in tropical cyclone risk. Nat Clim Change 2:289–294. doi:10.1038/nclimate1410

Pegion K (2015) Development of a subseasonal North American multi-model ensemble prediction system. AGU Fall Meeting, San Francisco

Pielke RAJ Jr, Gratz CW, Landsea D, Collins MA, Saunders, Musulin R (2008) Normalized hurricane damage in the United States: 1900–2005. Nat Haz Rev 9:29–42. doi:10.1061/(ASCE)/1527-6988(2008)9:1(29)

Reynolds RW, Rayner NA, Smith TM, Stokes DC, Wang W (2002) An improved in situ and satellite SST analysis for climate. J Clim 15:1609–1625. doi:10.1175/1520-0442(2002)015<1609:AIISAS>2.0.CO;2

Saha S et al (2010) The NCEP climate forecast system reanalysis. Bull Am Meteor Soc 91:1015–1057. doi:10.1175/2010BAMS3001.1

Saha S et al (2014) The NCEP Climate Forecast System version 2. J Clim 27:2185–2208. doi:10.1175/JCLI-D-12-00823.1

Schemm J-KE, Long L (2014) CPC dynamic hurricane season prediction system upgrade with the NCEP CFSv2. 39th Climate Diagnostics Prediction Workshop, St. Louis, MO, National Oceanic and Atmospheric Association. http://www.cpc.ncep.noaa.gov/products/outreach/proceedings/cdw39_proceedings/D ay_3/Session_7/Long.pdf

Schlesinger ME, Ramankutty N (1994) An oscillation in the global climate system of period 65–70 years. Nature 367:723–726. doi:10.1038/367723a0

Trenberth KE, Shea DJ (2006) Atlantic hurricane and natural variability in 2005. Geophys Res Lett 33:L12704. doi:10.1029/2006GL026894

Unger DA, van den Dool H, O'Lenic E, Collins D (2009) Ensemble regression. Mon Weather Rev 137:2365–2379. doi:10.1175/2008MWR2605.1

Vecchi GA, Zhao M, Wang H, Villarini G, Rosati A, Kumar A, Held IM, Gudgel R (2011) Statistical–dynamical predictions of seasonal North Atlantic hurricane activity. Mon Weather Rev 139:1070–1082. doi:10.1175/2010MWR3499.1

Vernieres G, Rienecker MM, Kovach R, Keppenne CL (2012) The GEOS-iODAS: description and evaluation. Technical report series on global modeling and data assimilation 30, 73 p, NASA Goddard Space Flight Center, Greenbelt, MD, USA. NASA/TM-2012-104606/VOL30

Villarini G, Vecchi GA (2013) Multiseason lead forecast of the North Atlantic power dissipation index (PDI) and accumulated cyclone energy (ACE). J Clim 26:3631–3643. doi:10.1175/JCLI-D-12-00448.1

Vimont DJ, Kossin JP (2007) The Atlantic meridional mode and hurricane activity. Geophys Res Lett 34:L07709. doi:10.1029/2007GL029683

Vitart F, Coauthors (2007) Dynamically-based seasonal forecasts of Atlantic tropical storm activity issued in June by EUROSIP. Geophys Res Lett 34:L16815. doi:10.1029/2007GL030740

Vitart F, Stockdale TN (2001) Seasonal forecasting of tropical storms using coupled GCM integrations. Mon Weather Rev 129:2521–2537. doi:10.1175/1520-0493(2001)129<2521:SFOTSU>2.0.CO;2

Wang H, Schemm J.-K. E., Kumar A, Wang W, Long L, Chelliah M, Bell GD, Peng P (2009a) A statistical forecast model for Atlantic seasonal hurricane activity based on the NCEP dynamical season forecast. J Clim 22:4481–4500. doi:10.1175/2009JCLI2753.1

Wang B et al (2009b) Advance and prospectus of seasonal prediction: assessment of the APCC/CliPAS 14-model ensemble retrospective seasonal prediction (1980–2004). Clim Dyn 33:93–117. doi:10.1007/s00382-008-0460-0

Wang H et al (2014) How well do global climate models simulate the variability of Atlantic tropical cyclones associated with ENSO? J Clim 27:5673–5692. doi:10.1175/JCLI-D-13-00625.1

Willoughby HE (2012) Distributions and trends of death and destruction from hurricanes in the United States, 1900–2008. Nat Haz Rev 13:57–64. doi:10.1061/(ASCE)NH.1527-6996.00000046

Zhang G, Wang Z, Dunkerton TJ, Peng MS, Magnusdottir G (2016) Extratropical impacts on Atlantic tropical cyclone activity. J Atmos Sci 73:1401–1418. doi:10.1175/JAS-D-15-0154.1
Acknowledgements
This project was funded by NOAA's High Impact Weather Prediction Project (HIWPP) under the NMME extension. Feedback from two anonymous reviewers as well as internal reviews from Drs. Emily Becker and Peitao Peng greatly improved the quality of this manuscript. Additional helpful discussions with Gerry Bell, Lindsey Long, and Michelle L'Heureux helped drive this project. We acknowledge the agencies that support the NMME-Phase II system, and we thank the climate modeling groups (listed in Table 1) for producing and making available their model output. NOAA National Centers for Environmental Prediction, NOAA Climate Test Bed and NOAA Climate Program Office jointly provide coordinating support and led development of the NMME-Phase II system. NMME hindcast data was retrieved from the NCAR Earth System Grid repository that is supported financially by DOE, NASA, NOAA, and NSF. Maintenance, support, and development of the Earth System Grid repository is provided by CPC, IRI, and NCAR personnel.
Additional information
This paper is a contribution to the special collection on the North American Multi-Model Ensemble (NMME) seasonal prediction experiment. The special collection focuses on documenting the use of the NMME system database for research ranging from predictability studies, to multi-model prediction evaluation and diagnostics, to emerging applications of climate predictability for subseasonal to seasonal predictions. This special issue is coordinated by Annarita Mariotti (NOAA), Heather Archambault (NOAA), Jin Huang (NOAA), Ben Kirtman (University of Miami) and Gabriele Villarini (University of Iowa).
Appendix 1: Initial performance of the hybrid NMME forecast for CPC operations
Appendix 1: Initial performance of the hybrid NMME forecast for CPC operations
The NMME hybrid model was incorporated as a tool for the Atlantic Hurricane Seasonal Outlook issued by the Climate Prediction Center preceding the 2015 season. This year proved to be an interesting gauge, given building El Niño conditions early in the year, culminating with El Niño declaration by NOAA during March.Footnote 7 Observed JFM SST anomalies for the NATL (Fig. 7) were −0.14 °C relative to 1982–2014, the 16th lowest ranked value relative to the 1982–2014 period. Lead 3 forecasts for ASO wind shear in 2015 (Fig. 12) projected above normal wind shear across the MDR throughout the NMME members (Fig. 12a–c), with the strongest shear on the periphery of the MDR with the exception of CanCM34. CanCM34 forecasted the strongest MDR shear (4.91 m/s) with enhanced shear across much of the MDR, followed by the CCSM4 (2.06 m/s) and CFSv2 (0.46 m/s) that instead portrayed positive shear anomalies for the southwestern MDR and negative shear anomalies in the eastern MDR. The NMME mean shear forecast (Fig. 12d) for the MDR lies in between the CanCM34 and other members at 2.45 m/s, with modest positive anomalies throughout the MDR.
Climate conditions further suggested reduced 2015 hurricane activity at lead 0 during 2015. Observed NATL SST for AMJ (Fig. 7) was −0.58 °C relative to 1982–2014 for the 7th lowest ranked year. By early July, many ENSO predictions were indicating the potential for a major El Niño event to be established by ASO,Footnote 8 implying potential severe reduction in hurricane activity. NMME forecasts of lead 0 ASO vertical wind shear are shown in Fig. 13. Apparent are the extreme shear forecasts for the tropical Atlantic by CanCM34 (Fig. 13a), a value exceeding four standard deviations above normal and far larger than any shear magnitude forecast at this lead in the hindcast period. These strong shear projections were present in both CanCM3 and CanCM4 as they forecast +4 and +5 standard deviation events relative to their individual climatologies. While the extent of the CanCM34 positive shear anomalies extend across the entirety of the MDR, the greatest values generally are found in the southern Caribbean Sea. The remaining NMME members (Fig. 13b, c) are less extreme in their ASO shear projections, with CCSM4 exhibiting above normal shear from the northwest to southeast across the MDR with a mean magnitude of 3.40 m/s, while the CFSv2 forecasts near normal MDR shear (0.02 m/s) with negative values off the African coastline through 40°W. Strong positive shear anomalies are seemingly associated with the developing El Niño by CFSv2, however they are predominantly constrained to the East Pacific (peaking >18 m/s) and south of the MDR across the Atlantic basin. Averaging the three members yields the NMME mean in Fig. 13d with 4.00 m/s of shear across the MDR with this number strongly influenced by the CanCM34 projections both in magnitude and spatial distribution with positive anomalies extending across the full entirety of the MDR despite the weakness in the eastern Atlantic from the CCSM4 and CFSv2.
NMME forecasts for the 2015 season in Table 3 for hurricane, tropical storm, and ACE activity were included as part of guidance towards development of the 2015 NOAA HSO. The 2015 season yielded 4 hurricanes, 11 tropical storms, and an ACE value of 59.3 × 104 kt2 (64.2% of median). NMME predicted ranges capture the observed hurricane activity (Table 3) at both leads for hurricanes, with the best performing member being CCSM4, which captured the observed activity within its forecast range at both leads. Tropical storm activity was also reasonably well captured by NMME, with forecast ranges only failing to match observations for lead 0, but outperformed by the CFSv2 which saw observed activity fall within its predicted ranges at each lead. The failure by the NMME at lead 0 is largely attributable to the CanCM34 which projected an average of two tropical storms for the season, despite three tropical storms developing prior to the HSO update release in August 2015. NMME best captured ACE during 2015, with forecast ranges aligning with observations for both leads. Also noteworthy with ACE forecasts is that the CFSv2 failed to reproduce the observed ACE range for any lead, underscoring the original hybrid method conditioned solely on the CFS would have failed in its ACE projections for 2015. The 2015 hurricane season was somewhat unusual in that despite the near-normal tropical storm activity there were reduced hurricane and ACE activity. Nevertheless, the NMME prediction was able to reproduce the observed distributions for five of the six analyzed forecast combinations of forecast lead and predictands. This underscores the ability of the multi-model mean to aggregate diverse forecasts into an improved product that is not restricted to any singular model with its individual strengths, weaknesses, and biases.
About this article
Cite this article
Harnos, D.S., Schemm, JK.E., Wang, H. et al. NMME-based hybrid prediction of Atlantic hurricane season activity. Clim Dyn 53, 7267–7285 (2019). https://doi.org/10.1007/s00382-017-3891-7
Received:

Accepted:

Published:

Issue Date:
Keywords
Tropical cyclone

Hurricane

Typhoon

North American Multimodel Ensemble

Interannual variability

Seasonal prediction