Abstract
Despite the increase in greenhouse gas concentration, the sea surface temperature (SST) over the tropical eastern Pacific during the period of 1999–2014 exhibits less warming trend compared to the earlier decades. It has been noted that this warming hiatus is accompanied by a negative phase of the Pacific Decadal Oscillation (PDO), which represents low-frequency variability over the Pacific. On the other hand, the 2015/2016 El Niño is among the strongest comparable to the 1997/1998 event, which coincides with the recently altered PDO phase from negative to positive. These observational evidences have generated substantial interest in the role of low-frequency variations in modulating El Niño-Southern Oscillation amplitude as well as manifestation of warming signal in the tropical Pacific. Therefore, it is necessary to appropriately separate low-frequency variability and global warming signal from SST records. Here, we present three primary modes of global SST that include secular warming trend, low-frequency variability, and biennial oscillation. Based on the independent behavior of these three modes, global warming is clearly continuing but its manifestation is enhanced (depressed) when the low-frequency variation is in the positive (negative) phase. Further, possibility of strong El Niño increases under the positive phase of the low-frequency mode, which amplifies warming over the tropical eastern Pacific. Indeed, the strong 2015/2016 El Niño is largely attributed to the positive phase of the low-frequency mode. In order to examine the climate models' ability to simulate the three SST modes as obtained in the observational record, the Coupled Model Intercomparison Project phase 5 (CMIP5) datasets are also analyzed. The spatial and temporal characteristics of the three modes have been replicated closely by the selected CMIP5 models forced by the historical condition, which provides an analogy of the interplay of three modes in the observed tropical Pacific SST.
Access options
Buy single article
Instant access to the full article PDF.
US$ 39.95
Tax calculation will be finalised during checkout.
Subscribe to journal
Immediate online access to all issues from 2019. Subscription will auto renew annually.
US$ 119
Tax calculation will be finalised during checkout.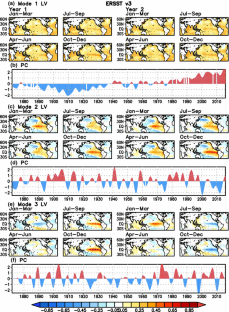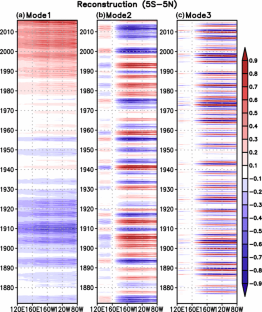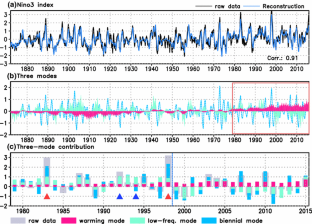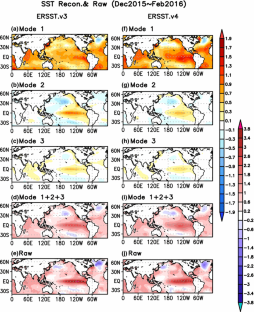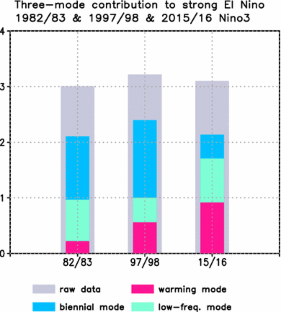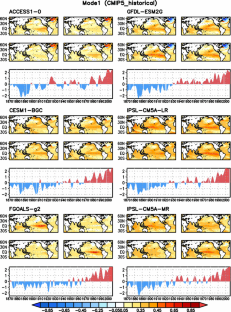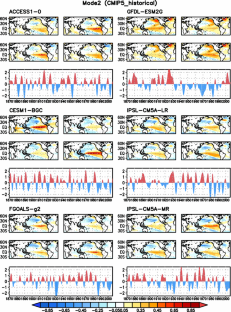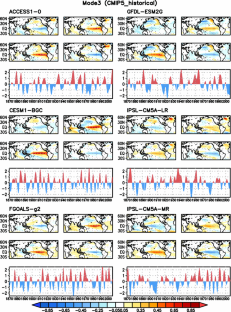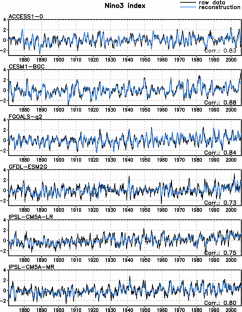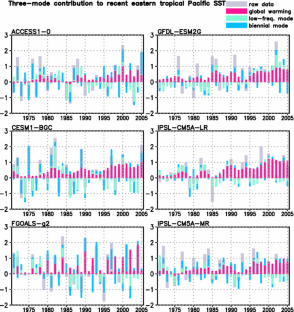 References
Barnett T (1991) The interaction of multiple time scales in the tropical climate system. J Clim 4:269–285

Compo GP, Sardeshmukh PD (2010) Removing ENSO-related variations from the climate record. J Clim 23:1957–1978

Enfield DB, Mestas-Nuñez AM (1999) Multiscale variabilities in global sea surface temperatures and their relationships with tropospheric climate patterns. J Clim 12:2719–2733

Enfield DB, Mestas-Nuñez AM (2000) Global modes of ENSO and non-ENSO sea surface temperature variability and their associations with climate El Niño and the southern oscillation: multiscale variability and global and regional impacts. Cambridge University Press, Cambridge, pp 89–112

England MH et al (2014) Recent intensification of wind-driven circulation in the Pacific and the ongoing warming hiatus. Nat Clim Change 4:222–227

Guan B, Nigam S (2008) Pacific sea surface temperatures in the twentieth century: an evolution-centric analysis of variability and trend. J Clim 21:2790–2809

Hu ZZ, Kumar A, Ren HL, Wang H, L'Heureux M, Jin FF (2013) Weakened interannual variability in the tropical Pacific ocean since 2000. J Clim 26:2601–2613

Huang B et al (2015) Extended reconstructed sea surface temperature version 4 (ERSST. v4). Part I: upgrades and intercomparisons. J Clim 28:911–930

IPCC (2014) Summary for policymakers. In: Climate Change 2014, Mitigation. Contribution of working group to the Fifth Assessment Report of the Intergovernmental Panel on Climate Change. Cambridge University Press

Jo H-S, Yeh S-W, Kirtman BP (2014) Role of the western tropical Pacific in the North Pacific regime shift in the winter of 1998/99. J Geophy Res 119(9):6161–6170

Jo HS, Yeh SW, Lee SK (2015) Changes in the relationship in the SST variability between the tropical Pacific and the North Pacific during the 1998/99 regime shift. Geophy Res Lett 42(17):7171–7178

Jin FF (1997) An equatorial ocean recharge paradigm for ENSO. Part I: conceptual model. J Atmos Sci 54:811–829

Kaplan A, Cane MA, Kushnir Y, Clement AC, Blumenthal MB, Rajagopalan B (1998) Analyses of global sea surface temperature 1856–1991. J Geophys Res 103:18567–18589

Kawamura R (1994) A rotated EOF analysis of global sea surface temperature variability with interannual and interdecadal scales. J Phys Oceanogr 24:707–715

Kim KY (2002) Investigation of ENSO variability using cyclostationary EOFs of observational data. Meteorol Atmos Phys 81:149–168

Kim KY, North GR (1997) EOFs of harmonizable cyclostationary processes. J Atmos Sci 54:2416–2427

Kim KY, North GR, Huang J (1996) EOFs of one-dimensional cyclostationary time series: computations, examples, and stochastic modeling. J Atmos Sci 53:1007–1017

Kim KY, Hamlington BD, Na H (2015) Theoretical foundation of cyclostationary EOF analysis for geophysical and climatic variables: concepts and examples. Earth Sci Rev 150:201–218

Kosaka Y, Xie SP (2013) Recent global-warming hiatus tied to equatorial Pacific surface cooling. Nature 501:403–407

Kug JS, Jun FF, An SI (2009) Two types of El Niño events: cold tongue El Niño and warm pool El Niño. J Clim 22:1499–1515

Kumar A, Hu ZZ (2014) Interannual and interdecadal variability of ocean temperature along the equatorial Pacific in conjunction with ENSO. Clim Dyn 42:1242–1258

Larkin NK, Harrison D (2005) Global seasonal temperature and precipitation anomalies during El Niño autumn and winter. Geophys Res Lett 32:L16705

Latif M, Kleeman R, Eckert C (1997) Greenhouse warming, decadal variability, or El Nino? An attempt to understand the anomalous 1990s. J Clim 10:2221–2239

Lübbecke JF, McPhaden MJ (2014) Assessing the twenty-first-century shift in ENSO variability in terms of the Bjerknes stability index. J Clim 27:2577–2587

Mantua NJ, Hare SR, Zhang Y, Wallace JM, Francis RC (1997) A Pacific interdecadal climate oscillation with impacts on salmon production. Bull Am Meteorol Soc 78:1069–1079

McPhaden MJ (2012) A 21st century shift in the relationship between ENSO SST and warm water volume anomalies. Geophys Res Lett 39:L09706. doi:10.1029/2012GL051826

McPhaden MJ, Lee T, McClurg D (2011) El Niño and its relationship to changing background conditions in the tropical Pacific ocean. Geophys Res Lett 38:L15709

Meehl GA, Arblaster JM, Fasullo JT, Hu A, Trenberth KE (2011) Model-based evidence of deep-ocean heat uptake during surface temperature hiatus period. Nat Clim Change 1:360–364

Messié M, Chavez F (2011) Global modes of sea surface temperature variability in relation to regional climate indices. J Clim 24:4314–4331

Minobe S (2002) Interannual to interdecadal changes in the Bering sea and concurrent 1998/1999 changes over the north Pacific. Prog Oceanogr 55:45–64

Neely RR et al (2013) Recent anthropogenic increases in SO2 from Asia have minimal impact on stratospheric aerosol. Geophys Res Lett 40:999–1004

Otto A et al (2013) Energy budget constraints on climate response. Nat Geosci 6:415–416

Parker D, Folland C, Scaife A, Knight J, Colman A, Baines P, Dong B (2007) Decadal to multidecadal variability and the climate change background. J Geophys Res 112:D18115. doi:10.1029/2007JD008411

Park J-Y, Yeh S-W, Kug J-S (2012) Revisited relationship between the tropical and North Pacific SST variations. Geophy Res Lett 39:L02703. doi:10.1029/2011GL050005

Power S, Casey T, Folland C, Colman A, Mehta V (1999) Inter-decadal modulation of the impact of ENSO on Australia. Clim Dyn 15:319–324

Rasmusson EM, Wang X, Ropelewski CF (1990) The biennial component of ENSO variability. J Mar Syst 1:71–96

Rayner N et al (2003) Global analyses of sea surface temperature, sea ice, and night marine air temperature since the late nineteenth century. J Geophys Res 108(D14):4407. doi:10.1029/2002JD002670

Ridley DA et al (2014) Total volcanic stratospheric aerosol optical depths and implications for global climate change. Geophys Res Lett 41:7763–7769

Smith TM, Reynolds RW, Peterson TC, Lawrimore J (2008) Improvements to NOAA's historical merged land-ocean surface temperature analysis (1880–2006). J Clim 21:2283–2296

Solomon S, Rosenlof KH, Portmann RW, Daniel JS, Davis SM, Sanford TJ, Plattner GK (2010) Contributions of stratospheric water vapor to decadal changes in the rate of global warming. Sceince 327:1219–1223

Solomon S, Daniel JS, Neely RR, Vernier JP, Dutton EG, Thomason LW (2011) The persistently variable "background" stratospheric aerosol layer and global climate change. Science 333:866–870

Suarez MJ, Schopf PS (1988) A delayed action oscillator for ENSO. J Atmos Sci 45:3283–3287

Taylor KE, Stouffer RJ, Meehl GA (2012) An overview of CMIP5 and the experiment design. Bull Am Meteorol Soc 93:485–498

Thual S, Dewitte B, An SI, Illig S, Ayoub N (2013) Influence of recent stratification changes on ENSO stability in a conceptual model of the equatorial Pacific. J Clim 26:4790–4802

Trenberth KE, Fasullo JT (2013) An apparent hiatus in global warming? Earths Future 1:19–32. doi:10.1002/2013EF000165

Watanabe M, Shiogama H, Tatebe H, Hayashi M, Ishii M, Kimoto M (2014) Contribution of natural decadal variability to global warming acceleration and hiatus. Nat Clim Change 4:893–897

Wu Z, Schnieder EK, Hu ZZ, Cao L (2001) The impact of global warming on ENSO variability in climate records. COLA Technical Report, CTR 110

Yeh SW, Kug JS, Dewitte B, Kwon MH, Kirtman BP, Jun FF (2009) El Niño in a changing climate. Nature 461(7263):511–514

Yeh S-W, Wang X, Wang C, Dewitte B (2015) On the relationship between the North Pacific climate variability and Central Pacific El Niño. J Clim 28:663–677

Yeo SR, Kim KY (2014) Global warming, low-frequency variability, and biennial oscillation: an attempt to understand the physical mechanisms driving major ENSO events. Clim Dyn 43:771–786

Yeo S-R, Kim K-Y, Yeh S-W, Kim B-M, Shim TH, Jhun J-G (2014) Recent climate variation in the Bering and Chukchi Seas and its linkages to large-scale circulation in the Pacific. Clim Dyn 42:2423–2437

Yun K-S, Yeh S-W, Ha K-J (2016) Inter-El Niño variability in CMIP5 models: model deficiencies and future change. J Geophys Res 121:3894–3906

Zhang Y, Wallace JM, Battisti DS (1997) ENSO-like interdecadal variability: 1900–93. J Clim 10:1004–1020
Acknowledgments
This work was supported by the Korea Meteorological Administration Research and Development Program under Grant KMIPA 2015–2112. SRY and WK are supported by APEC Climate Center. KYK acknowledges a support from Research and Development for KMA Weather, Climate, and Earth system Services (NIMS-2016-3100) of National Institute of Meteorological Sciences/Korea Meteorological Administration.
About this article
Cite this article
Yeo, SR., Yeh, SW., Kim, KY. et al. The role of low-frequency variation in the manifestation of warming trend and ENSO amplitude. Clim Dyn 49, 1197–1213 (2017). https://doi.org/10.1007/s00382-016-3376-0
Received:

Accepted:

Published:

Issue Date:
Keywords
Pacific Decadal Oscillation

Eastern Pacific

Pacific Decadal Oscillation Index

Principal Component Time Series

CSEOF Mode