Abstract
Over the past decade, anomalously hot summers and persistent droughts frequented over the western United States (wUS), the condition similar to the 1950s and 1960s. While atmospheric internal variability is important for mid-latitude interannual climate variability, it has been suggested that anthropogenic external forcing and multidecadal modes of variability in sea surface temperature, namely, the Pacific Decadal Oscillation (PDO) and Atlantic Multidecadal Oscillation (AMO), also affect the occurrence of droughts and hot summers. In this study, 100-member ensemble simulations for 1951–2010 by an atmospheric general circulation model were used to explore relative contributions of anthropogenic warming, atmospheric internal variability, and atmospheric response to PDO and AMO to the decadal anomalies over the wUS. By comparing historical and sensitivity simulations driven by observed sea surface temperature, sea ice, historical forcing agents, and non-warming counterfactual climate forcing, we found that large portions of recent increases in mean temperature and frequency of hot summers (66 and 82 %) over the wUS can be attributed to the anthropogenic global warming. In contrast, multidecadal change in the wUS precipitation is explained by a combination of the negative PDO and the positive AMO after the 2000s. Diagnostics using a linear baroclinic model indicate that AMO- and PDO-related diabatic heating anomalies over the tropics contribute to the anomalous atmospheric circulation associated with the droughts and hot summers over wUS on multidecadal timescale. Those anomalies are not robust during the periods when PDO and AMO are in phase. The prolonged PDO–AMO antiphase period since the late twentieth century resulted in the substantial component of multidecadal anomalies in temperature and precipitation over the wUS.
Access options
Buy single article
Instant access to the full article PDF.
US$ 39.95
Tax calculation will be finalised during checkout.
Subscribe to journal
Immediate online access to all issues from 2019. Subscription will auto renew annually.
US$ 119
Tax calculation will be finalised during checkout.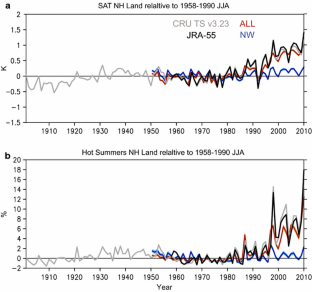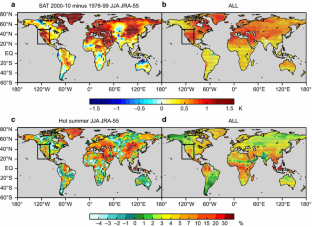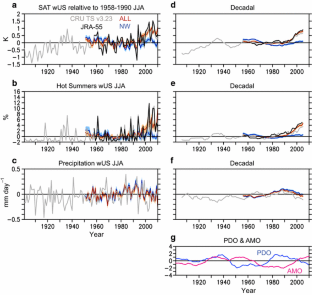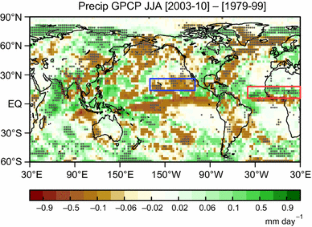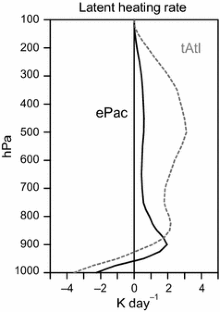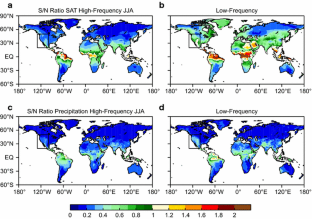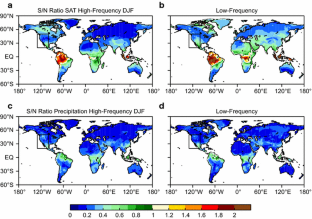 References
Adler RF, Huffman GJ, Chang A et al (2003) The version-2 global precipitation climatology project (GPCP) monthly precipitation analysis (1979-present). J Hydrometeorol 4:1147–1167

Brewer M, Mass C (2016) Projected changes in heat extremes and associated synoptic/mesoscale conditions over the northwest U.S. J Clim. doi:10.1175/JCLI-D-15-0641.1

Brönnimann S, Fischer AM, Rozanov E, Poli P, Compo GP, Sardeshmukh PD (2015) Southward shift of the northern tropical belt from 1945 to 1980. Nat Geosci 8:969–974

Burgman RJ, Jang Y (2015) Simulated U.S. drought response to interannual and decadal Pacific SST variability. J Clim 28:4688–4705

Chikamoto Y, Timmermann A, Stevenson S, DiNezio P, Langford S (2015) Decadal predictability of soil water, vegetation, and wildfire frequency over North America. Clim Dyn 45:2213–2235

Christidis N, Stott PA (2014) Change in the odds of warm years and seasons due to anthropogenic influence on the climate. J Clim 27:2607–2621

Cook ER, Seager R, Cane MA, Stahle DW (2007) North American drought: reconstructions, causes and consequences. Earth Sci Rev 81:93–134

Cook BI, Cook ER, Anchukaitis KJ, Seager R, Miller RL (2011) Forced and unforced variability of twentieth century North American droughts and pluvials. Clim Dyn 37:1097–1110

Dai A (2013) The influence of the inter-decadal Pacific oscillation on US precipitation during 1923–2010. Clim Dyn 41:633–646

Delworth TL, Zeng F, Rosati A, Vecchi G, Wittenberg A (2015) A link between the hiatus in global warming and North American drought. J Clim 28:3834–3845

Deser C, Phillips AS, Hurrell JW (2004) Pacific interdecadal climate variability: linkages between the tropics and the North Pacific during boreal winter since 1900. J Clim 17:3109–3124

Deser C, Knutti R, Solomon S, Phillips AS (2012) Communication of the role of natural variability in future North American climate. Nat Clim Change 2:775–779

Diffenbaugh NS, Swain DL, Touma D (2015) Anthropogenic warming has increased drought risk in California. Proc Natl Acad Sci USA 112:3931–3936

Ding Q, Wallace JM, Battisti DS, Steig EJ, Gallant AJE, Kim H-J, Geng L (2014) Tropical forcing of the recent rapid Arctic warming in northeastern Canada and Greenland. Nature 509:209–212

Endo H, Kitoh A, Ose T, Mizuta R, Kusunoki S (2012) Future changes and uncertainties in Asian precipitation simulated by multiphysics and multi-sea surface temperature ensemble experiments with high-resolution Meteorological Research Institute atmospheric general circulation models (MRI-AGCMs). J Geophys Res 117:D16118. doi:10.1029/2012JD017874

England MH et al (2014) Recent intensification of wind-driven circulation in the Pacific and the ongoing warming hiatus. Nat Clim Change 4:222–227

Eyring V et al (2005) A strategy for process-oriented validation of coupled chemistry-climate models. Bull Am Meteorol Soc 86:1117–1133

Feng S, Hu Q, Oglesby RJ (2011) Influence of Atlantic sea surface temperatures on persistent drought in North America. Clim Dyn 37:569–586. doi:10.1007/s00382-010-0835-x

Fyfe JC et al (2016) Making sense of the early-2000s warming slowdown. Nat Clim Change 6:224–228

Gu F, Adler RF, Huffman GJ (2016) Long-term changes/trends in surface temperature and precipitation during the satellite era (1979–2012). Clim Dyn 46:1091–1105

Hagos S et al (2010) Estimates of tropical diabatic heating profiles: commonalities and uncertainties. J Clim 23:542–558

Hansen J, Sato M, Ruedy R (2012) Perception of climate change. Proc Natl Acad Sci USA 109:E2415–E2423

Harris I, Jones PD, Osborn TJ, Lister DH (2014) Updated high-resolution grids of monthly climatic observations—the CRU TS3.10 Dataset. Int J Climatol 34:623–642

Hawkins E, Sutton R (2009) The potential to narrow uncertainty in regional climate predictions. Bull Am Meteorol Soc 90:1095–1107

Hirahara S, Ishii M, Fukuda Y (2014) Centennial-scale sea surface temperature analysis and its uncertainty. J Clim 27:57–75

Hoerling M, Eischeid J, Perlwitz J (2010) Regional precipitation trends: distinguishing natural variability from anthropogenic forcing. J Clim 23:2131–2145

Hu Q, Feng S (2012) AMO- and ENSO-driven summertime circulation and precipitation variations in North America. J Clim 25:6477–6495

Hu Q, Feng S, Oglesby RJ (2011) Variations in North American summer precipitation driven by the Atlantic Multidecadal Oscillation. J Clim 24:5555–5570

IPCC (2013) Summary for policymakers. In: Stocker TF et al (eds) Climate change 2013: the physical science basis. Cambridge Univ Press, Cambridge, pp 3–29. doi:10.1017/cbo9781107415324.004

Jones GS, Stott PA, Christidis N (2013) Attribution of observed historical near surface temperature variations to anthropogenic and natural causes using CMIP5 simulations. J Geophys Res Atmos 118:4001–4024. doi:10.1002/jgrd.50239

Kamae Y, Shiogama H, Watanabe M, Kimoto M (2014a) Attributing the increase in Northern Hemisphere hot summers since the late 20th century. Geophys Res Lett 41:5192–5199

Kamae Y, Watanabe M, Kimoto M, Shiogama H (2014b) Summertime land–sea thermal contrast and atmospheric circulation over East Asia in a warming climate—Part I: Past changes and future projections. Clim Dyn 43:2553–2568

Kamae Y, Shiogama H, Watanabe M, Ishii M, Ueda H, Kimoto M (2015) Recent slowdown of tropical upper tropospheric warming associated with Pacific climate variability. Geophys Res Lett 42:2995–3003

Kobayashi S et al (2015) The JRA-55 reanalysis: general specifications and basic characteristics. J Meteorol Soc Jpn 93:5–48

Kosaka Y, Xie S-P (2013) Recent global-warming hiatus tied to equatorial Pacific surface cooling. Nature 501:403–407

Kushnir Y, Seager R, Ting MF, Naik N, Nakamura J (2010) Mechanisms of tropical Atlantic SST influence on North American precipitation variability. J Clim 23:5610–5628

Kusunoki S, Arakawa O (2012) Change in the precipitation intensity of the East Asian summer monsoon projected by CMIP3 models. Clim Dyn 38:2055–2072

Langford S, Stevenson S, Noone D (2014) Analysis of low-frequency precipitation variability in CMIP5 historical simulations for southwestern North America. J Clim 27:2735–2756

Li X, Xie S-P, Gille ST, Yoo C (2016) Atlantic-induced pan-tropical climate change over the past three decades. Nat Clim Change 6:275–279

Luo JJ, Sasaki W, Masumoto Y (2012) Indian Ocean warming modulates Pacific climate change. Proc Natl Acad Sci USA 109:18701–18706

Madden RA (1976) Estimates of the natural variability of time-averaged sea-level pressure. Mon Wea Rev 104:942–952

Mantua NJ, Hare SR, Zhang Y, Wallace JM, Francis RC (1997) A Pacific interdecadal climate oscillation with impacts on salmon production. Bull Am Meteorol Soc 78:1069–1079

McGregor S et al (2014) Recent Walker circulation strengthening and Pacific cooling amplified by Atlantic warming. Nat Clim Change 4:888–892

Meehl GA, Hu AX (2006) Megadroughts in the Indian monsoon region and southwest North America and a mechanism for associated multidecadal Pacific sea surface temperature anomalies. J Clim 19:1605–1623

Meehl GA, Arblaster JM, Tebaldi C (2007) Contributions of natural and anthropogenic forcing to changes in temperature extremes over the U.S. Geophys Res Lett 34:L19709. doi:10.1029/2007GL030948

Meehl GA, Arblaster JM, Branstator G (2012) Mechanisms contributing to the warming hole and the consequent U.S. east–west differential of heat extremes. J Clim 25:6394–6408

Mei W, Xie S-P, Zhao M (2014) Variability of tropical cyclone track density in the North Atlantic: observations and high-resolution simulations. J Clim 27:4797–4814

Mei W, Xie S-P, Zhao M, Wang Y (2015) Forced and internal variability of tropical cyclone track density in the western North Pacific. J Clim 28:143–167

Mizuta R, Yoshimura H, Murakami H, Matsueda M, Endo H, Ose T, Kamiguchi K, Hosaka M, Sugi M, Yukimoto S, Kusunoki S, Kitoh A (2012) Climate simulations using MRI-AGCM with 20-km grid. J Meteorol Soc Jpn 90A:235–260

Mizuta R et al (2016) Over 5000 years of ensemble future climate simulations by 60 km global and 20 km regional atmospheric models. Bull Am Meteorol Soc (submitted)

Mo K, Schemm J, Yoo S (2009) Influence of ENSO and the Atlantic multidecadal oscillation on drought over the United States. J Clim 22:5962–5982

Mohino E, Janicot S, Bader J (2011) Sahel rainfall and decadal to multi-decadal sea surface temperature variability. Clim Dyn 37:419–440

Mori M, Watanabe M, Shiogama H, Inoue J, Kimoto M (2014) Robust Arctic sea-ice influence on the frequent Eurasian cold winters in past decades. Nat Geosci 7:869–873

Mueller B, Seneviratne SL (2012) Hot days induced by precipitation deficits at the global scale. Proc Natl Acad Sci USA 109:12398–12403

Murakami H, Mizuta R, Shindo E (2012) Future changes in tropical cyclone activity projected by multi-physics and multi-SST ensemble experiments using the 60-km-mesh MRI-AGCM. Clim Dyn 39:2569–2584

Nakaegawa T, Kitoh A, Murakami H, Kusunoki S (2014) Annual maximum 5-day rainfall total and maximum number of consecutive dry days over Central America and the Caribbean in the late twenty-first century projected by an atmospheric general circulation model with three different horizontal resolutions. Theor Appl Climatol 116:155–168

Newman M et al (2016) The Pacific decadal oscillation, revisited. J Clim 29:4399–4427

Perkins SE, Alexander LV, Nairn JR (2012) Increasing frequency, intensity and duration of observed global heatwaves and warm spells. Geophys Res Lett 39:L20714. doi:10.1029/2012GL053361

Power S, Casey T, Folland C, Colman A, Mehta V (1999) Interdecadal modulation of the impact of ENSO on Australia. Clim Dyn 15:319–324

Prein AF, Holland GJ, Rasmussen RM, Clark MP, Tye MR (2016) Running dry: the U.S. Southwest's drift into a drier climate state. Geophys Res Lett 43:1272–1279

Rayner NA et al (2003) Global analyses of sea surface temperature, sea ice, and night marine air temperature since the late nineteenth century. J Geophys Res 108(D14):4407. doi:10.1029/2002JD002670

Seager R, Hoerling M (2014) Atmosphere and ocean origins of North American droughts. J Clim 27:4581–4606

Seager R, Kushnir Y, Herweijer C, Naik N, Velez J (2005) Modeling of tropical forcing of persistent droughts and pluvials over western North America: 1856–2000. J Clim 18:4068–4091

Seneviratne SI, Corti T, Davin EL, Hirschi M, Jaeger EB, Lehner I, Orlowsky B, Teuling AJ (2010) Investigating soil moisture–climate interactions in a changing climate: a review. Earth Sci Rev 99:125–161

Sheffield J et al (2013) North American climate in CMIP5 experiments. Part II: evaluation of historical simulations of intraseasonal to decadal variability. J Clim 26:9247–9290

Shibata K, Deushi M, Sekiyama TT, Yoshimura H (2005) Development of an MRI chemical transport model for the study of stratospheric chemistry. Pap Meteor Geophys 55:75–118

Shige S, Takayabu YN, Tao W-K (2008) Spectral retrieval of latent heating profiles from TRMM PR data. Part III: estimating apparent moisture sink profiles over tropical oceans. J Appl Meteorol Climatol 47:620–640

Shiogama H, Watanabe M, Imada Y, Mori M, Kamae Y, Ishii M, Kimoto M (2014) Attribution of the June–July 2013 heat wave in the southwestern United States. SOLA 10:122–126

Shiogama H et al (2016) Attributing historical changes in probabilities of record-breaking daily temperature and precipitation extreme events. SOLA 12:225–231

Sippel S, Zscheischler J, Heimann M, Otto FEL, Peters J, Mahecha MD (2015) Quantifying changes in climate variability and extremes: pitfalls and their overcoming. Geophys Res Lett 42:9990–9998

Sutton RT, Hodson DLR (2005) Atlantic Ocean forcing of North American and European summer climate. Science 309:115–118

Sutton RT, Hodson DLR (2007) Climate response to basin-scale warming and cooling for the North Atlantic Ocean. J Clim 20:891–907

Ting M, Wang H (1997) Summertime US precipitation variability and its relation to Pacific sea surface temperature. J Clim 10:1853–1873

Trenberth KE, Shea DJ (2006) Atlantic hurricanes and natural variability in 2005. Geophys Res Lett 33:L12704. doi:10.1029/2006GL026894

Trenberth KE, Fasullo JT, Branstator G, Phillips S (2014) Seasonal aspects of the recent pause in surface warming. Nat Clim Change 4:911–916

Ueda H, Kamae Y, Hayasaki M, Kitoh A, Watanabe A, Miki Y, Kumai A (2015) Combined effects of recent Pacific cooling and Indian Ocean warming on the Asian monsoon. Nat Commun 6:8854

Wallace JM, Deser C, Smoliak BV, Phillips AS (2015) Attribution of climate change in the presence of internal variability. In: Chang CP, Ghil M, Latif M, Wallace JM (eds) Climate change: multidecadal and beyond: World Scientific series on Asia-Pacific weather and climate, vol 6. World Scientific Publishing, Singapore, pp 1–29

Wang H, Schubert S (2014) The precipitation response over the continental United States to cold tropical Pacific sea surface temperatures. J Clim 27:5036–5055

Wang B, Liu J, Kim HJ, Webster PJ, Yim SY, Xiang B (2013) Northern Hemisphere summer monsoon intensified by mega-El Nino/southern oscillation and Atlantic multidecadal oscillation. Proc Natl Acad Sci USA 110:5347–5352

Watanabe M, Kimoto M (2000) Atmosphere–ocean thermal coupling in the North Atlantic: a positive feedback. Q J Roy Meteorol Soc 126:3343–3369

Watanabe M, Shiogama H, Tatebe H, Hayashi M, Ishii M, Kimoto M (2014) Contribution of natural decadal variability to global-warming acceleration and hiatus. Nat Clim Change 4:893–897

Xie S-P, Xu H, Saji NH, Wang Y, Liu WT (2006) Role of narrow mountains in large-scale organization of Asian monsoon convection. J Clim 19:3420–3429

Xie S-P et al (2015) Towards predictive understanding of regional climate change. Nat Clim Change 5:921–930

Yanai M, Tomita T (1998) Seasonal and interannual variability of atmospheric heat sources and moisture sinks as determined from NCEP–NCAR reanalysis. J Clim 11:463–482

Yoon J-H, Leung LR (2015) Assessing the relative influence of surface soil moisture and ENSO SST on precipitation predictability over the contiguous United States. Geophys Res Lett 42:5005–5013

Yukimoto S et al (2011) Meteorological research institute-earth system model v1 (MRI-ESM1)—model description. In: Tech Rep Meteor Res Inst 64, p 88. http://www.mri-jma.go.jp/Publish/Technical/DATA/VOL_64/index_en.html

Zhang R, Delworth TL (2006) Impact of Atlantic multidecadal oscillations on India/Sahel rainfall and Atlantic hurricanes. Geophys Res Lett 33:L17712. doi:10.1029/2006GL026267

Zhang X, Hegerl G, Zwiers F, Kenyon J (2005) Avoiding inhomogeneity in percentile-based indices of temperature extremes. J Clim 18:1641–1651

Zhou Y, Wu Z (2016) Possible impacts of mega-El Niño/Southern Oscillation and Atlantic multidecadal oscillation on Eurasian heat wave frequency variability. Q J Roy Meteorol Soc 142:1647–1661
Acknowledgments
The authors thank anonymous reviewers for giving us constructive comments. This work was supported by the Program for Risk Information on Climate Change (SOUSEI program) and the Data Integration and Analysis System (DIAS) sponsored by the Ministry of Education, Culture, Sports, Science and Technology (MEXT), Japan. The Earth Simulator was used to develop the d4PDF ensemble dataset as "Strategic Project with Special Support" of JAMSTEC. The d4PDF dataset is available via DIAS website (http://dias-dss.tkl.iis.u-tokyo.ac.jp/ddc/viewer?ds=d4PDF_GCM&lang=en).
Electronic supplementary material
Below is the link to the electronic supplementary material.
About this article
Cite this article
Kamae, Y., Shiogama, H., Imada, Y. et al. Forced response and internal variability of summer climate over western North America. Clim Dyn 49, 403–417 (2017). https://doi.org/10.1007/s00382-016-3350-x
Received:

Accepted:

Published:

Issue Date:
Keywords
Global warming hiatus

PDO

AMO

Hot summers

Linear baroclinic model