Abstract
An energy balance decomposition of temperature changes is conducted for idealized transient CO2-only simulations in the fifth phase of the Coupled Model Intercomparison Project. The multimodel global mean warming is dominated by enhanced clear-sky greenhouse effect due to increased CO2 and water vapour, but other components of the energy balance substantially modify the geographical and seasonal patterns of the change. Changes in the net surface energy flux are important over the oceans, being especially crucial for the muted warming over the northern North Atlantic and for the seasonal cycle of warming over the Arctic Ocean. Changes in atmospheric energy flux convergence tend to smooth the gradients of temperature change and reduce its land-sea contrast, but they also amplify the seasonal cycle of warming in northern North America and Eurasia. The three most important terms for intermodel differences in warming are the changes in the clear-sky greenhouse effect, clouds, and the net surface energy flux, making the largest contribution to the standard deviation of annual mean temperature change in 34, 29 and 20 % of the world, respectively. Changes in atmospheric energy flux convergence mostly damp intermodel variations of temperature change especially over the oceans. However, the opposite is true for example in Greenland and Antarctica, where the warming appears to be substantially controlled by heat transport from the surrounding sea areas.
Access options
Buy single article
Instant access to the full article PDF.
US$ 39.95
Tax calculation will be finalised during checkout.
Subscribe to journal
Immediate online access to all issues from 2019. Subscription will auto renew annually.
US$ 119
Tax calculation will be finalised during checkout.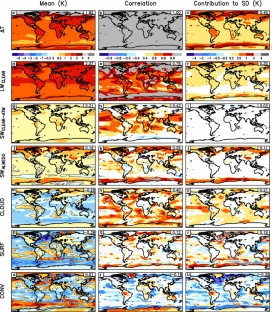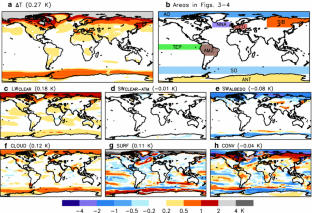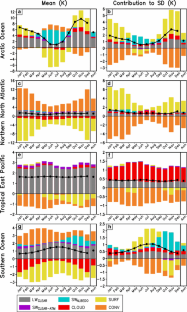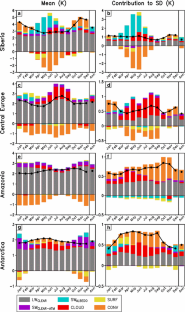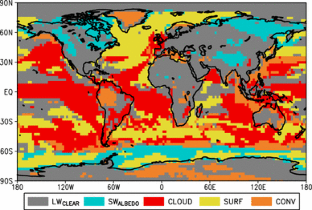 References
Boer GJ, Yu B (2003) Climate sensitivity and response. Clim Dyn 20:415–429

Boucher O, Randall D, Artaxo P, Bretherton C, Feingold G, Forster P, Kerminen V-M, Kondo Y, Liao H, Lohmann U, Rasch P, Satheesh SK, Sherwood S, Stevens B, Zhang XY (2013) Clouds and aerosols. In: Stocker TF et al (eds) Climate change 2013: the physical science basis. Cambridge University Press, Cambridge, pp 571–657

Caldwell PM, Zelinka MD, Taylor KE, Marvel K (2016) Quantifying the sources of intermodel spread in equilibrium climate sensitivity. J Clim 29:513–524

Christensen JH, Hewitson B, Busuioc A, Chen A, Gao X, Held I, Jones R, Kolli RK, Kwon W-T, Laprise R, Magaña Rueda V, Mearns L, Menéndez CG, Räisänen J, Rinke A, Sarr A, Whetton P (2007) Regional climate projections. In: Solomon S et al (eds) Climate change 2007: the physical science basis. Cambridge University Press, Cambridge, pp 847–940

Cubasch U, Meehl GA, Boer GJ, Stouffer RJ, Dix M, Noda A, Senior CA, Raper SCB, Yap KS (2001) Projections of future climate change. In: Houghton JT et al (eds) Climate change 2001: the scientific basis. Cambridge University Press, Cambridge, pp 526–582

Dufresne J-L, Bony S (2008) An assessment of the primary sources of spread of global warming estimates from coupled atmosphere-ocean models. J Clim 21:5135–5144

Flato G, Marotzke J, Abiodun B, Braconnot P, Chou SC, Collins W, Cox P, Driouech F, Emori S, Eyring V, Forest C, Gleckler P, Guilyardi E, Jakob C, Kattsov V, Reason C, Rummukainen M (2013) Evaluation of climate models. In: Stocker TF et al (eds) Climate change 2013: the physical science basis. Cambridge University Press, Cambridge, pp 741–866

Gregory JM, Mitchell JFB (1997) The climate response to CO2 of the Hadley Centre coupled AOGCM with and without flux adjustment. Geophys Res Lett 24:1943–1946

Hansen J, Lacis A, Rind D, Russell G, Stone P, Fung I, Ruedy R, Lerner J (1984) Climate sensitivity: analysis of feedback mechanisms. In: Hansen JE, Takahashi T (eds) Climate processes and climate sensitivity. Geophysical monograph 29, Maurice Ewing Volume 5. American Geophysical Union, Washington, pp 130–163

Houghton J (2015) Global warming. The complete briefing, 5th edn. Cambridge University Press, Cambridge

Izumi K, Bartlein PJ, Harrison SP (2015) Energy-balance mechanisms underlying consistent large-scale temperature responses in warm and cold climates. Clim Dyn 44:3111–3127

Joshi MM, Gregory JM, Webb MJ, Sexton DMH, Johns TC (2008) Mechanisms for the land/sea warming contrast exhibited by simulations of climate change. Clim Dyn 30:455–465

Lambert HF, Webb MJ, Joshi MM (2011) The relationship between land-ocean surface temperature contrasts and radiative forcing. J Clim 24:3239–3256

Lu J, Cai M (2009) A new framework for isolating individual feedback processes in coupled general circulation climate models. Part I: formulation. Clim Dyn 32:873–885

Qu X, Hall A (2006) Assessing snow albedo feedback in simulated climate change. J Clim 19:2617–2630

Räisänen J (2008) Warmer climate: less or more snow? Clim Dyn 30:307–319

Räisänen J, Ylhäisi JS (2011) How much should climate model output be smoothed in space? J Clim 24:867–880

Räisänen J, Ylhäisi JS (2015) CO2-induced climate change in northern Europe: CMIP2 versus CMIP3 versus CMIP5. Clim Dyn 45:1877–1897

Sejas SA, Cai M, Hu A, Meehl GA, Washington W, Taylor PC (2014a) Individual feedback contributions to the seasonality of surface warming. J Clim 27:5653–5659

Sejas SA, Albert OS, Cai M, Yi Deng (2014b) Feedback attribution of the land-sea warming contrast in a global warming simulation of the NCAR CCSM4. Environ Res Lett 9:124005

Soden BJ, Held IM (2006) An assessment of climate feedbacks in coupled ocean atmosphere models. J Clim 19:3354–3360

Soden BJ, Broccoli AJ, Hemler AS (2004) On the use of cloud forcing to estimate cloud feedback. J Clim 17:3661–3665

Taylor KE, Crucifix M, Braconnot P, Hewitt CD, Doutriaux C, Broccoli AJ, Mitchell JFB, Webb MJ (2007) Estimating shortwave radiative forcing and response in climate models. J Clim 20:2530–2543

Taylor PC, Cai M, Hu A, Meehl GA, Washington W, Zhang GJ (2013) A decomposition of feedback contributions to polar warming amplification. J Clim 26:7023–7043

Tomassini L, Geoffroy O, Dufresne J-L, Idelkari A, Cagnazzo C, Block K, Mauritsen T, Giorgetta M, Quaas J (2013) The respective roles of surface temperature driven feedbacks and tropospheric adjustment to CO2 in CMIP5 transient climate simulations. Clim Dyn 41:3103–3126

Vial J, Dufresne J-L, Bony S (2013) On the interpretation of inter-model spread in CMIP5 climate sensitivity estimates. Clim Dyn 41:3339–3362

Zhao W, Kuhn WR, Drayson SR (1994) The significance of detailed structure in the boundary layer to thermal radiation at the surface in climate models. Geophys Res Lett 21:1631–1634
Acknowledgments
We acknowledge the World Climate Research Programme's Working Group on Coupled Modelling, which is responsible for CMIP, and we thank the climate modeling groups for producing and making available their model output. For CMIP the U.S. Department of Energy's Program for Climate Model Diagnosis and Intercomparison provides coordinating support and led development of software infrastructure in partnership with the Global Organization for Earth System Science Portals. This work was supported by the Academy of Finland Centre of Excellence in Atmospheric Science—From Molecular and Biological processes to the Global Climate (project 272041). The two anonymous reviewers are acknowledged for their constructive comments.
About this article
Cite this article
Räisänen, J. An energy balance perspective on regional CO2-induced temperature changes in CMIP5 models. Clim Dyn 48, 3441–3454 (2017). https://doi.org/10.1007/s00382-016-3277-2
Received:

Accepted:

Published:

Issue Date:
Keywords
Temperature change

Energy budget

Atmospheric heat convergence

Surface energy flux

CMIP5