Abstract
In this study, a new interpretation is proposed for the abrupt decrease in tropical cyclone (TC) activity in the western North Pacific (WNP) after the late 1990s. We hypothesize that this abrupt change constitutes a part of the phenomenon of interdecadal change in TC activity in the Pacific Basin, including the WNP, western South Pacific (WSP), and eastern North Pacific. Our analysis revealed that the climate-regime shift (CRS) in the Pacific during the middle to late 1990s resulted in a La Niña-like mean state, which was responsible for the interdecadal change in TC activity in the late 1990s. Analyses of the TC genesis potential index and numerical experiments revealed that the decline in TC activity in both the WNP and WSP was primarily attributable to the increase of vertical wind shear in the central Pacific due to the La Niña-like associated cold sea surface temperature (SST). Conversely, the La Niña-like associated warm SST in the western Pacific produced anomalous vertical transport of water vapor, increasing moisture levels in the mid-troposphere and TC activity in the western WNP. Furthermore, the CRS modified the mean TC genesis position and shifted the steering flow to the west, resulting in the increased frequency of TC landfalls in Taiwan, southeastern China, and northern Australia after the late 1990s.
Access options
Buy single article
Instant access to the full article PDF.
USD 39.95
Price includes VAT (USA)
Tax calculation will be finalised during checkout.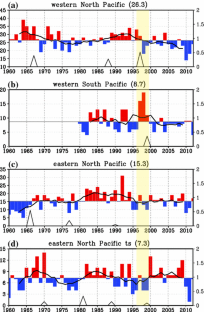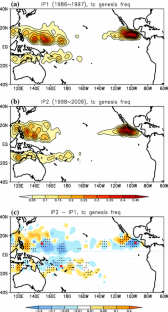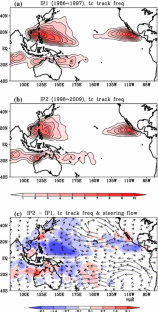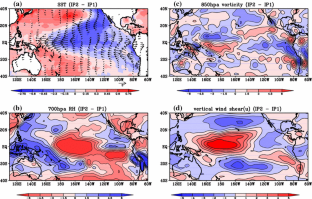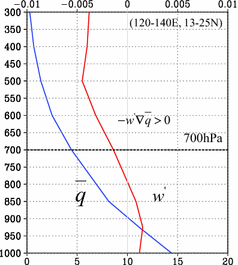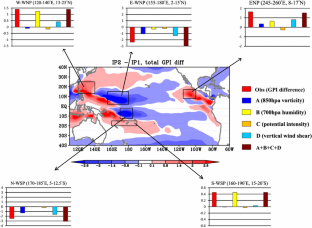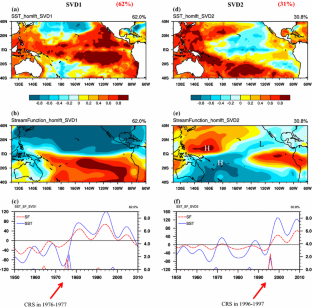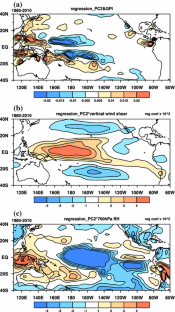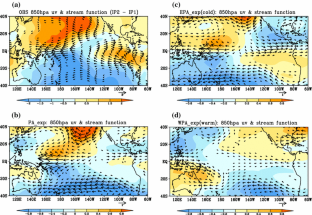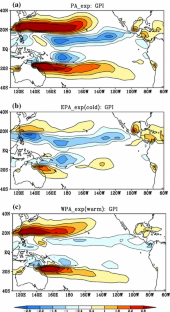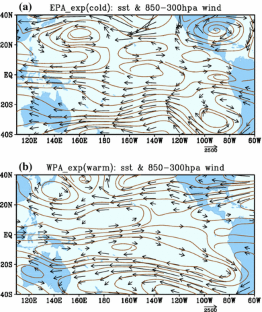 References
Ashok K, Behera SK, Rao SA, Weng H, Yamagata T (2007) El Niño Modoki and its possible teleconnection. J Geophys Res 112:C11007. doi:10.1029/2006JC003798

Bracco A, Kucharski F, Molteni F, Hazeleger W, Severijns C (2005) Internal and forced modes of variability in the Indian Ocean. Geophys Res Lett 32:L12707

Callaghan J, Power SB (2011) Variability and decline in the number of severe tropical cyclones making land-fall over eastern Australia since the late nineteenth century. Clim Dyn 37:647–662

Camargo SJ, Sobel AH (2005) Western North Pacific tropical cyclone intensity and ENSO. J Clim 18:2996–3006

Camargo SJ, Emanuel KA, Sobel AH (2007) Use of a genesis potential index to diagnose ENSO effects on tropical cyclone genesis. J Clim 20:4819–4834

Chan JCL (2000) Tropical cyclone activity over the western North Pacific associated with El Niño and La Niña events. J Clim 13:2960–2972

Chan JCL (2005) Interannual and interdecadal variations of tropical cyclone activity over the western North Pacific. Meteorol Atmos Phys 89:143–152. doi:10.1007/s00703-005-0126-y

Chia HH, Ropelewski CF (2002) The interannual variability in the genesis location of tropical cyclones in the northwest Pacific. J Clim 15:2934–2944

Choi Y, Ha KJ, Ho CH, Chung CE (2015) Interdecadal change in typhoon genesis condition over the western North Pacific. Clim Dyn 45:3243–3255

Emanuel KA, Nolan DS (2004) Tropical cyclone activity and global climate. Preprints, 26th conference on hurricanes and tropical meteorology, Miami, FL, Am Meteorol Soc, pp 240–241

England MH, McGregor S, Spence P, Meehl GA, Timmermann A, Cai W, Gupta AS, McPhaden MJ, Purich A, Santoso A (2014) Recent intensification of wind-driven circulation in the Pacific and the ongoing warming hiatus. Nat Clim Change 4:222–227. doi:10.1038/nclimate2106

Gill AE (1980) Some simple solutions for heat-induced tropical circulation. Quart J Roy Meteorol Soc 106:447–462

Ha Y, Zhong Z, Sun Y, Lu W (2014) Decadal change of South China Sea tropical cyclone activity in mid-1990s and its possible linkage with intraseasonal variability. J Geophys Res 119:5331–5344. doi:10.1002/2013JD021286

He H, Yang J, Gong D, Mao R, Wang Y, Gao M (2015) Decadal changes in tropical cyclone activity over the western North Pacific in the late 1990s. Clim Dyn 45:3317–3329. doi:10.1007/s00382-015-2541-1

Hong C-C, Wu Y-K, Li T, Chang C-C (2013) The climate regime shift in Pacific during 1996/1997. doi:10.1007/s00382-013-1867-9

Hsu H-H, Chen Y-L, Lo A-K, Hung C-H, Kau W-S, Wu C-C (2008) Intraseasonal oscillation–tropical cyclone coupling in the Western North Pacific during the 2004 typhoon season. In: Liou KN, Chou MD (eds) Recent progress in atmospheric sciences: applications to the Asia-Pacific region. World Scientific, Singapore, pp 49–65

Hsu P-C, Chu P-S, Murakami H, Zhao X (2014) An abrupt decrease in the late-season typhoon activity over the Western North Pacific. J Clim 27:4296–4312. doi:10.1175/JCLI-D-13-00417.1

Kalnay E et al (1996) The NCEP/NCAR 40-year reanalysis project. Bull Am Meteorol Soc 77:437–471

Kim JH, Ho CH, Kim HS, Sui CH, Park SK (2008) Systematic variation of summertime tropical cyclone activity in the Western North Pacific in relation to the Madden–Julian oscillation. J Clim 21:1171–1191. doi:10.1175/2007JCLI1493.1

Knapp KR, Kruk MC, Levinson DH, Diamond HJ, Neumann CJ (2010) The international best track archive for climate stewardship (IBTrACS): unifying tropical cyclone best track data. Bull Am Meteorol Soc 91:363–376. doi:10.1175/2009BAMS2755.1

Kucharski F, Molteni F, Bracco A (2006) Decadal interactions between the western tropical Pacific and the North Atlantic oscillation. Clim Dyn 26:79–91

Li T (2012) Synoptic and climatic aspects of tropical cyclogenesis in Western North Pacific. In: Oouchi K, Fudeyasu H (eds) Cyclones: formation, triggers and control, chap 3. Nova Science Publishers, Inc., pp 61–94

Li Z, Yu W, Li T, Murty VSN, Tangang F (2013) Bimodal character of cyclone climatology in Bay of Bengal modulated by monsoon seasonal cycle. J Clim 26(3):1033–1046

Lin II, Chan JCL (2015) Recent decrease in typhoon destructive potential and global warming implications. Nat Commun 6:7182

Liu KS, Chan JCL (2013) Inactive period of western North Pacific tropical cyclone activity in 1998–2011. J Clim 26:2614–2630

Lupo AR (2011) The interannual and interdecadal variability in hurricane activity, recent hurricane research—climate, dynamics, and societal impacts. In: Prof. Anthony Lupo (ed), ISBN: 978-953-307-238-8, InTech. http://www.intechopen.com/books/recent-hurricane-research-climate-dynamics-and-societal-impacts/the-interannual-and-interdecadal-variability-in-hurricane-activity

Matsuura T, Yumoto M, Iizuka S (2003) A mechanism of interdecadal variability of tropical cyclone activity over the western North Pacific. Clim Dyn 21:105–117. doi:10.1007/s00382-003-0327-3

Meehl GA, Hu A, Arblaster JM, Fasullo JY, Trenberth KE (2013) Externally forced and internally generated decadal climate variability associated with the Interdecadal Pacific oscillation. J Clim 26:7298–7310

Molteni F (2003) Atmospheric simulations using a GCM with simplified physical parametrizations. I. Model climatology and variability in multi-decadal experiments. Clim Dyn 20:175–191. doi:10.1007/s00382-002-0268-2

Murakami H, Wang B, Li T, Kitoh A (2013) Projected increase in tropical cyclones near Hawaii. Nat Clim Change 3:749–754. doi:10.1038/nclimate1890

Ramsay HA, Camargo SJ, Kim D (2012) Cluster analysis of tropical cyclone tracks in the Southern Hemisphere. Clim Dyn 39:897–917

Rayner NA, Parker DE, Horton EB, Folland CK, Alexander LV, Rowell DP, Kent EC, Kaplan A (2003) Global analyses of sea surface temperature, sea ice, and night marine air temperature since the late nineteenth century. J Geophys Res 108:4407. doi:10.1029/2002JD002670

Rodionov SN (2004) A sequential algorithm for testing climate regime shifts. Geophys Res Lett 31:L09204. doi:10.1029/2004GL019448

Tu J-Y, Chou C, Huang P, Huang R-H (2011) An abrupt increase of intense typhoons over the western North Pacific in early summer. Environ Res Lett 6:034013. doi:10.1088/1748-9326/6/3/034013

Wang B, Chan JCL (2002) How strong ENSO events affect tropical storm activity over the western North Pacific. J Clim 15:16431658

Wu L, Wang C, Wang B (2015) Westward shift of western North Pacific tropical cyclogenesis. Geophys Res Lett 42:1537–1542

Yang L, Du Y, Xie S, Wang D (2012) An interdecadal change of tropical cyclone activity in the South China Sea in the early 1990s. Chin J Oceanol Limnol 30:953–959
Acknowledgments
Valuable suggestions of two reviewers are highly appreciated. This study was supported by NSC 102-2111-M845-002 and NSC 103-2111-M845-002. TL acknowledges support by 973 project 2015CB453200, 2014SCT001. This is SOEST Contribution Number 9567 and IPRC Contribution Number 1167. The authors thank the ICTP group for providing the SPEDDY model.
About this article
Cite this article
Hong, CC., Wu, YK. & Li, T. Influence of climate regime shift on the interdecadal change in tropical cyclone activity over the Pacific Basin during the middle to late 1990s. Clim Dyn 47, 2587–2600 (2016). https://doi.org/10.1007/s00382-016-2986-x
Received:

Accepted:

Published:

Issue Date:
Keywords
Climate regime shift

Interdecadal change

Tropical cyclone activity

Pacific Basin