Abstract
The relationship of Barents–Kara sea ice concentration in October and November with atmospheric circulation in the subsequent winter is examined using reanalysis and observational data. The analyses are performed on data with the 5-year running means removed to reduce the potential effects of slowly-varying external driving factors, such as global warming. We show that positive (negative) Barents–Kara sea ice concentration anomaly in autumn is associated with a positive (negative) North Atlantic Oscillation-like (NAO) pattern with lags of up to 3 months. The month-to-month variations in the lag relationships of the atmospheric anomalies related to November sea ice concentration are presented. Further analysis shows that the stratosphere-troposphere interaction may provide the memory in the system: positive (negative) sea ice concentration anomaly in November is associated with a strengthened (weakened) stratospheric polar vortex and these anomalies propagate downward leading to the positive (negative) NAO-like pattern in the late December to early January. This stratosphere mechanism may also play a role for Barents–Kara sea ice anomaly in December, but not for September and October. Consistently, Eliassen-Palm, eddy heat and momentum fluxes suggest that there is strong forcing of the zonal winds in November.
Access options
Buy single article
Instant access to the full article PDF.
US$ 39.95
Tax calculation will be finalised during checkout.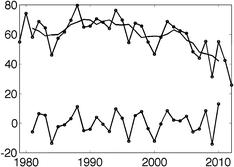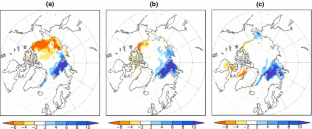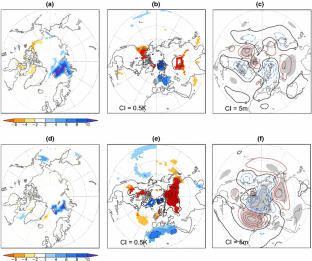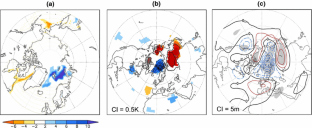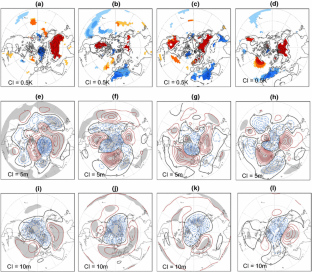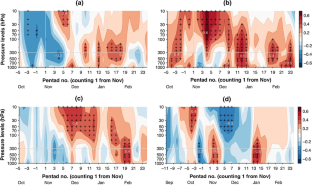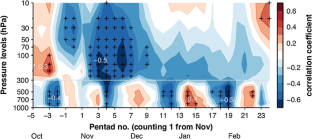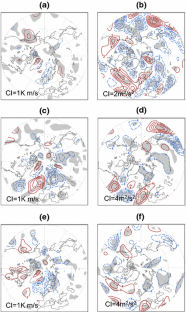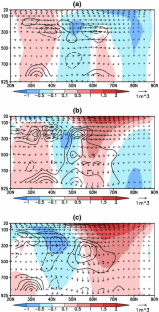 References
Alexander MA, Bhatt US, Walsh JE, Timlin MS, Miller JS, Scott JD (2004) The atmospheric response to realistic Arctic sea ice anomalies in an AGCM during winter. J Clim 17:890–905

Baldwin MP, Dunkerton TJ (2001) Stratospheric harbinger of anomalous weather regimes. Science 294:581–584

Balmaseda MA, Ferranti L, Molteni F, Palmer TN (2010) Impact of 2007 and 2008 Arctic ice anomalies on the atmospheric circulation: implications for long-range predictions. Q J R Meteorol Soc 136:1655–1664

Cavalieri DJ, Parkinson CL, Gloersen P, Zwally H (1996) Sea ice concentration from Nimbus-7 SMMR and DMSP SSM/I-SSMIS passive microwave data. NASA DAAC at the National Snow and Ice Data Center, Boulder

Cohen J, Barlow M, Kushner P, Saito K (2007) Stratosphere-troposphere coupling and links with Eurasian land surface variability. J Clim 20:5335–5343

Deser C, Tomas R, Alexander M, Lawrence D (2010) The seasonal atmospheric response to projected Arctic sea ice loss in the late twenty-first century. J Clim 23:333–351. doi:10.1175/2009JCLI3053.1

Edmon HJ, Hoskins BJ, McIntyre ME (1980) Eliassen-Palm cross-sections for the troposphere. J Atmos Sci 37:2600–2616

Fereday DR, Maidens A, Arribas A, Scaife AA, Knight JR (2012) Seasonal forecasts of northern hemisphere winter 2009/10. Environ Res Lett 7:034031. doi:10.1088/1748-9326/7/3/034031

Francis JA, Chan W, Leathers DJ, Miller JR, Veron DE (2009) Winter northern hemisphere weather patterns remember summer Arctic sea-ice extent. Geophys Res Lett 36:L07503. doi:10.1029/2009GL037274

Frankignoul C, Sennechael N, Cauchy P (2014) Observed atmospheric response to cold season sea ice variability in the Arctic. J Clim 27:1243–1254. doi:10.1175/JCLI-D-13-00189.1

Garcia-Serrano J, Frankignoul C, Gastineau G, de la Camara A (2014) On the predictability of the winter Euro-Atlantic climate: lagged influence of autumn Arctic sea ice. J Clim. doi:10.1175/JCLI-D-14-00472.1

Honda M, Inoue J, Yamane S (2009) Influence of low Arctic sea-ice minima on anomalously cold Eurasian winters. Geophys Res Lett 36:L08707. doi:10.1029/2008GL037079

Hopsch S, Cohen J, Dethloff K (2012) Analysis of a link between Arctic sea ice concentration and atmospheric patterns in the following winter. Tellus A 64:18264. doi:10.3402/tellusa.v64i0.18624

Inoue J, Hori ME, Takaya K (2012) The role of Barents sea ice in the wintertime cyclone track and emergence of a warm-Arctic cold-Siberian anomaly. J Clim 25:2561–2568. doi:10.1175/JCLI-D-11-00449.1

Jaiser R, Dethloff K, Handorf D, Rinke A, Cohen J (2012) Impact of sea ice cover changes on the Northern Hemisphere atmospheric winter circulation. Tellus A 64:11595. doi:10.3402/tellusa.v64i0.11595

Jaiser R, Dethloff K, Handorf D (2013) Stratospheric response to Arctic sea ice retreat and associated planetary wave propagation changes. Tellus A 65:19375. doi:10.3402/tellusa.v65i0.19375

Kalnay E et al (1996) The NCEP/NCAR 40-year reanalysis project. Bull Am Meteorol Soc 77:437–470

Kim B-M et al (2014) Weakening of the stratospheric polar vortex by Arctic sea-ice loss. Nat Commun. doi:10.1038/ncomms5646

King MP, Kucharski F, Molteni F (2010) The roles of external forcings and internal variabilities in the Northern Hemisphere atmospheric circulation change from the 1960s to the 1990s. J Clim 23:6200–6220. doi:10.1175/2010JCLI3239.1

Limpasavun V, Hartmann DL (2000) Wave-maintained annular modes of variability. J Clim 13:4419–4429

Liptak J, Strong C (2014) The winter atmospheric response to sea ice anomalies in the Barents Sea. J Clim 27:914–924. doi:10.1175/JCLI-D-13-00186.1

Magnusdottir G, Deser C, Saravanan R (2004) The effects of North Atlantic SST and sea ice anomalies on the winter circulation in CCM3. Part I: main features and storm track characteristics of the response. J Clim 17:857–876

Nishii K, Nakamura H, Orsolini YJ (2011) Geographical dependence observed in blocking high influence on the stratospheric variability through enhancement and suppression of upward planetary-wave propagation. J Clim 24:6408–6423. doi:10.1175/JCLI-D-10-05021.1

Ogi M, Wallace JM (2007) Summer minimum Arctic sea ice extent and the associated summer atmospheric circulation. Geophys Res Lett 34:L12705. doi:10.1029/2007GL029897

Omrani NE, Keenlyside N, Bader J, Manzini E (2014) Stratosphere key for wintertime atmospheric response to warm Atlantic decadal conditions. Clim Dyn 42:649–663. doi:10.1007/s00382-013-1860-3

Orsolini YJ, Senan R, Benestad RE, Melsom A (2012) Autumn atmospheric response to the 2007 low Arctic sea ice extent in coupled ocean-atmosphere hindcasts. Clim Dyn 38:2437–2448. doi:10.1007/s00382-011-1169-z

Seierstad IA, Bader J (2009) Impact of a projected future Arctic sea ice reduction on extratropical storminess and the NAO. Clim Dyn 33:937–943. doi:10.1007/s00382-008-0463-x

Strong C, Magnusdottir G, Stern H (2009) Observed feedback between winter sea ice and the North Atlantic Oscillation. J Clim 22:6021–6032. doi:10.1175/2009JCLI3100.1

Thompson DWJ, Lee S, Baldwin MP (2003) Atmospheric processes governing the Northern Hemisphere annular mode/North Atlantic Oscillation. In: The North Atlantic Oscillation: Climatic Significance and Environmental Impact. Geophys Monogr Ser 134:81-112. doi: 10.1029/134GM05
Acknowledgments
The NCEP-NCAR Reanalysis data are provided by NOAA/OAR/ESRL PSD, Boulder, Colorado, USA (http://www.esrl.noaa.gov/psd). The sea ice concentration (Cavalieri et al. 1996) data are from the National Snow and Ice Data Center, USA. The work was supported by the GREENICE project, funded by the NordForsk Top-level Research Initiative (Project no. 61841). We acknowledge fruitful discussion with Hisashi Nakamura and Javier Garcia-Serrano on this study. We thank the two reviewers for their comments which had led to improvements of this paper.
About this article
Cite this article
King, M.P., Hell, M. & Keenlyside, N. Investigation of the atmospheric mechanisms related to the autumn sea ice and winter circulation link in the Northern Hemisphere. Clim Dyn 46, 1185–1195 (2016). https://doi.org/10.1007/s00382-015-2639-5
Received:

Accepted:

Published:

Issue Date:
Keywords
Climate impact of Arctic sea ice

Sea ice-atmosphere interaction

North Atlantic Oscillation

Stratosphere downward propagation