Abstract
The North Atlantic Oscillation (NAO) exerts a major influence on the climate of the North Atlantic region. However, other atmospheric circulation modes (ACMs), such as the East Atlantic (EA) and Scandinavian (SCAND) patterns, also play significant roles. The dynamics of lakes on the Iberian Peninsula are greatly controlled by climatic parameters, but their relationship with these various ACMs has not been investigated in detail. In this paper, we analyze monthly meteorological and limnological long-term datasets (1950–2011 and 1992–2011, respectively) from two lakes on the northern and central Iberian Peninsula (Sanabria and Las Madres) to develop an understanding of the seasonal sensitivity of these freshwater systems to the NAO, EA and SCAND circulation modes. The limnological variability within Lake Sanabria is primarily controlled by fluctuations in the seasonal precipitation and wind, and the primary ACMs associated with the winter limnological processes are the NAO and the SCAND modes, whereas only the EA mode appears to weakly influence processes during the summer. However, Lake Las Madres is affected by precipitation, wind and, to a lesser extent, temperature, whereas the ACMs have less influence. Therefore, we aim to show that the lakes of the Iberian Peninsula are sensitive to these ACMs. The results presented here indicate that the lake dynamics, in some cases, have a higher sensitivity to variations in the ACMs than single local meteorological variables. However, certain local features, such as geography, lake morphology and anthropic influences, are crucial to properly record the signals of these ACMs.
Access options
Buy single article
Instant access to the full article PDF.
US$ 39.95
Tax calculation will be finalised during checkout.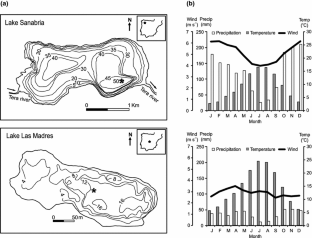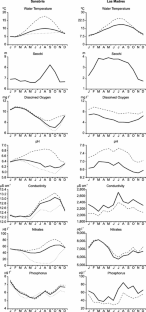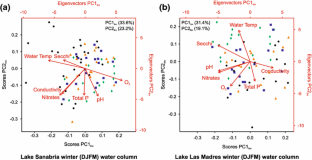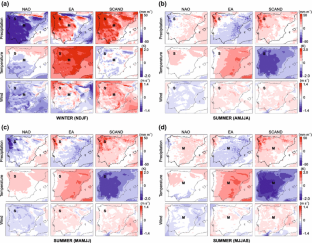 References
Alvarez-Cobelas M, Velasco JL, Valladolid M, Baltanás A, Rojo C (2005) Daily patterns of mixing and nutrient concentrations during early autumn circulation in a small sheltered lake. Freshw Biol 5(50):813–829. doi:10.1111/j.1365-2427.2005.01364.x

Alvarez-Cobelas M, Rojo C, Velasco JL, Baltanás A (2006) Factors controlling planktonic size spectral responses to autumnal circulation in a Mediterranean lake. Freshw Biol 5(51):131–143. doi:10.1111/j.1365-2427.2005.01483.x

Barnston AG, Livezey RE (1987) Classification, seasonality and persistence of low-frequency atmospheric circulation patterns. Mon Weather Rev 115:1083–1126

Bladé I, Liebmann B, Fortuny D, Oldenborgh G (2012) Observed and simulated impacts of the summer NAO in Europe: implications for projected drying in the mediterranean region. Clim Dyn 39:709–727. doi:10.1007/s00382-011-1195-x

Blenckner T (2005) A conceptual model of climate-related effects on lake ecosystems. Hydrobiologia 533:1–14. doi:10.1007/s10750-004-1463-4

Brunet M, Saladié O, Jones P, Sigró J, Aguilar E, Moberg A, Walther A, Lister D, López D, Almarza C (2006) The development of a new daily adjusted temperature dataset for Spain (1850–2003). Int J Climatol 26:1777–1802. doi:10.1002/joc.1338

Bueh C, Nakamura H (2007) Scandinavian pattern and its climatic impact. Q J R Meteorol Soc 133:2117–2131. doi:10.1002/qj.173

Butchart SHM, Walpole M, Collen B et al (2010) Global biodiversity: indicators of recent declines. Science 328:1164–1168

Casado M, Pastor M (2012) Use of variability modes to evaluate AR4 climate models over the Euro-Atlantic region. Clim Dyn. doi:10.1007/s00382-011-1077-2

Catalan J, Pla-Rabés S, Wolfe AP, Smol JP, Rühland KM, Anderson NJ, Kopáček J, Stuchlík E, Schmidt R, Koinig KA, Camarero L, Flower RJ, Heiri O, Kamenik C, Korhola A, Leavitt PR, Psenner R, Renberg I (2013) Global change revealed by palaeolimnological records from remote lakes: a review. J Paleolimnol 49:513–535. doi:10.1007/s10933-013-9681-2

Chronis T, Raitsos DE, Kassis D, Sarantopoulos A (2011) The summer North Atlantic Oscillation Influence on the Eastern Mediterranean. J Clim 24:5584–5596. doi:10.1175/2011JCLI3839.1

Comas-Bru L, McDermott F (2014) Impacts of the EA and SCA patterns on the European twentieth century NAO–winter-climate relationships. Q J R Meteorol Soc 140:354–363. doi:10.1002/qj.2158

Folland CK, Knight J, Linderholm HW, Fereday D, Ineson S, Hurrell JW (2009) The summer North Atlantic Oscillation: past, present, and future. J Clim 22:1082–1103

Gerten D, Adrian R (2002) Effects of climate warming, North Atlantic Oscillation, and Nino-Southern Oscillation on thermal conditions and Plankton dynamics in northern hemisphre lakes. Sci World J 2:586–606

Giralt S, Rico-Herrero MT, Vega JC, Valero-Garcés BL (2011) Quantitative climate reconstruction linking meteorological, limnological and XRF core scanner datasets: the Lake Sanabria case study, NW Spain. J Paleolimnol. doi:10.1007/s10933-011-9509-x

Grell GA, Dudhia J, Stauffer DR (1994) A description of the fifth generation Penn State/NCAR mesoscale model (MM5). In: NCAR Tech. Note NCAR/TN-3981STR

Hallett TB, Coulson T, Pilkington JG, Clutton-Brock TH, Pemberton JM, Grenfell BT (2004) Why large-scale climate indices seem to predict ecological processes better than local weather. Nature 430:71–75

Hampe A, Petit RJ (2005) Conserving biodiversity under climate change: the rear edge matters. Ecol Lett 8:461–467

Hurrell JW (1995) Decadal trends in the North Atlantic Oscillation: regional temperatures and precipitation. Science 269:676–679

Hurrell JW, van Loon H (1997) Decadal variations in climate associated with the North Atlantic Oscillation. Clim Change 36:301–326

Hurrell JW, Kushnir Y, Ottersen G, Visbeck M (2003) An overview of the North Atlantic Oscillation. In: Hurrell JW, Kushnir Y, Ottersen G, Visbeck M (eds) The North Atlantic Oscillation: climatic significance and environmental impact. American Geophysical Union, Washington, pp 1–35

Jerez S, Trigo RM (2013) Time-scale and extent at which large-scale circulation modes determine the wind and solar potential in the Iberian Peninsula. Environ Res. Lett 8:044035. doi:10.1088/1748-9326/8/4/044035

Jerez S, Trigo RM, Vicente-Serrano SM, Pozo-Vázquez D, Lorente-Plazas R, Lorenzo-Lacruz J, Santos-Alamillos F, Montávez JP (2013) The impact of the North Atlantic Oscillation on renewable energy resources in southwestern Europe. J Appl Meteorol Clim 52:2204–2225. doi:10.1175/JAMC-D-12-0257.1

Livingstone D, Dokulil M (2001) Eighty years of spatially coherent Austrian lake surface temperatures and their relationship to regional air temperature and the North Atlantic Oscillation. Limnol Oceanogr 46:1220–1227

Magnuson JJ, Benson BJ, Lenters JD, Robertson DM (2006) Climate driven variability and change. In: Magnuson JJ, Kratz TK, Benson BJ (eds) Long-term dynamics of lakes in the landscape: long-term ecological research on north temperate lakes. Oxford University Press, Oxford, pp 123–150

Margalef R (1983) Limnología. Ediciones Omega, Barcelona, p 1010

Pokrovsky OM (2009) European rain rate modulation enhanced by changes in the NAO and atmospheric circulation regimes. Comput Geosci 35:897–906. doi:10.1016/j.cageo.2007.12.005

Quadrelli R, Pavan V, Molteni F (2001) Wintertime variability of Mediterranean precipitation and its links with large-scale circulation anomalies. Clim Dyn 17:457–466. doi:10.1007/s003820000121

Salmaso N (2012) Influence of atmospheric modes of variability on the limnological characteristics of a deep lake south of the Alps. Clim Res 51:125–133. doi:10.3354/cr01063

Stenseth NC, Mysterud A (2005) Weather packages: finding the right scale and composition of climate in ecology. J Anim Ecol 74:1195–1198. doi:10.1111/j.1365-2656.2005.01005.x

Stenseth NC, Ottersen G, Hurrell JW, Mysterud A, Lima M, Chan KS, Yoccoz NG, Adlandsvik B (2003) Studying climate effects on ecology through the use of climate indices: the North Atlantic Oscillation, El Nino Southern Oscillation and beyond. Proc R Soc Lond Ser B Biol Sci 270:2087–2096. doi:10.1098/rspb.2003.2415

Straile D, Jöhnk K, Rossknecht H (2003a) Complex effects of winter warming on the physicochemical characteristics of a deep lake. Limnol Oceanogr 48(4):1432–1438

Straile D, Livingstone DM, Weyhenmeyer GA, George DG (2003b) The response of freshwater ecosystems to climate variability associated with the North Atlantic Oscillation. In: Hurrell JW, Kushnir Y, Ottersen G, Visbeck M (eds) The North Atlantic Oscillation: climatic significance and environmental impact. American Geophysical Union, Washington, DC, pp 263–279

Trenberth KE, Jones PD, Ambenje P, Bojariu R, Easterling D, Klein Tank A, Parker D, Rahimzadeh F, Renwick JA, Rusticucci M, Soden B, Zhai P (2007) Observations: surface and atmospheric climate change. In: Solomon S, Qin D, Manning M, Chen Z, Marquis M, Averyt KB, Tignor M, Miller HL (eds) Climate change 2007: the physical science basis. Contribution of working group i to the fourth assessment report of the intergovernmental panel on climate change. Cambridge University Press, Cambridge

Trigo RM, Osborn TJ, Corte-Real JM (2002) The North Atlantic Oscillation influence on Europe: climate impacts and associated physical mechanisms. Clim Res 20:9–17

Trigo RM, Pozo-Vázquez D, Osborn TJ, Castro-Díez Y, Gámiz-Fortis S, Esteban-Parra MJ (2004) North Atlantic oscillation influence on precipitation, river flow and water resources in the Iberian Peninsula. Int J Climatol 24:925–944. doi:10.1002/joc.1048

Trigo RM, Valente MA, Trigo IF, Miranda PMA, Ramos AM, Paredes D, García-Herrera R (2008) The impact of North Atlantic wind and cyclone trends on European precipitation and significant wave height in the Atlantic. Ann N Y Acad Sci 1146:212–234. doi:10.1196/annals.1446.014

Uppala SM, Kallberg PW, Simmons AJ, Andrae U, Bechtold VD, Fiorino M, Gibson JK, Haseler J, Hernandez A, Kelly GA, Li X, Onogi K, Saarinen S, Sokka N, Allan RP, Andersson E, Arpe K, Balmaseda MA, Beljaars ACM, Van De Berg L, Bidlot J, Bormann N, Caires S, Chevallier F, Dethof A, Dragosavac M, Fisher M, Fuentes M, Hagemann S, Holm E, Hoskins BJ, Isaksen L, Janssen PAEM, Jenne R, McNally AP, Mahfouf JF, Morcrette JJ, Rayner NA, Saunders RW, Simon P, Sterl A, Trenberth KE, Untch A, Vasiljevic D, Viterbo P, Woollen J (2005) The ERA-40 re-analysis. Q J R Meteorol Soc 131:2961–3012. doi:10.1256/qj.04.176

Vega JC, De Hoyos C, Aldaroso JJ (1992) The Sanabria Lake: the largest natural freshwater lake in Spain. Limnetica 8:49–57

Vega JC, De Hoyos C, Aldasoro JJ, Fraile H (2005) Nuevos datos morfométricos para el lago de Sanabria. Limnetica 24:115–122

Weyhenmeyer GA (2004) Synchrony in relationships between the North Atlantic Oscillation and water chemistry among Sweden's largest lakes. Limnol Oceanogr 49:1191–1201

Zahrer J, Dreibrodt S, Brauer A (2013) Evidence of the North Atlantic Oscillation in varve composition and diatom assemblages from recent, annually laminated sediments of Lake Belau, northern Germany. J Paleolimnol 50:231–244. doi:10.1007/s10933-013-9717-7
Acknowledgments
The PALEONAO (CGL2010-15767) and RAPIDNAO (CGL2013-40608-R) projects from the Spanish Ministry of Economy and Competitiveness and the Q-SECA project (PTDC/AAG-GLO/4155/2012) from Portuguese Foundation for Science and Technology (FCT) funded the research. Armand Hernández is supported by a BPD fellowship from Portuguese Foundation for Science and Technology (FCT). We appreciate the cooperation of the responsibles of the "Parque Natural de Sanabria y alrededores" of the Consejería de Medio Ambiente y Ordenación del Territorio de la Junta de Castilla y León (Environmental Council of Castilla and León Autonomous Spanish Region) and owner of the Laboratorio de Limnología del Parque Natural (Laboratory of Limnology of the Natural Park) for whom kindly gave us the data used in this study. We would like to acknowledge the MAR research group from of the University of Murcia for providing the data from the MM5 climate simulation. We also thank Miguel Álvarez-Cobelas who makes available all the data employed from Lake Las Madres by means of the website http://www.redote.org/estacion-laguna-madres.htm.
Electronic supplementary material
Below is the link to the electronic supplementary material.
About this article
Cite this article
Hernández, A., Trigo, R.M., Pla-Rabes, S. et al. Sensitivity of two Iberian lakes to North Atlantic atmospheric circulation modes. Clim Dyn 45, 3403–3417 (2015). https://doi.org/10.1007/s00382-015-2547-8
Received:

Accepted:

Published:

Issue Date:
Keywords
Atmospheric circulation modes

Limnology

North Atlantic

Climate

Iberian Peninsula