Abstract
The variability of sea level in the Black Sea is forced by a combination of internal and external processes of atmospheric, oceanic, and terrestrial origin. We use a combination of satellite altimetry and gravity, tide gauge, river discharge, and atmospheric re-analysis data to provide a comprehensive up-to-date analysis of sea level variability in the Black Sea and to quantify the role of different environmental factors that force the variability. The Black Sea is part of a large-scale climatic system that includes the Mediterranean and the North Atlantic. The seasonal sea level budget shows similar contributions of fresh water fluxes (precipitation, evaporation, and river discharge) and the Black Sea outflow, while the impact of the net surface heat flux is smaller although not negligible. We find that the nonseasonal sea level time series in the Black and Aegean seas are significantly correlated, the latter leading by 1 month. This lag is attributed to the adjustment of sea level in the Black Sea to externally forced changes of sea level in the Aegean Sea and to the impact of river discharge. The nonseasonal sea level budget in the Black Sea is dominated by precipitation and evaporation over the sea itself, but external processes such as river discharge and changes in the outflow can also cause some large synoptic-scale sea level anomalies. Sea level is strongly coupled to terrestrial water storage over the Black Sea drainage basin, which is modulated by the North Atlantic Oscillation (NAO). We show that during the low/high NAO southwesterly/northeasterly winds near the Strait of Gibraltar and southerly/northerly winds over the Aegean Sea are able to dynamically increase/decrease sea level in the Mediterranean and Black seas, respectively.
Access options
Buy single article
Instant access to the full article PDF.
USD 39.95
Price includes VAT (USA)
Tax calculation will be finalised during checkout.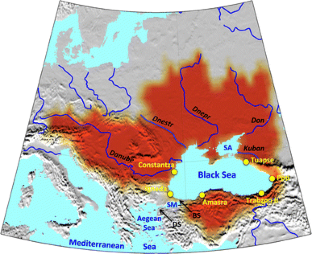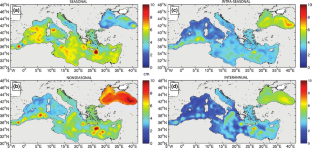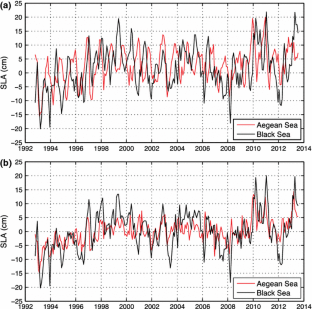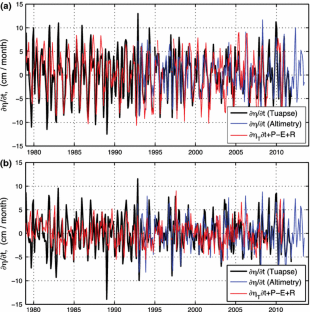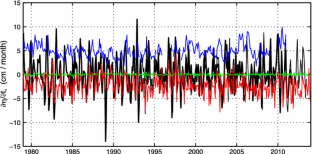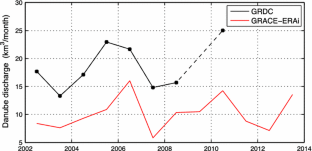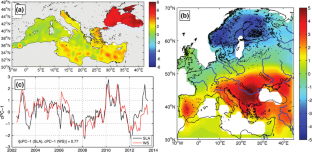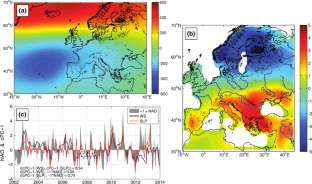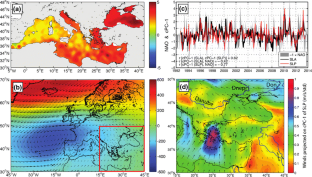 References
Boguslavsky SG, Kubryakov AI, Ivashchenko IK (1998) Variations of the Black Sea level. Phys Oceanogr 9(3):199–208

Bretherton CS, Smith C, Wallace JM (1992) An intercomparison of methods for finding coupled patterns in climate data. J Clim 5:541–560

Carrere L, Lyard F (2003) Modeling the barotropic response of the global ocean to atmospheric wind and pressure forcing: comparisons with observations. Geophys Res Lett 30(6):1275. doi:10.1029/2002GL016473

Dai A, Trenberth KE (2002) Estimates of freshwater discharge from continents: latitudinal and seasonal variations. J Hydrometeorol 3:660–687

Dai A, Qian T, Trenberth KE, Milliman JD (2009) Changes in continental freshwater discharge from 1948–2004. J Clim 22:2773–2791

Dee DP et al (2011) The ERA-Interim reanalysis: configuration and performance of the data assimilation system. Q J Royal Meteorol Soc 137:553–597

Fukumori I, Menemenlis D, Lee T (2007) A near-uniform basin-wide sea level fluctuation of the Mediterranean Sea. J Phys Oceanogr 37(2):338–358

Geruo A, Wahr J, Zhong S (2013) Coputations of the viscoelastic response of a 3-D compressible Earth to surface loading: an application to Glacial Isostatic Adjustment in Antarctica and Canada. Geophys J Int 192:557–572. doi:10.1093/gji/ggs030

Ginzburg AI, Kostianoy AG, Sheremet NA, Lebedev SA (2011) Satellite altimetry applications in the Black Sea. In: Vignudelli S et al (eds) Coastal altimetry. Springer, Berlin

Hurrell JW (1995) Decadal trends in the North Atlantic Oscillation: regional temperatures and precipitation. Science 269:676–679

Jarosz E, Teague WJ, Book JW, Besiktepe S (2011a) Observed volume fluxes in the Bosphorus Strait. Geophys Res Lett 38(L21608):2011G. doi:10.1029/L049557

Jarosz E, Teague WJ, Book JW, Besiktepe S (2011b) On flow variability in the Bosphorus Strait. J Geophys Res 116:C08038. doi:10.1029/2010JC006861

Landerer FW, Swenson SC (2012) Accuracy of scaled GRACE terrestrial water storage estimates. Water Resour Res 48, W04531, 11pp. doi:10.1029/2011WR011453

Landerer FW, Volkov DL (2013) The anatomy of recent large sea level fluctuations in the Mediterranean Sea. Geophys Res Lett 40:553–557. doi:10.1002/grl.50140

Landerer FW, Dickey JO, Guntner A (2010) Terrestrial water budget of the Eurasian pan-Arctic from GRACE satellite measurements during 2003–2009. J Geophys Res 115:D23115. doi:10.1029/2010JD014584

Le Traon PY, Nadal F, Ducet N (1998) An improved mapping method of multisatellite altimeter data. J Atmos Oceanic Technol 15:522–534. doi:10.1175/1520-0426(1998)015<0522:AIMMOM>2.0.CO;2

Le Traon PY, Faugère Y, Hernandez F, Dorandeu J, Mertz F, Ablain M (2003) Can we merge GEOSAT follow-on with TOPEX/Poseidon and ERS-2 for an improved description of the ocean circulation? J Atmos Oceanic Technol 20:889–895. doi:10.1175/1520-0426(2003)020<0889:CWMGFW>2.0.CO;2

Lynch DR, Gray WG (1979) A wave equation model for finite element tidal computations. Comput Fluids 7:207–228. doi:10.1016/0045-7930(79)90037-9

Menemenlis D, Fukumori I, Lee T (2007) Atlantic to Mediterranean Sea level difference driven by winds near Gibraltar Strait. J Phys Oceangr 37:359. doi:10.1175/JPO3015.1

Özsoy E, Latif MA, Besiktepe ST, Cetin N, Gregg MC, Belokopytov V, Goryachkin Y, Diaconu V (1998) The Bosphorus Strait: exchange fluxes, currents, and sea level changes. In: Ivanov L, Oguz T (eds) Ecosystem Modeling as a Management Tool for the Black Sea. NATO Sci. Ser. 2, Environ. Security, vol 47, pp 1–27, Kluwer Acad., Dordrecht, Netherlands

Pascual A, Boone C, Larnicol G, Le Traon P-Y (2009) On the qual- ity of real-time altimeter gridded fields: comparison with in situ data. J Atmos Oceanic Technol 26:556–569. doi:10.1175/2008JTECHO556.1

Peltier WR (2004) Global glacial isostasy and the surface of the Ice-Age Earth: The ICE-5G(VM2) model and GRACE. Annu Rev Earth Planet Sci 32:111–149. doi:10.1146/annurev.earth.32.082503.144359

Peneva E, Stanev E, Belokopytov V, Le Traon P-Y (2001) Water transport in the Bosphorus Straits estimated from hydro-meteorological and altimeter data: seasonal to decadal variability. J Mar Syst 31:21–33

Stanev JV, Peneva EL (2002) Regional response to global climatic change: Black Sea examples. Global Planet Change 32:33–47

Stanev EV, Le Traon P-Y, Peneva EL (2000) Sea level variations and their dependency on meteorological and hydrological forcing: analysis of altimeter and surface data for the Black Sea. J Geophys Res 105(C7):17203–17216

Szczypta C, Calvet J-C, Albergel C, Balsamo G, Boussetta S, Carrer D, Lafont S, Meurey C (2011) Verification of the new ECMWF ERA-Interim reanalysis over France. Hydrol Earth Syst Sci 15:647–666. doi:10.5194/hess-15-647-2011

Tsimplis MN, Josey SA (2001) Forcing of the Mediterranean Sea by atmospheric oscillations over the North Atlantic. Geophys Res Lett 28(5):803–806

Tsimplis MN, Josey SA, Rixen M, Stanev EV (2004) On the forcing of sea level in the Black Sea. J Geophys Res 109:C08015. doi:10.1029/2003JC002185

Ünlüata U, Oguz T, Latif MA, Özsoy E (1990) On the physical oceanography of the Turkish Straiits. In: Pratt G (ed) The physical oceanography of Sea Straits. NATO ASI Ser., Ser. C., Kluwer Academic Publishing, Norwell, MA, pp 25–60

Vigo I, Garcia D, Chao BF (2005) Change of sea level trend in the Mediterranean and Black sea. J Mar Res 63:1085–1100

Volkov DL, Pujol M-I (2012) Quality assessment of a satellite altimetry data product in the Nordic, Barents, and Kara seas. J Geophys Res 117:C03025. doi:10.1029/2011JC007557

Volkov DL, Larnicol G, Dorandeu J (2007) Improving the quality of satellite altimetry data over continental shelves. J Geophys Res 112:C06020. doi:10.1029/2006JC003765

Volkov DL, Landerer FW, Kirillov SA (2013) The genesis of sea level variability in the Barents Sea. Cont Shelf Res 66:92–104. doi:10.1016/j.csr.2013.07.007

Watkins MM, Wiese DN, Yuan D-N, Boening C, Landerer FW (2014) Improved methods for observing earth's time variable mass distribution with GRACE. J Geophys Res (submitted)
Acknowledgments
The satellite altimetry SLA data were produced by Ssalto/Duacs and distributed by Aviso (www.aviso.oceanobs.com) with support from CNES. GRACE land data (available at http://grace.jpl.nasa.gov) and supported by the NASA MEaSUREs Program. We thank the Global Runoff Data Centre for kindly providing us the Danube discharge time series. The authors thank Sang-Ki Lee, Elizabeth Johns, and an anonymous reviewer for valuable comments on the initial version of the manuscript. This research was funded by the NASA Ocean Surface Topography Science Team program (Grant Number NNX13AO73G) and carried out at NOAA Atlantic Oceanographic and Meteorological Laboratory and Jet Propulsion Laboratory, California Institute of Technology.
About this article
Cite this article
Volkov, D.L., Landerer, F.W. Internal and external forcing of sea level variability in the Black Sea. Clim Dyn 45, 2633–2646 (2015). https://doi.org/10.1007/s00382-015-2498-0
Received:

Accepted:

Published:

Issue Date:
Keywords
North Atlantic Oscillation

North Atlantic Oscillation Index

Terrestrial Water Storage

Fresh Water Flux

Inverted Barometer Correction