Abstract
This paper investigates the reversibility of CO2 induced climate change and in particular the potential impacts of different rates of CO2 reduction using a coupled climate model. Atmospheric CO2 concentration is ramped up by 0.5 %/year from the preindustrial value to 4×CO2 and then ramped down from 2×CO2 to 4×CO2 with different rates. How the response of the climate system is affected by the peak atmospheric CO2 concentration and the rate of long term decline is vital information for those considering hypothetical geoengineering options to remove CO2. Major components of the climate system including global mean surface air temperature and precipitation, contribution of thermal expansion to global sea level rise, loss of the Arctic sea ice, weakening of the Atlantic meridional overturning circulation (AMOC) and the South Asia monsoon are analyzed. We have found no 'tipping points' or thresholds beyond which CO2 induced climate change in these components become irreversible within this model under the specific scenarios. However, there are strong inertias and path-dependent hysteresis in the climate system linked through oceanic memory. Initially the strengthened global hydrological cycle accelerates further in response to a CO2 ramp-down before weakening. Thermal expansion of the oceans continues for many decades after CO2 concentration starts to decrease. A 0.5 %/year reduction from 4×CO2 could see a further 25 % sea level rise. The weakening of the AMOC is reversible, but the build-up of highly saline subtropical waters during global warming drives an overshoot of the AMOC after the CO2 ramp-down and extends the warming of the northern high latitudes by many decades. The South Asia monsoon strengthens in response to a CO2 ramp-up marked by an increase in summer monsoon rainfall. This increase reverses rapidly following a CO2 ramp-down, displaying an undershoot in monsoon rainfall for rapid CO2 reductions.
Access options
Buy single article
Instant access to the full article PDF.
US$ 39.95
Tax calculation will be finalised during checkout.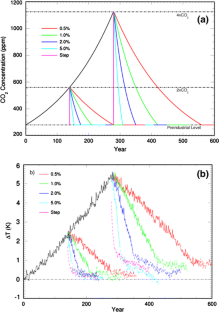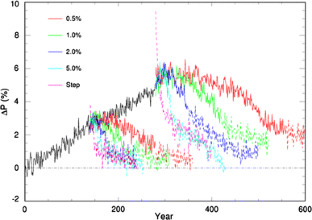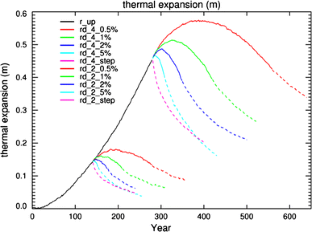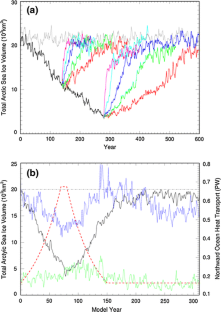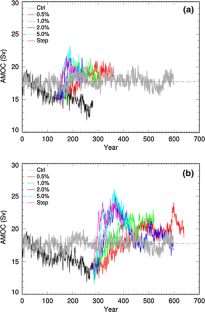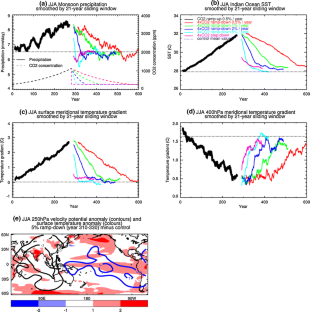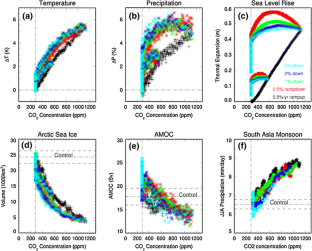 References
Allen MR, Ingram WJ (2002) Constraints on the future changes in the hydrological cycle. Nature 419:224–232

Andrews T, Forster PM, Boucher O, Bellouin N, Jones A (2010) Precipitation, radiative forcing and global temperature change. Geophys Res Lett 37:L14701

Armour KC, Eisenman I, Blanchard-Wrigglesworth E, McCusker KE, Bitz CM (2011) The reversibility of sea ice loss in a state-of-the-art climate model. Geophys Res Lett 38:L16705

Bala G, Caldeira K, Nemani R (2009) Fast versus slow response in climate change: implications for the global hydrological cycle. Clim Dyn. doi:10.1007/s00382-009-0583-y

Bellamy R, Chilvers J, Vaughan NE, Lenton TM (2012) A review of climate geoengineering appraisals. Wiley Interdiscip Rev Clim Change 3(6):597–615

Betts R, Malhi Y, Roberts JT (2008) The future of the Amazon: new perspectives from climate, ecosystem and social sciences. Philos Trans R Soc B 363:1729–1735

Boucher O, Halloran PR, Burke EJ, Doutriaux-Boucher M, Jones D, Lowe J, Ringer MA, Robertson E, Wu P (2012) Reversibility in an Earth System model in response to CO2 concentration changes. Environ Res Lett 7:024013

Bouttes N, Gregory JM, Lowe JA (2013) The reversibility of sea level rise. J Clim 26(8):2502–2513

Brayshaw DJ, Woollings T, Vellinga M (2009) Tropical and extratropical responses of the North Atlantic atmospheric circulation to a sustained weakening of the MOC. J Clim 22:3146–3155

Cao L, Bala G, Caldeira K (2011) Why is there a short-term increase in global precipitation in response to diminished CO2 forcing? Geophys Res Lett 38:L06703

Chadwick R, Wu P, Good P, Andrews T (2013) Asymmetries in tropical rainfall and circulation patterns in idealised CO2 removal experiments. Clim Dyn 40(1):295–316

Gordon C, Cooper C, Senior CA, Banks H, Gregory JM, Johns TC, Mitchell JFB, Wood RA (2000) The simulation of SST, sea ice extents and ocean heat transports in a version of the Hadley Centre coupled model without flux adjustments. Clim Dyn 16:147–168

Gregory JM, Webb M (2008) Tropospheric adjustment induces a cloud component in CO2 forcing. J Clim 21:58–71

Gregory JM et al (2005) A model intercomparison of changes in the Atlantic thermohaline circulation in response to increasing atmospheric CO2 concentration. Geophys Res Lett 32:L12703

Hansen J, Russell G, Lacis A, Fung I, Rind D, Stone P (1985) Climate response times: dependence on climate sensitivity and ocean mixing. Science 229:857–859

Hawkins et al (2011) Bistability of the Atlantic overturning circulation in a GCM and links to ocean freshwater transport. Geophys Res Lett 38:L10605

Held IM, Winton M, Takahashi K, Delworth T, Zeng F, Vallis GK (2010) Probing the fast and slow components of global warming by returning abruptly to preindustrial forcing. J Clim 23:2418–2427

Jackson LC, Schaller N, Smith RS, Palmer MD, Vellinga M (2014) Response of the Atlantic meridional overturning circulation to a reversal of greenhouse gas increases. Clim Dyn 42:3233–3336

Koven CD, Riley WJ, Stern A (2013) Analysis of permafrost thermal dynamics and response to climate change in the CMIP5 earth system models. J Clim 26:1877–1900

Lu J, Cai M (2009) Stabilization of the atmospheric boundary layer and the muted global hydrological cycle response to global warming. J. Hydrometeorol 10:347–352

Manabe S, Wetherald RT (1975) The effects of doubling the CO2 concentration on the climate of a general circulation model. J Atmos Sci 32:3

Meehl GA, Arblaster JM (2003) Mechanisms for projected future changes in south Asian monsoon precipitation. Clim Dyn 21:659–675

Meehl GA et al (2007) Global climate projections. In: Solomon S, Qin D, Manning M, Chen Z, Marquis M, Averyt K, Tignor MMB, Miller HL (eds) Climate change 2007: the physical science basis. Cambridge University Press, Cambridge

Mitchell JFB, Wilson CA, Cunnington WM (1987) On CO2 climate sensitivity and model dependence of results. Q J R Meteorol Soc 113:293–322

Nohara D, Yoshida Y, Misumi K, Ohba M (2013) Dependency of climate change and carbon cycle on CO2 emission pathways. Environ Res Lett 8:014047

Ohba M, Tsutsui J, Nohara D (2014) Statistical parameterization expressing ENSO variability and reversibility in response to CO2 concentration changes. J Clim 27:398–410

Pacala S, Socolow R (2004) Stabilization wedges: solving the climate problem for the next 50 years with current technologies. Science 305(5686):968–972

Ranger N, Gohar LK, Lowe JA, Raper SCB, Bowen A, Ward RE (2012) Is it possible to limit global warming to no more than 1.5 °C? Clim Change 111:973–981

Ridley J, Gregory JM, Huybrechts P, Lowe J (2010) Thresholds for irreversible decline of the Greenland ice sheet. Clim Dyn 35:1049–1057

Ridley JK, Lowe JA, Hewitt HT (2012) How reversible is sea ice loss? Cryosphere 6:193–198

Serreze MC, Barrett AP, Slater AG, Steele M, Zhang J, Trenberth KE (2007) The large-scale energy budget of the Arctic. J Geophys Res 112:D11122

Shepherd J et al (2009) Geoengineering the climate, science, governance and uncertainty. The Royal Society, London

Sun Y, Ding Y, Dai A (2010) Changing links between South Asian summer monsoon circulation and tropospheric land–sea thermal contrasts under a warming scenario. Geophys Res Lett 37:L02704

Ueda HA, Iwai A, Kuwako K, Hori ME (2006) Impact of anthropogenic forcing on the Asian summer monsoon as simulated by eight GCMs. Geophys Res Lett 33:L06703

Vellinga M, Wood RA (2002) Global climatic impacts of a collapse of the Atlantic thermohaline circulation. Clim Change 54(3):251–267

Wu PL, Wood R, Ridley J, Lowe J (2010) Temporary acceleration of the hydrological cycle in response to a CO2 rampdown. Geophys Res Lett 37:L12705

Wu PL, Jackson L, Pardaens A, Schaller N (2011) Extended warming of the northern high latitudes due to an overshoot of the Atlantic meridional overturning circulation. Geophys Res Lett 38:L24704

Yang F, Kumar A, Schlesinger ME, Wang W (2003) Intensity of hydrological cycles in warmer climates. J Clim 16:2419–2423
Acknowledgments
This work was supported by the Joint DECC/Defra Met Office Hadley Centre Climate Programme—DECC/Defra (GA01101). We thank the two reviewers for helpful suggestions and comments.
About this article
Cite this article
Wu, P., Ridley, J., Pardaens, A. et al. The reversibility of CO2 induced climate change. Clim Dyn 45, 745–754 (2015). https://doi.org/10.1007/s00382-014-2302-6
Received:

Accepted:

Published:

Issue Date:
Keywords
Climate change

Reversibility

Geoengineering

Hydrological cycle

Sea level

Asian monsoon