Abstract
The evolution of the Asian summer monsoon (ASM) in a global warming environment is a serious scientific and socio-economic concern since many recent studies have demonstrated the weakening nature of large-scale tropical circulation under anthropogenic forcing. But, how such processes affect the ASM circulation and rainfall is still a matter of debate. This study examines the climate model projections from a selected set of Coupled Model Inter-comparison Project 5 (CMIP5) models to provide a unified perspective on the future ASM response. The results indicate a robust reduction in the large-scale meridional gradient of temperature (MGT) at upper levels (200 hPa) over the ASM region, associated with enhanced ascendance and deep tropospheric heating over the equatorial Pacific in the future climate. The differential heating in the upper troposphere, with concomitant increase (decrease) in atmospheric stability (MGT), weakens the ASM circulation, promotes a northward shift of the monsoon circulation and a widening of the local Hadley cell in the eastern Indian sector. An examination of the water vapour budget indicates the competing effects of the thermodynamic (moisture convergence) and dynamics processes (monsoon circulation) on future ASM rainfall changes. The former component wins out over the later one and leads to the intensification of Indian monsoon rainfall in the CMIP5 projections. However, the diagnostics further show a considerable offset due to the dynamic component.
Access options
Buy single article
Instant access to the full article PDF.
US$ 39.95
Tax calculation will be finalised during checkout.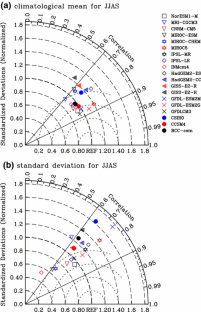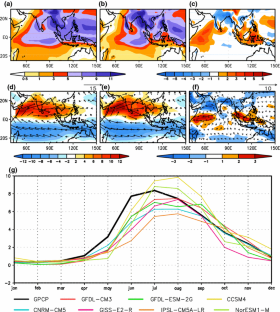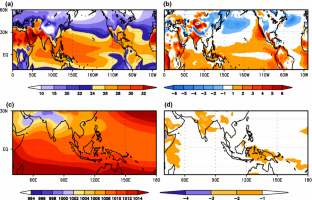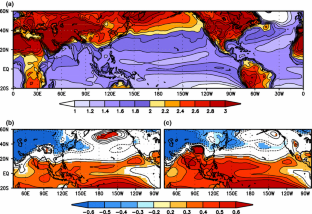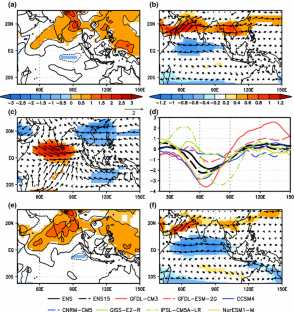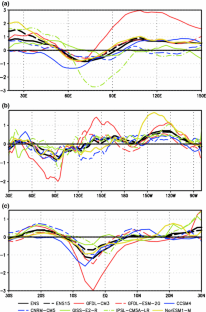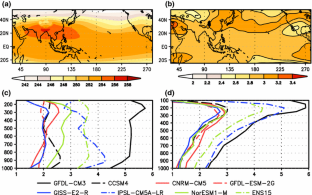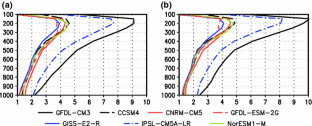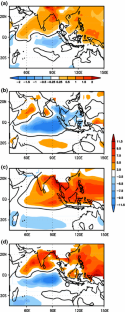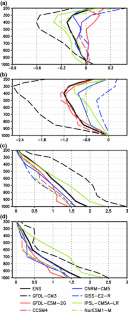 References
Allen MR, Ingram WJ (2002) Constraints on future changes in climate and the hydrologic cycle. Nature 419:224–232

Annamalai H, Liu P (2005) Response of the Asian summer monsoon to changes in El Niño properties. QJR Meteorol Soc 131:805–831

Annamalai H, Hamilton K, Sperber KR (2007) The South Asian summer monsoon and its relationship with ENSO in the IPCC AR4 simulations. J Clim 20:1071–1092

Ashfaq M, Shi Y, Tung WM, Trapp RJ, Gao X, Pal JS, Diffenbaugh NS (2009) Suppression of south Asian summer monsoon precipitation in the 21st century. Geophys Res Lett 31:L01704. doi:10.1029/2008GL036500

Ashrit RG, Kitoh A, Yukimoto S (2005) Transient response of ENSO—monsoon teleconnection in MRI-CGCM2.2 climate change simulations. J Meteorol Soc Jpn 83:273–291

Bayr T, Dommenget D (2013) The tropospheric land–sea warming contrast as the driver of tropical sea level pressure changes. J Clim 26:1387–1402

Bellenger H, Guilyardi E, Leloup J, Lengaigne M, Vialard J (2013) ENSO representation in climate models: from CMIP3 to CMIP5. Clim Dyn. doi:10.1007/s00382-013-1783-z

Bhaskaran B, Mitchell JFB, Lavery JR, Lal M (1995) Climatic response of the Indian subcontinent to doubled CO2 concentration. Int J Climatol 15:873–893

Bollasina M, Ming Y (2013) The general circulation model precipitation bias over the southwestern equatorial Indian Ocean and its implications for simulating the South Asian monsoon. Clim Dyn 40(3–4). doi:10.1007/s00382-012-1347-7

Cherchi A, Alessandri A, Masina S, Navarra A (2010) Effects of increased CO2 on monsoons. Clim Dyn. doi:10.1007/s00382-010-0801-7

Chou C, Chen CA (2014) Mechanisms of future precipitation changes. Environ Res Lett (submitted)

Chou C, Neelin JD, Chen CA, Tu JY (2009) Evaluating the "rich-get-richer" mechanism in tropical precipitation change under global warming. J Clim 22:1982–2005

Copsey D, Sutton R, Knight JR (2006) Recent trends in sea level pressure in the Indian Ocean region. Geophy Res Lett 33:L19712. doi:10.1029/2006GL027175

Dai A, Li H, Sun Y, Hong LC, Ho L, Chou C, Zhou T (2013) The relative roles of upper and lower tropospheric thermal contrasts and tropical influences in driving Asian summer monsoons. J Geophys Res 118:7024–7045. doi:10.1002/jgrd.50565

Dairaku K, Emori S (2006) Dynamic and thermodynamic influences on intensified daily rainfall during the Asian summer monsoon under doubled atmospheric CO2 conditions. Geophy Res Lett 33:L01704. doi:10.1029/2005GL024754

Douville H (2005) Limitations of time-slice experiments for predicting regional climate change over South Asia. Clim Dyn 24:373–391

Douville H, Royer JF, Polcher J, Cox P, Gedney N, Stephenson DB, Valdes PJ (2000) Impact of doubling CO2 on the Asian summer monsoon: robust versus model-dependent responses. J Meteorol Soc Jpn 78:421–439

Douville H, Chauvin F, Planton S, Royer JF, Salas-Melia D, Tyteca S (2002) Sensitivity of the hydrological cycle to increasing amounts of greenhouse gases and aerosols. Clim Dyn 20:45–68

Fan F, Mann ME, Lee S, Evans JL (2010) Observed and modeled changes in the South Asian monsoon over the historical period. J Clim 23:5193–5205

Fan F, Mann ME, Lee S, Evans J (2012) Future changes in the South Asian summer monsoon: an analysis of the CMIP3 multi-model projections. J Clim 25:3909–3928

Fu C, Fletcher JO (1985) The relationship between Tibet tropical ocean thermal contrast and interannual variability of Indian monsoon rainfall. J Clim Appl Meteorol 24:842–847

Gastineau G, Le Treut H, Li L (2008) Hadley circulation changes under global warming conditions indicated by coupled climate models. Tellus 60A:863–884

Gill AE (1980) Some simple solutions for heat-induced tropical circulation. QJR Meteorol Soc 106:447–462

He H, Sui CH, Jian M, Wen Z, Lan G (2003) The evolution of tropospheric temperature field and its relationship with the onset of Asian summer monsoon. J Meteorol Soc Jpn 81:1201–1223

Held IM, Soden BJ (2006) Robust responses of the hydrological cycle to global warming. J Clim 19:5686–5699

Holton JR (2004) An introduction to dynamic meteorology. Elsevier, Burlington

Hsu PC, Li T, Luo JJ, Murakami H, Kitoh A, Zhao M (2012) Increase of global monsoon area and precipitation under global warming: a robust signal? Geophys Res Lett 39:L0670. doi:10.1029/2012GL051037

Huang P, Xie SP, Hu K, Huang G, Huang R (2013) Patterns of the seasonal response of tropical rainfall to global warming. Nat Geosci 6:357–361. doi:10.1038/ngeo1792

Huffman GJ, Adler RF, Bolvin DT, Gu G (2009) Improving the global precipitation record: GPCP Version 2.1. Geophy Res Lett 36:L17808. doi:10.1029/2009GL040000

Joseph R, Nigam S (2006) ENSO evolution and teleconnection in IPCC's twentieth-century climate simulations: realistic representation? J Clim 19:4360–4377

Joseph PV, Sooraj KP, Rajan CK (2003) Conditions leading to monsoon onset over Kerala and the associated Hadley Cell. Mausam 54:155–164

Joseph S, Sahai AK, Goswami BN (2010) Boreal summer intraseasonal oscillations and seasonal Indian monsoon prediction in DEMETER coupled models. Clim Dyn 35:651–667. doi:10.1007/s00382-009-0635-3

Jourdain NC, Gupta AS, Taschetto AS, Ummenhofer CC, Moise AF, Ashok K (2013) The Indo-Australian monsoon and its relationship to ENSO and IOD in reanalysis data and the CMIP3/CMIP5 simulations. Clim Dyn. doi:10.1007/s00382-013-1676-1

Kalnay EM, Kanamitsu M, Kistler R, Collins W, Deaven D, Gandin L, Iredell M, Saha S, White G, Woollen J, Zhu Y, Leetmaa A, Reynolds R, Chelliah M, Ebisuzaki W, Higgins W, Janowiak J, Mo KC, Ropelewski C, Wang J, Jenne R, Joseph D (1996) The NCEP/NCAR 40-year reanalysis project. Bull Am Meteorol Soc 77:437–471

Kitoh A, Yukimoto S, Noda A, Motoi T (1997) Simulated changes in the Asian summer monsoon at times of increased atmospheric CO2. J Meteorol Soc Jpn 75:1019–1031

Kitoh A, Endo H, Krishna Kumar K, Cavalcanti IFA, Goswami P, Zhou T (2013) Monsoons in a changing world: a regional perspective in a global context. J Geophys Res 118:3053–3065

Knutson TR, Manabe S (1994) Impact of increased CO2 on simulated ENSO-like phenomena. Geophys Res Lett 21:2295–2298

Knutson TR, Manabe S (1995) Time-mean response over the tropical Pacific to increased CO2 in a coupled ocean–atmosphere model. J Clim 8:2181–2199

Knutti R, Sedlacek J (2013) Robustness and uncertainties in the new CMIP5 climate model projections. Nat Clim Change 3:369–373

Kripalani RH, Oh JH, Kulkarni A, Sabade SS, Chaudhari HS (2007) South Asian summer monsoon precipitation variability: coupled model simulations and projections under IPCC AR4. Theor Appl Climatol 90:133–159

Krishna Kumar K, Kamala K, Rajagopalan B, Hoerling MP, Eischeid JK, Patwardhan SK, Srinivasan G, Goswami BN, Nemani R (2010) The once and future pulse of Indian monsoonal climate. Clim Dyn. doi:10.1007/s00382-010-0974-0

Krishnan R, Sundaram S, Swapna P, Kumar V, Ayantika DC, Mujumdar M (2010) The crucial role of ocean–atmosphere coupling on the Indian monsoon anomalous response during dipole events. Clim Dyn. doi:10.1007/s00382-010-0830-2

Krishnan R, Sabin TP, Ayantika DC, Sugi M, Kitoh A, Murakami H, Turner A, Slingo JM, Rajendran K (2013) Will the South Asian monsoon overturning circulation stabilize any further? Clim Dyn. doi:10.1007/s00382-012-1317-0

Lee JY, Wang B (2012) Future change of global monsoon in the CMIP5. Clim Dyn. doi:10.1007/s00382-012-1564-0

Li C, Yanai M (1996) The onset and interannual variability of the Asian summer monsoon in relation to land–sea thermal contrast. J Clim 9:358–375

Li Y, Jourdain NC, Taschetto AS, Ummenhofer CC, Ashok K, Sen Gupta A (2012) Evaluation of monsoon seasonality and the tropospheric biennial oscillation transitions in the CMIP models. Geophys Res Lett 39:L20713. doi:10.1029/2012GL053322

Lindzen RS (1990) Some coolness concerning global warming. Bull Am Meteorol Soc 71:288–299

Lu J, Chen G, Frierson DMW (2008) Response of the zonal mean atmospheric circulation to El Niño versus global warming. J Clim 21:5835–5851

Ma J, Yu JY (2014) Paradox in the South Asian summer monsoon circulation change: lower tropospheric strengthening and upper tropospheric weakening. Geophys Res Lett 41. doi:10.1002/2014GL059891

Maraun D, Wetterhall F, Ireson AM, Chandler RE, Kendon EJ, Widmann M, Brienen S, Rust HW, Sauter J, Themel M, Venema VKC, Chun KP, Goodess CM, Jones RG, Onof C, Vrac M, Thiele-Eich I (2010) Precipitation downscaling under climate change: Recent developments to bridge the gap between dynamical models and the end user. Rev Geophys 48. doi:10.1029/2009RG000314

May W (2002) Simulated changes of the Indian summer monsoon under enhanced greenhouse gas conditions in a global time-slice experiment. Geophys Res Lett 29. doi:10.1029/2001GL013808

May W (2004) Simulation of the variability and extremes of daily rainfall during the Indian summer monsoon for present and future times in a global time-slice experiment. Clim Dyn 22:183–204

May W (2010) The sensitivity of the Indian summer monsoon to a global warming of 2°C with respect to pre-industrial times. Clim Dyn. doi:10.1007/s00382-010-0942-8

Meehl GA, Arblaster JM (2003) Mechanisms for projected future changes in South Asian monsoon precipitation. Clim Dyn 21:659–675

Meehl GA, Washington WM (1993) South Asian summer monsoon variability in a model with a doubled atmospheric carbon-dioxide concentration. Science 260:1101–1104

Menon A, Levermann A, Schewe J, Lehmann J, Frieler K (2013) Consistent increase in Indian monsoon rainfall and its variability across CMIP-5 models. Earth Syst Dyn Discuss 4:1–24. doi:10.5194/esdd-4-1-2013

Neelin JD, Chou C, Su H (2003) Tropical drought regions in global warming and El Niño teleconnections. Geophys Res Lett 30:2275. doi:10.1029/2003GL018625

Ogata T, Ueda H, Inoue T, Hayasaki M, Yoshida A, Watanabe S, Kira M, Ooshiro M, Kumai A (2014) Projected future changes of the Asian monsoon: a comparison of CMIP3 and CMIP5 model results. J Meteorol Soc Jpn 92 (in press)

Prodhomme C, Terray P, Masson S, Izumo T, Tozuka T, Yamagata T (2014a) Impacts of Indian Ocean SST biases on the Indian monsoon: as simulated in a global coupled model. Clim Dyn 42:271–290. doi:10.1007/s00382-013-1671-6

Prodhomme C, Terray P, Masson S, Boschat G, Izumo T (2014b) Oceanic factors controlling the Indian Summer Monsoon onset in a coupled model. Clim Dyn (in press)

Sabin TP, Krishnan R, Ghattas J, Denvil S, Dufresne JL, Hourdin F, Pascal T (2013) High resolution simulation of the South Asian monsoon using a variable resolution global climate model. Clim Dyn 41:173–194

Santer BD, Thorne PW, Haimberger L, Taylor KE, Wigley TML, Lanzante JR, Solomon S, Free M, Gleckler PJ, Jones PD, Karl TR, Klein SA, Mears C, Nychka D, Schmidt GA, Sherwood SC, Wentz FJ (2008) Consistency of modelled and observed temperature trends in the tropical troposphere. Intl J Climatol 28:1703–1722. doi:10.1002/joc.1756

Seidel DJ, Randel WJ (2007) Recent widening of the tropical belt: evidence from tropopause observations. J Geophys Res 112:D20113. doi:10.1029/2007JD008861

Seidel DJ, Fu Q, Randel WJ, Reichler T (2008) Widening of the tropical belt in a changing climate. Nat Geosci 1:21–24

Seo KH, Ok J (2013) Assessing future changes in the East Asian summer monsoon using CMIP3 models: results from the best model ensemble. J Clim 26:1807–1817

Sobel A, Held I, Bretherton C (2002) The ENSO signal in tropical tropospheric temperature. J Clim 15:2702–2706

Sperber KR, Annamalai H, Kang IS, Kitoh A, Moise A, Turner AG, Wang B, Zhou T (2013) The Asian summer monsoon: an intercomparison of CMIP5 vs. CMIP3 simulations of the late 20th century. Clim Dyn. doi:10.1007/s00382-012-1607-6

Stephenson DB, Douville H, Rupa Kumar K (2001) Searching for a fingerprint of global warming in the Asian summer monsoon. Mausum 52:213–220

Stowasser M, Annamalai H, Hafner J (2009) Response of the South Asian summer monsoon to global warming: mean and synoptic systems. J Clim 22:1014–1036

Su H, Neelin JD (2002) Teleconnection mechanisms for tropical Pacific descent anomalies during El Niño. J Atmos Sci 59:2694–2712

Sutton RT, Dong B, Gregory JM (2007) Land/sea warming ratio in response to climate change: IPCC AR4 model results and comparison with observations. Geophys Res Lett 34:L02701. doi:10.1029/2006GL028164

Taylor KE (2001) Summarizing multiple aspects of model performance in a single diagram. J Geophys Res 106(D7):7183–7192

Taylor KE, Stouffer RJ, Meehl GA (2012) An overview of CMIP5 and the experiment design. Bull Am Meteorol Soc 93:485–498

Turner AG, Annamalai H (2012) Climate change and the South Asian summer monsoon. Nat Clim Change. doi:10.1038/NCLIMATE1495

Turner AG, Slingo JM (2009) Uncertainties in future projections of extreme precipitation in the Indian monsoon region. Atmos Sci Lett 10:152–168. doi:10.1002/asl.223

Turner AG, Inness PM, Slingo JM (2007) The effect of doubled CO2 and model basic state biases on the monsoon–ENSO system. I: mean response and interannual variability. QJR Meteorol Soc 133:1143–1157

Ueda H, Iwai A, Kuwako K, Hori ME (2006) Impact of anthropogenic forcing on the Asian summer monsoon as simulated by eight GCMs. Geophys Res Lett 33:L06703. doi:10.1029/2005GL025336

Veechi GA, Soden BJ (2007) Global warming and the weakening of the tropical circulation. J Clim 20:4316–4340

Veechi GA, Soden BJ, Wittenberg AT, Held IM, Leetma A, Harrison MJ (2006) Weakening of tropical Pacific atmospheric circulation due to anthropogenic forcing. Nature 441:73–76

Wang B, Fan Z (1999) Choice of south Asian summer monsoon indices. Bull Am Meteorol Soc 80:629–638

Webster PJ, Magaña VO, Palmer TN, Shukla J, Tomas RA, Yanai M, Yasunari T (1998) Monsoons: processes, predictability, and the prospects for prediction. J Geophys Res 103:14451–14510

Wu Z, Sarachik ES, Battisti DS (2001) Thermally driven tropical circulations under Raleigh friction and Newtonian cooling/analytic solutions. J Atmos Sci 58:724–741

Xavier PK, Marzin C, Goswami BN (2007) An objective definition of the Indian summer monsoon season and a new perspective on the ENSO–monsoon relationship. QJR Meteorol Soc 133:749–764

Xu K, Emanuel KA (1989) Is the tropical atmosphere conditionally unstable? Mon Weather Rev 117:1471–1479

Yanai M, Li C (1994) Mechanism of heating and the boundary layer over the Tibetan Plateau. Mon Weather Rev 122:305–323

Yeh SW, Ham YG, Lee JY (2012) Changes in the tropical Pacific SST trend from CMIP3 to CMIP5 and its implication of ENSO. J Clim 25:7764–7771
Acknowledgments
We sincerely thank Prof B N Goswami, Director, Indian Institute of Tropical Meteorology, India for all the support for this research work. We are also thankful to Drs Krishnan R and Ramesh V for their constructive comments on an earlier draft of the manuscript. We also thank three anonymous reviewers for their helpful comments and suggestions. Sooraj K.P. also wishes to acknowledge Prof K-H. Seo and the Postdoc development program of Pusan National University for providing support for initial part of this study. We acknowledge the climate modeling groups, the Program for Climate Model Diagnosis and Intercomparison, and the World Climate Research Programme's working Group on coupled modelling, for their roles in making available the "CMIP5" multi-model data sets, as listed in Table 1.
About this article
Cite this article
Sooraj, K.P., Terray, P. & Mujumdar, M. Global warming and the weakening of the Asian summer monsoon circulation: assessments from the CMIP5 models. Clim Dyn 45, 233–252 (2015). https://doi.org/10.1007/s00382-014-2257-7
Received:

Accepted:

Published:

Issue Date:
Keywords
Asian summer monsoon

Meridional gradient in deep tropospheric heating

Atmospheric stability

Thermodynamic and dynamic components