Abstract
A multi-model ensemble of decadal prediction experiments, performed in the framework of the EU-funded COMBINE (Comprehensive Modelling of the Earth System for Better Climate Prediction and Projection) Project following the 5th Coupled Model Intercomparison Project protocol is examined. The ensemble combines a variety of dynamical models, initialization and perturbation strategies, as well as data assimilation products employed to constrain the initial state of the system. Taking advantage of the multi-model approach, several aspects of decadal climate predictions are assessed, including predictive skill, impact of the initialization strategy and the level of uncertainty characterizing the predicted fluctuations of key climate variables. The present analysis adds to the growing evidence that the current generation of climate models adequately initialized have significant skill in predicting years ahead not only the anthropogenic warming but also part of the internal variability of the climate system. An important finding is that the multi-model ensemble mean does generally outperform the individual forecasts, a well-documented result for seasonal forecasting, supporting the need to extend the multi-model framework to real-time decadal predictions in order to maximize the predictive capabilities of currently available decadal forecast systems. The multi-model perspective did also allow a more robust assessment of the impact of the initialization strategy on the quality of decadal predictions, providing hints of an improved forecast skill under full-value (with respect to anomaly) initialization in the near-term range, over the Indo-Pacific equatorial region. Finally, the consistency across the different model predictions was assessed. Specifically, different systems reveal a general agreement in predicting the near-term evolution of surface temperatures, displaying positive correlations between different decadal hindcasts over most of the global domain.
Access options
Buy single article
Instant access to the full article PDF.
US$ 39.95
Tax calculation will be finalised during checkout.
Subscribe to journal
Immediate online access to all issues from 2019. Subscription will auto renew annually.
US$ 119
Tax calculation will be finalised during checkout.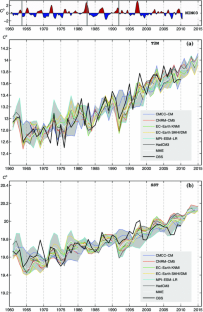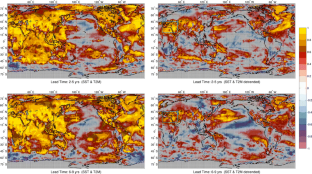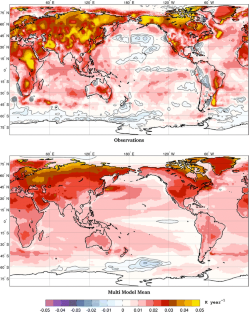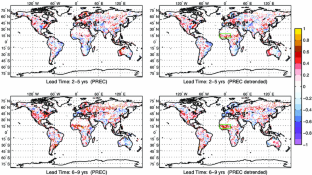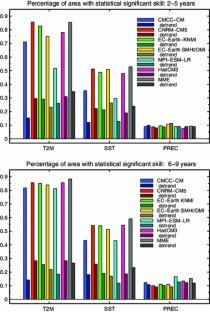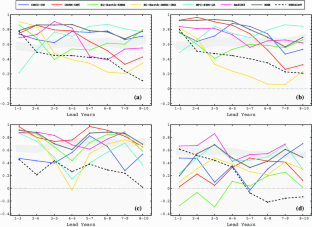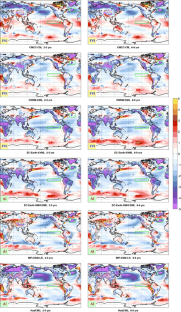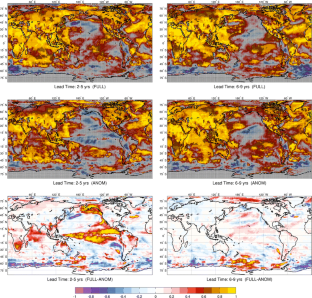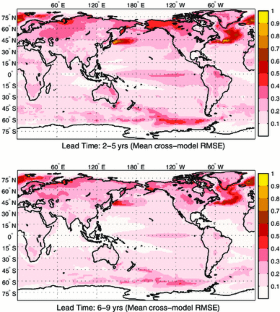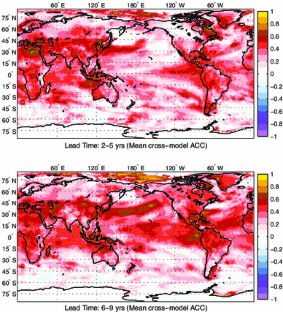 Notes
1.

The six available DPSs make 15 distinct pairs. For each pair, the corresponding RMSE is calculated between the two hindcasts. These differences are not "errors" but just deviations. We use the term RMSE because it best describes the calculations involved. In the text, we refer to the average RMSE across all pairs.
References
Bellucci A, Gualdi S, Masina S, Storto A, Scoccimarro E, Cagnazzo C, Fogli P, Manzini E, Navarra A (2013) Decadal climate predictions with a coupled OAGCM initialized with oceanic reanalyses. Clim Dyn 40:1483–1497. doi:10.1007/s00382-012-1468-z

Boer GJ, Lambert SJ (2008) Multi-model decadal potential predictability of precipitation and temperature. Geophys Res Lett 35:L05706

Branstator G, Teng H (2010) Two limits of initial-value decadal predictability in a CGCM. J Clim 23:6292–6310

Branstator G, Teng H (2012) Potential impacts of initialization on CMIP5 decadal predictions. Geophys Res Lett. doi:10.1029/2012GL051974

Branstator G, Teng H, Meehl G, Kimoto M, Knight J, Latif M, Rosati A (2012) Systematic estimates of initial value decadal predictability for six AOGCMs. J Clim 25:1827–1846

Bretherton CS, Widmann M, Dymnikov VP, Wallace JM, Blad I (1999) The effective number of spatial degrees of freedom of a time-varying field. J Clim 12:1990–2009

Brohan P, Kennedy JJ, Harris I, Tett SFB, Jones PD (2006) Uncertainty estimates in regional and global observed temperature changes: a new dataset from 1850. J Geophys Res 111:D12106. doi:10.1029/2005JD006548

Chikamoto Y, Kimoto M, Ishii M, Mochizuki T, Sakamoto TT, Tatebe H, Komuro Y, Watanabe M, Nozawa T, Shiogama H, Mori M, Yasunaka S, Imada Y (2013) An overview of decadal climate predictability in a multi-model ensemble by climate model MIROC. Clim Dyn 40:1201–1222. doi:10.1007/s00382-012-1351-y

Doblas-Reyes FJ, van Oldenborgh GJ, García-Serrano J, Pohlmann H, Scaife AA, Smith D (2011) CMIP5 near-term climate prediction. CLIVAR Exch 16(2):8–11

Doblas-Reyes FJ, Andreu-Burillo I, Chikamoto Y, García-Serrano J, Guemas V, Kimoto M, Mochizuki T, Rodrigues LRL, van Oldenborgh GJ (2013) Initialized near-term regional climate change prediction. Nat Commun. doi:10.1038/ncomms2704

García-Serrano J, Doblas-Reyes FJ (2012) On the assessment of near-surface global temperature and North Atlantic multi-decadal variability in the ENSEMBLES decadal hindcast. Clim Dyn 39. doi:10.1007/s00382-012-1413-1

García-Serrano J, Doblas-Reyes F-J, Coelho CAS (2012) Understanding Atlantic multi-decadal variability prediction skill. Geophys Res Lett 39:L18708. doi:10.1029/2012GL053283

Goddard L et al (2013) A verification framework for interannual-to-decadal predictions experiments. Clim Dyn 40:245–272. doi:10.1007/s00382-012-1481-2

Griffies SM, Bryan K (1997) A predictability study of simulated North Atlantic multidecadal variability. Clim Dyn 13:459–487

Guemas V, Corti S, García-Serrano J, Doblas-Reyes F, Balmaseda M, Magnusson L (2012) The Indian Ocean: the region of highest skill worldwide in decadal climate prediction. J Clim. doi:10.1175/JCLI-D-12-00049.1

Hagedorn R, Doblas-Reyes FJ, Palmer TN (2005) The rationale behind the success of multi-model ensembles in seasonal forecasting I. Basic concept. Tellus 57:219–233

Hawkins E, Sutton R (2009) The potential to narrow uncertainty in regional climate predictions. Bull Am Meteorol Soc 90:1095–1107

Hazeleger W, Guemas V, Wouters B, Corti S, Andreu-Burillo I, Doblas-Reyes FJ, Wyser K, Caian M (2013) Multiyear climate predictions using two initialization strategies. Geophys Res Lett 40:17941798. doi:10.1002/grl.50355

Hurrell JW et al (2009) Decadal climate predictions: opportunities and challenges. OceanObs'09, Community White Paper, pp 1–21

International CLIVAR Project Office (ICPO) (2011) Data and bias correction for decadal climate predictions. International CLIVAR Project Office, CLIVAR publication series no 150, p 6

Keenlyside NS, Latif M, Jungclaus J, Kornblueh L, Röckner E (2008) Advancing decadal-scale climate prediction in the North Atlantic sector. Nature 453:84–88

Kim HM, Webster PJ, Curry JA (2012) Evaluation of short-term climate change prediction in multi-model CMIP5 decadal hindcasts. Geophys Res Lett 39:L10701. doi:10.1029/2012GL051644

Knight JR, Allan R, Folland CK, Vellinga M, Mann ME (2005) A signature of persistent natural thermohaline circulation cycle in observed climate. Geophys Res Lett 32:L20708

Knight JR, Folland CK, Scaife AA (2006) Climate impacts of the Atlantic multidecadal oscillation. Geophys Res Lett 33:L17706

Lambert SJ, Boer GJ (2001) CMIP1 evaluation and intercomparison of climate models. Clim Dyn 17:83–106. doi:10.1007/PL00013736

Latif M, Böning C, Willebrand J, Biastoch A, Dengg J, Keenlyside N, Schweckendiek U, Madec G (2006) Is the thermohaline circulation changing? J Clim 19:4631–4636

Magnusson L, Alonso-Balmaseda M, Molteni F (2012) On the dependence of ENSO simulation on the coupled model mean state. Clim Dyn. doi:10.1007/s00382-012-1574-y

Matei D, Pohlmann H, Jungclaus J, Müller W, Haak H, Marotzke J (2012a) Two tales of initializing decadal climate prediction experiments with the ECHAM5/MPI-OM model. J Clim. doi:10.1175/JCLI-D-11-00633.1

Matei D, Baehr J, Jungclaus J, Haak H, Müller WA, Marotzke J (2012b) Multiyear prediction of monthly mean Atlantic meridional overturning circulation at 26.5N. Science 335:76–79

Meehl GA, Goddard L, Murphy J, Stouffer RJ, Boer G, Danabasoglu G, Dixon K, Giorgetta MA, Greene AM, Hawkins E, Hegerl G, Karoly D, Keenlyside N, Kimoto M, Kirtman B, Navarra A, Pulwarty R, Smith D, Stammer D, Stockdale T (2009) Decadal prediction: can it be skillful? Bull Am Meteorol Soc 90:1467–1485

Meehl GA et al (2013) Decadal climate prediction: an update from the trenches. Bull Am Meteorol Soc. doi:10.1175/BAMS-D-12-00241.1

Mochizuki T et al (2010) Pacific decadal oscillation hindcasts relevant to near-term climate prediction. PNAS 5:1833–1837. doi:10.1073/pnas.0906531107

Palmer TN et al (2004) Development of a European multi-model ensemble system for seasonal to inter-annual prediction. Bull Am Meteorol Soc 85:853–872

Pohlmann H, Jungclaus JH, Köhl A, Stammer D, Marotzke J (2009) Initializing decadal climate predictions with the GECCO oceanic synthesis: effects on the North Atlantic. J Clim 22:3926–3938

Rayner NA, Parker DE, Horton EB, Folland CK, Alexander LV, Rowell DP, Kent EC, Kaplan A (2003) Global analyses of sea surface temperature, sea ice, and night marine air temperature since the late nineteenth century. J Geophys Res 108(D14):4407. doi:10.1029/2002JD002670

Schneider U, Fuchs T, Meyer-Christoffer A, Rudolf B (2008) Global precipitation analysis products of the GPCC. Technical report, Global Precipitation Climatology Centre (GPCC), Deutscher Wetterdienst, Offenbach

Smith DM, Cusack S, Colman AW, Folland CK, Harris GR, Murphy JM (2007) Improved surface temperature prediction for the coming decade from a global climate model. Science 317:796–799

Smith DM et al (2012) Real-time multi-model decadal climate predictions. Clim Dyn. doi:10.1007/s00382-012-1600-0

Smith DM, Eade R, Pohlmann H (2013) A comparison of full-field and anomaly initialization for seasonal to decadal climate prediction. Clim Dyn. doi:10.1007/s00382-013-1683-2

Taylor KE, Stouffer RJ, Meehl GA (2012) An overview of CMIP5 and the experiment design. Bull Am Meteorol Soc 93:485–498. doi:10.1175/BAMS-D-11-00094.1

Tebaldi C, Knutti R (2007) The use of the multi-model ensemble in probabilistic climate projections. Philos Trans R Soc 365:2053–2075

Ting M, Kushnir Y, Seager R, Li C (2009) Forced and internal twentieth-century SST trends in the North Atlantic. J Clim 22:1469–1481

Trenberth KE, Shea DJ (2006) Atlantic hurricanes and natural variability in 2005. Geophys Res Lett 33:L12704

van Oldenborgh GJ, Doblas-Reyes FJ, Wouters B, Hazeleger W (2012) Decadal prediction skill in a multi-model ensemble. Clim Dyn 38:1263–1280. doi:10.1007/s00382-012-1313-4

Wilks DS (2006) Statistical methods in the atmospheric sciences. International geophysics series, vol 91, 2nd edn. Academic Press, London

Zhang R, Delworth TL (2006) Impact of Atlantic multidecadal oscillations on India/Sahel rainfall and Atlantic hurricanes. Geophys Res Lett 33:L17712. doi:10.1029/2006GL026267
Acknowledgments
The authors gratefully acknowledge the support from the EU FP7 COMBINE Project (Grant Agreement Number 226520). A.B., S.G. and P.J.A. did also receive support from the Italian Ministry of Education, University and Research and Ministry for Environment, Land and Sea through the Project GEMINA. We also wish to thank Dr. G. J. van Oldenborgh for providing some of the data used in this assessment by means of the KNMI Climate Explorer utility. Finally, the insightful comments from two anonymous reviewers are thankfully acknowledged.
About this article
Cite this article
Bellucci, A., Haarsma, R., Gualdi, S. et al. An assessment of a multi-model ensemble of decadal climate predictions. Clim Dyn 44, 2787–2806 (2015). https://doi.org/10.1007/s00382-014-2164-y
Received:

Accepted:

Published:

Issue Date:
Keywords
Forecast Skill

Anomaly Correlation

Ensemble Spread

Predictive Skill

Decadal Prediction