Abstract
Climate change has the potential to reduce water availability in West Africa. This study aims to quantify the expected impact of increased greenhouse gases (GHGs) on hydroclimatology of Niger River Basin (NRB). Boundary data from a general circulation model are used to force a regional climate model, to produce dynamically downscaled hydroclimatic variables of NRB under present-day (PRS) and future climate scenarios. The data were further analyzed to detect changes in atmospheric and surface water balance components and moisture recycling ratio (β). The results show that elevated GHGs (under A1B scenario) would produce a drier climate during the rainy season and a wetter climate during the dry season. A warmer climate over NRB in all months was projected. Highest temperature increase of 3 °C occurs about 14°N in May and June, and the smallest increase of 0.5 °C occurs below 8°N in wet-dry transition period. Evaporation reduces during wet season and increases during the dry periods. Humidity increases by 2 % in the dry season, but decreases by 2–4 % in the wet season. Maximum change in moisture influx of 20.7 % and outflux of 20.6 % occur in June and July, respectively. β is projected to decrease in 75 % of the months with biggest relative change of −18.4 % in June. The projected decrease in precipitation efficiency (ρ) during the wet season reaches −20.3 % in June. For PRS run, about 66 % of the available atmospheric moisture in NRB precipitates between June and September, of which around 21 % originates from local evaporation. The result suggests that under enhanced GHGs, local evaporation will contribute less to atmospheric moisture and precipitation over the basin. Projected changes in rainfall and streamflow for Upper Niger and Benue sub-basin are significantly different during the wet season.
Access options
Buy single article
Instant access to the full article PDF.
US$ 39.95
Tax calculation will be finalised during checkout.
Subscribe to journal
Immediate online access to all issues from 2019. Subscription will auto renew annually.
US$ 119
Tax calculation will be finalised during checkout.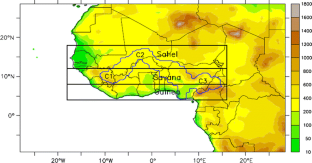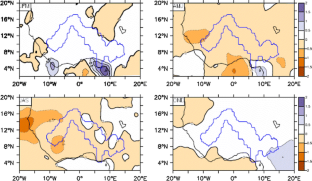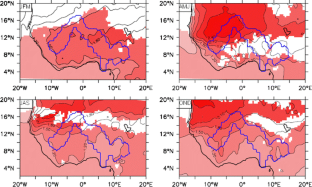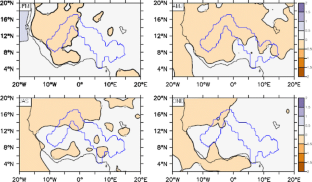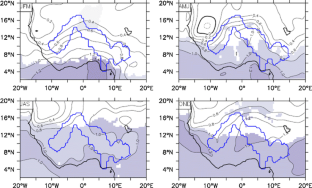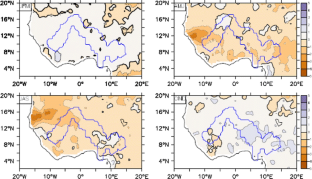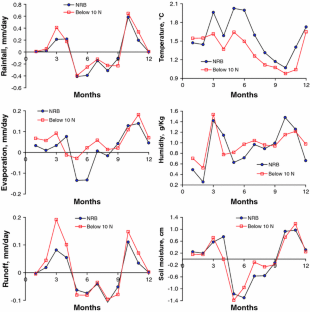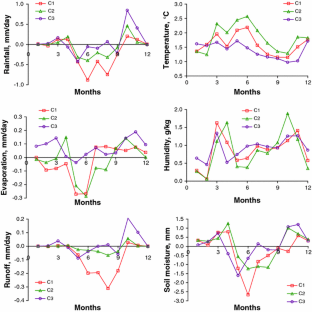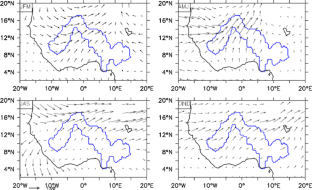 References
Abiodun BJ, Pal JS, Afiesimama EA, Gutowski WJ, Adedoyin A (2008) Simulation of West African monsoon using RegCM3 part II: impacts of deforestation and desertification. Theor Appl Climatol 93:245–261

Abiodun BJ, Adeyewa ZD, Oguntunde PG, Salami AT, Ajayi VO (2012) Modeling the impacts of reforestation on future climate in West Africa. Theor Appl Climatol. doi:10.1007/s00704-012-0614-1

Afiesimama EA, Pal JS, Abiodun BJ, Gutowski WJ, Adedoyin A (2006) Simulation of West African monsoon using the RegCM3. Part I: model validation and interannual variability. Theor Appl Climatol 86:23–37

Alo CA, Wang G (2010) Role of dynamic vegetation in regional climate predictions. Clim Dyn 35:907–922

Andersen I, Dione O, Jarosewich-Holder M, Olivry JC (2005) The Niger River Basin: a vision for sustainable management, World Bank-Washington, DC. Available at www.worldbank.org

Arnell N et al (2001) Hydrology and water resources. In: McCarthy JJ et al (eds) Climate change 2001: impacts, adaptation, and vulnerability. Cambridge University Press, Cambridge, pp 192–234

Biasutti M, Giannini A (2006) Robust Sahel drying in response to late 20th century forcings. Geophys Res Lett 33:L11706. doi:10.1029/2006GL026067

Biasutti M, Sobel AH (2009) Delayed Sahel rainfall and global seasonal cycle in a warmer climate. Geophys Res Lett 36:L23707. doi:10.1029/2009GL041303

Biasutti M, Held IM, Sobel AH, Giannini A (2008) SST forcings and Sahel rainfall variability in simulations of the twentieth and twenty first centuries. J Clim 21:3471–3486. doi:10.1175/2007JCLI1896.1

Brubaker KL, Entekhabi D, Eagleson PS (1993) Estimation of continental precipitation recycling. J Clim 6(6):1077–1089

Christensen JH et al (2007) Regional climate projections, in climate change 2007: the physical science basis. In: Solomon S et al (eds) Contribution of working group I to the fourth assessment report of the intergovernmental panel on climate change, pp 847–940. Cambridge Univ. Press, New York

Conway D, Mahe G (2009) River flow modelling in two large river basins with non-stationary behaviour: the Parana and the Niger. Hydrol Process 23:3186–3192

Cook KH (2008) Climate science: the mysteries of Sahel droughts. Nat Geosci 1(10):647–648

Dickinson RE, Henderson-Sellers A, Kennedy PJ (1993) Biosphere-atmosphere transfer scheme (BATS) version 1 as coupled to the NCAR Community Climate Model. NCARTech. Note NCAR = TN-3871STR, National Center for Atmospheric Research, Boulder, CO

Druyan LM (2010) Studies of 21st-century precipitation trends over West Africa. Int J Climatol. doi:10.1002/joc.2180

Eltahir EAB, Bras RL (1994) Precipitation recycling in the Amazon basin. Q J R Meteorol Soc 120:861–880

Friederichs P, Paeth H (2006) Seasonal prediction of African precipitation with ECHAM4–T42 ensemble simulations using a multivariate MOS re-calibration scheme. Clim Dyn 27:761–786. doi:10.1007/s00382-006-0154-4

Fritsch JM, Chappell CF (1980) Numerical prediction of convectively driven mesoscale pressure systems. Part 1: convective parameterisation. J Atmos Sci 37:1722–1733

Glantz MH (1996) Currents of change: El Niño's impact on climate and society. Cambridge University Press, Cambridge

Gosain AK, Sandhya R, Debajit B (2007) Climate change impact assessment on hydrology of Indian river basins. Curr Sci 90(3):346–353

Grell GA (1993) Prognostic evaluation of assumptions used by cumulus parameterizations. Mon Wea Rev 121(3):764–787

Gupta J, Bresser T (2007) Advanced institute on global environmental change and water in the context of the millennium development goals: a report of the intensive seminar on global environmental change and water, Sept 24–Oct 12 2007, Delft

Holtslag AAM, De Bruijn EIF, Pan H-L (1990) A high resolution air mass transformation model for short-range weather forecasting. Mon Wea Rev 118(8):1561–1575

IPCC (2001) Climate change, working group II, impacts, adaptation and vulnerability. United Nations Environment Programme (UNEP) and World Meteorological Organization (WMO), Nairobi and Geneva. Cambridge University Press, Cambridge

Joly M, Valdoire A, Douville H, Royer JF (2007) African monsoon teleconnections with tropical SSTs: validation and evolution of IPCC4 simulations. Clim Dyn 29:1–20

Jungclaus JH, Botzet M, Haak H, Keenlyside N, Luo JJ, Latif M, Marotzke J, Mikolajewicz U, Roeckner E (2006) Oceancirculation and tropical variability in the coupled model ECHAM5/MPI-OM. J Clim 19:3952–3972

KfW (2010) Adaptation to climate change in the upper and middle Niger River Basin River Basin snapshot, draft for discussion, Entwicklungsbank, May 2010, p 41

Kiehl JT, Hack JJ, Bonan GB, Boville BA, Breigleb BP, Williamson DL, Rasch PJ (1996) Description of theNCAR community climate model (CCM3). NCAR Tech.Note, NCAR = TN-420þSTR, 152 pp, National Center for Atmospheric Research, Boulder, Colorado

Li KY, Coe MT, Ramankutty N, De Jong R (2007) Modeling the hydrological impact of land-use change in West Africa. J Hydrol 337:258–268

Mahe G, Paturel JE, Servat E, Conway D, Dezetter A (2004) Impact of land use change on soil water holding capacity and river modelling ofthe Nakambe River in Burkina-Faso. J Hydrol 300(1–4):33–43

Maidment DR, Olivera F, Reed S, Ye Z, Akmansoy S, McKinney DC (1997) Water balance of the Niger River Basin in West Africa, '17th annual ESRI user conference', San Diego, CA. http://www.ce.utexas.edu/prof/maidment/atlas/esri97/ESRI.htm

Mohamed YA, van de Hurk BJJM, Savenije HHG, Bastiaansen WGM (2005) Impact of Sudd wetland on the Nile hydroclimatology. Water Resour Res 41:W08420. doi:1029/2004WR003792

Mounir ZM, Ma CM, Amadou I (2011) Application of Water Evaluation and Planning (WEAP): a model to assess future water demands in the Niger River (In Niger Republic). Mod Appl Sci 5(1):38–49

Nakicenovic N, Alcamo J, Davis G, de Vries B, Fenhann J, Gaffin S, Gregory K, Grubler A, Jung TY, Kram T, La Rovere EL, Michaelis L, Mori S, Morita T, Pepper W, Pitcher H, Price L, Raihi K, Roehrl A, Rogner H-H, Sankovski A, Schlesinger M, Shukla P, Smith S, Swart R, van Rooijen S, Victor N, Dadi Z (2000) Emissions scenarios: a special report of working group III of the intergovernmental panel on climate change. Cambridge University Press, Cambridge

Oguntunde PG, Friesen J, van de Giesen N, Savenije HHG (2006) Hydroclimatology of the Volta River Basin in West Africa: trends and variability from 1901 to 2002. Phys Chem Earth 31:1180–1188

Oguntunde PG, Abiodun BJ, Olukunle OJ, Olufayo AA (2011a) Trends and variability in pan evaporation and other climatic variables at Ibadan, Nigeria, 1973–2008. Meteorol Appl. doi:10.1002/met.281

Oguntunde PG, Abiodun BJ, Lischeid G (2011b) High-resolution simulation of Niger River Basin hydroclimatology using a regional climate model. J Hydrol (submitted)

Okpara JN, Perumal M (2009) Hydrological impacts assessment of climate change on water resources of niger river basin using water balance model and ANNs, joint international convention of 8th IAHS scientific assembly and 37th IAH congress on water: a vital resource under stress—how science can help 6–12 Sept 2009, Hyderabad, India

Omotosho J, Abiodun BJ (2007) A numerical study of moisture build-up and rainfall over West Africa. Meteorol Appl 14:209–225

Pal JS, Small EE, Eltahir EAB (2000) Simulation of regional-scale water and energy budgets: representation of sub-grid cloud and precipitation processes within RegCM. J Geophys Res 105:29579–29594

Pal JS, Giorgi F, Bi X, Elguindi N, Solomon F, Gao X, Francisco R, Zakey A, Winter J, Ashfaq M, Syed F, Bell JL, Diffanbaugh NS, Kamacharya J, Konare A, Martinez D, da Rocha RP, Sloan LC, Steiner A (2007) The ICTP RegCM3 and RegCNET: regional climate modeling for the developing world. Bull Am Meteorol Soc 88:1395–1409

Patricola CM, Cook KH (2009) Northern African climate at the end of the twenty-first century: an integrated application of regional and global climate models. Clim Dyn 35:193–212

Patricola CM, Cook KH (2010) Sub-Saharan Northern African climate at the end of the twenty-first century: forcing factors and climate change processes. Clim Dyn. doi:10.1007/s00382-010-0907-y

Roeckner E, Bäuml G, Bonaventura L, Brokopf R, Esch M, Giorgetta M, Hagemann S, Kirchner I, Kornblueh L, Manzini E, Rhodin A, Schlese U, Schulzweida U, Tompkins A (2003) The atmospheric general circulation model ECHAM5. Part I: model description. Report no. 349. Max-Planck-Institut für Meteorologie, Hamburg, p 127

Schär C, Luthi D, Beyerle U, Heise E (1999) The soil precipitation feedback: a process study with a regional climate model. J Clim 12(3):722–741

Schlesinger WH et al (1990) Biological feedbacks in global desertification. Science 247:1043–1048

Seth A, Rauscher SA, Rojas M, Giannini A, Camargo SJ (2011) Enhanced spring convective barrier for monsoons in a warmer world? Clim Change 104:403–414

Sylla MB, Gaye AT, Pal JS, Jenkins GS, Bi X (2009) High resolution simulations of West African climate using regional climate model (RegCM3) with different lateral boundary conditions. Theor Appl Climatol 98:293–314

Sylla MB, Gaye AT, Jenkins GS, Pal JS, Giorgi F (2010) Consistency of projected drought over the Sahel with changes in the monsoon circulation and extremes in a regional climate model projection. J Geophys Res 115:D16108. doi:10.1029/2009JD012983

Szeto KK (2002) Moisture recycling over the Mackenzie basin. Atmos Ocean 40(2):181–197

Trenberth KE (1999) Atmospheric moisture recycling: role of advection and local evaporation. J Clim 12:1368–1381

van der Ent RJ, Savenije HHG, Schaefli B, Steele-Dunne SC (2010) Origin and fate of atmospheric moisture over continents. Water Resour Res 46:W09525. doi:10.1029/2010WR009127

Wang G, Alo CA (2012) Changes in precipitation seasonality in West Africa predicted by RegCM3 and the impact of dynamic vegetation feedback. Int J Geophys, vol 2012, Article ID 597205. doi:10.1155/2012/597205

Zeng X, Zhao M, Dickinson RE (1998) Inter comparison of bulk aerodynamic algorithms for the computation of sea surface fluxes using TOGA COARE and TAO data. J Clim 11:2628–2644
Acknowledgments
The first author was supported by the Alexander von Humboldt Foundation, Bonn, Germany. Logistics by Dr Dargma Balla at ZALF is gratefully acknowledged. The second author was partly supported by grants from National Research Foundation of South Africa. Computing facility was provided by the Centre for High Performance Computing (CHPC, South Africa). Helpful comments from two anonymous referees and the editor are greatly appreciated.
About this article
Cite this article
Oguntunde, P.G., Abiodun, B.J. The impact of climate change on the Niger River Basin hydroclimatology, West Africa. Clim Dyn 40, 81–94 (2013). https://doi.org/10.1007/s00382-012-1498-6
Received:

Accepted:

Published:

Issue Date:
Keywords
Climate change

Niger River Basin

Hydroclimatology

Water balance

Moisture recycling ratios