Abstract
Medicanes, strong mesoscale cyclones with tropical-like features, develop occasionally over the Mediterranean Sea. Due to the scarcity of observations over sea and the coarse resolution of the long-term reanalysis datasets, it is difficult to study systematically the multidecadal statistics of sub-synoptic medicanes. Our goal is to assess the long-term variability and trends of medicanes, obtaining a long-term climatology through dynamical downscaling of the NCEP/NCAR reanalysis data. In this paper, we examine the robustness of this method and investigate the value added for the study of medicanes. To do so, we performed several climate mode simulations with a high resolution regional atmospheric model (CCLM) for a number of test cases described in the literature. We find that the medicanes are formed in the simulations, with deeper pressures and stronger winds than in the driving global NCEP reanalysis. The tracks are adequately reproduced. We conclude that our methodology is suitable for constructing multi-decadal statistics and scenarios of current and possible future medicane activities.
This is a preview of subscription content,
to check access.
Access this article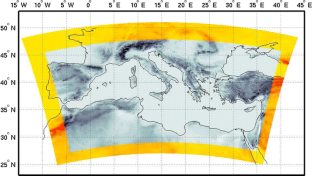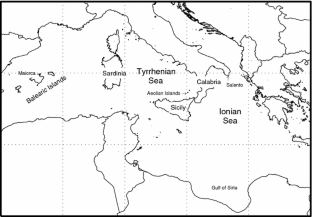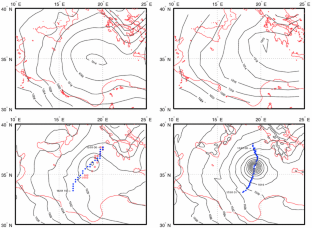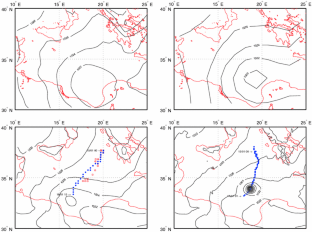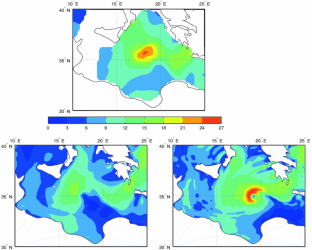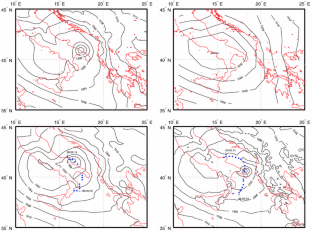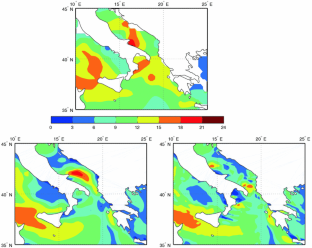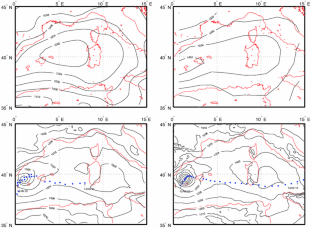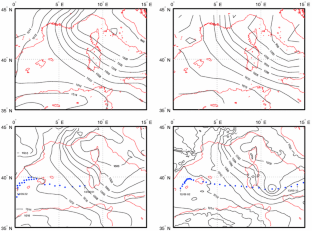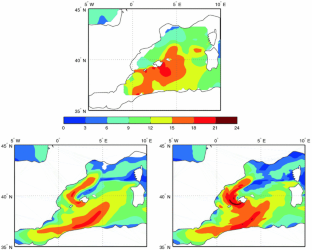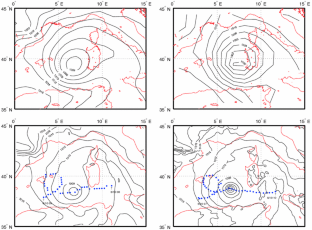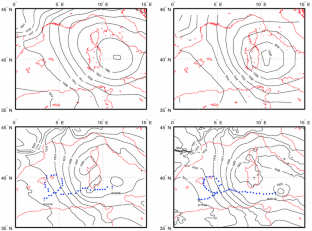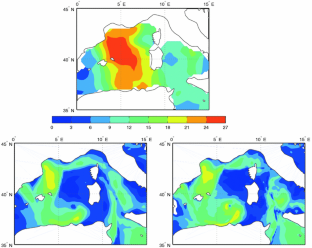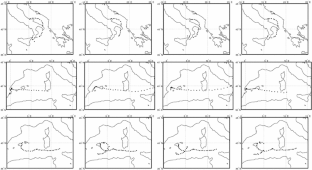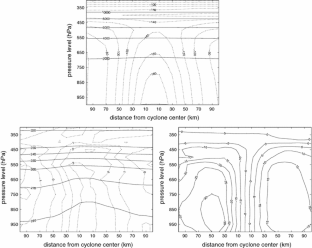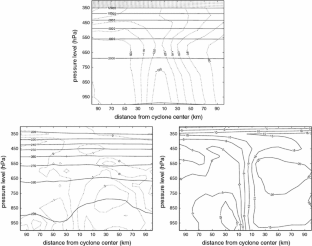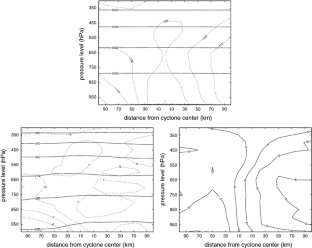 Notes
In a few cases where there are gaps in the reconstructed track, for example due to the cyclone crossing an island, the single parts have been assigned to the same track manually.
References
Conte D, Miglietta MM, Levizzani V (2011) Analysis of instability indices during the development of a Mediterranean tropical-like cyclone using MSG-SEVIRI products and the LAPS model. Atmos Res 101:264–279

Davolio S, Miglietta MM, Moscatello A, Pacifico F, Buzzi A, Rotunno R (2009) Numerical forecast and analysis of a tropical-like cyclone in the Ionian Sea. Nat Hazards Earth Syst Sci 9:551–562

Ebuchi N, Graber HC, Caruso MJ (2002) Evaluation of wind vectors observed by QuikSCAT/SeaWinds using ocean buoy data. J Atmos Oceanic Technol 19:2049–2062

Emanuel K (2005) Genesis and maintenance of "Mediterranean hurricanes". Adv Geosci 2:217–220

Feser F, von Storch H (2008) A dynamical downscaling case study for typhoons in SE Asia using a regional climate model. Mon Weather Rev 136:1806–1815

Fita L, Romero R, Luque A, Emanuel K, Ramis C (2007) Analysis of the environments of seven Mediterranean tropical-like storms using an axisymmetric, nonhydrostatic, cloud resolving model. Nat Hazards Earth Syst Sci 7:41–56

Hart RE (2003) A cyclone phase space derived from thermal wind and thermal asymmetry. Mon Weather Rev 131:585–616

Homar V, Romero R, Stensrud DJ, Ramis C, Alonso S (2003) Numerical diagnosis of a small, quasi-tropical cyclone over the western Mediterranean: dynamical vs. boundary factors. Q J R Meteorol Soc 129:1469–1490

Kalnay E et al (1996) The NCEP/NCAR 40-year reanalysis project. Bull Am Meteor Soc 77:437–470

Lagouvardos K, Kotroni V, Nickovic S, Jovic D, Kallos G, Tremback CJ (1999) Observations and model simulations of a winter sub-synoptic vortex over the central Mediterranean. Meteorol Appl 6:371–383

Luque A, Fita L, Romero R, Alonso S (2007) Tropical-like Mediterranean storms: an analysis from satellite. In: EUMETSAT 07 proceedings. http://www.eumetsat.int/Home/Main/AboutEUMETSAT/Publications/ConferenceandWorkshopProceedings/2007/SP_1232700283028?l=en

Miglietta MM, Moscatello A, Conte D, Mannarini G, Lacorata G, Rotunno R (2011) Numerical analysis of a Mediterranean "hurricane" over south-eastern Italy: Sensitivity experiments to sea surface temperature. Atmos Res 101:412–426

Moscatello A, Miglietta MM, Rotunno R (2008) Numerical analysis of a Mediterranean "hurricane" over south-eastern Italy. Mon Weather Rev 136:4373–4396

Moscatello A, Miglietta MM, Rotunno R (2008) Observational analysis of a Mediterranean "hurricane" over south-eastern Italy. Wheather 63:306–311

Pytharoulis I, Craig G, Ballard S (2000) The hurricane-like Mediterranean cyclone of January 1995. Meteorol Appl 7:261–279

Rasmussen E, Turner J (2003) Polar lows: mesoscale weather systems in the polar regions. Cambridge University Press, Cambridge

Reale O, Atlas R (2001) Tropical cyclone-like vortices in the extratropics: observational evidence and synoptic analysis. Weath For 16:7–34

Ricciardulli L, Wentz F (2011) Reprocessed QuikSCAT (V04) wind vectors with Ku-2011 geophysical model function. Technical Report 043011, Remote Sensing Systems

Rienecker MM et al (2011) MERRA: NASA's modern-era retrospective analysis for research and applications. J Clim 24:3624–3648

Rockel B, Will A, Hense A (2008) The regional climate model COSMO-CLM (CCLM). Meteorol Z 17:347–348

Simmons AJ (2006) Observations, assimilation and the improvement of global weather prediction—some results from operational forecasting and ERA-40. In: Palmer T, Hagedorn R (eds) Predictability of weather and climate. Cambridge University Press, Cambridge

Tous M, Romero R (2011) Medicanes: creació d'una base de dades i exploració dels ambients meteorològics. Tethys 8, to appear

von Storch H, Langenberg H, Feser F (2000) A spectral nudging technique for dynamical downscaling purposes. Mon Weather Rev 128:3664–3673

Walsh K (1997) Objective detection of tropical cyclones in high-resolution analyses. Mon Weather Rev 125:1767–1779

Walsh KJE, Fiorino M, Landsea CW, McInnes KL (2007) Objectively determined resolution-dependent threshold criteria for the detection of tropical cyclones in climate models and reanalyses. J Clim 20:2307–2314

Zahn M, von Storch H (2008) Tracking polar lows in CLM. Meteorol Z 17:445–453

Zahn M, von Storch H, Bakan S (2008) Climate mode simulation of North Atlantic polar lows in a limited area model. Tellus 60A:620–631

Zhang HM, Bates JJ, Reynolds RW (2006) Assessment of composite global sampling: Sea surface wind speed. Geophys Res Lett 33:L17,714
Acknowledgments
We acknowledge Burkardt Rockel and Beate Geyer for their precious help with the model. We thank Silvio Gualdi, Antonio Navarra and Matthias Zahn for many valuable and stimulating discussions.
About this article
Cite this article
Cavicchia, L., von Storch, H. The simulation of medicanes in a high-resolution regional climate model. Clim Dyn 39, 2273–2290 (2012). https://doi.org/10.1007/s00382-011-1220-0
Received:

Accepted:

Published:

Issue Date:

DOI: https://doi.org/10.1007/s00382-011-1220-0
Keywords