Abstract
Purpose
To analyze the impact of increasing the extent of resection (EOR) on the survival rates and on the surgical outcome of children with medulloblastoma.
Methods
A series of consecutive 405 children operated for medulloblastoma between July 2007 and April 2018 was identified. The details of pre-operative data, surgical interventions, post-operative complications, and survival rates were analyzed.
Results
The Kaplan-Meier (KM) analysis showed no advantage of gross total resection (GTR) over near and subtotal resection regarding over all (OS) (p=0.557) and progression free survival (PFS) (p=0.146). In the same time, increasing the EOR was not associated with higher morbidity. Tumor dissemination at onset correlated to worse OS (KM: p=0.003, OR 1.999, 95% CI: 1.242–3.127; p = 0.004) and PFS (KM: p<0.001, Cox: OR 2.171, 95% CI: 1.406–3.353; p<0.001). OS was significantly affected in patients < 3 years old (KM: p=0.011, OR 2.036, 95% CI: 1.229–3.374; p = 0.006), while PFS was worse among patients who had pre-op seizures (KM: p=0.036, Cox: OR 2.852, 95% CI: 1.046–7.773; p=0.041) or post-op pseudomeningocele (KM: p=0.021, Cox: OR 2.311, 95% CI: 1.123–4.754; p=0.023).
Conclusions
Although surgical excision of medulloblastoma is the standard of care, there was no significant benefit for GTR over near or subtotal resection on the OS or PFS rates that are mainly influenced by the patient's age and tumor dissemination. However, GTR should be targeted, as it is not associated with increased incidence of mutism or other surgery-related complications.
Access options
Buy single article
Instant access to the full article PDF.
US$ 39.95
Tax calculation will be finalised during checkout.
Subscribe to journal
Immediate online access to all issues from 2019. Subscription will auto renew annually.
US$ 119
Tax calculation will be finalised during checkout.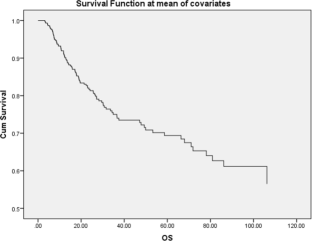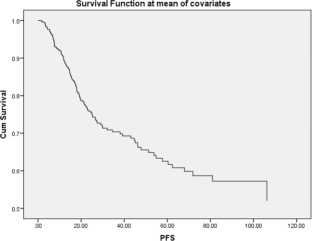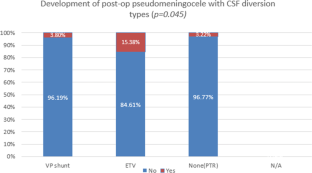 References
1.

Albright AL, Wisoff JH, Zeltzer PM, Boyett JM, Rorke LB, Stanley P (1996) Effects of medulloblastoma resections on outcome in children: a report from the Children's Cancer Group. Neurosurgery 38(2):265–271

2.

Bognár L, Borgulya G, Benke P, Madarassy G (2003) Analysis of CSF shunting procedure requirement in children with posterior fossa tumors. Childs Nerv Syst 19(5-6):332–336

3.

Christopherson KM, Bradley JA, Rotondo RL, Pincus DW, Fort JA, Morris CG, Mendenhall NP, Marcus RB Jr, Indelicato DJ (2014) Local control in non-metastatic medulloblastoma. Acta Oncol 53(9):1151–1157

4.

de Robles P, Fiest KM, Frolkis AD, Pringsheim T, Atta C, St. Germaine-Smith C, Day L, Lam D, Jette N (2014) The worldwide incidence and prevalence of primary brain tumors: a systematic review and meta-analysis. Neuro-oncology 17(6):776–783

5.

Di Rocco C, Chieffo D, Pettorini BL, Massimi L, Caldarelli M, Tamburrini G (2010) Preoperative and postoperative neurological, neuropsychological and behavioral impairment in children with posterior cranial fossa astrocytomas and medulloblastomas: the role of the tumor and the impact of the surgical treatment. Childs Nerv Syst 26(9):1173–1188

6.

Dressler EV, Dolecek TA, Liu M, Villano JL (2017) Demographics, patterns of care, and survival in pediatric medulloblastoma. J Neuro-Oncol 132(3):497–506

7.

El Beltagy MA, Kamal HM, Taha H, Awad M, El Khateeb N (2010) Endoscopic third ventriculostomy before tumor surgery in children with posterior fossa tumors, CCHE experience. Childs Nerv Syst 26(12):1699–1704

8.

Fernández IS, Loddenkemper T (2017) Seizures caused by brain tumors in children. Seizure 44:98–107

9.

Foreman P, McClugage S, Naftel R, Griessenauer CJ, Ditty BJ, Agee BS, Riva-Cambrin J, Wellons J (2013) Validation and modification of a predictive model of postresection hydrocephalus in pediatric patients with posterior fossa tumors. J Neurosurg Pediatr 12(3):220–226

10.

Gajjar A, Sanford RA, Bhargava R, Heideman R, Walter A, Li Y, Langston JW, Jenkins JJ, Muhlbauer M, Boyett J (1996) Medulloblastoma with brain stem involvement: the impact of gross total resection on outcome. Pediatr Neurosurg 25(4):182–187

11.

Gilles FH, Sobel E, Leviton A, Hedley-Whyte ET, Tavare CJ, Adelman LS, Sobel RA (1992) Epidemiology of seizures in children with brain tumors. J Neuro-Oncol 12(1):53–68

12.

Gnekow A (1995) Recommendations of the Brain Tumor Subcommittee for the reporting of trials. Med Pediatr Oncol 24(2):104–108

13.

Grill MF, Treiman DM, Maganti RK (2009) Status epilepticus associated with subtentorial posterior fossa lesions. Arch Neurol 66(12):1500–1504

14.

Johnston DL, Keene D, Kostova M, Lafay-Cousin L, Fryer C, Scheinemann K, Carret A-S, Fleming A, Percy V, Afzal S (2015) Survival of children with medulloblastoma in Canada diagnosed between 1990 and 2009 inclusive. J Neuro-Oncol 124(2):247–253

15.

Khan RB, Hunt DL, Boop FA, Sanford RA, Merchant TE, Gajjar A, Kun LE (2005) Seizures in children with primary brain tumors: incidence and long-term outcome. Epilepsy Res 64(3):85–91

16.

Kombogiorgas D, Sgouros S, Walsh A, Hockley A, Stevens M, Grundy R, Peet A, English M, Spooner D (2007) Outcome of children with posterior fossa medulloblastoma: a single institution experience over the decade 1994–2003. Childs Nerv Syst 23(4):399–405

17.

Lee ST, Lui TN, Chang CN, Cheng WC (1990) Early postoperative seizures after posterior fossa surgery. J Neurosurg 73(4):541–544

18.

Legnani FG, Saladino A, Casali C, Vetrano IG, Varisco M, Mattei L, Prada F, Perin A, Mangraviti A, Solero CL (2013) Craniotomy vs. craniectomy for posterior fossa tumors: a prospective study to evaluate complications after surgery. Acta Neurochir 155(12):2281–2286

19.

Lin CT, Riva-Cambrin JK (2015) Management of posterior fossa tumors and hydrocephalus in children: a review. Childs Nerv Syst 31(10):1781–1789. https://doi.org/10.1007/s00381-015-2781-8

20.

McNeil DE, Coté TR, Clegg L, Rorke LB (2002) Incidence and trends in pediatric malignancies medulloblastoma/primitive neuroectodermal tumor: a SEER update. Medical and Pediatric Oncology: The Official Journal of SIOP—International Society of Pediatric Oncology Societé Internationale d'Oncologie Pédiatrique 39(3):190–194

21.

Morelli D, Pirotte B, Lubansu A, Detemmerman D, Aeby A, Fricx C, Berré J, David P, Brotchi J (2005) Persistent hydrocephalus after early surgical management of posterior fossa tumors in children: is routine preoperative endoscopic third ventriculostomy justified? J Neurosurg Pediatr 103(3):247–252

22.

Özek MM, Cinalli G, Maixner WJ, Sainte-Rose C (2015) Posterior fossa tumors in children. Springer International Publishing, Cham

23.

Palesi F, Tournier J-D, Calamante F, Muhlert N, Castellazzi G, Chard D, D'Angelo E, Wheeler-Kingshott CA (2015) Contralateral cerebello-thalamo-cortical pathways with prominent involvement of associative areas in humans in vivo. Brain Struct Funct 220(6):3369–3384

24.

Polkinghorn WR, Tarbell NJ (2007) Medulloblastoma: tumorigenesis, current clinical paradigm, and efforts to improve risk stratification. Nat Rev Clin Oncol 4(5):295–304

25.

Prasad KS, Ravi D, Pallikonda V, Raman BV (2017) Clinicopathological study of pediatric posterior fossa tumors. J Pediatr Neurosci 12(3):245–250

26.

Ramaswamy V, Remke M, Adamski J, Bartels U, Tabori U, Wang X, Huang A, Hawkins C, Mabbott D, Laperriere N (2015) Medulloblastoma subgroup-specific outcomes in irradiated children: who are the true high-risk patients? Neuro-oncology 18(2):291–297

27.

Rieken S, Mohr A, Habermehl D, Welzel T, Lindel K, Witt O, Kulozik AE, Wick W, Debus J, Combs SE (2011) Outcome and prognostic factors of radiation therapy for medulloblastoma. Int J Radiat Oncol Biol Phys 81(3):e7–e13

28.

Robertson PL, Muraszko KM, Holmes EJ, Sposto R, Packer RJ, Gajjar A, Dias MS, Allen JC (2006) Incidence and severity of postoperative cerebellar mutism syndrome in children with medulloblastoma: a prospective study by the Children's Oncology Group. J Neurosurg Pediatr 105(6):444–451

29.

Ruggiero C, Cinalli G, Spennato P, Aliberti F, Cianciulli E, Trischitta V, Maggi G (2004) Endoscopic third ventriculostomy in the treatment of hydrocephalus in posterior fossa tumors in children. Childs Nerv Syst 20(11-12):828–833

30.

Schneider C, Ramaswamy V, Kulkarni AV, Rutka JT, Remke M, Tabori U, Hawkins C, Bouffet E, Taylor MD (2015) Clinical implications of medulloblastoma subgroups: incidence of CSF diversion surgery. 15(3):236. https://doi.org/10.3171/2014.9.peds14280

31.

Stavrou T, Bromley CM, Nicholson HS, Byrne J, Packer RJ, Goldstein AM, Reaman GH (2001) Prognostic factors and secondary malignancies in childhood medulloblastoma. J Pediatr Hematol Oncol 23(7):431–436

32.

Steinbok P, Singhal A, Mills J, Cochrane D, Price A (2007) Cerebrospinal fluid (CSF) leak and pseudomeningocele formation after posterior fossa tumor resection in children: a retrospective analysis. Childs Nerv Syst 23(2):171–174

33.

Stensvold E, Krossnes BK, Lundar T, Due-Tønnessen BJ, Frič R, Due-Tønnessen P, Bechensteen AG, Myklebust TÅ, Johannesen TB, Brandal P (2017) Outcome for children treated for medulloblastoma and supratentorial primitive neuroectodermal tumor (CNS-PNET)–a retrospective analysis spanning 40 years of treatment. Acta Oncol 56(5):698–705

34.

Tamburrini G, Frassanito P, Chieffo D, Massimi L, Caldarelli M, Di Rocco C (2015) Cerebellar mutism. Childs Nerv Syst 31(10):1841–1851

35.

Taylor RE, Bailey CC, Robinson K, Weston CL, Ellison D, Ironside J, Lucraft H, Gilbertson R, Tait DM, Walker DA (2003) Results of a randomized study of preradiation chemotherapy versus radiotherapy alone for nonmetastatic medulloblastoma: The International Society of Paediatric Oncology/United Kingdom Children's Cancer Study Group PNET-3 Study. J Clin Oncol 21(8):1581–1591

36.

Thompson EM, Hielscher T, Bouffet E, Remke M, Luu B, Gururangan S, McLendon RE, Bigner DD, Lipp ES, Perreault S (2016) Prognostic value of medulloblastoma extent of resection after accounting for molecular subgroup: a retrospective integrated clinical and molecular analysis. Lancet Oncol 17(4):484–495

37.

Tomasello F, Conti A, Cardali S, La Torre D, Angileri FF (2015) Telovelar approach to fourth ventricle tumors: highlights and limitations. World Neurosurg 83(6):1141–1147

38.

Ullrich NJ, Pomeroy SL, Kapur K, Manley PE, Goumnerova LC, Loddenkemper T (2015) Incidence, risk factors, and longitudinal outcome of seizures in long-term survivors of pediatric brain tumors. Epilepsia 56(10):1599–1604

39.

Warmuth-Metz M, Blashofer S, von Bueren AO, von Hoff K, Bison B, Pohl F, Kortmann R-D, Pietsch T, Rutkowski S (2011) Recurrence in childhood medulloblastoma. J Neuro-Oncol 103(3):705–711

40.

Weil AG, Wang AC, Westwick HJ, Ibrahim GM, Ariani RT, Crevier L, Perreault S, Davidson T, Tseng C-H, Fallah A (2017) Survival in pediatric medulloblastoma: a population-based observational study to improve prognostication. J Neuro-Oncol 132(1):99–107

41.

Wibroe M, Rochat P, Juhler M (2018) Cerebellar mutism syndrome and other complications after surgery in the posterior fossa in adults: a prospective study. World Neurosurg 110:e738–e746

42.

Yu J, Shi W, Li H (2017) Factors affecting the prognosis of children with medulloblastoma: a single institution retrospective analysis of 40 cases. Transl Neurosci Clinics 3(1):16–27

43.

Zeltzer PM, Boyett JM, Finlay JL, Albright AL, Rorke LB, Milstein JM, Allen JC, Stevens KR, Stanley P, Li H (1999) Metastasis stage, adjuvant treatment, and residual tumor are prognostic factors for medulloblastoma in children: conclusions from the Children's Cancer Group 921 randomized phase III study. J Clin Oncol 17(3):832–845
Ethics declarations
Conflict of interest
The authors declare that they have no conflict of interest in personal, financial, institutional, or industry affiliations in any of the drugs, materials, or devices described in this article. The authors have no conflicts that may affect ethical adherence.
Additional information
Publisher's note
Springer Nature remains neutral with regard to jurisdictional claims in published maps and institutional affiliations.
About this article
Cite this article
Enayet, A.E., Nabil, M., Rady, M.R. et al. Surgical outcome of children with medulloblastoma: a retrospective study of a 405-patient series from Children's Cancer Hospital Egypt (CCHE-57357). Childs Nerv Syst (2021). https://doi.org/10.1007/s00381-021-05082-2
Received:

Accepted:

Published:
Keywords
Medulloblastoma

Mutism

Pseudomeningocele

Hydrocephalous with posterior fossa tumors