Abstract
Background
Tuberous sclerosis complex (TSC) is an autosomal dominant disorder, mainly in childhood presents epilepsy due to cortical tubers. TSC1/TSC2 pathogenic variants cannot be detected in regular molecular genetic testing in around 10-15% of TSC patients.
Methods
We analyzed TSC genes in both cortical tuber, blood and skin samples from a pediatric patient with refractory epilepsy.
Results
We found no germline mutations by whole-exome sequencing. Well in targeted sequencing of TSC1/2 data, we identified de novo mutations only in cortical tuber: TSC2 NM_000548.5: exon34:c.4183C>T (p.Gln1395*) in 3% of the alleles. No other TSC mutations were found in patient's blood and skin samples and her parents' blood sample.
Conclusion
Our case report found TSC2 mosaic mutations can be only limited to cortical tuber in patients with TSC.
Access options
Buy single article
Instant access to the full article PDF.
US$ 39.95
Tax calculation will be finalised during checkout.
Subscribe to journal
Immediate online access to all issues from 2019. Subscription will auto renew annually.
US$ 119
Tax calculation will be finalised during checkout.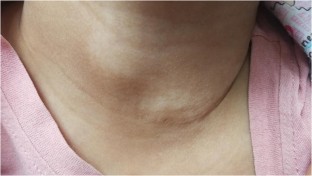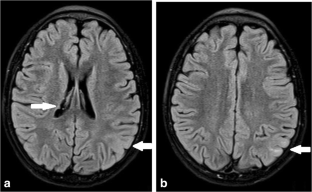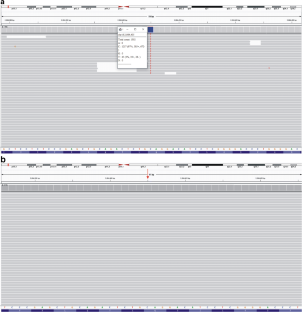 Abbreviations
TSC:

Tuberous sclerosis complex

NGS:

Next generation sequencing

NMI:

No mutations identified

WES:

Whole-exome sequencing
Acknowledgements
We would like to thank to patient and family who contributed to this study. We also thank Lei Liu for his assistance in genetic analysis.
Availability of data and materials
The hg38/GRCh38 human reference genome (https://genome.ucsc.edu/cgi-bin/hgTracks?db=hg38&position=lastDbPos) was used as the reference dataset in this study. The reference sequence used for the validation of the c.4183C>T (p.Gln1395*) variant in TSC2 was obtained from NCBI Nucleotide using the accession number NM_000548.5. The variation is available in the Clinvar and HGMD PRO database, with accession ID: VCV000280596 and CM174666 respectively.
Funding
This study was supported by Research Project of Shanghai Municipal Health Commission (201940351) and the science and technology commission of Shanghai (18411962000). The funding bodies played no direct role in the design of the study, the collection, analysis, or interpretation of data, or the writing of the manuscript. The cost of sequencing was borne by the two funding projects.
Ethics declarations
Ethics approval
The local ethics committee of Children's Hospital of Fudan University approved the study protocol.
Consent to participate
Parents gave written informed consent for study participation
Consent for publication
Written informed consent for publication for identifying images or other personal or clinical details was obtained from both the patient's parents.
Conflict of interest
The authors declare that they have no competing interests.
Additional information
Publisher's note
Springer Nature remains neutral with regard to jurisdictional claims in published maps and institutional affiliations.
About this article
Cite this article
Zhou, Y., Wang, X., Wang, J. et al. Identification of TSC2 mosaic mutation limited to cortical tuber with TSC targeted sequencing: a case report and literature review. Childs Nerv Syst (2021). https://doi.org/10.1007/s00381-021-05059-1
Received:

Accepted:

Published:
Keywords
Tuberous sclerosis complex

Cortical tuber

TSC2

Targeted sequencing